If your sister-in-law's birthday is right around the corner yet you lack the perfect words of appreciation, don't fret.
Below we have put together quotes that you can use at your own discretion to add even more joy to an already special occasion.
Funny Birthday Wishes for your Sister-in-Law
Try one of these cute and funny texts for your SIL's birthday.
I was going to buy you this awesome, beautiful, amazing present, but you already have me as your sister by marriage. What more could you ask for, you lucky birthday girl!
May your purse be fat, waist be slim, and mind stay sharp this and every birthday to come. Hey, two out of three still isn't bad, sis.
Congrats on making the very short list of people I don't need the Facebook birthday remind to remember. Much love to you, my fab sister in law, as you celebrate today.
Thanks for coming along to make family get-togethers more survivable. Hope your special birthday is just as special as you are to us.
Sisters by marriage are the best because you get all the perks of a sisterly bond without the history of who stole, tattled, and broke this or that throughout childhood. So, of course, I'm wishing you the happiest of birthdays without any side effects like fatness!
Just because I laugh that you married my brother doesn't mean I don't smile that my brother married you! Thanks for celebrating another birthday with us as your elected family!
I told my husband if he didn't have such an amazing sister, he'd surely spend all his time in the dog house. That should up the ante on your birthday present quite nicely.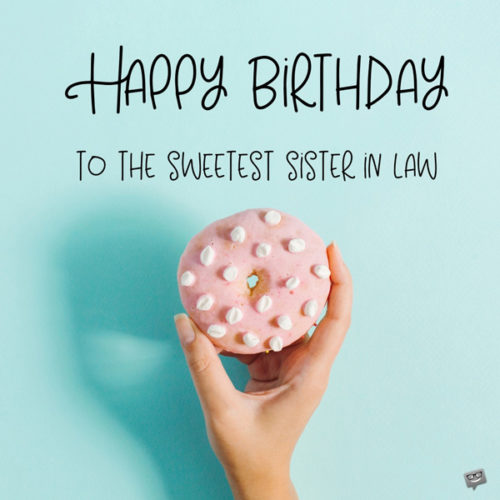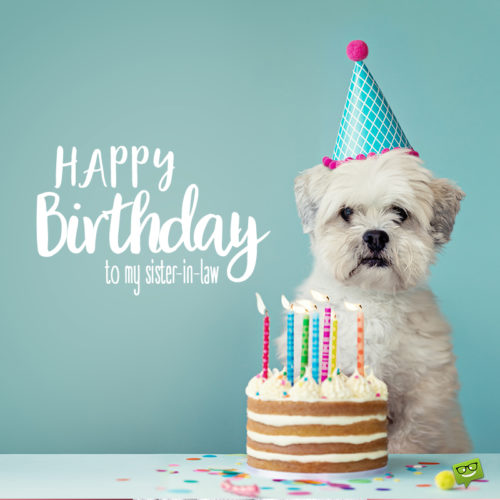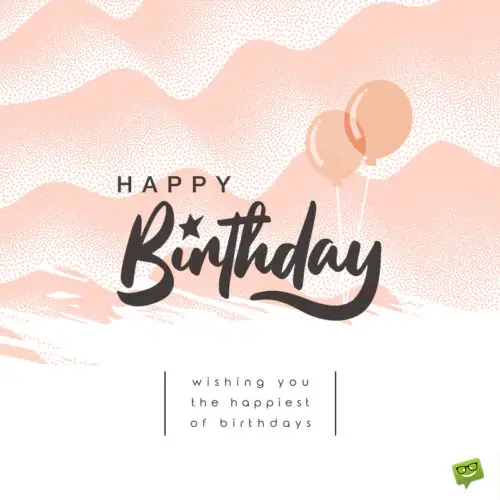 I don't always wish people birthdays of grandeur, but, when I do, it's usually someone with great influence over my mother in law and husband! Have yourself the most beautiful and grand B-Day, my influential SIL.
Some sisters-in-law end up standing for snooping, intrusive, and lackluster, but my SIL is all support, ingenuity, and love, and she's turning another year older to keep on getting even more perfect. Love you, and I hope you get that perfect birthday you deserve.
I'm just so thankful that my "It's your birthday" sis in law texts aren't something I dread faking excitement for each year.
To the SIL definitely not TSTL, you're slaying this thing we call life, and I hope you're birthday bash is killer.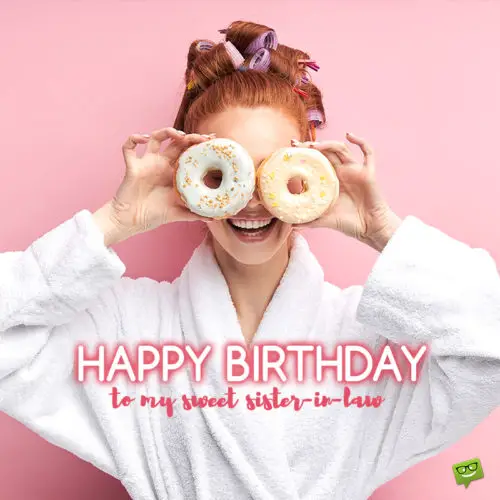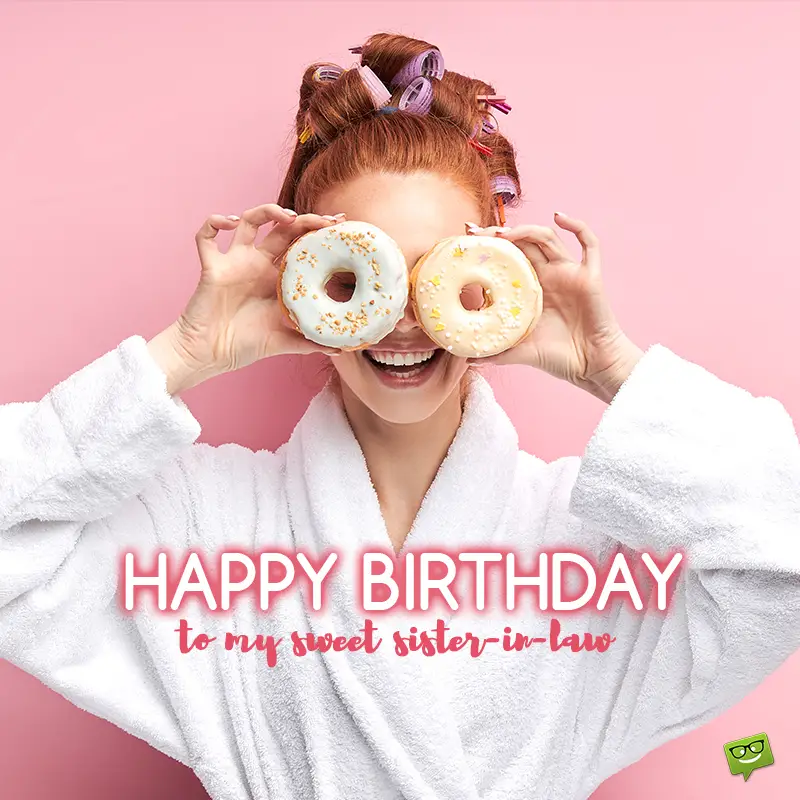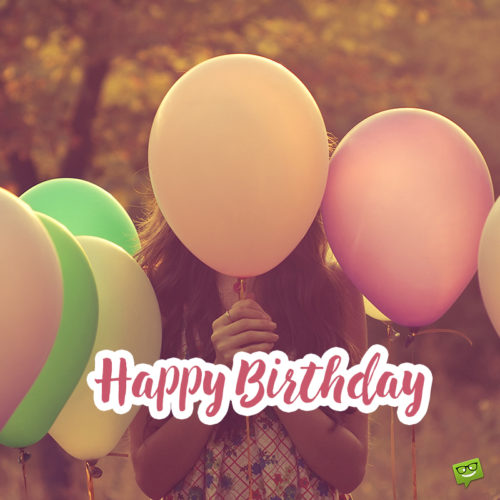 Beautiful Birthday Messages for an Adored Sister-in-Law
Use one of these lovely messages to tell your favorite sister in law happy birthday.
I've been blessed with an amazing family by marriage, including an amazing sister. May your all your birthday dreams be fulfilled.
You're an honorable human, a beautiful friend, and a sensational sister by marriage. If anyone deserves a befitting birthday, it's you!
What a lucky man my brother is to have you in his life, and what a lucky family he has to call you ours, too. Enjoy every second of this birthday!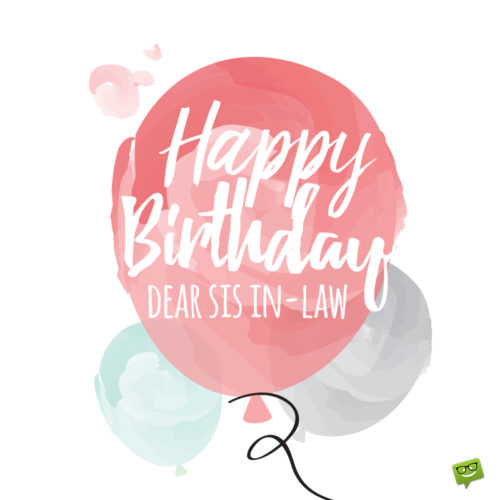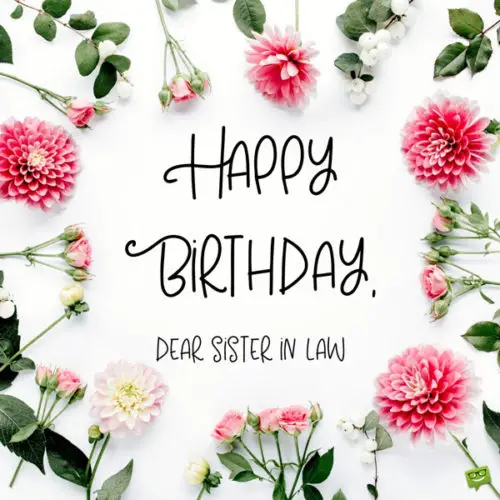 We all adore you so very much my dearest sister in law. A sweeter and more wonderful birthday girl to call our own would be impossible to find.
Yay, you've survived another year in our crazy family! Happiest of birthdays to the dearest of sisters thanks to marriage.
May your day be filled with smiles, giggles, and lots of jiggly goodies and treats. We cherish celebrating each new year of life with you, my lovely chosen sister from another mister.
You are truly an invaluable asset to this family, and we couldn't love you more for all the warmth you've brought to our hearts. Today is your day to enjoy and celebrate another year of life in the books.
I'm so happy to sincerely and lovingly wish the best SIL ever an amazing birthday. Hope today is as special as you are to me.
The day I gained you as a sister by marriage was one of my luckiest. You're simply spectacular, and I hope your birthday day is deserving of such a host.
Belated Birthday Wishes For A Sister-in-Law
If you missed your spouse's sister's birthday, use on of these texts to make up for it.
I swear I didn't need a Facebook remind for my sister-in-law's birthday… even if I'm a day late and dollar short of what you deserve.
Excuse my tardy birthday greetings, but I was out buying you a really expensive and desirable gift.
Listen SIL… I just thought a single day of birthday wasn't enough. So, I declared a birthday week for you, which means I'm still right on time telling you to enjoy it.
I got you this nifty gift called a rewind to your birthday's actual day button. Push it now as you read this text.
Please forgive me for missing the deadline on birthday greetings, and I hope you know that I'm just a goofball who loves you none the less.
Ooops, I done it again, but what's waiting a little longer for the best of the best birthday messages from your very loved, apologetic, and late but great SIL? Hope your B-Day was all that and a bag of chips.
I was wishing you everything wonderful, including that unicorn you've always wanted, even if I did miss telling you on time. Does my sister in law forgive me (imagine a very sad face with puffy eyes) as you answer, please?
Before you think less of this bleated birthday offering from that lovely sister you gained via marriage, remember that the best is always saved until last.
Aren't you proud that this is the earliest I've ever been late telling you to have a jolliest birthday? See, who says sister in laws can't make progress?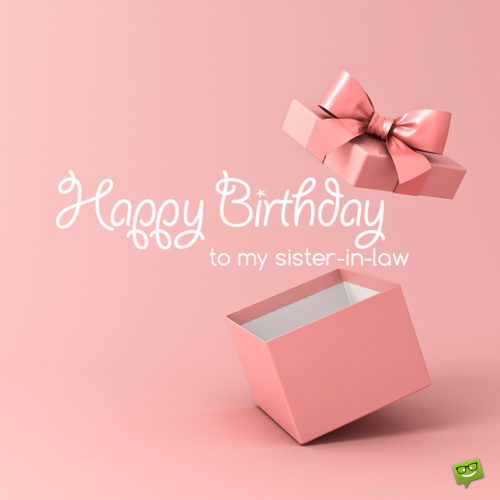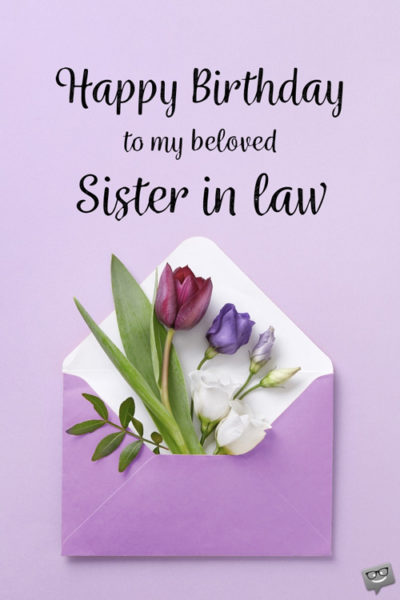 Religious Birthday Greetings for your Sister-in-Law
Send one of these spiritual birthday messages to your sister by marriage.
May the Lord keep and bless you, dear sister, as you survive the family you've chosen and celebrate your lovely birthday.
The heavens opened up and poured the most amazing ray of sisterly sunshine into my life the day our families joined hands. May your birthday be bright and blessed.
May today be hope for renewed joy, peace, and love to start another new chapter in your book of life. Birthday blessings to the chosen sister God knew I needed.
You deserve this day of uplifting birthday moments. Go forth, my sister-in-law, into a new year of life knowing what an inspiration and treasure you are to all of us.
May the light of the Lord shine its favor upon you as you turn another year older. Having such a sister-in-law as you has certainly been an earthly treasure for your marital family.
Precious souls like you restore my faith in humanity. As your birthday is celebrated, we wish you an open heart to receive all the love you so deserve, my precious sister of choosing.
When God designed marriage, it was surely known how much gaining sisters like you would mean to people like me. Please accept this birthday text as a testament to a bond that shall never be broken.
You may blow out your birthday candles, but the Lord will always be there to light your path. Happiest of birthday wishes to the most tremendous SIL ever.
Like sweet friendship, sister-in-law bonds refresh the soul… and make family time so much more fun! Have yourself a lovely birthday.
Happy Birthday Poems for your Sister-in-law
Although not siblings by birth
You have become a sibling in my heart
Although not sisters by default
You have become a sister I can rarely fault
Thank you for marrying my brother willingly
You have become a favorite to our family
Happy birthday to a loving sister-in-law.
Your husband calls you my love, because you're his true love
The mother fondly calls you the dove, because you're a peacemaker
The father simply hails you the gov, because you govern the home judiciously
For the rest of the family, you are the beloved, because you are dearly loved by all
Happy birthday to a darling sister-in-law!
Happy Birthday, Sister-in-Law Images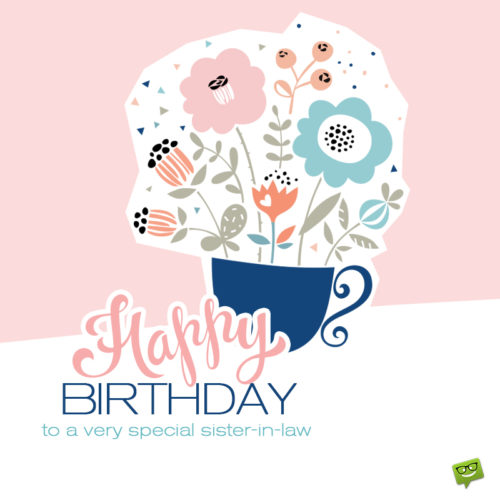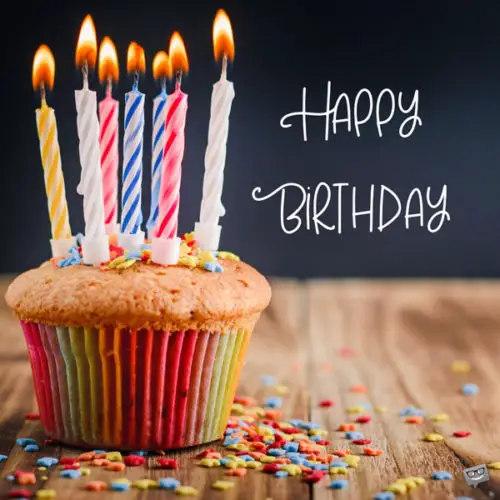 You may also like:
250 of the Best Birthday Messages to Make Someone's Day Special
Happy Birthday, Father-in-law!
In-laws but also Friends : Birthday Wishes for your Brother-in-Law