Got a special guy who's been living rent-free in your thoughts? The one who gives you butterflies with a mere glance, and makes your heart skip a beat with a simple smile? Well, the universe has conspired in your favor, as his birthday is just around the corner! Here's your golden ticket to leave a whimsical imprint on his heart. We've cooked up a delightful list of 100 flirty and playful birthday wishes for your male crush that'll not only give him a good chuckle but will also nudge him to see the affectionate undertones.
So get ready to add a little sugar, spice, and everything nice to his special day, with a dash of your charming humor. Here's to hoping that these cheeky birthday wishes earn you a special spot in his notifications and, who knows, maybe even his heart!
Table of Contents
Unleashing Your Heart: Sweet Birthday Wishes for Crush
Ah, the thrill of a crush—a tale as old as time! Now, toss in a flirty birthday wish on their awesome birthday, and voila, you've got a playful plot twist in your story. Let's dive into a realm where charm meets cheeky, and concoct the perfect birthday tease!
You're not older, just more distinguished…and handsome. Happy Birthday!
On your birthday, I just want to say, you've been crushing my heart, and it feels fantastic. Happy Birthday!
Your birthday means you're just a tad more distractingly handsome. Stop aging so flawlessly, will ya? Happy Birthday!
I'm not saying you're Superman, but I've never seen you both in the same room together. Just saying… Happy Birthday!
Your birthday: 100% chance of laughter, love, and a little bit of mischief. Happy Birthday!
On a scale of one to you, you're the birthday wishes come true. Do I get a birthday kiss if I got that right?
Your birthday party should be a zoo, because it's gonna be wild. Happy Birthday!
May your birthday be the soundtrack to a wild, beautiful adventure. #wink
Happy Birthday to the guy who knows how to bring the sparkle to the everyday!
Your birthday forecast predicts a shower of love and a chance of falling for someone at your party. wink Happy Birthday!
I can think of some wishes that can't be shared in public. Maybe I'll whisper them to you later. Happy Birthday!
Just a birthday shoutout to the guy with the award-winning smile! Birthday wishes for a joyous birthday.
Keep calm, have fun, it's your birthday! Expect the unexpected (the good kind).
You're not just a year older, but a year bolder. Happy birthday to an amazing guy.
Birthdays are the universe's way of celebrating you. And who can argue with the universe? Cheers to the birthday boy.
Happy Birthday to the guy who makes every day brighter with his smile. Here's to more smiles in the coming year.
Adorable Compliments and Cute Birthday Wishes
Some people make the world brighter just by being in it. Happy Birthday to one of them!
Another year older, another year more charming. How do you do it? Happy Birthday!
You age like fine wine…and we all know how much better wine tastes when it's shared. Happy Birthday!
It should be a crime to be as good-looking as you are…but since it's your birthday, I guess you're pardoned for today. Happy Birthday!
I've got a sweet birthday surprise for you, but it's not cake…yet. Happy Birthday!
Hope your birthday is filled with as much fun as a squirrel finding a room full of nuts! Happy Birthday!
If I could rearrange the alphabet, I'd put 'U' and 'I' together…in 'Happy Birthday!
Birthdays are the universe's way of celebrating you. Here's my little cheer from the sidelines!
Here's to making this birthday one part mischief, one part merry, and all parts memorable!
Sending you a little box of sunshine to brighten your day as you always brighten mine. Happy Birthday!
Here's to the man who's as charming as the frosting on his birthday cake! Happy birthday!
Your smile's a game changer. May your day be as striking as your grin. Happy Birthday!
You've got a vibe that's one in a million. Revel in your special day. Happy Birthday!
Your smile's my favorite. Hope today gives you a million reasons for it. Happy Birthday!
Instagram Captions For Birthday Posts on Crush's birthday
Stepping into the delightful maze of Instagram to wish your crush a 'Happy Birthday' is like waltzing through a field of playful emojis and witty words. So, why not pick a whimsical line or two from our curated list below, pair it with a heart-fluttering photo, and slide into their birthday vibes with a splash of charm and a sprinkle of affection? Your Instagram caption on their special day could be the quirky cue that paints a smile on their face!
Is it hot in here, or is it just all the candles on your cake? Happy Birthday!
Sending smiles for every moment of your special day…and then some! ???? Happy Birthday!
They say too much of anything is bad, but too much champagne on birthdays is just right. Happy Birthday [insert crush's name].
Your day, more cake, less stress. Sound good? Happy Birthday!
May your day be filled with the kind of joy you bring to others! ???? Happy Birthday!
It's not the age that matters, it's the attitude… and yours screams 'forever young'! Happy Birthday!
As you orbit around the sun, may each day bring a new glow to your life. Happy Birthday!
Here's to another year of awesome! Happy Birthday!
Here's to the boy who ages like wine… I suddenly prefer older vintages. Happy Birthday!
On your birthday, may your party be wild, your gifts be plenty, and your candles be outnumbered by your wishes.
If you were photo, I'd double click on you. Happy birthday you handsome man.
Congrats on becoming a year hotter! The world is not ready. Happy Birthday!
Dazzling DM Birthday Wishes for Your Man Crush
What better way to send across those playful birthday wishes to your crush than through a cheeky Direct Message (DM)? It's personal, it's direct, and it's got just the right amount of casual cool. Slide into his notifications with these whimsical birthday wishes, and who knows? This might just spark up a fun conversation between you two. So, pick your favorite, hit that send button, and let the birthday magic unfold!
Today's forecast: 100% chance of birthday fun with a sprinkle of crush vibes.
Hey birthday boy, if your day is half as charming as you are, it's going to be legendary.
It's your birthday and I find you more appealing than the birthday cake.
Hey! Your birthday called. It wanted me to remind you that you're getting awesomer each year!
Breaking news: Local heartthrob gets older, but looks sharper than ever! Happy Birthday!
Happy Birthday! Wishing you a day filled with good vibes and maybe a cute DM or two… starting with this one!
A very happy birthday to you! May your day be as bright as your smile that I… um, sorta kinda adore.
Birthday Alert! Hope your day is as fantastic as the first sip of coffee on a Monday morning!
Happy Birthday! Your smile's my favorite, hope to see loads of it today!
Wishing you a day filled with love, laughter, and all the colors of happiness.
Birthdays are nature's way of celebrating you. And I totally agree with nature.
Hey, I'm just dropping by your DM to wish you a happy birthday! Have a great one! ????
Um, so, I just wanted to wish you a very happy birthday… hope it's as amazing as, um, you are.
Hi there, I hope your birthday is as nice and kind as you are. Happy Birthday!
Funny Birthday Wishes for That Handsome Boy
Here's to you on your birthday, proving that being awesome is just a habit. Keep rocking!
Happy Birthday to the guy who's been giving my heart emojis real meaning.
Happy Birthday to the guy who makes aging look like a hot new trend. Keep setting that bar higher
Here's to celebrating the day my favorite hunk was born. Cake, anyone? Happy Birthday!
May your birthday be the start of a year filled with good luck, good health, and much wisdom… or at least two out of three! Happy Birthday!
Aging is like a software update… sometimes it's exciting, and sometimes it just makes you want to reboot. Happy Birthday!
You've just turned hotter by one degree. Global warming is real and you're the cause. Happy Birthday!
Birthdays are like software updates… some are exciting, others are… well, there you have it.
Happy level-up day to the guy who steals hearts like it's a side quest!
Sending across an ocean of warm wishes to the guy who adds a sparkle to everyday routines. Your birthday is a trending hashtag in my heart!
Here's to the birthday boy who's just like a bold coffee – strong, warm, and impossible not to love!
Wishing all your wishes come true, but if they do, I'll need to find a new wish. Have a joyful birthday!
Happy Birthday to a very special person who makes my heart flutter, and not just on their cake-blowing skills!
Here's to a joyful birthday filled with laughs, love, and a restraining order from the age police.
God bless the ground you walk on, especially today as you might stumble on it after your birthday party. Happy Birthday!
Work-Safe Birthday Wishes for Your Male Crush
Navigating the professional waters while having a crush can be quite the balancing act. When his special day rolls around, it's a chance to send over some friendly but work-appropriate birthday wishes. Below are some thoughtful wishes perfect for maintaining that professional demeanor while also adding a personal touch:
On your special day, may your heart be filled with joy, your soul with purpose, and your life with love.
Here's to a very special person whose birthday makes us all remember: life is way too short not to eat that cake!
Every candle on your cake represents a year filled with beautiful memories and incredible moments. May the upcoming year bring even more of both. Happy Birthday!Happy Birthday!
Here's to you, the guy with a heart of gold and a personality that's platinum. Happy Birthday, may your day shine bright!
Wishing you a day filled with success and accomplishments as you celebrate another year. Happy Birthday!
Wishing you a fantastic birthday filled with great experiences and wonderful memories. You deserve all the best life has to offer!
May your birthday be as amazing as your projects and as bright as your future. Happy Birthday!
Your hard work, creativity, and kindness are such a major part of our team's dynamic. Here's to a wonderful birthday and a successful year ahead!
Wishing a day full of joy and a year filled with endless possibilities to the person whose enthusiasm keeps us all motivated. Happy Birthday!
Pro tip: If you're looking to add a personal touch while still keeping things work-appropriate, you might consider referencing a shared work achievement, a common interest, or perhaps a light-hearted inside joke that is suitable for the workplace. This way, the wishes can feel more personalized and thoughtful while adhering to the professional setting. Remember, the key is to keep it respectful and suitable for all audiences, ensuring your message is well-received and appreciated.
Tips on Delivering Your Wish:
Crafting a memorable birthday wish for your crush is only half the fun; the other half lies in how you deliver it. The sparkle in your eyes, the playful tone of your voice, or the choice of a heartfelt card can take your wish from sweet to unforgettable. Here are some tips on how to deliver your flirty, funny birthday wishes:
Choose Your Medium Wisely:
Texts are quick, easy, and give you the chance to be playful without being face-to-face. They're a safe bet if you're a little shy.

Birthday cards are traditional and thoughtful. They provide a tangible memory your crush can hold onto. Explore our online store for a variety of whimsical and heartfelt birthday cards that encapsulate your affection in words.

In-person wishes are the most personal. Your expressions and tone add a layer of sincerity and playfulness that texts and cards can't replicate.
Timing is Key:
Sending your wish at midnight right as their birthday begins shows enthusiasm, but a morning message can also start their day on a high note.

If opting for an in-person wish, catching them at a quiet moment during their celebration could make your wish feel more personal.
Presentation:
If you're handing over a card, pair it with a modest gift or their favorite candy to show you've been paying attention.

When sending a text, accompany it with a funny or cute gif to light up their mood.

If you're delivering your wish in person, wear that infectious smile, and let your genuine affection shine through your words.
Follow-Up:
After your initial wish, engaging them in light conversation or sharing a laugh can leave a lingering warmth and spark a closer connection.
Your approach to delivering your birthday wish can make a significant difference. Whichever route you choose, ensuring it resonates with your genuine affection and playful intent will surely create a memorable birthday moment for your crush.
Customizing Your Wish:
Expressing your feelings, even if it's a subtle hint, becomes phenomenally memorable when there's a personalized touch added to it. Here's how you can customize these birthday wishes for your crush:
Personal anecdotes: Incorporate little shared experiences or private jokes that only the two of you would understand. It could be anything amusing or a memorable event you both recall fondly.

Nicknames: If you have a playful nickname for him or a private code word, sneaking it into your wish adds a fun, personal flavor.

Compliments: Who doesn't like to be praised, especially on their birthday? Compliment his personality, looks, or the things you find attractive about him in a light, playful manner.

Shared Interests: Mentioning shared hobbies or interests can evoke fond memories and hint at the bond between you two.
Your journey from being a secret admirer to someone who paints a smile on his face is just a click away. Check out our delightful range of birthday cards and let the playful, flirty, and joyous birthday wishes flow like never before!
Pin This Post to Save It for Later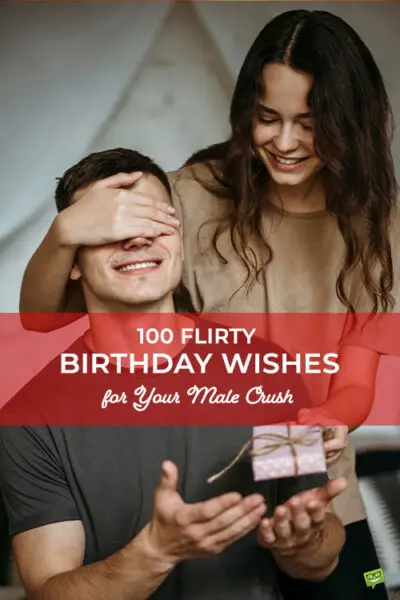 You May Also Like:
Heartfelt Birthday Wishes for Boyfriend
Sweet Birthday Paragraphs for Your Boyfriend