Is your partner feeling unwell or navigating a challenging recovery? In such times, a heartfelt 'Get Well Soon Love' text message can make a significant difference. Filled with your genuine care and concern, this small gesture can be a comforting force, inspiring a speedy recovery and a reminder of your loving presence.
Sharing in your loved one's trials is part of the journey in a romantic relationship. Though it's tough seeing them unwell, your words can act as a soothing balm, offering comfort and resilience. In this blog post, we'll delve into 80 tender 'Get Well Soon Love' messages, designed with affection to comfort your partner and reassure them of your unwavering support.
Remember, each of these messages symbolizes the healing power of love, turning recovery into a journey filled with hope and positivity. Because, when love drives us, even the path to healing can become a testament to the strength of our bond.
Table of Contents
Fresh Love, Endless Care: Get Well Soon Messages from Young Hearts in Bloom
In the blossoming stage of young love, a 'get well soon' message carries a special weight. It's a heartfelt assurance that even in times of sickness, the bond remains strong and caring. Such a message not only conveys concern but also mirrors the depth of affection, reinforcing the comfort and trust that's just beginning to grow. It plays a pivotal role in strengthening the young love, turning a challenging situation into a shared experience that nurtures the budding relationship.
Good vibes and healthy vibes coming your way, babe. Can't wait to see your beautiful smile again. Get well soon, love!
We all knew you were 'sickly' good at everything… You really didn't need to prove it!
To my love, remember, every sunrise holds more promise. Feel better, brighter days are coming.
Feeling lonely in your hospital bed? Remember, I'm just a phone call away, ready to spend time with you or send over positive thoughts. Your quick recovery is my utmost priority.
Hey love, just a small bump on our journey. Keep up the hope and rest plenty. Can't wait to see you bounce back. Get well soon, my love.
I know the hospital bed isn't the most comfortable place to be, love. But remember, your positive attitude and will to recover quickly will make it more bearable. Sending you warm thoughts for a speedy recovery.
"You're just proving the point that even germs find you irresistible. Recover quickly!
I promise, love, when you get well, we'll make up for all this lost time with plenty of adventures! So, here's to you bouncing back from this sickness and to a life full of joy waiting for us.
Just thought you should know, your 'sick' look is still more stylish than my 'healthy' look. Unfair, don't you think? Get well soon!
I'm not a doctor, but I think your 'allergy' to work is flaring up again. Feel better!
Get well soon, or I'll start spreading rumors you're getting a face-lift!
Cheer up! Your hospital gown matches your eyes perfectly.
Remember, humor can vary greatly between individuals, so these are meant to provide a range of light-hearted sentiments. Always consider your loved one's preferences and comfort when sending a funny get well message.
Related: The Best Messages Get Well Soon Messages and Quotes
Short But Sweet: Perfect 'Get Well Soon' Text Messages for Your Love
I guess the apple a day thing didn't work out so well, huh? Speedy recovery!
Get well soon! Being sick is just your body's way of telling you you're way too awesome, and you need to slow down so everyone else can catch up.
I bet you miss my cooking now, don't you? Hospital food just doesn't compare. Looking forward to having you back at home, my love. Get well soon!
Your love is my strength. May it now be your healing force. Get well soon, my love.
Sunshine or rain, with you, all is beautiful. Rest, my love, tomorrow we dance in the sun.
In this challenging time, I want you to focus on feeling healthy again, love. Remember, even in a hospital gown, you're the most beautiful person to me. Speedy recovery, my darling.
Even when sick, you shine brighter than anyone else I know. I'm confident you'll bounce back soon. Remember, life is waiting to be enjoyed. Get well soon!
I'm sure you're tired of hospital food by now. Dreaming of our favorite date night spot? Stay strong, babe! We'll be dining there again before you know it.
Sick days can be tough, but I want you to know that you're tougher, love. I hope kind words and our shared memories bring comfort during this challenging time. Get well soon, my love.
Remember, you're not just a family member, you're the love of my life. Your health means the world to me. Let's face these challenging times together. Get well soon, my love.
This actual sickness is just a hurdle, darling. And I know how strong a person you are! I can't wait to see you hop out of that hospital bed with your usual cheerfulness. Get well soon.
While the hospital stay might feel long and lonely, know that I'm with you in spirit, love. I'm ready to do anything to help you through this. Here's to your quick recovery and return to the vibrant life we share.
In sickness and in health, remember, I'm always here for you. You never have to feel lonely. Just focus on getting better. Get well soon, my love.
If you like this article you will also find interesting our collection with Unique Romantic Birthday Wishes for Lover
Love Everlasting: Heartfelt 'Get Well Soon' Messages from Longstanding Partners
In enduring relationships, the shared journey of love and understanding offers immense strength during challenging times. As your partner battles sickness, let these 'get well soon' messages reflect your deep-rooted bond and unwavering hope, helping to light their path towards recovery.
Get well soon! The chores are piling up, and the dog is starting to look at me funny.
Get well soon, my love. Seeing you in pain tugs at my heartstrings. Please, take your time and rest. We'll face this tough time together, drawing strength from our unconditional love.
My love, you are stronger than this storm. Can't wait to see you conquer it. Get well soon.
Though the hospital stay isn't ideal, one consolation is that it includes meals I don't have to cook! Just kidding, love. Can't wait for you to recover fully and come back home. Your laughter is dearly missed.
Every sunrise brings hope for a speedy recovery, my love. Even in the face of all that pain, you remain the strongest man I know. Keep your spirit high, we're in this together.
Wishing you a quick recovery, love. Rest up and feel better soon. Just remember, we're in this together, every step of the way.
Sending all my love and warm wishes for a speedy recovery. Your strength inspires me, darling. Get well soon, for the world misses your beautiful smile.
To my love, your strength is my beacon, and our love is your shield. Feel better soon.
You've always been the strongest girl I know, love. This sickness can't dim your shine. I'm here, by your side, sending you waves of positive energy for a quick recovery.
Through thick and thin, love. That was our promise. So here's me, cheering you on, from the next door, through every moment of your treatment. Get well soon, my love.
I know this is a challenging time for you, my love, but I want you to remember that you're not alone. I am with you, sending hope and strength your way. Get well soon.
These may be tough times, my love, but remember, they are just temporary. Take all the time you need to heal, and know that I'm by your side, always. Get well, my love, and let's look forward to brighter days together.
Related: Get Well Soon Messages for a Coworker
Enduring Bonds: Tender 'Get Well Soon' Wishes from Lifetime Companions
In a long-term relationship, 'get well soon' messages are more than just words. They are powerful expressions of enduring love and support, bolstering our partner's spirit during their battle with illness. These heartfelt words serve as comforting reminders of the strong bond that exists, reinforcing their will to recover.
Even in sickness, love, your cheerful demeanor never fails to inspire me. I know this is a difficult time, but remember, you are a strong person and I have no doubt you'll make a full recovery.
If I could, I would earn a medical degree overnight just to make you feel better, love. But for now, I'll do what I can do best – stay by your side, offering my unwavering support. Get well soon.
Ever since you fell sick, life has taken an unexpected turn. But I know your amazing self and your infectious smile will be our best medicine. Here's to your quick return to good health.
In this moment of hardship, remember my unconditional love for you. I'm right here, praying for your speedy recovery, and looking forward to seeing your lovely smile again.
I guess the germs didn't know they were messing with the strongest person I know. I'm eagerly waiting for the day you walk out of that hospital door, love. Sending my best wishes for a quick recovery.
You're never alone, my love, not even in this difficult time. We've spent our life together, and we will face this together too. So get some enough rest, and get well soon.
Love, our shared laughter is the best medicine. Can't wait for our next dose. Get well soon.
Every day, I see the bright joy of life in your eyes, even though you are sick. You are not alone in this, love. I'm right next door, waiting for you to recover fast and come back home.
We've shared laughter, tears, and now, we'll beat this sickness together. There's nothing we can't overcome, my love. Wishing you a speedy recovery.
Seeing you start treatment isn't easy, love. But I have faith in your resilience. And hey, don't the beautiful nurses make it feel a bit like a spa package? Just teasing, get well soon, my dear.
My dear, I've seen you overcome so much in our life together. This is just another hurdle I know you'll conquer. I'm here, hoping for your speedy recovery and return to good health.
As we face this together, I'm reminded of our unbreakable bond. Your strength amazes me every day. Rest well, my love. We'll celebrate your recovery with the grandest of adventures.
Hey, champ! Just wanted to check in and see how you're handling the gourmet cuisine of the hospital. Remember, it's all part of the journey to recovery. Hang in there and eat hospital food with gusto, and you'll be back home in no time. Get well soon!
My love, remember, even the mightiest trees sway in the storm. Stay strong. Get well soon.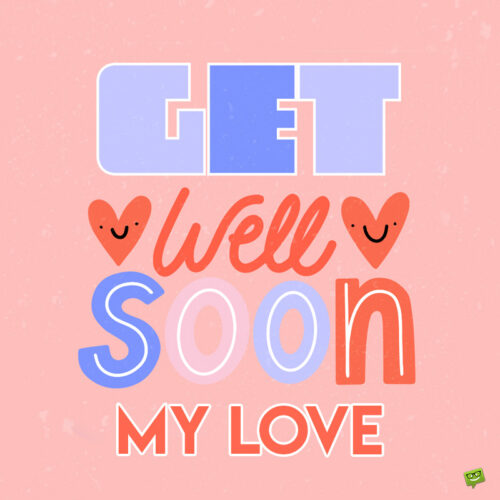 Injecting Humor: Lighthearted 'Get Well Soon' Wishes to Brighten Their Day
Let's explore how we can turn our heartfelt sentiments into smiles and laughter, one funny 'get well soon' message at a time.
I told you not to eat my cooking! But don't worry, the 'feel sick' effects are temporary. Get well soon, and I promise, no more experiments in the kitchen!
Get well soon! Your plants promised me they'd water themselves, but I think they're lying.
Healing takes courage, and apparently, so does dealing with hospital food. Hang in there and get well soon! Best wishes.
I always knew you were a 'sick' dancer, but this is taking things a bit too far!
Hey there, caring boyfriend reporting for duty! Need some laughs with your soup? Remember, it's just a cold, not a zombie apocalypse. Get well soon!
I hope the hospital door winked at you on the way in, it's been trying to get your attention all day. Guess the germs got to you first. Speedy recovery, my dear!
They say laughter is the greatest healing therapy. Well, I'm not a doctor but I can definitely make you laugh! Feel better soon, and remember, no laughing too hard, it might disrupt the germs' party.
Laughter might be cheap medicine, but please, take the actual medicine too. Your health insurance covers it, after all. Get well soon!
I bet you're enjoying all the attention, aren't you? Don't get too comfortable, we need you back in the real world soon. Get well, you drama queen/king!
Hey there! Just checking in to see how you're doing. Hope you're not having too much fun without me and that you're not trying to break any records with that hospital food. Remember, home-cooked meals are waiting for you. Get well soon!
Remember, the goal is to lift their spirits and bring a smile to their face. Happy healing!
Conclusion
We've journeyed together through a range of 'get well soon' messages, each one a distinct expression of concern, hope, and love. Each individual's experience with illness is unique, and the power of your supportive words can make a significant difference during this challenging period.
Whether it's infusing a dash of humor to lighten their spirits, conveying hope for a speedy recovery, or simply reinforcing your unwavering support, your heartfelt words can be a beacon of strength. 'Get well soon' messages are more than just phrases; they encapsulate our shared hopes and compassionate sentiments, reaching out to uplift those we care for in their time of need.
So, as you craft your messages, remember to imbue them with personal touches that reflect your relationship with the receiver. As we all continue to spread healing and positivity, each 'get well soon' message becomes a testament to our collective resilience and capacity for empathy.
You may also find useful:
Get Well Soon Prayers | 32 Short Prayers for Healing and Recover
Love Quotes for your Girlfriend