Celebrating a birthday during a challenging or difficult situation comes with mixed emotions and feelings. In fact, often, the celebrant may prefer to be silent throughout that day and may want to shut down any means of communication with people around, including loved ones.
Thoughtfully crafting a soothing and heart-touching birthday wishes in difficult circumstances can help melt a heavy heart, comfort the hurting, and encourage the discouraged. Our collection of birthday wishes for those going through hard times can be your great source of inspiration to come up with unique wordings and messages.
Birthday Wishes to a Sick Celebrant
Birthdays are incredibly important despite current illnesses. There are certain special people who touch so many lives with positivity and blessings. These people need to hear positive thoughts, beautiful sentiments and the grandest of birthday blessings. Sometimes, it is difficult to know quite what to say. The following sentiments were written to help offer the right words. One of them should convey the words you were simply unable to find.
Warmest wishes during your illness. Everyone is behind you and remembers how much you have done to help in the past. Looking forward to seeing your smile again in the future. May your birthday be both joyful and peaceful.
Fondest wishes for your birthday. Praying you will recover from your illness quickly. So sad to know you are ill, especially since you are such an amazing force of good. Your many contributions to the lives you have touched are very important.
Birthday wishes on your special day. Such a giving person as yourself deserves only the best. Wishing you were enjoying your favorite cake and laughing your tinkling laugh instead of being ill at this time.
Sending birthday wishes along with the hope you will start feeling like yourself again today. For all of the things you have done for everyone else, you deserve a birthday both lovely and memorable.
Sending warmest birthday wishes to an amazing person. The contributions you have made during the course of your life are superb. You deserve only the very best this year. Hoping you feel better quickly.
Sending fondest wishes to you for a spectacular birthday. Hoping you are back to full health and feeling incredible as soon as possible. May your birthday provide you with as much joy as you have given to others.
Sending birthday wishes for a great birthday despite your illness. May you feel better and better as your day unfolds. If anyone deserves an exceptional birthday it is you. Hoping you feel the same joy you selflessly bring to others.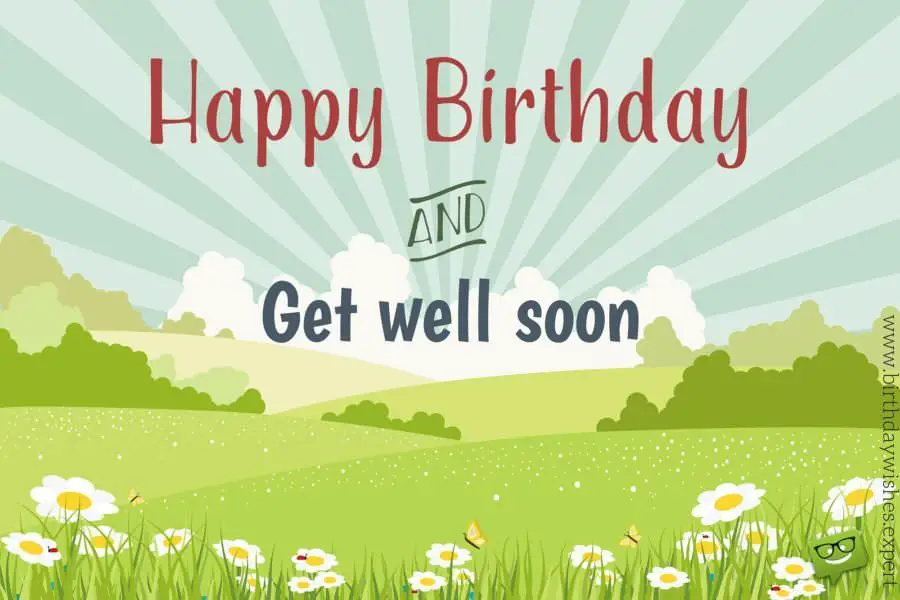 Birthday Wishes to Someone Who Lost a Job
Birthdays are even more important when someone loses a job. Maintaining a positive attitude, firm belief in the possibilities of the future and letting go of the past is exceptionally important. Sometimes a birthday celebration or fond wishes can make a tremendous difference. When the right words do not come to mind, the following messages are intended to help as much as possible. Both support and love can be sent through the use of the right words.
Fondest wishes for your birthday. Losing a job is difficult, but everyone believes you will find something even better soon. Enjoy your day and remember you are in everyone's thoughts and hearts.
Only the best wishes are being sent to you on your birthday. Please try to stay positive despite losing your job. By your next birthday, you may have the job you have always dreamed of.
Losing a job is incredibly difficult. Sending you the warmest wishes for your birthday because your unfortunate circumstances will turn around. Hoping you have the faith to believe everything will be all right.
Sending hope for a bright future along with warmest wishes for your birthday today. Look towards the future and believe by this time next year you will be sitting proudly right on top of the world.
Sending fondest wishes for your birthday. Remember your current situation is not permanent and you will triumph. Hoping tomorrow everything turns around to provide you with a sensational future.
There is an old saying that life is funny sometimes. Remember anything is possible tomorrow. Sending fondest birthday wishes for an amazing future filled with prosperity, success and possibilities.
Sending best wishes for the best birthday you have ever had. Today is the beginning of a fantastic future full of promise and opportunities. May every one lead you to a new destination and the realization of your fondest dreams.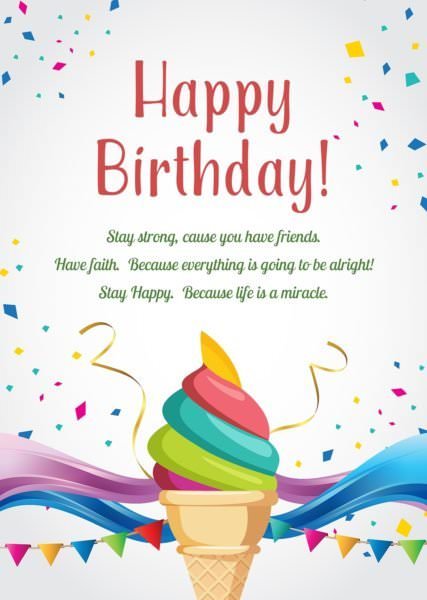 Birthday Wishes to a Bereaved One
When a loved one is lost, the grief is devastating. It is especially important to remember a birthday to help lighten the load even the smallest amount. Sometimes it becomes a little easier to handle the process of grieving when wishes bring a smile. Nothing can ever replace a lost loved one, but the right words can make a difference. Knowing what to say can be almost impossible. For this reason, the following messages have been created. Perhaps sending a birthday wish will make an important difference.
Best wishes on your birthday. There are no words to express everyone's sympathy for your great loss. Try to remember the joy you shared together in the past on this day. You will always remember, but it will get easier as time passes.
Fondest wishes for your birthday. Losing someone you love is one of the hardest times of your life. Sending support, love, prayers and hoping you are doing as well as possible during this sad time.
Birthday wishes for this difficult time. May you find happiness soon, remember them always and once again find a way to enjoy your life. While you are enduring these tough moments, always remember how very much you are loved.
As you are enduring your grief, sending best wishes to you on your birthday. You will find your way out of the darkness to experience the beauty life has to offer again. May this day offer you the peace you need and bring a little happiness.
As you are working your way through the grieving process, sending warmest wishes. Your birthday should be a day of joy despite the burden you are carrying on your shoulders. Hoping your day is filled with beauty and love.
Sending birthday wishes that your day brings you some joy among your grief. Try to appreciate the little things today such as listening to your favorite song, enjoying your favorite meal and remembering your future is still waiting for you.
Sending birthday wishes your grief is transformed into beautiful memories. Sometimes, people do not remain a part of your life forever, but they will always be firmly embedded within your heart.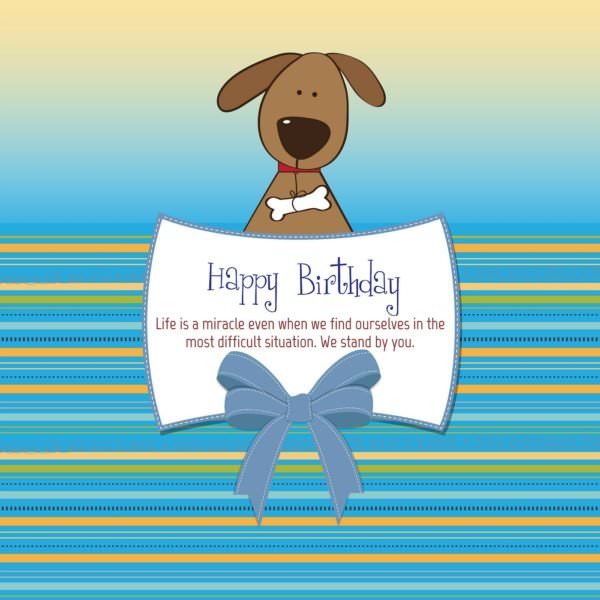 Birthday Wishes to Someone Who is Divorced
Divorce is a complicated and confusing time for everyone. Sometimes it is so easy to become lost in memories of the past, the future becomes blurred around the edges. Receiving birthday wishes can make a big difference. The problem is a lot of people have no idea what to say, so they say nothing at all. When the right words are not there, the message below may help. Warm wishes can make a much bigger difference than you may realize for someone trying to celebrate a difficult birthday.
Best wishes for your birthday this year. Being single can be both a blessing and a curse. Hoping the blessings shine down upon you and the curse is forever lost behind a cloud. Your future will be magnificent.
Warmest wishes are being sent to you for your birthday. Despite your divorce, everyone believes you have a wonderful future ahead of you. You have the strength to continue moving forward. You can build an incredible life.
Thinking of you on your birthday and sending the warmest of wishes. Hoping you opened your eyes on this special day to see the beauty all around you. May the sun warm your skin, a cool breeze provide peace and happiness fill your heart.
Think of your birthday like a brand new beginning with the chance to do almost anything you can imagine. Sending fondest wishes to help you celebrate, know you are thought of and to make your day a little bit brighter.
Your birthday deserves the warmest of wishes. Despite the difficulty of life, your charm and spirit will carry you through to bright and happy days. May your day bring you smiles, excitement and possibilities.
If the warm wishes being sent for your birthday come true, your day will remind you of how much living you have left to do. May every moment be filled with hope, dreams and the wonderful future you deserve.
Sending birthday wishes that today is the day you kick up your heels and start living the life you so richly deserve. May your cake always be the perfect flavor, may your presents contain everything you were hoping for and may your laughter fill the air.
Birthday Messages for Someone Who is Too Old to Get Out of the House
Age comes with the benefit of wisdom, and often the difficulty of extremely limited mobility. When a person is unable to leave the house, every little gesture helps. Sending a special wish for a birthday can place a well-deserved smile on the person's face. This is a time to enjoy everything available including birthdays. A lot of people have no idea what wishes to send. This is why the collection of messages below has been created.
Warmest wishes for your beautiful birthday. Remember all of the fun we have had together, the new experiences we shared and how we used to laugh until we could hardly breathe. Most importantly, remember there is a lot more fun on the way.
Thinking of you on your birthday and sending the warmest wishes. Take the time today to watch the birds soaring outside of your window, revel in the smell of a delicious meal and maybe even enjoy a big piece of birthday cake. You deserve it.
Your birthday should always be a time of happiness and celebration. Sending fondest wishes you enjoy a glorious day. Remember the past fondly, live in the moment and look forward to the possibilities of the future.
Your birthday is an achievement of yet another year well-lived. Sending fondest birthday wishes for another magnificent year. May your most unexpected and fondest wish come true in splendid glory.
When you woke up this morning, everyone hopes it was to the sound of birds greeting you with their excited chatter. May your day bring you unexpected surprises, abundant love and as many delights as you have dreamed about.
Today is the day to celebrate your life because it is your birthday. Sending warmest wishes for an incredible day. Take a moment to appreciate all of the blessings life has bestowed on you and celebrate in style.
Birthdays should always be a joyful occasion. Sending warmest wishes that your day brings you happiness, too many smiles to count and surrounds you with love. Always remember how important and special you are.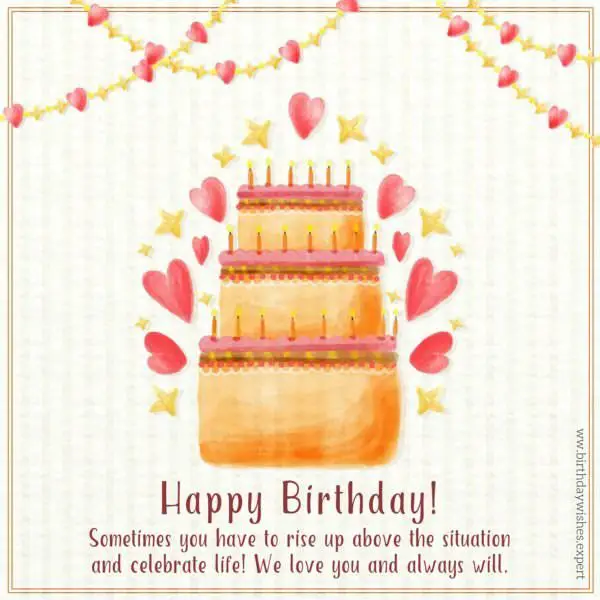 Birthday Wishes for Someone Fighting Cancer
To say the battle against cancer is hard is the understatement of the century. One of the best possible weapons is a positive attitude. When best wishes are received on a birthday, the difference is often amazing. The words can make fear recede and hope spring forth, even if it is just for a little while. Birthdays are always important, but even more so during this time. The messages below are meant to offer words where there are none to make an important difference in a loved one's life.
Please believe in the future on your birthday. Everyone is praying you will celebrate your 100th birthday. You are stronger than cancer, you can do this. As difficult as it is, keep fighting knowing you are surrounded by love.
Although there is so much sadness on your birthday this year, fondest wishes are being sent. Please believe everything will be all right because this is everyone's deepest hope. Looking forward to your birthday year after year.
Birthday wishes during your difficult time. Believe in yourself, and believe you can fight cancer and win. May your future be filled with laughter, happiness and love. Enjoy your day as best you can and remember your are so very loved.
Despite your current difficulties, your birthday is incredibly special. The world gained a beautiful soul on this day. Sending birthday wishes to help you remember you are special, strong, a fighter and will come through this rough time beautifully.
As you fight with everything you are, sending best wishes for your birthday. May you experience only positivity from the prayers, blessings and thoughts being sent your way. You are loved deeply.
Your birthday is a milestone celebrating your past, present and future. Sending best wishes that your day is everything you want it to be. Despite the battle you are waging, everyone believes you will be victorious.
Sending fondest wishes that on your birthday you celebrate the joy of life and the beauty and possibilities of the future. Dance, laugh and love because tomorrow is waiting for you.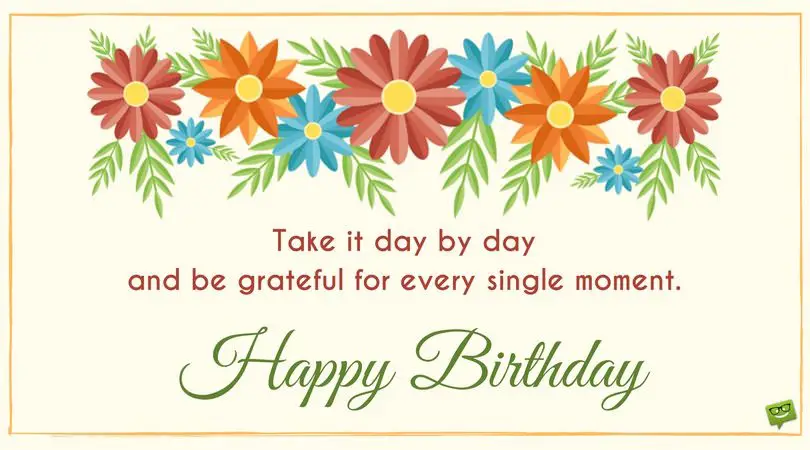 Birthday Greetings for Someone Who Is Terminally Ill
Unfortunately, not every disease has a cure. This does not mean someone with a terminal illness should not celebrate every special occasion, including a birthday. During this time, every birthday has a much greater importance. Seeing a cheerful message or words of love can have a great impact. The hardest part is finding just the right words to say. The following messages were written with this in mind. Hoping one of these messages contains the right words for the situation.
You deserve nothing less than the warmest wishes for your birthday. you have touched and changed the lives of so many through your kindness and gentle spirit. You are cherished, adored and will always remain in the hearts of those you love.
Despite the circumstances you have been so unfairly left to deal with, sending fondest wishes for your birthday. Please make the most of every moment, enjoy every pleasure life offers and most of all, know you are thought of and loved on this day.
The reason warmest wishes are being sent for your birthday is that you have touched so many hearts. Please know the difference you have made in everyone blessed enough to be a part of your life.
Right before warmest wishes were sent, quite a few people were reminiscing about your birthdays in the past. Your love, smile, laughter and joy will never be forgotten. Hoping you find all of the joy you have brought to others on your birthday.
Even though your life has taken an unexpected turn, sending birthday wishes to make certain you know you are both cherished and loved. Everything you have done throughout your life has made the world a better place to live.
Sending fondest wishes for your birthday. Enjoy every single moment of your special day. You can find beautiful moments and make incredible memories if you just believe. You are loved, you are appreciated and you are wonderful.
Birthday wishes are headed your way to remind you to celebrate. Every birthday is a priceless gift to be unwrapped slowly and savored. May the magic of the day embrace and envelop your soul.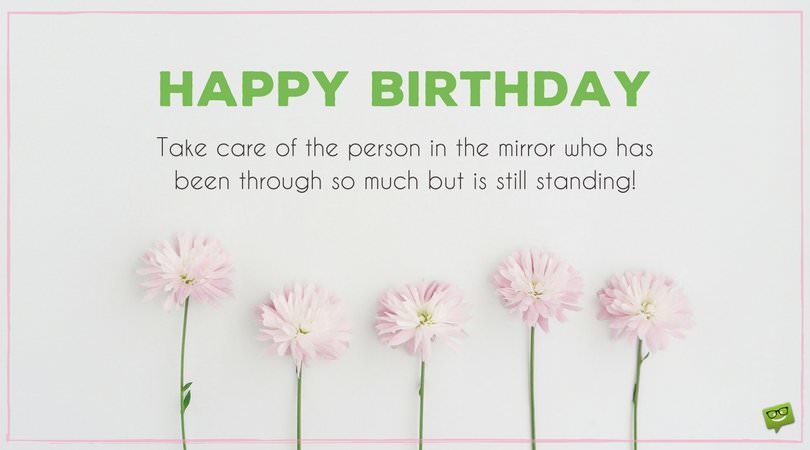 You may also like:

50 Birthday Wishes for Cancer Patients
200 of the Best Birthday Messages to Make Someone's Day Special