"I Love You" is one of the most common ways to show the one you love how much they mean to you. While there's nothing wrong with declaring these three little words, it can be refreshing to receive unique messages that will make her heart melt.
Sharing meaningful words of praise and appreciation goes a long way to revitalizing romance and making your partner swoon. The list of tender quotes below is perfect to personalize cards, send as a fun text and as short love letters, or leave in a special note to brighten her day.
Deep Love Messages for Her

Reaffirm your deep bond with the woman you love.
You can feel completely secure in my love for you. There's no one else I'm so close to, no one else who holds my heart and my attention.
When I tell you that we're meant for each other, I'm not just using pretty words. I feel it with complete conviction.
Because you live in the deepest place in my heart, you're always with me.
With you, I've found my soulmate and my truest friend.
My love for you is unwavering and deep. I don't think it's even possible for me to stop loving you.
Loving you is an honor and a profound joy, a blessing beyond measure.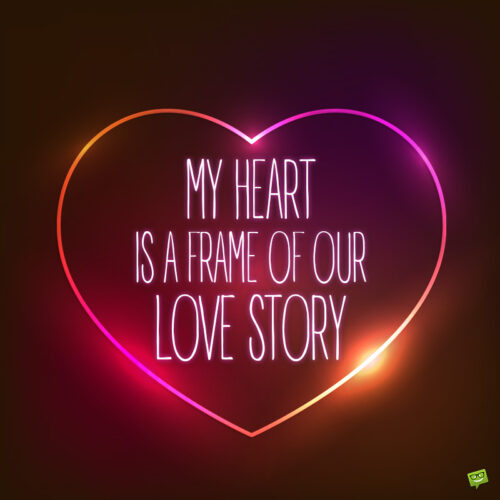 Sweet and Romantic "I Love You" Messages for Her
Romance her with caring notes of encouragement and generosity as well as her beauty on the inside and outside.
With you in my life and in my heart, it's impossible to feel lonely.
You're an amazing woman who won my love just by being who you are.
Please don't think I'm being cheesy when I tell you that I love you completely.
Even when I'm dealing with a busy, stressful day, I still stop and think about how much I love you.
After buying you chocolate, my love, I hope to taste it on your lips.
When I think about you, the soundtrack in my mind is made up of the sweetest love songs.
Thank you for giving my life an abundance of love. Thank you for being my sweet and beautiful reality.
Your strength, courage, and wisdom inspire me. I love not just who you are, but who I am and want to become when I'm with you.
I can never put into words how grateful I am to be your partner-in-crime and for you to be mine.
You know I can't sing. But you make me want to climb to the roof and belt my feelings out to the world as loud and bad as I possibly can.
I wish you could see yourself through my eyes because I'm in awe of you. Know that you are a one-of-a-kind gift and my life wouldn't be the same without you.
Thank you for showing me what it means to be married to my best friend.
You have my whole heart every day for the rest of my life.
As the years come and go, your hand is the only one I want to hold as we conquer it all.
You're sweeter than chocolate, finer than wine, and warmer than a fireplace on the coldest day.
Not even the sun can compete with the warmth of your glow and the brightness you bring on the greyest day.
Waking up and feeling how much I love you is part of my daily routine.
I love you more today than I did yesterday, and tomorrow's love will pale in comparison to how I feel for you right now.
From the moment I saw you, I knew the fractured pieces of my spirit and yours were destined to become one.
They say that opposites attract, but I've never felt like someone understands me the way that you do.
My heart is a frame of our love story.
You are the reason I believe in love, that miracles are real, and anything is possible.
Every obstacle I've overcome was meant for a reason. They led me to you.
Your smile is the best album cover of my day. Your laughter is the greatest soundtrack of my life. Your companionship makes my heart skip a beat.
My life is incomplete without you in it. Falling in love with you is the best thing that has ever happened to me. I love you so much, my dear.
My dreams came true the day you decided to spend the rest of your life with me. I love you so much, darling, and I promise no one is ever going to take the special place I've reserved for you in my heart. No matter the situation, you'll always be my number one!
The day you decided to be with me, I promised myself to always put a smile on your beautiful face. And I will move mountains and walk a thousand miles just to see you smile. I love you.
Like a priceless gem, true love is rare to find, which is why I am so lucky to have found true love in you. I want to be yours for eternity and I want you to be mine forever. I love you, sweetheart.
I don't want to go to paradise because I find paradise right here on Earth being in your arms. I love you.
This heart of mine beats only for you, my dear. Had you not decided to spend the rest of your life with me, there'd be no point living. I love you.
Every moment spent with you is priceless. I love you, baby, and can't imagine living this life without you.
Sweetheart, the only person I need in this whole world to love me is you. And now that I know that your heart belongs to no one but me, I can confidently say all my dreams have come true. I love you.
Before you came into my life, I never knew what true love felt like. With you in my life, I finally know what it feels like to be truly and madly in love. Thank you for bringing me such a priceless gift. I love you.
All this while, I thought I was living a perfect life until you came into my life and showed me what I was missing. Thank you for bringing color into my life and completing it. I love you with every beat of my heart.
Over the years, I've done numerous things with my life, but the one thing I can confidently say I did right with my life is giving you my heart. I love you so much, baby.
Related: 30 Sweet Good Morning Captions For Love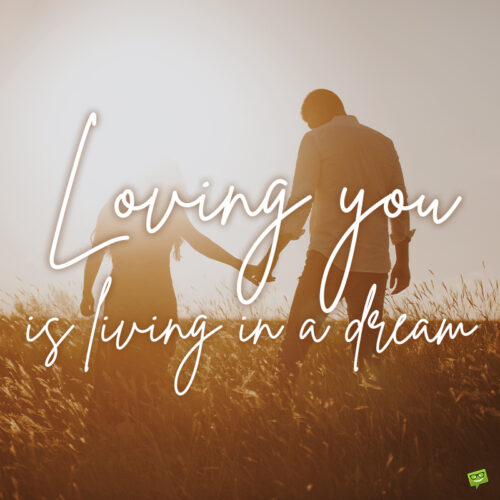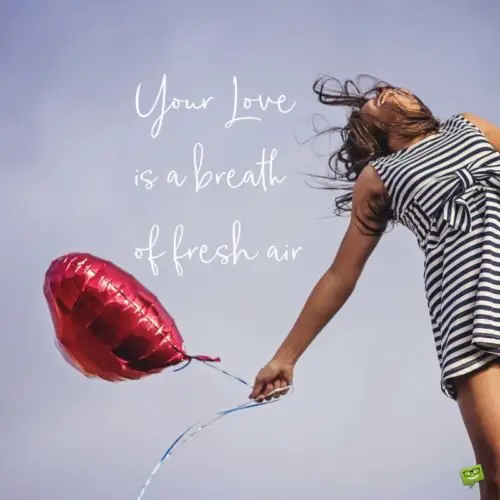 Short Love Text Messages for Her

Surprise your loved one on social media or text with these charming captions.
My day isn't complete without a kiss from you.
Looking at you lowers my stress levels.
I can't even begin to describe your grace and beauty.
All it takes to make me happy is for you to be yourself.
Hug and kiss me whenever you want.
You're everything that's sweet and good in the world.
Loving you is living in a dream.
My heart belongs to you now and forever.
You're the sun on my darkest day. You're the stars in the midnight sky that guide me home.
Sometimes I look at you and wonder how lucky I am to have you in my life.
I feel a glow in my heart just thinking of you.
I like the way you make me feel even when we are apart.
Nothing makes me smile more than knowing I'll see you at the end of today.
I don't know what my life would be like without you. But I know it wouldn't be as sweet, funny, or clever.
You stole my heart the instant we met, but I'll let you keep it – preferably forever.
My thoughts are free to roam anywhere they want, but they are anchored to you and the love that we share.
I choose you. Every hour of the day, without absolute certainty, I will choose you over and over.
All of the little nothings that we talk about mean everything to me.
When I'm with you, I'm home. I might be at work right now, but I'm counting down the seconds until I can make you feel the same way.
The most evocative poems, art, writing, and music can't compare to your beauty.
Nothing could make me change my admiration for you. Like a diamond in the rough, you push me to sharpen all of my edges and discover what I'm capable of.
Hope you're having a day as special as you are!
Every time my phone vibrates, I hope you're the reason why.
Long Love Messages for Her

Leave her a longer note to show her how greatly she's appreciated and loved.
Tell me what you need. I want to do things for you that make your life easier, make you smile, and make you feel lucky that we're together. Your comfort and happiness are always my top priorities.
Whether you're telling a joke or explaining an idea that you've come up with, I love that you share things with me. It's a privilege to hear your thoughts and know what you're feeling. Your heart and mind are incredibly beautiful.
Any plans I make for my life can't be complete without you. I don't think only about my own dreams. I also think about what you want and need and how I can give you happiness.
I would say that you're the woman of my dreams, but even in my dreams I never imagined someone as extraordinary as you. I never thought I could love someone so intensely and completely. Thank you for making my life better in ways I never pictured before.
One of the things I love about you is how we can be both friends and lovers. I know I can trust you, and I strive to give you the trustworthiness and support you deserve. I know that we can have a good laugh together and share our fears and sadness with each other too.
There are many ways in which you're beautiful. Your loveliness has layers and depth. Your soul, your mind, and your heart are all part of your beauty.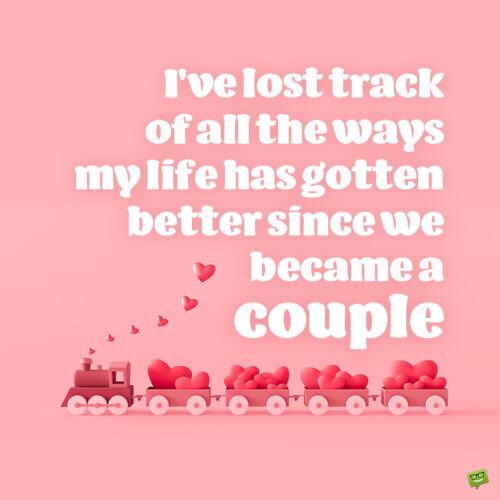 Love Messages for Your Girlfriend
Bring a smile to your girlfriend's face and make her feel cherished with these messages.
I was really nervous before asking you out for the first time. I'm so happy I took that chance.
I'm blessed with an amazing, gorgeous girlfriend.
I've lost track of all the ways my life has gotten better since we became a couple.
Whether you need help with something or just want to do something fun, please turn to me. Let me make you happy.
Along with being kind and compassionate, you're smart and beautiful. I still can't wrap my mind around how lucky I am that you're with me.
I want to say that you're my dream girl, but I was never able to dream of anyone as beautiful and brilliant as you.
Even when we're just having fun hanging out, remember that I'm serious about you and committed to building a strong, loving relationship.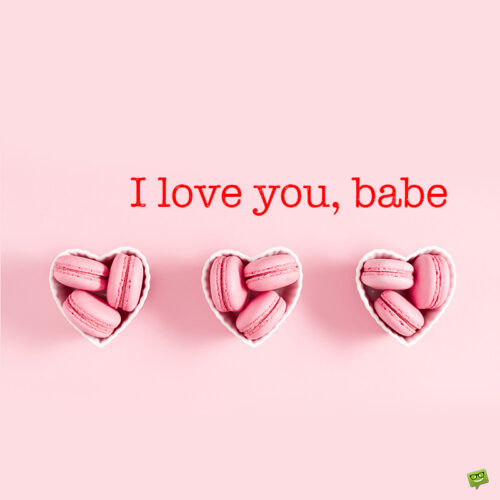 If you like this article, check out our collection of Birthday Messages to Impress your Girlfriend
Love Messages for Your Wife
Loving words are a part of what makes a marriage stay strong.
Sometimes, I can't believe you're married to me. I can't believe I got so lucky.
Although I don't always get it right, know that I always want to be a good husband for you. I want you to be happy and feel good every day.
By loving you, living with you, and learning from you every day, I've experienced more blessings than I can count.
I'm one of the lucky people who get to say that they're married to the love of their life.
Years have gone by, and I still deeply love and desire you.
My sense of freedom when we're together and your constant flow of love makes you the most unique woman in the world for me.
There's nobody else I want to share joy with, and there's nobody else I want at my side during challenges and rough times.
You should know how deeply I appreciate you, care about you, and love you.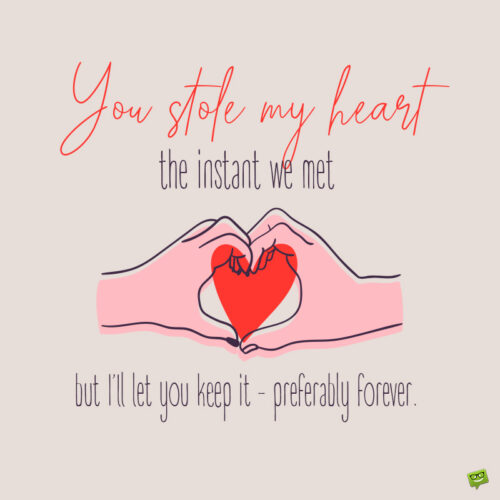 "I Love You" Poems for Her
Being with you makes me feel alive
I love you so much and shudder to think how incredibly miserable life would be without you by my side
The way my heart beats for you makes me believe our love will thrive
This heart of mine is where you'll always reside
xoxo
You are my number one reason for being
To me, you're a priceless work of art
You're the Queen of my heart
You're the reason I'm still breathing
I promise that we'll never be torn apart
I love you so much, sweetheart
I can't face this life on my own
You bring me up whenever I'm down
You make me smile when I frown
Honey, you bring sunshine into my life
And I'm so grateful to God that He made you my wife
I love you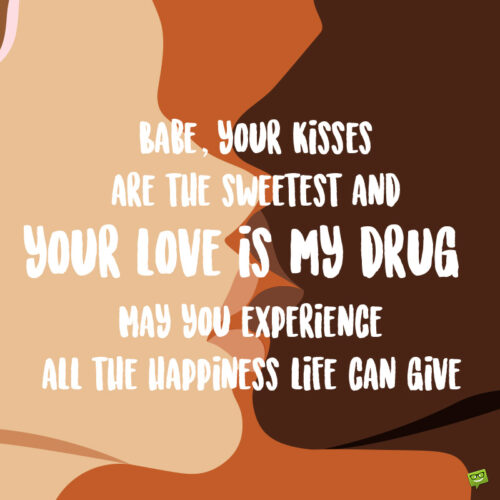 You bring a smile to my face whenever I find myself feeling blue
How you do that, I have no clue
All I know is that I always want to stick to you like glue
Because my love for you is true
You take away my sorrow
And fill my heart with hope for tomorrow
Babe, I know our love will forever grow
I love you
You're the only one capable of filling my heart with such bliss
I feel like I'm in paradise whenever we kiss
When you are not around everything in my life goes amiss
Please, never stop loving me because I promise to love you forever
Just one look at you and I'm eternally grateful to God for bringing us together
You bring meaning to my life
I promise to love you forever
No one compares to you, my sweet wife
xoxo
My love for you is deeper than any ocean on Earth
You mean more to me than all the world's wealth
Thank you for loving me and showing me that true love isn't a myth
I promise to love you until I breathe my final breath
Thank you for completing my life
You are my life's priceless gem
The world is full of billions of women, but my eyes don't see them
All I see is you, my beautiful wife
I love you
Your love completes me and makes me glow
Your love makes my heart beat and allows the blood in my veins flow
Your love takes away my sorrow
I'll forever be grateful to Cupid for striking me with his arrow
I love you, babe
With every blessed day that passes by, I love you more
No other woman will ever take your place in my heart's core
You are the one I will always love and adore
Sweetheart, I love you now and forevermore
Every time I look into your eyes, I thank my stars for putting you in my life
Whenever I hold you in my arms and kiss your lips, I am transported to heaven
No one can ever replace you, my dear wife
I'm proud of this beautiful love story you and I have woven
I love you, my dear
I love you more than words could ever say
I need you more and more with every passing day
You're my dream come true
I promise to never make you feel blue
I will always love and cherish you because to me, you're of extraordinary value
Romantic "I Love You" Notes for Her
Your face is special, your heart is pure, your love is something as unique as you. This is what I think of you. In other words, I LOVE YOU.
Without you by my side, I can't sleep at night. Without your cooking, I'll go hungry. Without your love, I think I will die. May everything good we share last forever.
No matter which way life takes us, our love is so strong that the next time I hold you in my arms we will pick up right where we left off.
I think of you day and night. Baby, I love you so very much.
I love you to the moon and back because you loved me in my meanness and time of trouble, not just in those times of happiness. You're one in a million and your love stretches further than space.
They say that without love, no man can truly live. Like a flower that has finally blossomed, your love has given me life, breath, and wings to fly.
Every day I wake up next to your beautiful face, your messy hair, and your smell, I have another reason to believe in true love.
I think of all the ways to describe us, and all I can think of is forever and always. And the only way to describe our love? Magical. It's pure magic.
If I need anything besides you in this life, my brain is completely unaware of it. My heart tells me you're my everything. My fate. My one destination. And I'm on this journey until the end.
Some say you are born alone and die alone. But our love makes the difference- we will have each other forever, and it is more than enough.
I am one of those people who believes in eternity and magic. Although we all die, by receiving your love I know I will live forever.
Like an angel in the dark and a candle in the night, your love came and rescued me. It breathed life again to my heart.
To me your love is the most precious thing in the world- it is sweet, tender, gentle, thoughtful, bright as a star on a dark night.
I have doubted many things in this life, but I've never doubted your love- for me, for others, for those in need. It is something beautiful that I never want to miss.
Even through the chaotic waves of life your love pushes on and finds me. I'm so glad you did.
Your love heals, strengthens, touches, motivates, and inspires. Your love is what keeps me going. It is simply the one thing I cannot live without.
I know that having you in my life is a luxury- because your love is worth that much. Thanks for choosing to spend it on me.
Babe, your kisses are the sweetest and your love is my drug. May you experience all the happiness life can give.
Your laugh is what I long to hear, and your heart is what I wish to make mine. That's how much I you.
If we were in cyberspace, even all the stars and the moon could not measure the total sum of your love. That's how fantastic you are.
Good morning, gorgeous. Remember today that I love you. I really do.
The only happiness I've ever truly had in my life is when I've loved you. You are my forever and always. My destiny.
Your smile gives my heart life and my life a real meaning- thank you for being the one person I can't live without.
You are my one and only because you don't see me with your eyes, you see me with your heart. And that means the world to me.
By loving me for me, you've taught me to love myself too. This is the most beautiful thing I've ever experienced- and I'm so glad it was with YOU!
Like a diamond that found someone to polish me up, your love found me and has changed everything into something good. I love you so much.
Before we met I dreamed of you every night. Now that you found me, I'm never letting go. I love you babe with all my heart. If it wasn't for you, it would not beat at all.
Dear baby, I in life things change. But loving you is the one thing I wish will last as long as we both live. I love you.
You are the one person I think about when I go to bed and when I wake up in the morning. I love you, babe. Remember that.
Like a garden that is watered and lit by the sun, you give life and meaning by the way you love. You are really someone special and I love every part of you.
For years and years I kept on trying to find someone to love. But now that we are together, you've made me realize that love is not something you give so much as it is something you receive. Your love taught me that.
I thank God every day for the opportunity to love you. For it is the most rewarding thing I've ever done in my lifetime.
Rather than letting me go, you let me grow. Rather than judging me, you loved me. Rather than speaking for me, you taught me that actions speak louder than words. You love better than anyone else and I'm IN LOVE WITH YOU because of it.
Some people like beginnings. Some like endings. But I'm perfectly happy right here in the middle- as long as I get to still love you here.
You may also like:
A Kiss Before You Sleep | Good Night, My Love!
Because I Love You | 84 Romantic "I Love You" Messages
A Woman I Deserve: Love Quotes for Her