Expressing love for the people dear to your heart is one of the most beautiful things you can do. Thus, it's normal that part of that affection should be addressed to your own brother, a person with whom you have one of the strongest bonds.
That said, we're so glad that your search for deeply felt I love you messages for your dear brother has brought you here. On this page we have a huge collection of some of the sweetest and most touching lines you can use in melting your brother's heart and making him feel lucky that he has a wonderful sibling like you in his life.
Brother, there's one thing in life I am 100% certain of, and that is the fact that I will love you and care for you until my time on earth is through.
You are my precious brother and I love you as much as I love myself. I will never ever stop being there for you, bro.
I love God because He blessed me with you. Brother, I love you to the moon and back!
Having you as my loving brother is a phenomenal privilege and honor that I shall forever be grateful for. Love you.
Dear brother, I hope you go through life always remembering that my love for you will forever be imperishable.
I am who I am today because I have a precious brother like you. Nothing in this universe can ever change what you mean to me, dearest.
Being your sister/brother is certainly one of the most priceless gifts of my life. I love you very much, brother.
Words will never be enough to thoroughly express to you how happy you make my heart by just being an incredibly sweet brother to me.
I'm absolutely blessed to have a tremendous brother like you who is always by my side to share my ups and downs. There's no amount of wealth that can replace the happiness your love brings me.
Brother, you're my hero and best friend. I can never be anything without you. Having you in my life always fills my heart with gratitude. I love you tremendously.
Having you in my life gives me the wings to fly higher than an eagle. I will certainly love you until the end of forever because you are the sweetest brother ever.
Only God can fully describe to you how much I love you, brother. I hope to continue loving you even after I have closed my eyes for the last time.
If all brothers in the world were as sweet as you, the planet would be filled to its brim with happiness. I love you so much!
The only thing indestructible in this world is my love for you, my sweet brother. You bring me so much joy and make every day of my life special.
Having a caring, loving and supportive brother like you makes me the recipient of God's greatest blessings.
Bro, the only thing in this universe that is too great to be estimated is my love for you. There's absolutely nothing that I wouldn't do to decorate your soul with happiness like you do mine. Thank you for being a remarkably wonderful person to me.
You illuminate and embellish my life whenever you come around. I really don't know what I would have done in life without the good luck and happiness that you fill up my world with every day.
In my eyes, every day is as beautiful as the colors of the rainbow because of you, my dear brother. May the love we have for each other last our entire lives.
Finding someone who constantly fills up your soul with love, sunshine and joy is one of the most difficult things to find in life. Fortunately for me, I find that person in you, my brother. I love you in a way that is too wonderful to be described.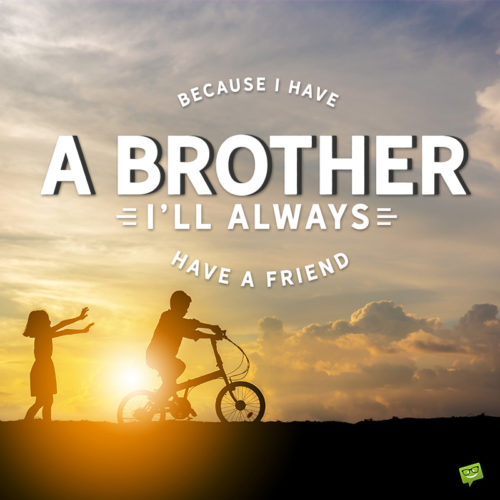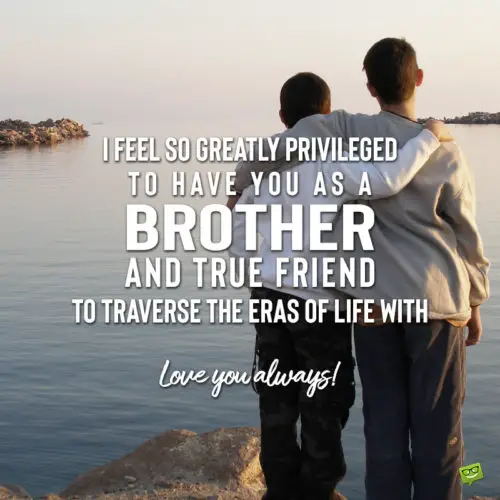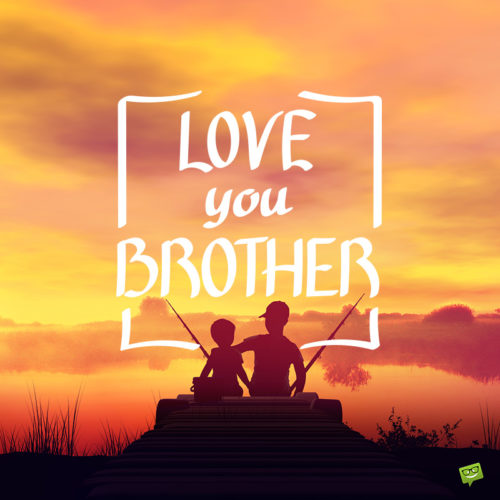 The sweetest thing God has ever done for me is making you my brother. I shall love you for as long as God keeps on supplying me with life.
My life has always been a series of happy and magical moments thanks to you, brother. There's absolutely no doubt in my mind that God spent extra time creating you specifically to put happiness in my life.
Brother, unless someone is blessed to have you as a brother, their life can never be as joyful as mine. Love you!
There's absolutely no one in this world remotely as wonderful as you. I will love you always and forever with all my heart.
Brother, every blessed day, you become a lot more phenomenal. What a great blessing it is to be your sister/brother!
Hey brother, in my eyes, you are very wonderful – and you should always know that. There's not a second in my life that I don't love you – even when we argue and fight.
Heavenly is the description of how I feel whenever we are together. I love you, my brother.
My precious brother, did you know that my love for you increases with every millisecond that passes by?! You are my treasure – today and forever.
I truly don't need paradise when I have a wonderfully sweet brother like you by my side, and that is why I will waste no time walking out of heaven if I get there and I don't see you.
You are, and will forever be my best friend, dearest brother. I am so confident my love for you wouldn't end in this lifetime. It shall blossom for all eternity.
What an incredible blessing it is to be blessed with a special brother like you in my life! I love you for constantly being my source of joy.
Bro, I love you so much for giving me an abundance of life's greatest gift: true joy. I hope I can also flood your life with this invaluable gift.
By all accounts, you're my favorite person in this wide world. I love you so much, bro.
Our lives tend to get so busy that we often don't get the time to hang out with each other. I want to use this quick note to let you know that you are always on my mind and that I'm thankful to have you as my brother. I love you.
Dearest brother, you are nothing short of my greatest gift from God. No matter how stormy my days are, your presence alone has the power to transform it into a truly sunny and happy one.
Everything in this world will change and perish, but not the love I have for you. The words of man will never be good enough to thank you for being such an amazing brother and friend to me all my life.
You may also like:
Ain't no Cake Big Enough! | Funny Birthday Wishes for Older and Younger Brothers
Good Morning Quotes for my Sister and Brother