Even though oldies aren't always goldies, you can't help feeling nostalgic when it comes to people that remind you of your childhood. Grandmothers are almost iconic about their sweetness, and they're often found to symbolize purity and innocence. In stories and movies, they are the ones that tell us fairy tales, the ones that bake cakes, those who kiss us good night, and -well, it's probably true- the ones who tend to spoil us, making our parents furious.
When it's grandma's birthday, sharing some words of love and gratitude is the nicest thing we can do, whether we are going to be by her side or not. Alternatively, especially if distances are too long to be covered, we can share a digital birthday card with her. Hearing from your grandchildren is arguably one of the warmest things to happen to you when you are a grandparent, so receiving birthday wishes from them is a true blessing.
Sweet Birthday Messages for your Grandmother
Happy Birthday to my grandma! You are the sweetest, kindest woman that I know! Enjoy this day, knowing that you are loved by me!
Happy Birthday to the best grandma in the world! When I am feeling down, you always know how to lift me up! I hope every experience that you have today makes you happy!
Wishing my wonderful grandma, a Happy Birthday! You are the most important member of our family! You are the one that holds us together!
Happy Birthday, Grandma! Here is to the woman who brings a smile to my face, even when I don't think I can be happy, again! Here is to someone with inherent goodness!
Grandma, may you have a great birthday! May it measure up to the person who you truly are! May it shine brightly and fill you with everlasting joy!
Happy Birthday, Grandma! On this day, I hope that you feel special! I hope that you receive everything that you have always wanted!
Wishing my luminous grandma, a Happy Birthday! May your presence continue to light the lives of all who know you!
Happy Birthday, to the best grandma that there is! You are magnificent! Enjoy your special day!
May your birthday make you rejoice, Grandma! May you feel all of the love that your family and friends have for you!
Grandma, you are the rare jewel in our family! There is no one more devoted to providing love, hope, and comfort to all of us! May you receive a multitude of heartfelt wishes on your most, special day!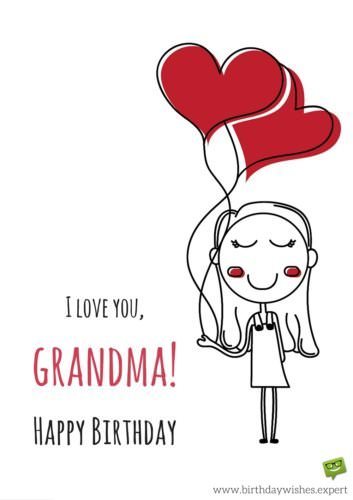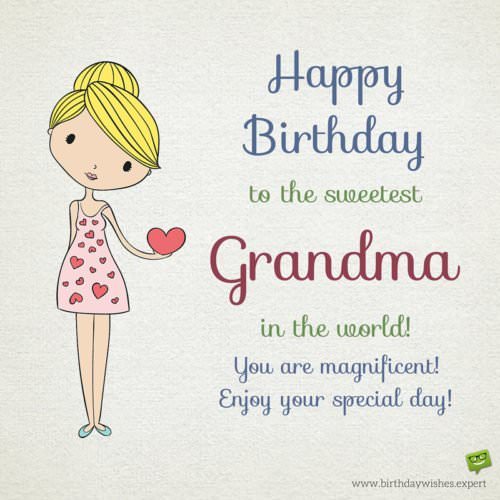 My wish for you on your birthday is that you'll always be healthy, happy and full of energy. May God never seize pouring His blessings on you, grandma. Happy birthday.
Despite the saying that nothing lasts forever, I want to assure you that my love for you is everlasting. I love you, grandma. Have a birthday that is as lovely and as glorious as you are.
Grandma, for your special day, I want to tell you how beautiful and inspiring you are to me. I will always love you and be proud of you. Have a blissful birthday.
You're such a sweet and wonderful person, grandma. On your special day, I hope and pray that all your wishes come true. Have a wonderful birthday, grandma.
When I look at you, grandma, all I see is a beautiful, loving, caring woman, who has lived her life to the fullest. Have a magical birthday, grandma, knowing that you're cherished.
If you enjoy this article, check out our collection of Birthday Messages to Make Someone's Day Special
Wishing a magical birthday to the most fabulous grandma in the universe. You're simply the best, grandma. Best wishes on your birthday.
On this special day, I wish you all the most beautiful things in life. May your birthday be as heavenly and incredible as you are, grandma.
Grandma, for your birthday, I would like to ask for God's amazing blessings in your life. May you always know happiness and peace. Happy birthday, grandma.
 You're more than just a grandma to me. You're my hero, my friend and my role model. I love you so much I can't express it in words. Have a glorious birthday, grandma.
Wishing the world's greatest grandmother a super duper happy birthday. We love you so much.
Grandma, if I were a songwriter, I'd write a thousand songs for you. If I were a poet, I'd write a thousand poems for you because you mean the world to me. Happy birthday. I love you.
Granny, you're my angel and I love you so much for that. Happy birthday.
I am the luckiest person in the world simply because I have such a wonderful granny like you. Happy birthday.
I would change a lot of things in my life if I had the power to do so. However, the one thing I wouldn't change in my life is you, my sweet and loving grandma. Have a beautiful birthday.
May every brand new day in your life be filled with joy and happiness. Happy birthday, granny.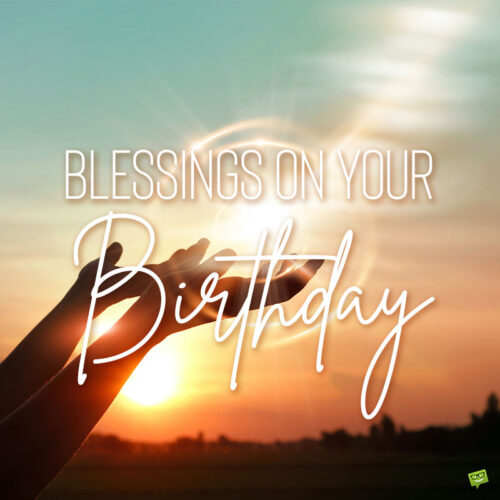 Birthday Wishes for your Grandmother which Express Gratitude
Wishing my grandma a fantastic birthday! I could not have made it in life without you! You have given the skills to survive and prosper!
Happy Birthday, Grandma! Thank you for raising me to be a responsible woman! You have shown me how important it is to consider situations, before taking actions! May you have a blessed day!
Best Wishes on your birthday, Grandma! Your humility and giving nature has inspired me to stay true to myself, and to help others!
Sending birthday wishes and gratitude to my grandma! You convey the importance of self love and self respect! Because of you, I walk with dignity!
My greatest wish for your birthday, Grandma, is that everyone you have shown kindness to, thanks you! You are an amazing woman who has improved numerous lives, including mine!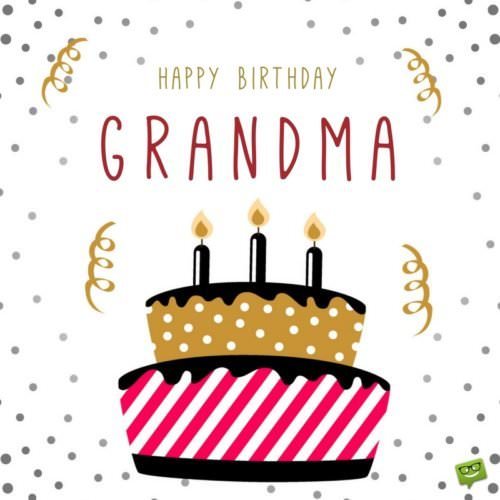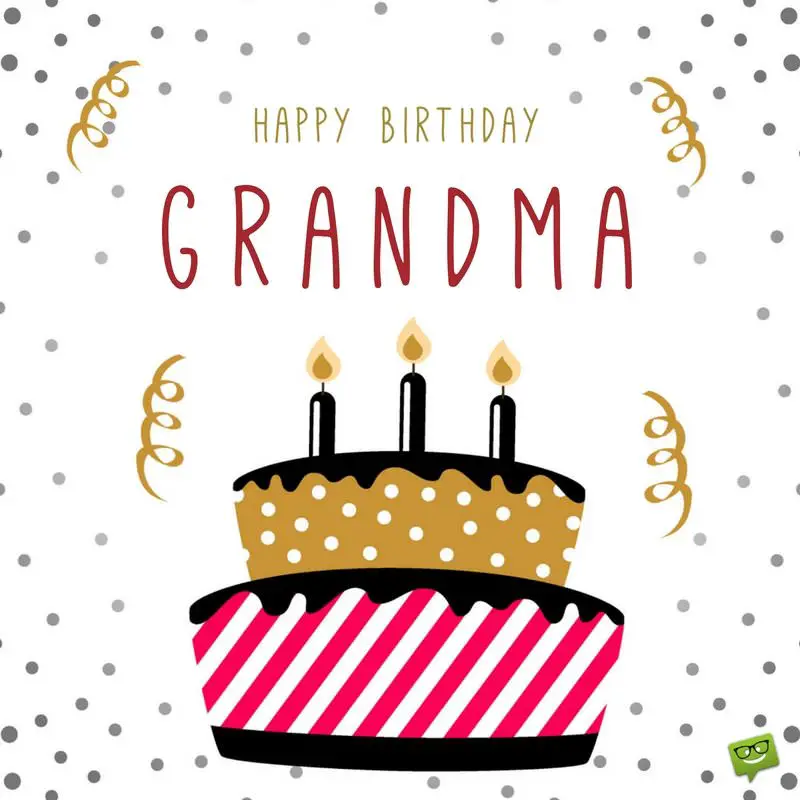 Grandma, you have provided valuable lessons to our family! You have taught us how to look out for each other and stay united, no matter what happens in our lives! On your birthday, we all come to you with grateful hearts and express thanks!
Happy Birthday, Grandma! Thank you for giving me a stable environment to grow up in! Due to you, I have become a well-adjusted adult! You have shown me what it means to give to another and what love really is!
Showing my grandma how thankful I am for her, on her birthday! There is and will never be anyone like you! You live your life the way that you want to! You have made me a braver person!
Grandma, I appreciate you! May you have a birthday where you are surrounded by people who do, too! May it be known how significant the date of your birth is!
Happy Birthday to my grandma, my greatest example in life! Your display of integrity has been a model for me to follow! Thank you for improving my life!
Best wishes to a grandma who does not have to say much, in order to get her point across. Your actions have reminded me of the vitality of the truth, and that it is better to know who you, than to try to be someone that you are not! May your birthday reveal new things to you, that are important in life, at moments that matter the most!
I am so lucky to have you as my grandma. Thank you for all the beautiful things you have done in my life. Happy birthday, grandma.
 Because of how loving and caring you are, I wish you the happiest of birthdays, grandma. Thank you for shaping me into the man/woman I have become today.
Grandma, words can't fully express how grateful I am to you for your love and care throughout my life. Happy birthday.
Today being your birthday, grandma, I want to thank you from the bottom of my heart for always being there to support me when I needed someone to lean on. Happy birthday, and may the Lord bless you abundantly.
Dear grandma, I wish I could reward you for all the love and kindness you have shown me, but I can't. Not even all the wealth in this world can pay you back for the sacrifices you've made for me. All I can say is thank you. Happy birthday, grandma. You're truly the most wonderful person I've ever known.
When times get really tough and everything around me seems to be making no sense, the one person I can always count on is you, grandma. Thank you so much. Happy birthday.
Grandma, I don't think I often express my gratitude to you for all the amazing things you've done for me over the years. Today being your special day, I just want to let you know how grateful I am to you for all the good things you have done for me and continue to do. Happy birthday!
Thanks, grandma, for giving me sweet childhood memories that I will cherish all my life. Happy birthday.
Thank you for being my best friend and for always being my pillar of support. This special bond between us shall never be broken. Happy birthday, nana, and know that I love you tons.
Encouraging Birthday Wishes for your Grandma
On your birthday, Grandma, remember what you have taught me: That it is vital to go after your dreams! I know there are countries that you would still like to visit. Grandma, you still can go! I've learned from you that it is never too late to have new experiences in life!
Grandma, your accomplishments have shown me that I can do anything that I set my mind to! As you celebrate your birthday, think about all of the things that you still wish to do, and go do them!
Happy Birthday, Grandma! Although I know that it has been a difficult year for you, I also know that you are a survivor! Grandma, you have the inner strength to go on, when many others would not be able to! May you have a birthday that reminds you of your courage, and to always have hope!
Grandma, the ability to move forward in life is a blessing! As you celebrate your birthday, acknowledge that you possess that ability! There is something unbreakable within you! Have an extraordinary day!
Happy Birthday, Grandma! You push me to be the best! Today, I would like to do the same for you. Whatever you want to do, go and do it! Make it happen! Nothing can stop you!
On your birthday, Grandma, I hope that you can see the bright future that you have before you! There is still much to do and see! Dream as big as possible, then make all of your dreams come true!
I pray that you always have the strength and courage to light up your beautiful face with a smile regardless of the situation you find yourself in. Have a wonderful birthday, grandma.
When the difficulties of life become too much to handle, please always remember that you can cast all your worries on God. He will take away your burdens and renew your strength. Happy birthday, grandma.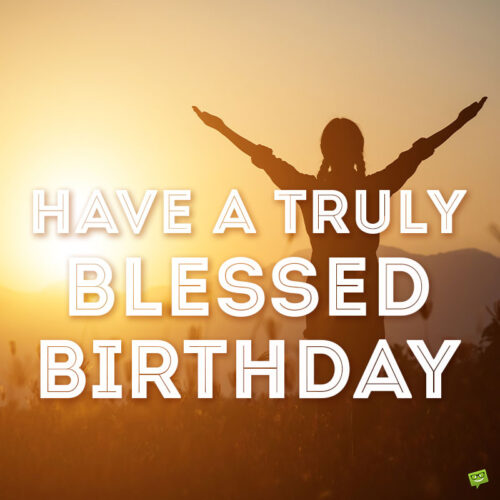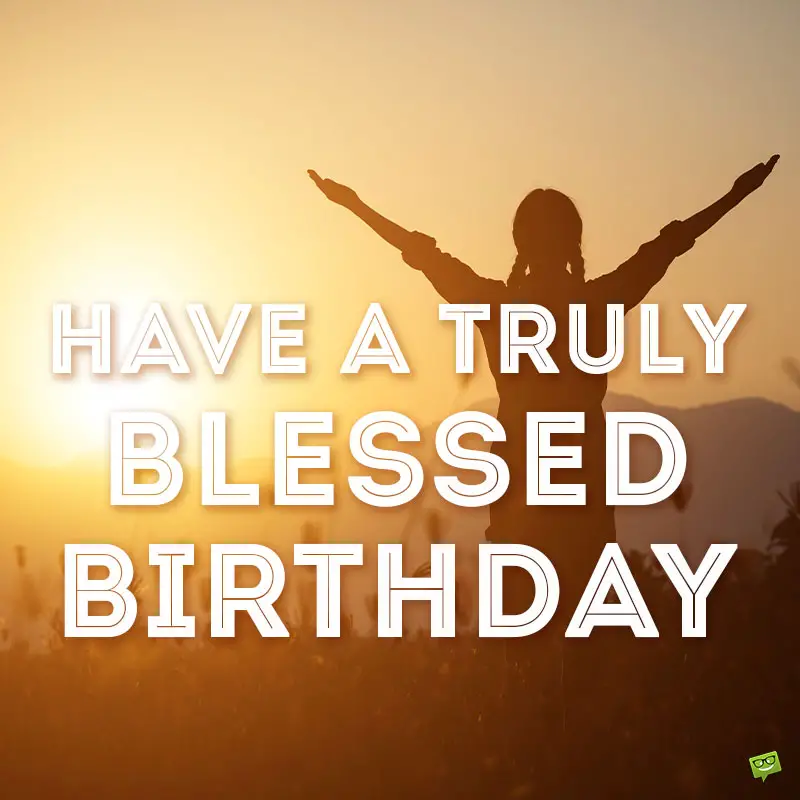 I might not be with you all the time, but know that I think of you always. So whenever you find yourself alone, please never feel lonely because you're not really alone. You'll always be on my mind and in my heart. Happy birthday, nana.
Grandma, please always remember that age is only a number and that you can still achieve your dreams with faith and courage. Happy birthday.
Granny, I take a look at you and I see a beautiful, strong and determined woman who doesn't give up easily. Never give up in life because your strength and determination inspire me a lot. Happy birthday.
Celebrate your special day knowing you'll never be alone because I'll always be there for you. Happy birthday, my dearest grandma.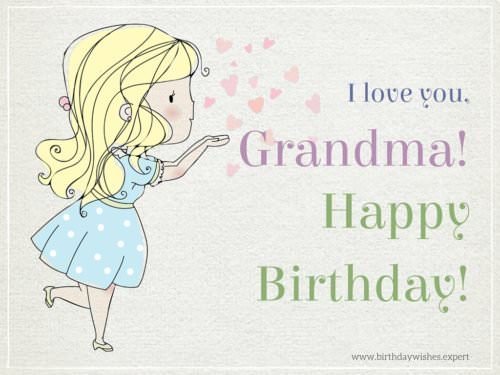 Funny Birthday Wishes for your Grandma

Happy Birthday, Grandma! May your dentures stay in your mouth, when you bite into your birthday cake! May you dance without needing a hip replacement, tomorrow!
To the old lady who is my father's mother, Happy Birthday! May this be the first day that you use a watch, instead of a sundial! May you ride in a car, instead of a horse drawn carriage!
Oh, to be old! I'm glad that I don't have to worry about that for many years! Happy Birthday, Grandma!
When I realized that it was your birthday, Grandma, I was shocked! The number of years you have accumulated left me speechless! Happy Birthday, oldie!
Happy 100th Birthday, Grandma! Don't deny it! I know how old you really are!
It's your birthday, Grandma! Here is to cover up all the wrinkles, and the arms! Please don't forget to cover up your arms!
Grandma, did you know that you are a 16 year old girl who finds herself in the body of an old woman?! Well, now you know, let the party begin. You and I are going to boogey like there's no tomorrow! Happy birthday.
Cheer up, grandma. Old age is something which doesn't last long. Just kidding! Have a very wonderful birthday.
Happy birthday, grandma. May you live to be so old you can't boast of even a single tooth.
Grandma, on your birthday, I wish to express my condolences to you for aging. Happy birthday.
Grandma, you know I'll always be by your side no matter what. Heck I'll even be right by your side to help you mourn the death of your youth. Happy birthday.
Happy birthday to one of the few people in my life whose birthday I don't need social media to remind me of.
Grandma, I hope you see all the beauty around you and smile while you still have teeth. Have a wonderful birthday.
At this age, I can say with absolute certainty that you are now officially too old to ever die young. Have a marvelous birthday, grandma!
How I wish a genie would magically transform me to your walking stick so that I can walk with you all the time, grandma. Happy birthday.
Grandma, in case you forgot, I want to use this message to remind you that it is your birthday today!
Birthday Images for Grandma
Feel free to download or share any of the images on this post.
You may also like:
Supposedly Wiser : Funny Birthday Wishes for your Husband
40 Happy Birthday in Heaven Wishes To Remember Grandma On Her Special Day