Tanned skin, surfboards, chilled-out sunsets and ice-creams: what reminds us of the summer might sound stereotypical at times, but who can doubt what it brings, really? The warmest season of the year (for us in the north hemisphere, at least) is a celebration of life itself. When temperatures rise, it's hard to focus on what you do for a living – and not only because of the heat: less clothes raise sexual awareness, mating and flirting radars are always on, and we love staying outdoors, whether it's for a cold cocktail or for a bronzing session under the sun.
Important and famous people have all said and written things about this time of the year, and we thought we ought to make this collection. Along with these famous summer quotes, our compilation of summer images proves that mankind is a playful species which lives in a body that mainly consists of water, on a planet that's mostly covered with that element. How can one not love summer?
Table of Contents
Famous Summer Quotes
Summer afternoon—summer afternoon; to me those have always been the two most beautiful words in the English language. Henry James
It's a smile, it's a kiss, it's a sip of wine … it's summertime! Kenny Chesney
Green was the silence, wet was the light, the month of June trembled like a butterfly. Pablo Neruda, "100 Love Sonnets"
Summer: Hair gets lighter. Skin gets darker. Water gets warmer. Drinks get colder. Music gets louder. Nights get longer. Life gets better. Unknown
Come with me,' Mom says. To the library.Books and summertime go together. Lisa Schroeder
Everyone wants to look great in the summer… Don't just dream, take action! Your journey to being a summer yummer starts today. Steve Maraboli
It's summer and time for wandering… Kellie Elmore
One must maintain a little bit of summer, even in the middle of winter. Henry David Thoreau
Because it's summer and the memories are just waiting to happen. – Anonymous
Some of the best memories are made in flip flops. Kellie Elmore
Summertime is always the best of what might be. Charles Bowden
It was June, and the world smelled of roses. The sunshine was like powdered gold over the grassy hillside. Maud Hart Lovelace
Sweet, sweet burn of sun and summer wind, and you my friend, my new fun thing, my summer fling. D. Lang
Summer is in me—clouds and lakes of shadows, rippling under the trees. John J Geddes
Summer was here again. Summer, summer, summer. I loved and hated summers. Summers had a logic all their own and they always brought something out in me. Summer was supposed to be about freedom and youth and no school and possibilities and adventure and exploration. Summer was a book of hope. That's why I loved and hated summers. Because they made me want to believe. Benjamin Alire Sáenz
Summer, after all, is a time when wonderful things can happen to quiet people. for those few months, you're not required to be who everyone thinks you are, and that cut-grass smell in the air and the chance to dive into the deep end of a pool give you a courage you don't have the rest of the year. you can be grateful and easy, with no eyes on you, and no past. summer just opens the door and lets you out. Deb Caletti
Oh, Sunlight! The most precious gold to be found on Earth. Roman Payne
The summer in you calms the winter in me. Saiber
It was a song. It was a season. I wondered if that season would ever live inside of me. Benjamin Alire Sáenz
I have only to break into the tightness of a strawberry, and I see summer – its dust and lowering skies. Toni Morrison
When the winter comes, the summer shines infinitely in our hearts! Mehmet Murat ildan
How they dance in the courtyard, sweet summer sweat.
Some dance to remember, some dance to forget. Eagles – "Hotel California"
Press close, bare-bosomed Night!
Press close, magnetic, nourishing Night!
Night of south winds! Night of the large, few stars!
Still, nodding Night! Mad, naked, Summer Night! Walt Whitman
Rejoice as summer should…chase away sorrows by living. Melissa Marr
Hot weather opens the skull of a city, exposing its white brain, and its heart of nerves, which sizzle like the wires inside a light bulb. And there exudes a sour extra-human smell that makes the very stone seem flesh-alive, webbed and pulsing. Truman Capote
Again and again, the cicada's untiring cry pierced the sultry summer air like a needle at work on thick cotton cloth. Yukio Mishima
Summer arrives with the morning sun.
Beach time breezes in with endless fun. Debasish Mridha
O! how shall summer's honey breath hold out, / Against the wrackful siege of battering days? William Shakespeare
Hot town, summer in the city
Back of my neck getting dirty and gritty
Been down, isn't it a pity
Doesn't seem to be a shadow in the city
– Lovin Spoonful – "Summer In The City"
Ah, summer, what power you have to make us suffer and like it.  Russel Baker
In the depth of winter, I finally learned that within me there lay an invincible summer. Albert Camus
When the sun gets hot and the moon gets hazy, good girls go bad, and it gets crazy!
The tans will fade, but the memories will last forever.
Beach sand, perfect tans. Day walks, night talks. Sleepless nights, pillow fights, and spending every day with those who matter most.
Summer is where the girls go barefoot and their hearts are just as free as their toes
I wonder what it would be like to live in a world where it was always June. M. Montgomery
Summer means happy times and good sunshine. It means going to the beach, going to Disneyland, having fun. Brian Wilson
Summer is the annual permission slip to be lazy. To do nothing and have it count for something. To lie in the grass and count the stars. To sit on a branch and study the clouds. Regina Brett
Deep summer is when laziness finds respectability. Sam Keen
Summer has filled her veins with light and her heart is washed with noon. Day Lewis
Summer, where all the days run into each other and every day is a Saturday night.
In the summertime when the weather's high, you can stretch right up and touch the sky.
Summer is the stuff of dreams.
Summer light, summer night, summer feels alive and bright.
Sun is shining, the weather is sweet, make you want to move your dancing feet. Bob Marley – "Sun is Shining"
Every now and then we hear our song, we've been having fun all summer long. The Beach Boys – "All Summer long"
Summer Quotes on Images
---
More Free Summer Images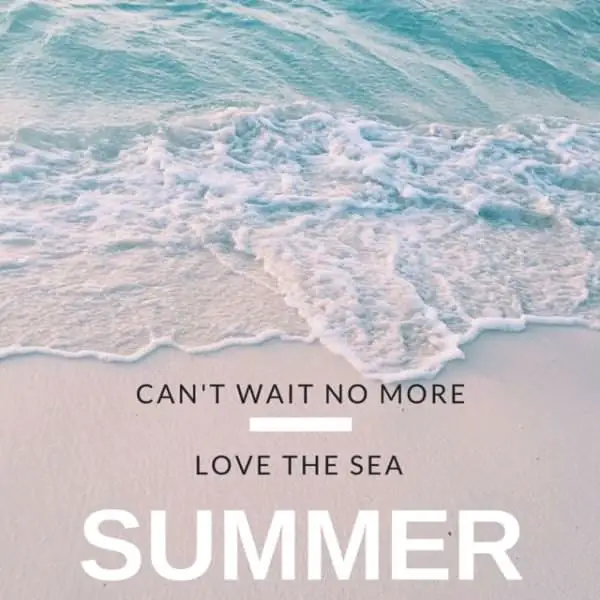 ---
Want more Summer, Surf, Ocean and Beach Quotes?
Hello, Summer! | Summer Beach Quotes