Are you ready to bring a huge smile to your brother's face this Father's Day? A witty and cheerful Happy Father's Day Brother greeting is the ultimate way to let him know that he's not only a great sibling but also a fantastic dad! Brothers can be our best friends, our rivals, and our partners in crime, but when they become fathers, it's like watching a hilarious superhero movie unfold!
Isn't it about time we give our brothers the props they deserve for being awesome dads? Father's Day is the perfect occasion to shower them with love and a little bit of teasing. Whether he is a diaper-changing ninja or a bedtime-storytelling wizard, we've got a collection of funny and heartwarming messages, wishes, and quotes that will make him laugh out loud.
We know that choosing the perfect words can be as challenging as getting your brother to share his favorite snacks. That's why we've put together this list of charming and playful messages that capture your unique relationship. Dive into our treasure trove of greetings and find the one that will tickle his funny bone and make this day an unforgettable celebration!
Cute and Loving Father's Day Messages for Brother
Happy Father's Day to the brother who knows that the secret to great parenting is 10% love, 20% patience, and 70% pretending you know what you're doing!
Happy Father's Day to my amazing brother, who's proven that being a dad is about more than just wearing socks with sandals – it's about loving, caring, and embracing the chaos with open arms.
Cheers to the ultimate family man, who can juggle kids, work, and still be the coolest bro. Happy Father's Day!
To a fantastic father who's shown that "baby shark" isn't just a catchy tune, but a way of life – Happy Father's Day!
Happy Father's Day to the best brother, who proves that being a dad is like riding a bike – sometimes you crash, but you always get back up!
Many well-deserved cheers to the father who turned peekaboo into an extreme sport. You're the real MVP!
Wishing a terrific father a day full of relaxation and appreciation – because if anyone deserves a break, it's you, my hardworking brother!
Happy Father's Day to my brother, the fun-loving dad who can turn a rainy day into a world of imagination and adventure for his kids.
To my lovely bro, may your special day be filled with warm wishes, bad puns, and a newfound appreciation for dad dance moves – you've earned it!
Happy Father's Day! You've shown us that being a selfless father means never running out of love, patience, or ice cream.
To my loving brother: Wishing you a relaxing day full of sweet moments with your little ones. You truly are a fantastic dad, and I'm so grateful to have you in my life!
Wishing my loving brother a Father's Day full of heartwarming moments, cuddles, and sweet memories. You're an amazing dad who brings so much joy to everyone around you!
Related: Father's Day Captions for the Best Dad Ever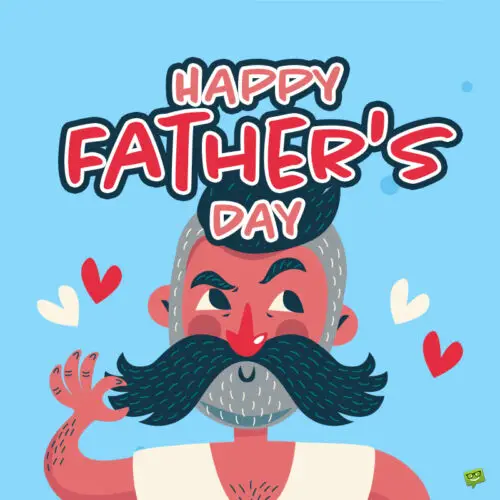 Funny Father's Day Messages: Cheers to Awesome Brothers and Dads
Ready to crack up your brother with some knee-slapping Father's Day messages? Dive into our uproarious wishes for brothers that'll have him laughing all day long!
Younger brother, you've leveled up to "Dad," so now it's your turn to master the art of embarrassing your kids. Have a blast!
To my fabulous bro, you're a living example of why dads need coffee. Happy Father's Day!
Happy Father's Day to my wonderful brother, who doubles as a dad-extraordinaire and a laugh-inducing sidekick! May your day be brimming with chuckles and some well-earned power naps!
To the awesome brother who's also a masterful dad, have a very happy father's day! May your day overflow with dad humor, sizzling grills, and a well-deserved break from the "Code Brown" situations!
Happy Father's Day to my brother, the only man I know who can rock a diaper bag like a pro!
Dearest brother, you've always been the king of sharing…except when it comes to munchies! Fortunately for you, today's your day! Wishing you a smashing Father's Day packed with all your guilty pleasures and oodles of affection.
Hey big brother, it's time for you to bask in the glory of being the best dad on the planet! May your Father's Day be filled with ceaseless tickle battles, groovy dance-offs, and the unearthing of a hidden chocolate trove!
Wishing a wonderful day to my god-blessed brother who's mastered the art of napping with one eye open!
Wishing an awesome father a day full of dad-level napping – you know, the kind where you can still hear everything!
To the finest dad and brother in the galaxy, I hope your Father's Day is as mind-blowing as your unparalleled dad jokes! Just remember, today's your day – so unleash the pun-tastic humor!
Happy Father's Day to my awe-inspiring dad and divinely blessed brother! May your day be filled with the melodious sound of giggles, the warmth of snuggles, and the gratification of acing this dad gig.
Happy Father's Day to an amazing father who's mastered the perfect blend of love, discipline, and candy bribes!
Happy father's day – a special day to celebrate the big bro who can moonwalk while holding a baby bottle!
You're not just an amazing dad, but also a good human being – after all, you managed to convince your kids that broccoli is a magical tree that gives superpowers!
If you enjoy this article you may also like our collection of 80 Endearing Father's Day Wishes and Messages for Grandpa
Touching Father's Day Messages for Brother: Perfect for Cards and Notes
Happy Dad's Day to my amazing brother, who has proven time and again that with love and dedication, the sky's the limit for what a father can do!
Dearest brother, I've always admired how you've been such an awesome father, guiding your children every step of the way. Wishing you a very happy Father's Day filled with love, laughter, and precious memories to cherish for a lifetime!
Seeing you grow into a loving and caring father has been nothing short of a blessing. The kids are lucky to have you as their dad, and I'm proud to call you my brother.
To a wonderful father and dear brother, may your Father's Day be filled with belly laughs and heartwarming moments that remind you of the incredible dad you are.
Dear brother, your journey as an exceptional father has been a remarkable one to witness. Here's to a day filled with love, laughter, and some well-deserved relaxation! Happy Father's Day!
To my great brother, who's transformed fatherhood into an art form, have a delightful and peaceful Father's Day!
Hey big brother! Wishing you a blessed Father's Day filled with so much joy and laughter. You've always been a great dad, and I'm so proud of you!
My dearest brother, only you could have built such a strong and beautiful connection with your children, guiding them with love and wisdom. Wishing you a very happy Father's Day and a day filled with joy, warmth, and the appreciation you deserve!
You can also visit our article with Father's Day Messages & Wishes for Your Son
First-Time Father's Day Wishes for a New Brother Dad
Happy Father's Day, brother! As you embark on this incredible journey of fatherhood, I'm so proud to call you my sibling. I know you'll be an adorable and caring father, and I can't wait to see you grow into this new role!
Hey there, first-time dad! Wishing you a wonderful Father's Day as you begin this new chapter in your life. Your love and dedication as a brother have always been inspiring, and I have no doubt you'll be an amazing father to your little one.
To my brother, who's now a proud dad: Happy Father's Day! You've always been a fun and supportive sibling, and I know your child is incredibly lucky to have you as their father. Here's to many more Father's Days to come!
Only my brother could step into the role of fatherhood with such grace and love. Wishing you a very happy Father's Day as you embrace this new adventure. I'm excited to see you become the inspiring father I know you will be!
Happy Father's Day to my dear brother! As you experience the joys of parenthood for the first time, I want you to know that I'm always here for you. Cheers to your new journey as a caring, loving dad!
To my brother on his first Father's Day: I couldn't be more proud of the amazing dad you've become. Your love, patience, and dedication to your new role are truly inspiring. Enjoy this special day—you've earned it!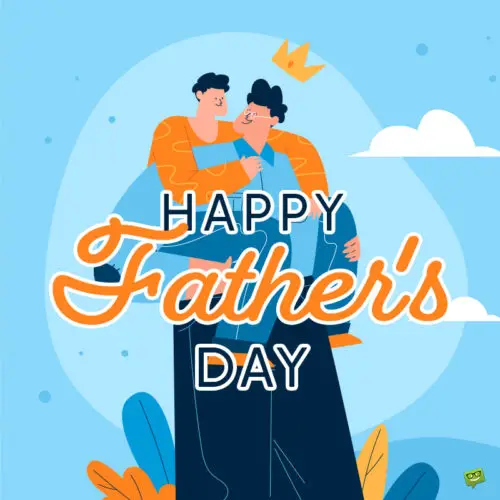 Happy Father's Day to My Brothers: Heartfelt Wishes and Messages for the Best Dads!
Looking to spice up your brothers' fantastic Father's Day celebrations? You're in the right place! In this section, we've gathered a collection of fun and heartfelt Father's Day messages just for them. But why not take it up a notch? Turn these messages into entertaining video clips and share them in your family group chat! Watch as their faces light up with smiles and laughter, knowing that you've made their day extra special. So, let your creativity run wild and show your brothers just how much they mean to you on this memorable day!
Hey, awesome brothers! This Father's Day, let's see who can make the kids laugh the hardest with the best dad joke! You're all amazing fathers, so game on!ch awesome fathers!
Dearest brothers, wishing you a Father's Day as epic as our childhood superhero adventures! You've all become real-life superhero dads, and I couldn't be prouder.
Very happy Father's Day to my brothers who have exceeded all expectations in being loving fathers to their children, always being there for them in every stage of life. You're an inspiration to us all, and I'm so proud to be your sister!
Dear brothers, your strength, wisdom, and love have not only inspired your children but also all of us who have witnessed your journey as fathers. Wishing you all a Father's Day full of warmth, joy, and the recognition you truly deserve.
As we conclude this delightful collection of Father's Day messages for brothers, let's not forget that this special day is the perfect opportunity to reconnect with our siblings and celebrate the unique bond we share. Thankfully, social media and group chats have made it a breeze to bring a smile to our brothers' faces, regardless of the miles between us.
So, why not seize the moment to spark joy with our brothers? You might even inspire a light-hearted exchange as everyone shares their favorite Father's Day wishes. After all, nothing strengthens family ties quite like laughter and shared memories. So go ahead, send out those amusing Father's Day messages for your brother, and make this day a memorable one for everyone!
You May Also Like:
Happy Mother's Day! 150+ Wishes For All Those Great Women in Our Life
20 Touching Father's Day Quotes for Dad in Heaven