The last month of autumn bears gifts and valuable moments with loved ones. Expect family gatherings on Thanksgiving Day (November 24th), shopping sprees on the annual retail bonanza that is the Black Friday (on the 25th), and unbelievable online offers on Cyber Monday (on the 28th).
However, what we're waiting for most of all is the message of gratitude that Novembers spread. It's that time of the year when we see Christmas coming, right after Thanksgiving, a celebration that reminds us how important it is to love and be loved unconditionally. Our collection of November quotes and images includes various moments and themes to share and spread.
---
Fun Facts about the Month of November
Even though in modern times November is the 11th month of the year, the Latin root of its name actually means nine, as in the days of the Roman Empire it was the 9th month of the year.
November is the most-important political month in the United States, as it is not only when Presidential elections are held but also those for the United States Congress. Moreover, it is the month in which perhaps the greatest political speech in American history, the Gettysburg Address, was delivered by President Abraham Lincoln. November will also go down in infamy as the month in which the greatest political tragedy in modern America, the assassination of President John F. Kennedy, occurred in 1963 with the man accused of the assassination also being murdered later in the month. November also holds the distinction of being the month in which in 1969, Washington D.C. saw an influx of hundreds of thousands of protestors who were against the Vietnam War, thus making it the largest anti-war protest in American history.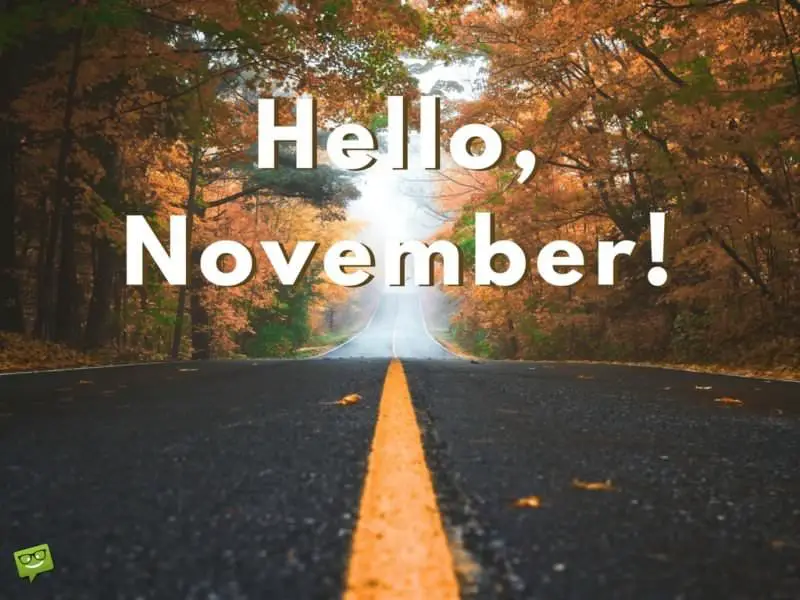 November is the month of two of America's most popular holidays, Thanksgiving (instituted in 1863 by President Abraham Lincoln) and Halloween, which tend to fall within a week of each other. It is also the month in which Veteran's Day, a government-mandated holiday, is observed.
According to a number of studies, the majority of mass murderers and serial killers are born in the month of November. Some examples of very notorious serial killers born in November include Ted Bundy, Belle Gunness, Charles Manson, and Rosemary West.
All Saints Day, also known as Halloween and various other appellations, is held in November throughout different parts of the world, although the day it is observed can vary from country to country.
In the United States, the month of November is Sweet Potato Awareness month.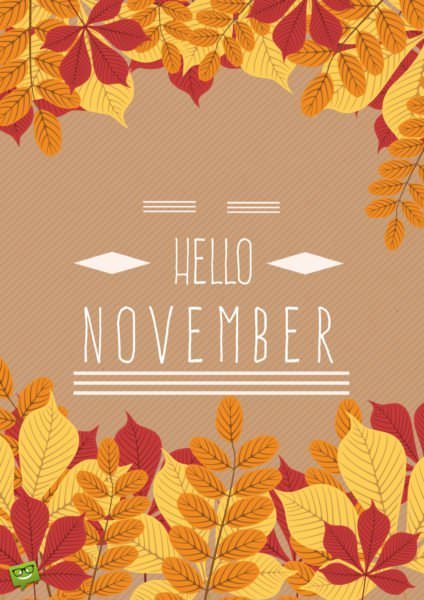 In the Northern Hemisphere, November is generally around the time the colder winds of winter began to kick in, whereas in the Southern Hemisphere, November weather is more spring-like.
Although December 25th is still a whole month away, the end of November, specifically Black Friday, which comes the day after Thanksgiving, officially marks the beginning of the Christmas shopping season.
November has oddly been associated with male facial hair, as a number of countries allocate this month as a time when men are encouraged to grow mustaches or beards.
Since November was generally considered the beginning of winter (in the Northern Hemisphere) in the Old World, many rituals and festivals associated with death and renewal, some of which still have an influence to this day, where practiced during this month.
November of 1936 marked the first time that high-definition television was made public by the British Broadcasting Company (BBC), although today the definition of high definition (no pun intended) is twice the resolution of what it was considered back then.
In November of 1983, US President Ronald Reagan made Martin Luther King Day an official US holiday. To put this in perspective, Dr. Martin Luther King Jr. is the only US citizen who was not a President to have a national holiday in his honor.
In November of 392, in what has proven to be arguably the most-important religio-political decision in the history of the world, Christianity was declared the official religion of the Roman Empire by Emperor Theodosius.
In one of the most-significant political events to occur in modern Europe, the Berlin Wall, which inhibited movement between East and West Germany, was demolished in November of 1989.
The armistice that ended World War I, a conflict that resulted in the deaths of almost 40 million people, was signed in France in November of 1918 – or even more specifically at 11am on the eleventh day of the eleventh month.
In November of 1945, just a couple of months after the official end of World War II, the Nuremberg trials against Nazi war criminals began in Nuremberg, Germany. The United Nations did not assemble another tribunal to judge war crimes until almost 50 years later in 1993 in the case of Yugoslavia, with those trials also beginning in November of that year.
The first version of Microsoft Windows, the most-popular operating system in the world, was released in November of 1985.
According to research, a person born in the November has more of a chance of becoming a centenarian (living to 100 years old) than those born in any other month.
The Maastricht Treaty, which resulted in the formation of the European Union, became effective in November of 1993.
November of 1930 is the month and year in which Haile Selassie, one of the most famous leaders and most popular cult figure in modern African history, became Emperor of the East African nation of Ethiopia.
In November of 1558, Elizabeth I became the Queen of England, thus ushering in a period which is considered to be the beginning of England becoming the world superpower that it now is.
Famed Spanish explorer Christopher Columbus discovered the Caribbean island of Puerto Rico in November of 1493 during his second trip to the Western Hemisphere.
The first completely computer-animated feature-length movie, Toy Story, premiered in American theaters in November of 1995. Toy Story went on to have a number of sequels.
In November of 1986, at the age of 20 years and 4 months old, Mike Tyson became the youngest heavyweight boxing champion in history. Though long retired from the sport, Iron Mike is still a global pop culture icon to this day.
In November of 1877, one of history's greatest inventors, Thomas Edison, premiered the phonograph, which he dubbed the talking machine. As one of the most important technological inventions ever, the talking machine was the predecessor to the record player, compact-disc player, etc.
Famous Quotes about the Month of November
In November, the earth is growing quiet. It is making its bed, a winter bed for flowers and small creatures. The bed is white and silent, and much life can hide beneath its blankets. Cynthia Rylant
November always seemed to me the Norway of the year. Emily Dickinson
This November there seems to be nothing to say. Anne Sexton
It is also November. The noons are more laconic and the sunsets sterner, and Gibraltar lights make the village foreign. November always seemed to me the Norway of the year. —— is still with the sister who put her child in an ice nest last Monday forenoon. The redoubtable God! I notice where Death has been introduced, he frequently calls, making it desirable to forestall his advances. Emily Dickinson
The November figure is an aberration. Abheek Barua
Some of the days in November carry the whole memory of summer as a fire opal carries the color of moonrise. Gladys Taber
And November sad,—a psalm Tender, trustful, full of balm, Thou must breathe in spirits calm. Caroline May
November is usually such a disagreeable month as if the year had suddenly found out she was growing old and could do nothing but weep and fret over it. Anne Shirley
Now in November nearer comes the sun down the abandoned heaven. D. H. Lawrence
In November you begin to know how long the winter will be. Martha Gellhorn
Fallen leaves lying on the grass in the November sun bring more happiness than the daffodils. Cyril Connolly
I know that I have died before—once in November. Anne Sexton
It is the first day of November and so, today, someone will die. Maggie Stiefvater
October extinguished itself in a rush of howling winds and driving rain and November arrived, cold as frozen iron, with hard frosts every morning and icy drafts that bit at exposed hands and faces. J.K. Rowling
But there is always a November space after the leaves have fallen when she felt it was almost indecent to intrude on the woods…for their glory terrestrial had departed and their glory celestial of spirit and purity and whiteness had not yet come upon them. L.M. Montgomery
Wind warns November's done with. The blown leaves make bat-shapes, Web-winged and furious. Sylvia Plath
November; Crows are approaching – Wounded leaves fall to the ground. Sir Kristian Goldmund Aumann
Whenever it is a damp, drizzly November in my soul, I shall recall the memory of warm, sunny, late summer afternoons like this one, and be comforted greatly. Peggy Toney Horton
In November, the trees are standing all sticks and bones. Without their leaves, how lovely they are, spreading their arms like dancers. They know it is time to be still. Cynthia Rylant
Because of an adulterous affair I shall leave office in November. James McGreevey
November is auspicious in so many parts of the country: the rice harvest is already in, the weather starts to cool, and the festive glow which precedes Christmas has began to brighten the landscape. F. Sionil Jose
If months were marked by colors, November in New England would be colored gray. Madeleine M. Kunin
The month of November makes me feel that life is passing more quickly. In an effort to slow it down, I try to fill the hours more meaningfully. Henry Rollins Obama's victory in November 2008 was a historic political accomplishment. John Podhoretz
---
November Images with Cute Animals
…because cute pets or beautiful wild animals are great company all year round.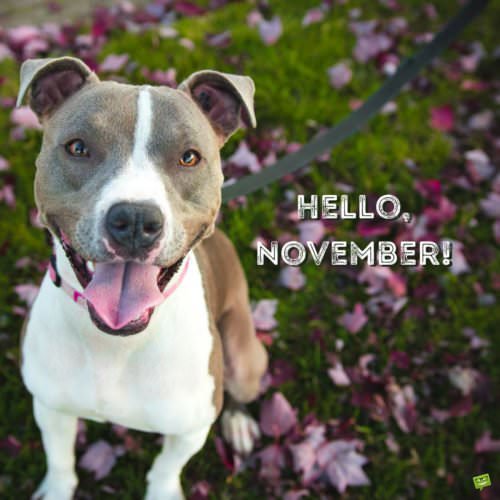 ---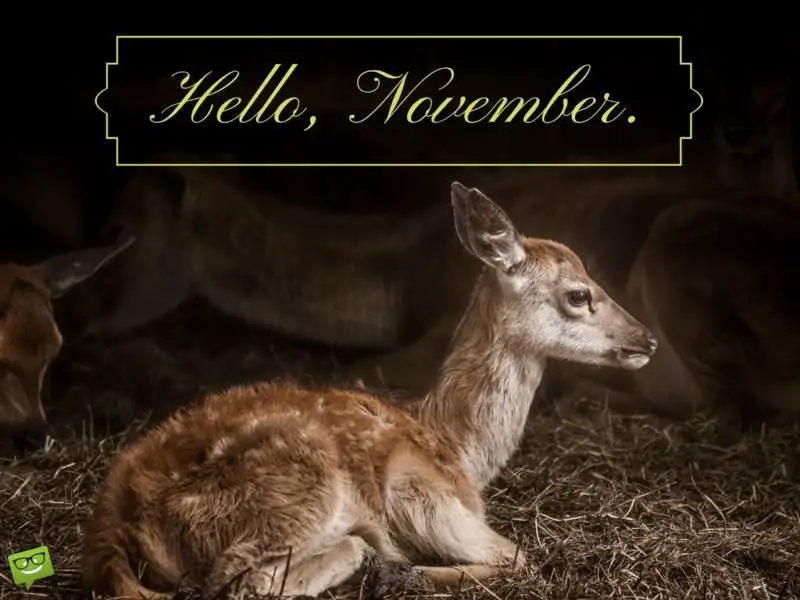 ---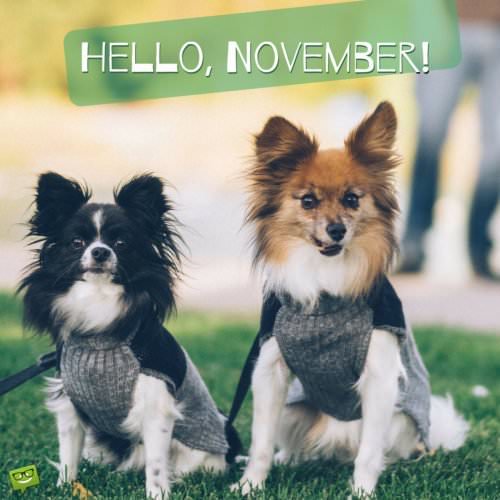 ---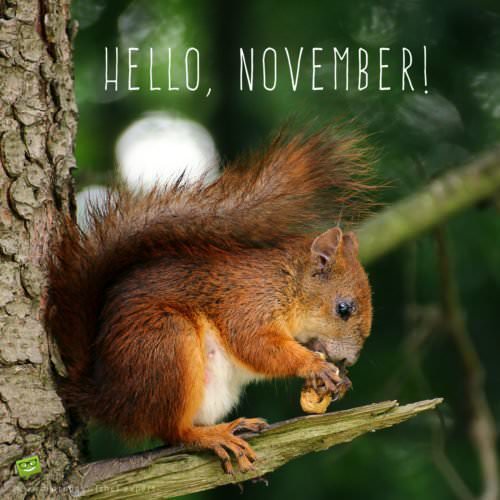 ---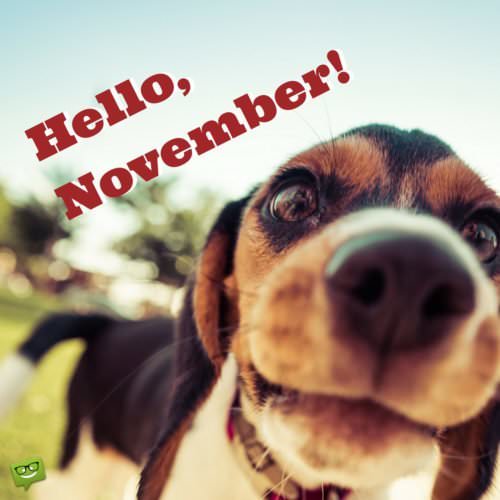 ---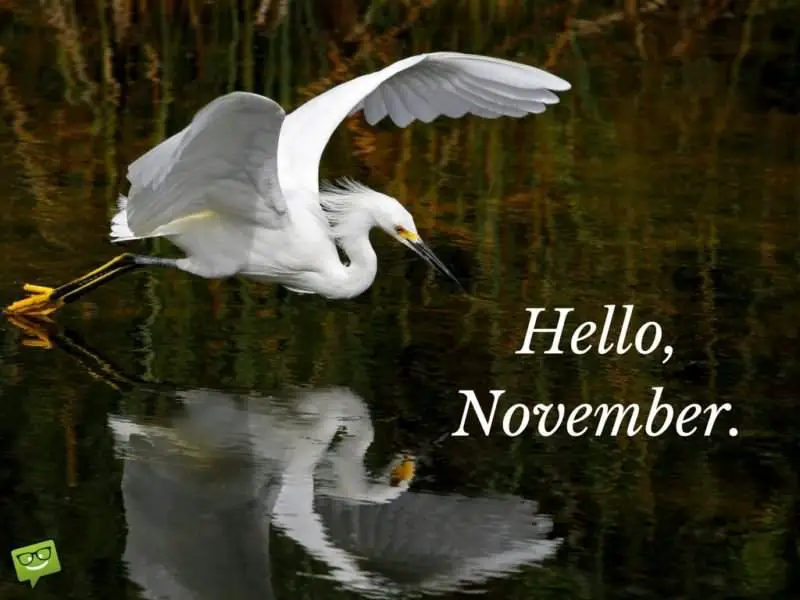 ---
November Images with Nature Landscapes
…because falling leaves and yellowish colors are everywhere, even in the city.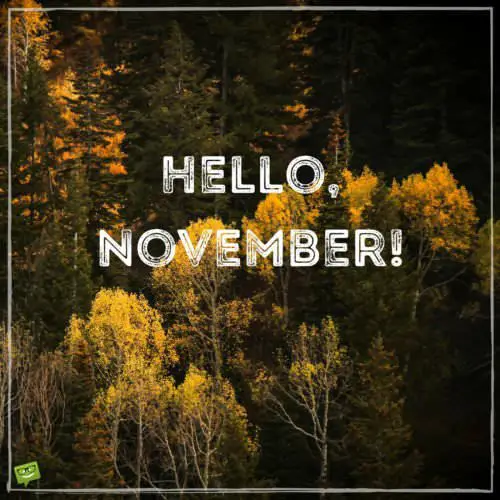 ---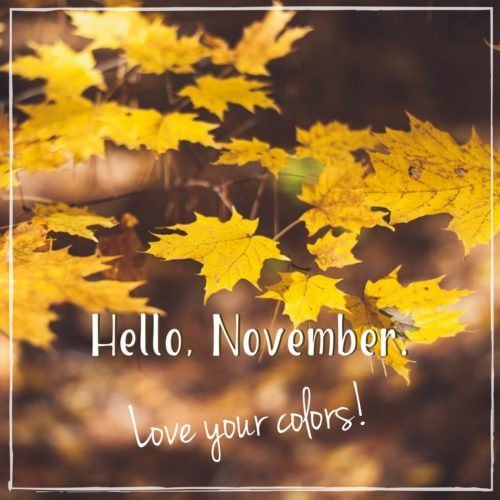 ---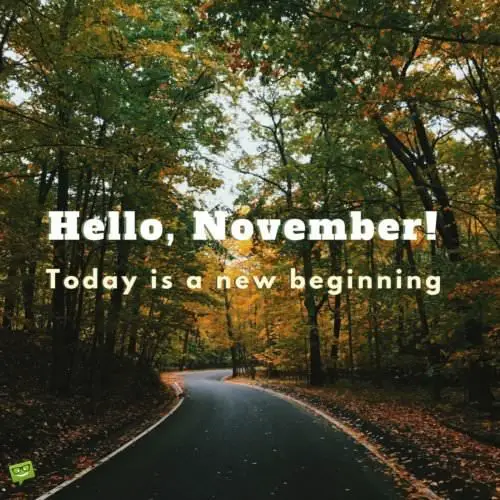 ---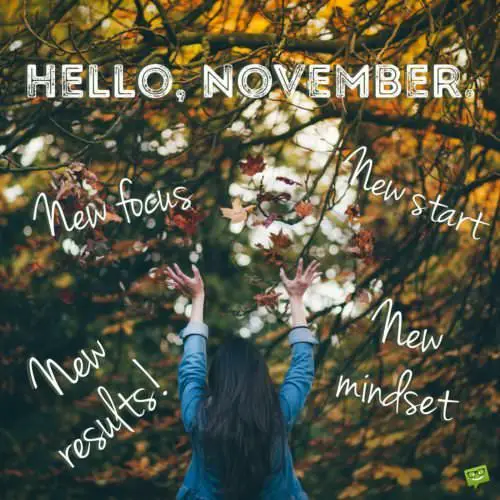 ---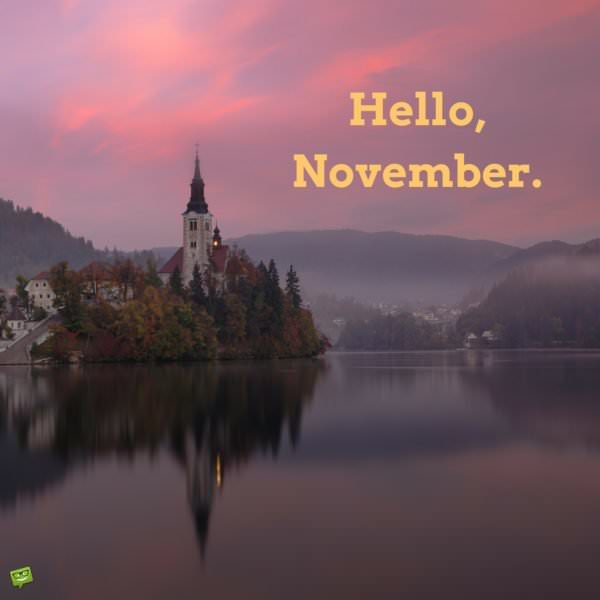 ---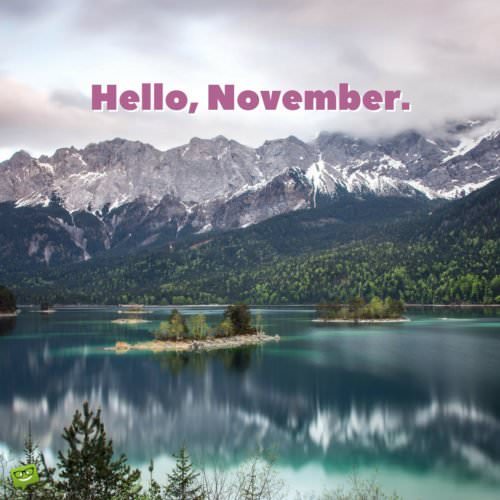 ---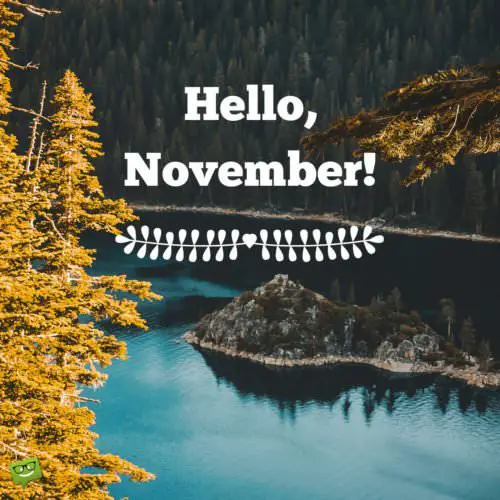 ---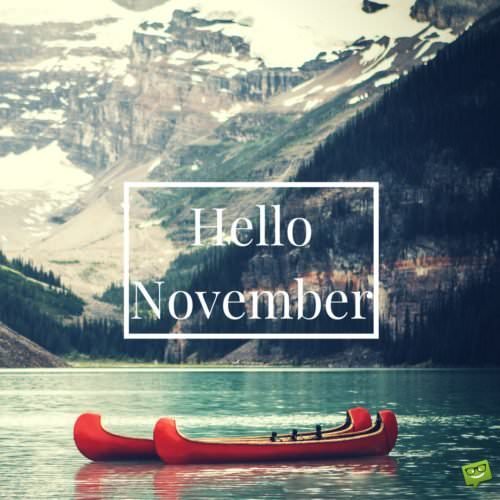 ---
November Images of Seasonal Food
…because pumpkins and dried fruits can turn this month into a gastronomic adventure.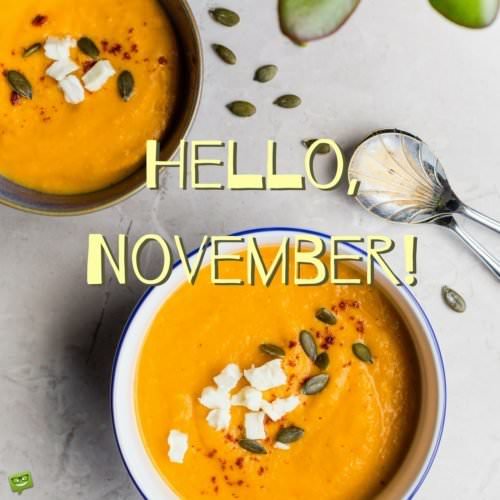 ---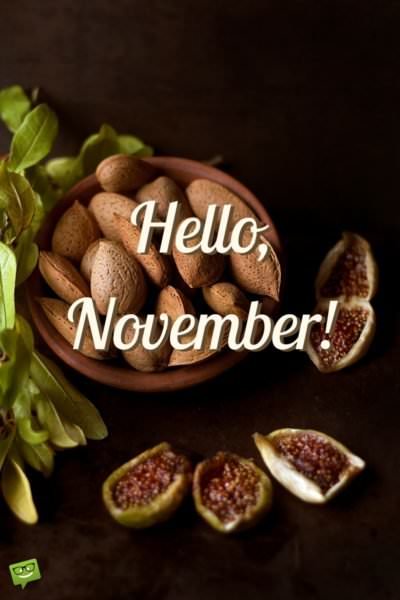 ---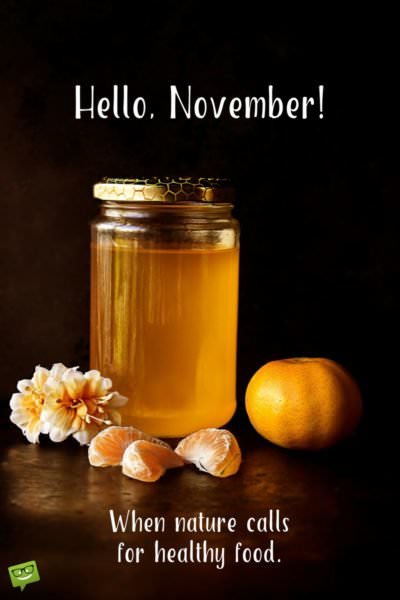 ---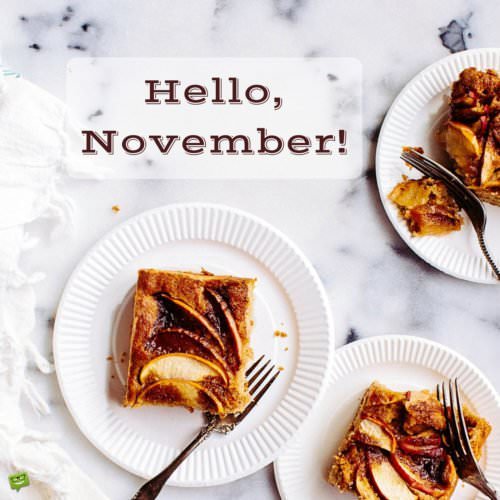 ---
November Images with Thanksgiving Theme
…because Thanksgiving Day is, for Americans, a truly important family celebration.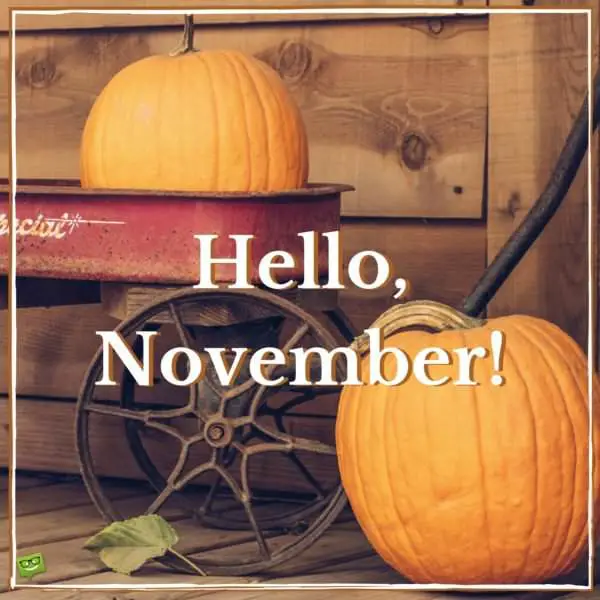 ---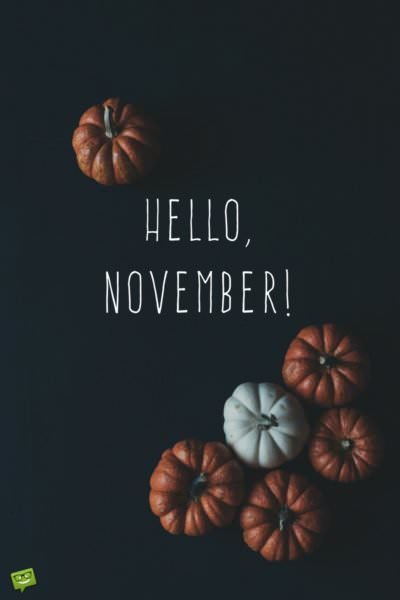 ---
November Images With the Right Dimensions to use as Facebook Covers
…because a lovely seasonal cover can really inspire you when you visit your profile.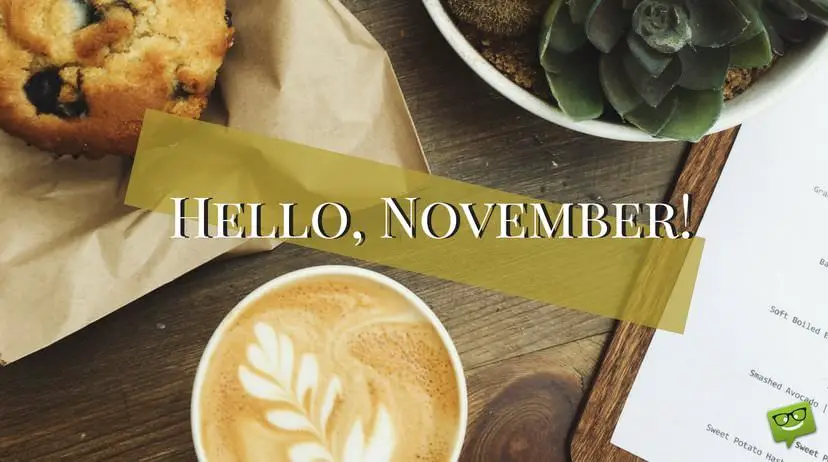 ---

---
November Images with Various Themes
Flowers, leaves, and, certainly, good friends never go out of style!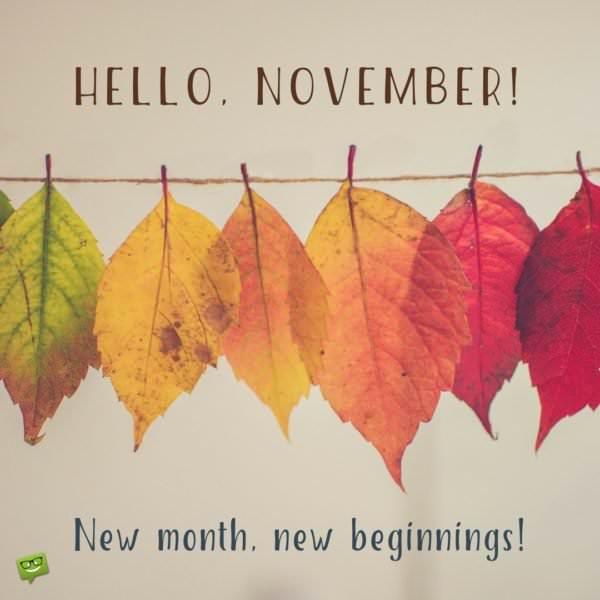 ---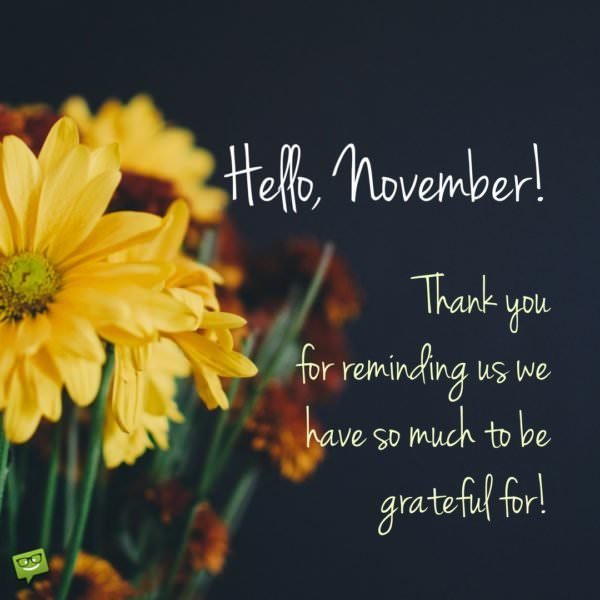 ---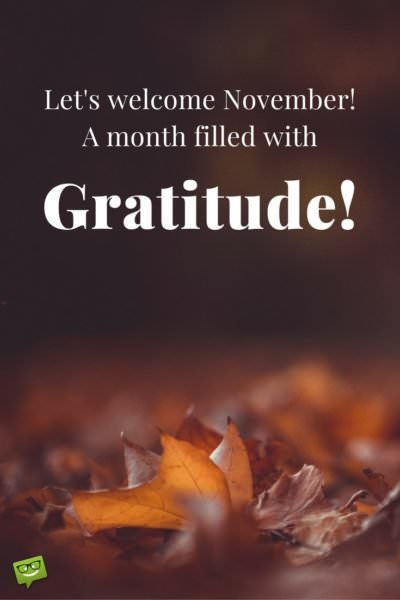 ---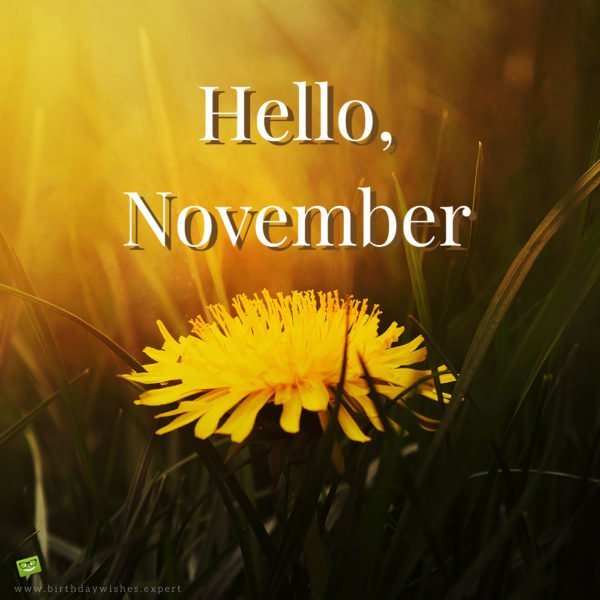 ---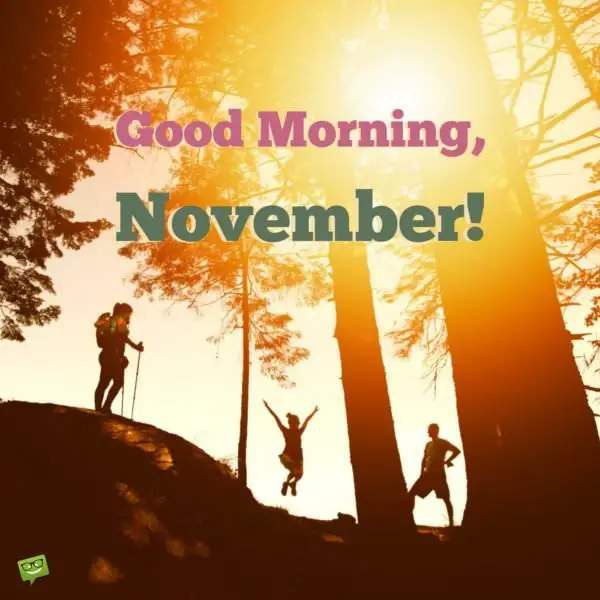 ---
---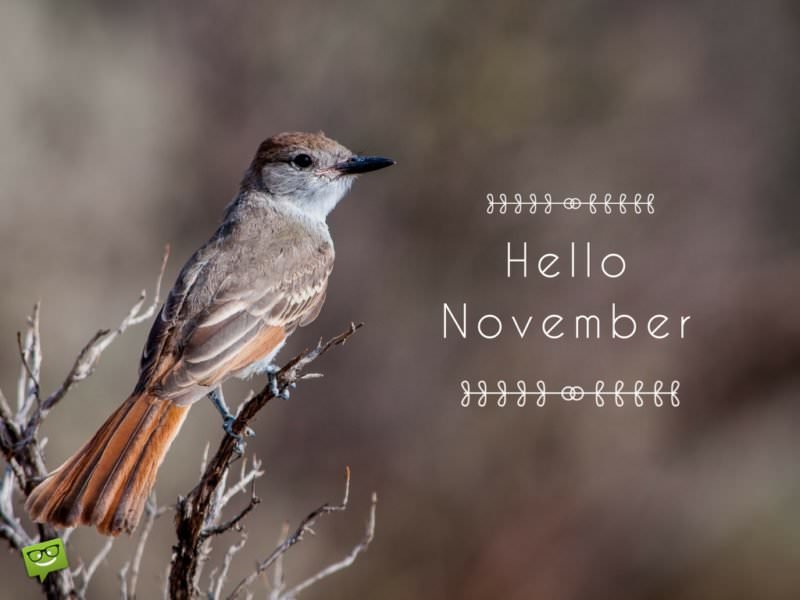 ---
---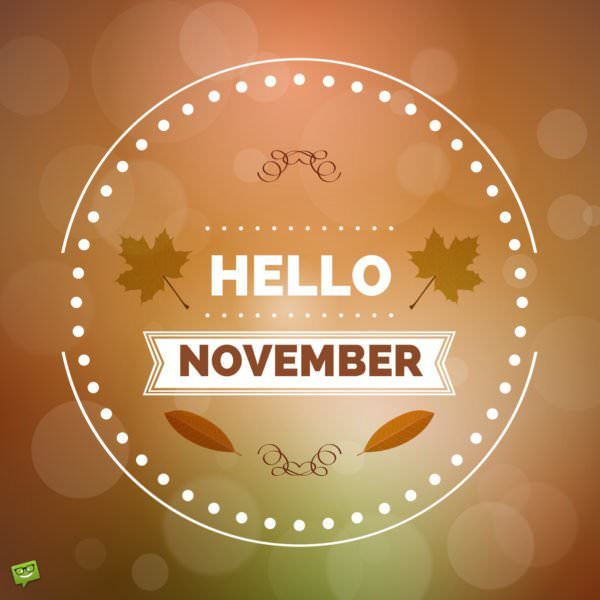 ---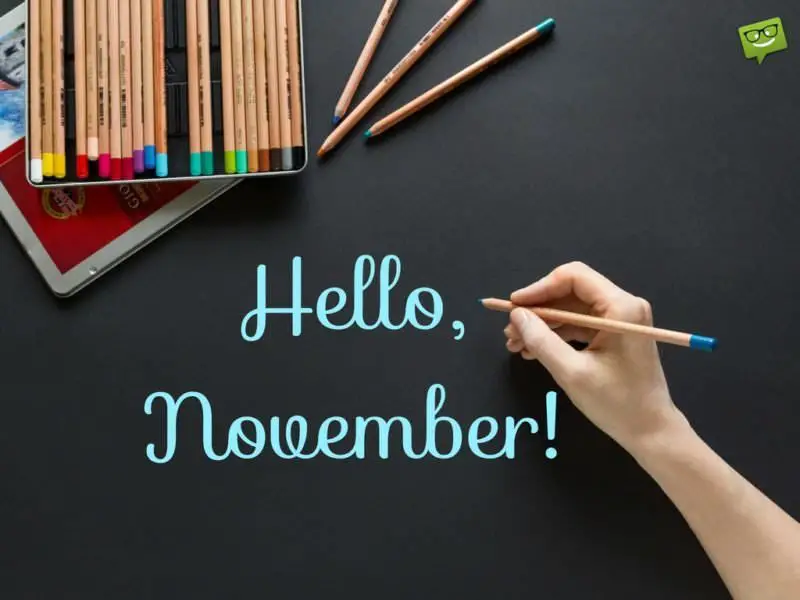 ---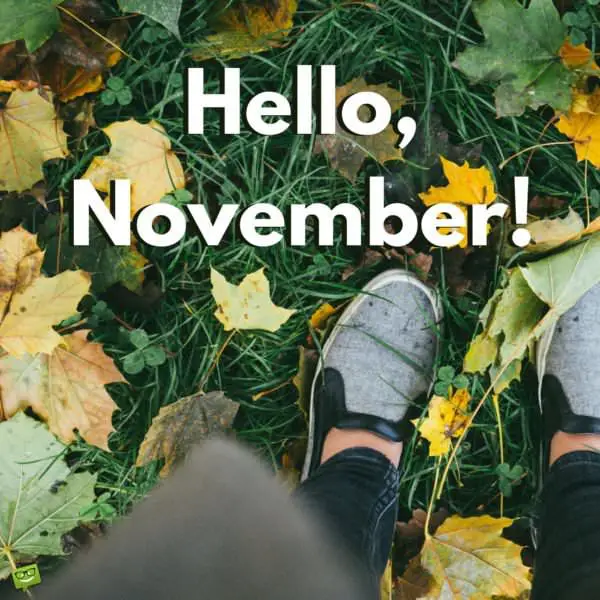 ---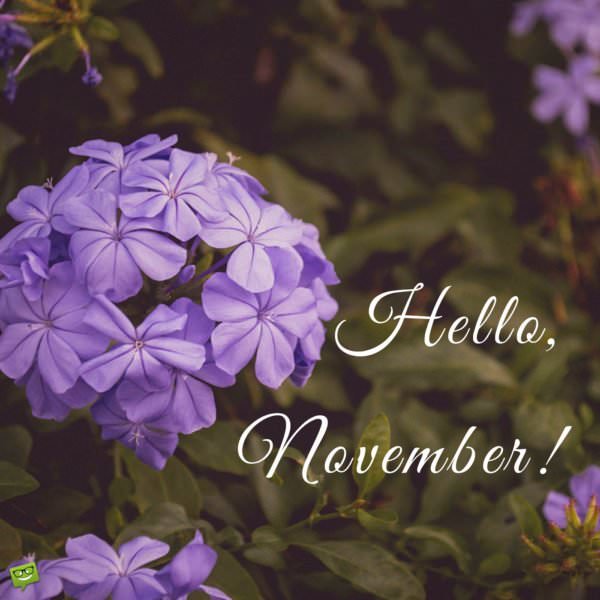 ---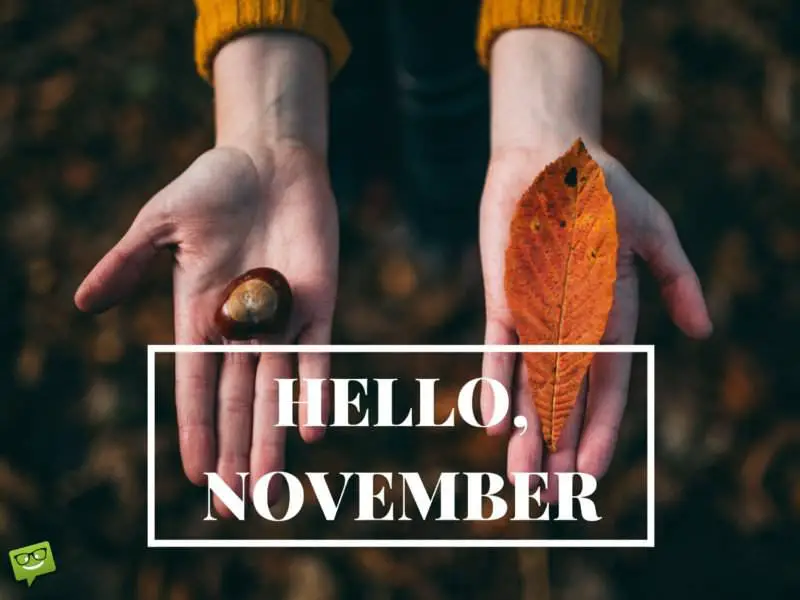 ---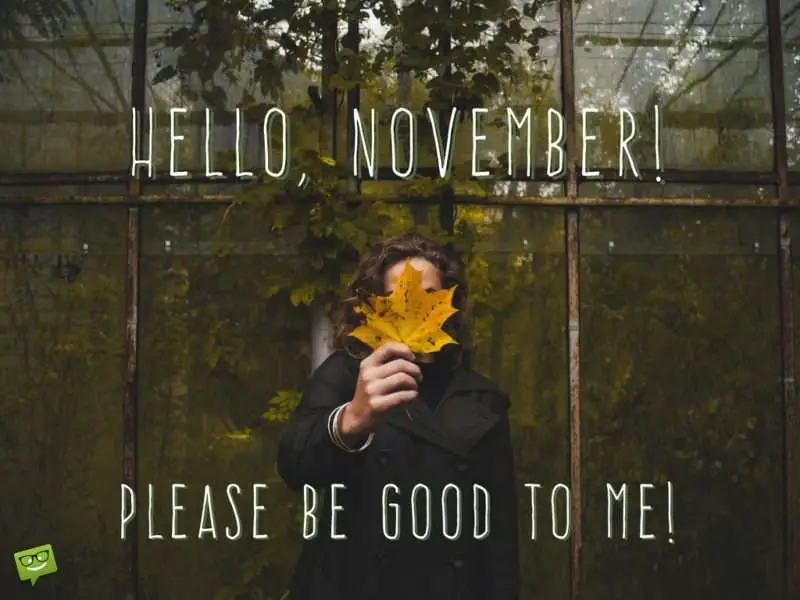 ---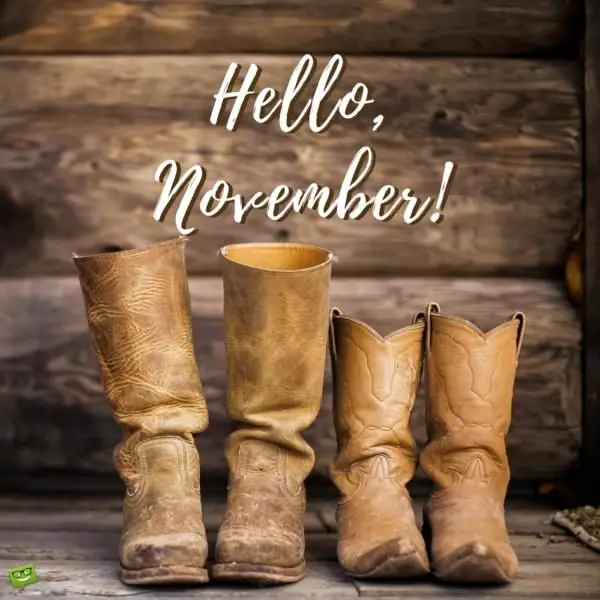 ---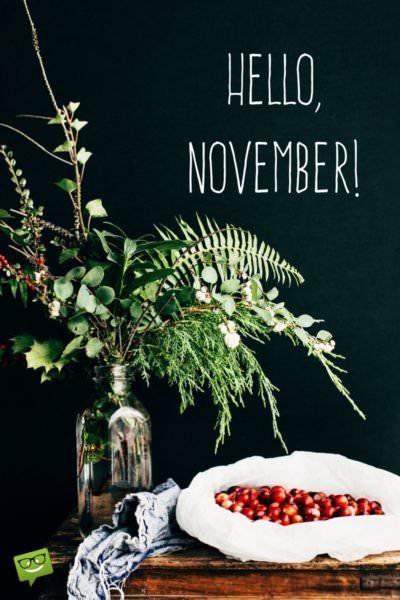 ---
---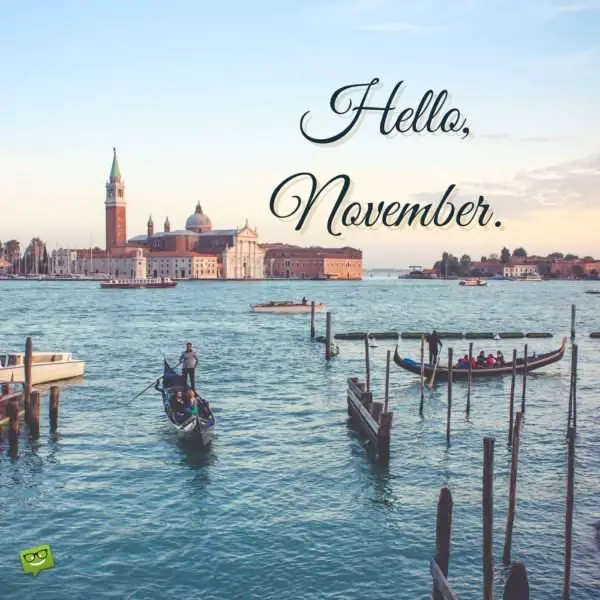 ---
 "Hello, November" memes
Messages about November which will at least make you crack a smile.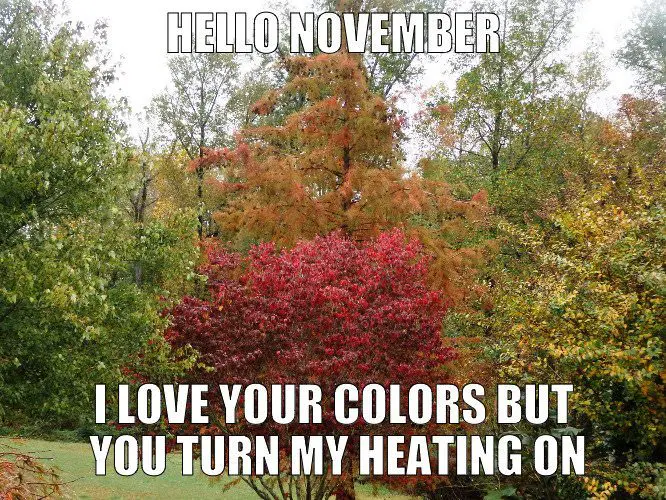 ---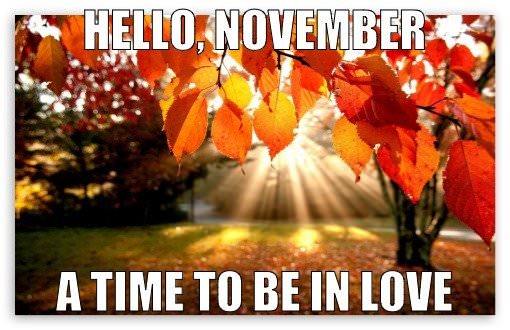 ---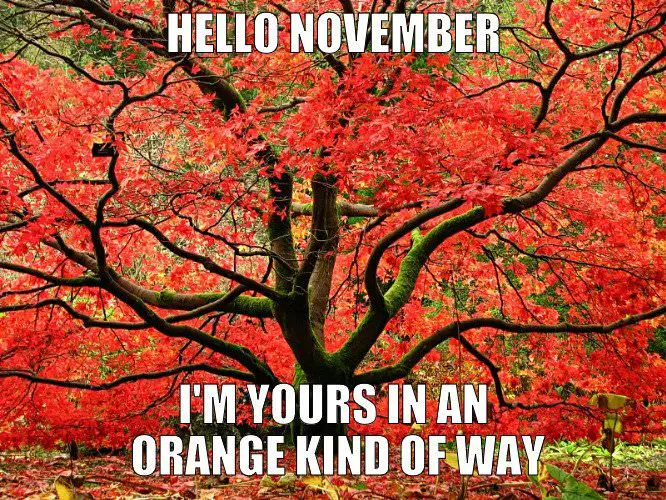 ---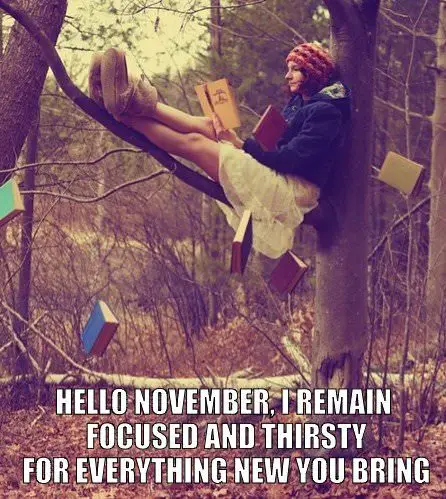 ---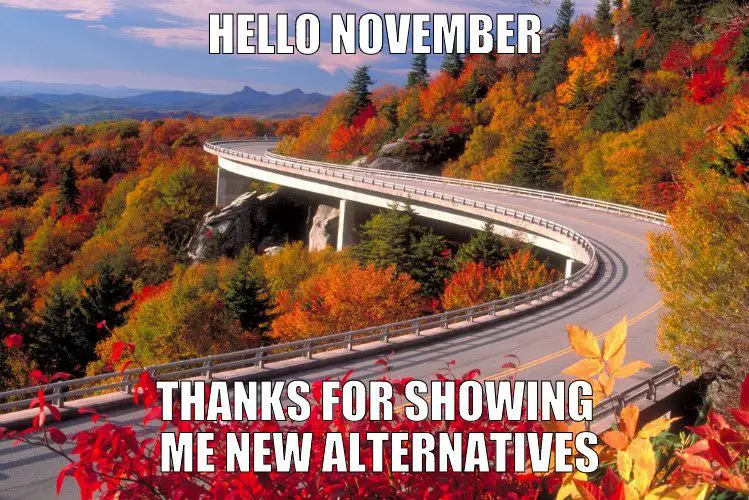 ---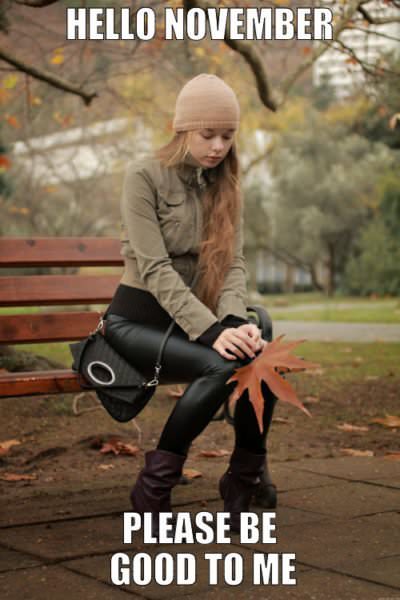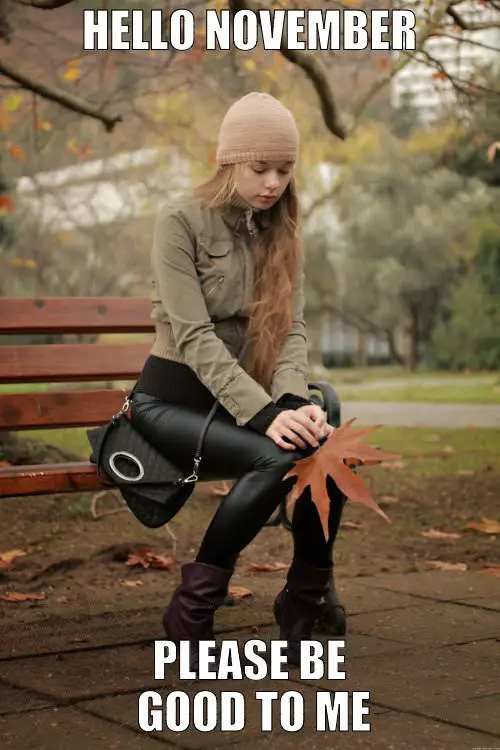 ---
https://www.youtube.com/watch?v=cLc-7cfveVU&feature=youtu.be
---
You may also like: