Ever wondered how to put your appreciation for your boss into words? Ever paused at the sight of a blank Boss's Day card, pen in hand, and mind full of gratitude but void of expressions? Boss's Day is here – a day dedicated to those trailblazers who navigate us through the mazes of our professional lives, challenging us, inspiring us, and celebrating our victories with us.
Join us on this word-adventure as we unearth the eloquence to salute the diversity of leadership in our modern work cosmos. From the traditional office leaders to the remote mentors guiding from thousands of miles away, to the co-leaders in flat organizational structures – this blog post is your creative toolbox for crafting that perfectly balanced Boss's Day card. Buckle up and dive into this vibrant ocean of ideas, because nothing illuminates a boss's day like a heartfelt message, tailored just for them!
Table of Contents
Understanding the Essence of Boss's Day: A Brief History
Ever marveled at how Boss's Day came to be? Strap in for a quick jaunt through history! It all started in 1958 when Patricia Bays Haroski, a secretary at State Farm Insurance, felt a spark of gratitude for her boss. She ignited the idea of a special day to honor these workplace heroes.
Her idea caught on like wildfire, turning Boss's Day into a nationwide celebration. So, every October 16th, we salute those leaders who chart our professional course, inspiring us to explore new horizons. Boss's Day is more than a date—it's a jubilant tribute to the tireless mentors who propel our careers forward!
The Art of Appreciation: Crafting Your Message
Jumping into the heart of our word-adventure, let's unravel the art of writing a meaningful Boss's Day message. This isn't just about stringing a few words together—it's about communicating genuine appreciation in a way that makes your boss feel truly seen and valued.
Sincerity is the secret sauce here. An authentic message resonates far louder than a generic "Happy Boss's Day." Think about what you genuinely appreciate about your boss—their leadership style, their dedication, perhaps their knack for problem-solving or fostering a supportive team environment—and let that guide your message.
Remember, your Boss's Day message doesn't need to be long or excessively formal. Brevity can be a friend, and often, a short but heartfelt message can say more than a verbose one. Keep it concise, genuine, and full of respect.
Next up is thoughtfulness, which is all about personalization. In our diverse workspaces, every boss is unique, possessing different strengths and styles. Perhaps your boss excels in maintaining calm during chaotic times, or maybe they're exceptionally good at providing constructive feedback. Identifying and acknowledging these unique qualities will make your message more personal and meaningful.
Also, let's not forget the power of positivity. Ensure your message has an upbeat and affirmative tone, reflecting not only your appreciation but also the positive impact of their leadership. A sprinkle of optimism and gratitude can brighten anyone's day!
To sum up, crafting the perfect Boss's Day message is about embracing sincerity, highlighting individual strengths, and infusing positivity. With these tips in your writer's toolkit, you're well on your way to creating a message that illuminates your boss's day!
A World of Words: Crafting Messages for Different Types of Bosses
Your reassurance is our compass, steering us even in the fiercest of storms. Wishing the best boss a very happy Boss's Day!"
Every great leader leads not just with their words but with their actions, and you're a living example of that. A very happy Boss's Day to you!
Climbing the success ladder becomes an exciting journey when you have a leader like you guiding us. Utmost gratitude on this special day!
Just what makes a good manager? They inspire, challenge, and drive a team to be their best. Thanks for being our North Star. Happy Boss's Day!
Your voice isn't just reassuring, it's the soundtrack of our success. On Boss's Day, we express our deepest gratitude!
Great leaders don't just dictate, they pave the way. You've been instrumental in moving us forward, and for that, we're lucky to have you. Happy Boss's Day!
Boss's Day is a reminder of how fortunate we are to be led by someone as inspiring as you. Here's to more success and a happy Boss's Day!
You see beyond the job at hand, encouraging each person to reach their potential. We're lucky to be part of your team. Wishing you a joyous Boss's Day!
On Boss's Day, we hope you know how much we appreciate your leadership. Under your guidance, we've learned, grown, and thrived. Best wishes!
Remember, messages celebrating diversity and inclusivity are those that acknowledge every person's unique contributions to the team's success. They celebrate the strength of a group, led by a great leader, that is more than the sum of its individual members.
Related:  Step Into the Room: 40 Welcoming Messages to Greet Your New Boss
Brevity is Brilliance: Short Happy Boss's Day Messages for Your Card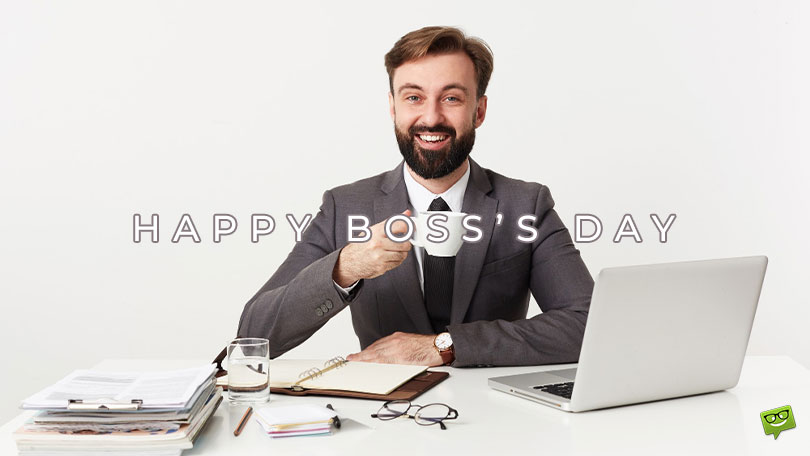 Discover the power of brevity with our curated collection of short, heartfelt messages for Boss's Day. These formal messages encapsulate perfect words of gratitude and admiration, crafted to fit even in the smallest of cards while leaving the biggest of impacts. So, let's dive right in!
Your leadership shines bright, guiding our way. Happy Boss's Day!
Cheers to a boss who knows how to bring out the best in us all. Happy Boss's Day!
A mentor, a guide, and a friend—that's you! Happy Boss's Day.
Thanks for leading with compassion and understanding. Happy Boss's Day!
Here's to celebrating your unwavering dedication. Happy Boss's Day!
Your guidance makes all the difference. Happy Boss's Day!
In the maze of work-life, you're a guiding star. Happy Boss's Day!
Thanks for your support and encouragement. You make every day brighter!
You turn challenges into opportunities. Happy Boss's Day!
Your inclusive leadership makes our team stronger. Happy Boss's Day!
In the garden of teamwork, you're the sunshine. Thank you!
Your vision inspires us all. Happy Boss's Day!
Thanks for your unwavering belief in our potential. Happy Boss's Day!
Your leadership is the heartbeat of our success. Happy Boss's Day!
Creating a great workplace starts with great leadership. Thank you!
Your guidance is our north star. Happy Boss's Day!
Celebrating you, a leader who champions diversity. Happy Boss's Day!
Thanks for fostering a spirit of unity and collaboration. Happy Boss's Day!
Your mentorship is the wind beneath our wings. Happy Boss's Day!
To a remarkable boss, thanks for making us feel valued every day. Happy Boss's Day!
These messages have been written to be adaptable to various workplaces and leaders. They celebrate diversity, inclusivity, and strong leadership without targeting specific characteristics or identities. Feel free to adjust them as needed to fit your specific situation and relationship with your boss.
Crafting Perfection: Writing the Ideal Boss's Day Card Message
Unleash your creativity with our sample messages and craft the perfect personal message this National Boss's Day. Embark on this writing journey and discover how your words can echo your respect and admiration for your inspiring boss. Let's get started!
To a great boss and an even greater person, best wishes on Boss's Day!
Thanks for being a fearless leader and an inspiring role model. Happy Boss's Day!
Your sincere gratitude and understanding make you such a great boss. Best wishes!
Glad to have an amazing boss who sees the big picture even in difficult times. Happy Boss's Day!
For all your hard work and dedication, thank you for everything. You're the greatest leader!
To our good boss, thank you for playing such an important role in our success. Best wishes on Boss's Day!
Having you as our boss makes us feel lucky every day. Best wishes on Boss's Day!
You're living proof that a good leader can bring out the best in their team. Happy Boss's Day!
Your hard work and dedication are an inspiration to us all. Thank you for everything!
Best wishes to our amazing boss who turns difficult times into opportunities. Happy Boss's Day!
Feeling lucky to have such a great boss guiding us. Best wishes on Boss's Day!
Thank you for your fearless leadership and sincere gratitude, best wishes on Boss's Day!
Your vision of the big picture inspires us every day. Happy Boss's Day!
Thank you for being our beacon of hope in difficult times. Best wishes!
You're not just a great boss, but also an amazing person. Thank you for everything!
Thank you for your hard work and for being the greatest leader. Best wishes!
We're glad and grateful to have you as our boss. Happy Boss's Day!
"To the amazing boss who makes the job worthwhile, best wishes on Boss's Day!
For being living proof of how good a leader can be, thank you for everything!
These messages celebrate great leadership and express heartfelt gratitude. They are written to be inclusive, diverse, and adaptable to various workplaces and leaders. Feel free to adjust them as needed to fit your specific situation and relationship with your boss.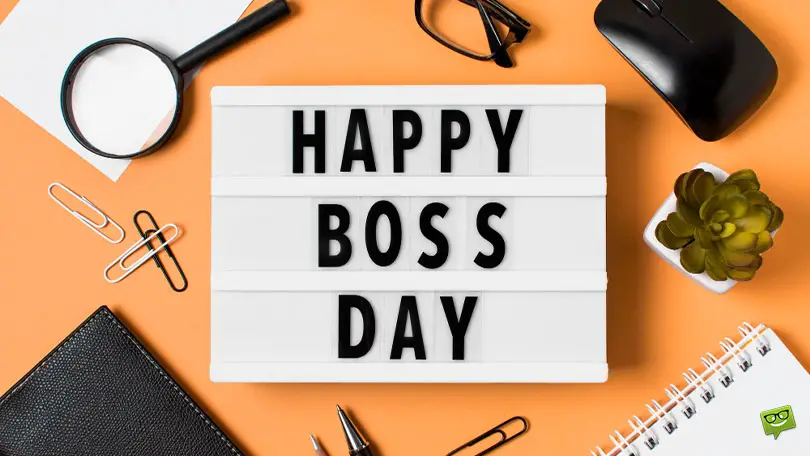 Adding a Dash of Humor: Funny Messages for Your Boss's Day Card
Happy Boss's Day! I still want that raise though.
Happy Boss's Day! Does this mean we get to leave early?
Roses are red, coffee is brewed, without you as the boss, we'd all be screwed!
Roses are red, Mondays are tough, without you as boss, we'd have it rough!
Celebrating Boss's Day the only way we know how: with cake and not working.
Boss, you're the superhero of our office, caffeine is your superpower!
Happy Boss's Day! Enjoy it while it lasts – tomorrow it's back to being our day.
To the boss who keeps our ship afloat, let's celebrate your day with a vote… for a longer lunch break!
A salute to the one person in the office who loves meetings more than free snacks. Happy Boss's Day!
When Words Fail: Using Quotes to Express Gratitude.
At times, finding the right words to express our gratitude and admiration can be a daunting task. That's where the wisdom of scholars, leaders, and thinkers comes into play. Incorporating a fitting quote in your Boss's Day card can add a touch of profoundness and universality to your message, making it truly stand out.
"A leader is one who knows the way, goes the way, and shows the way." – John C. Maxwell
"The secret of a leader lies in the tests he has faced over the whole course of his life and the habit of action he develops in meeting those tests." – Gail Sheehy
"I would maintain that thanks are the highest form of thought, and that gratitude is happiness doubled by wonder." – Gilbert K. Chesterton
"Appreciation can make a day, even change a life. Your willingness to put it into words is all that is necessary." – Margaret Cousins
"The mediocre teacher tells. The good teacher explains. The superior teacher demonstrates. The great teacher inspires." – William Arthur Ward
"To handle yourself, use your head; to handle others, use your heart." – Eleanor Roosevelt
You may also like: 80 Positive Good Morning Quotes and Messages to Greet Your Boss
All About Timing: When and How to Present Your Boss's Day Card.
Timing can be everything, especially when it comes to showing your appreciation. Knowing when and how to present your Boss's Day card can make the gesture even more special.
When to Give the Card
To decide the best time to present your card, consider the usual dynamics and schedule of your workplace.
Before the workday starts: If your boss is an early bird and you share a quiet moment before the workday rush, this might be the perfect time to present your card. It starts the day on a high note and ensures that your boss can take a moment to read and appreciate your words.
During lunch: Lunch breaks can provide a relaxed atmosphere, which can make receiving the card a memorable moment. If you usually have lunch with your boss or they have a scheduled break, this could be an ideal time.
At an organized event: If your office celebrates Boss's Day with an event or gathering, presenting your card during this time can add to the celebratory spirit. Just make sure it doesn't get lost in the shuffle of the festivities!
How to Present the Card
Personal preference and workplace dynamics come into play when deciding how to deliver your card.
Present it personally: Handing your card directly to your boss adds a personal touch and allows for immediate response and interaction. It's a warm, personable approach if you're comfortable with it.
Leave it on their desk: If direct interaction feels too intimidating, or if your boss's schedule is hectic, you can leave the card on their desk. It will be a pleasant surprise for them to discover during their workday.
Remember, the key is to choose a time and method that feels genuine to you and respectful to your boss. After all, Boss's Day is all about acknowledging and appreciating the efforts of your leader in a way that feels sincere and fitting.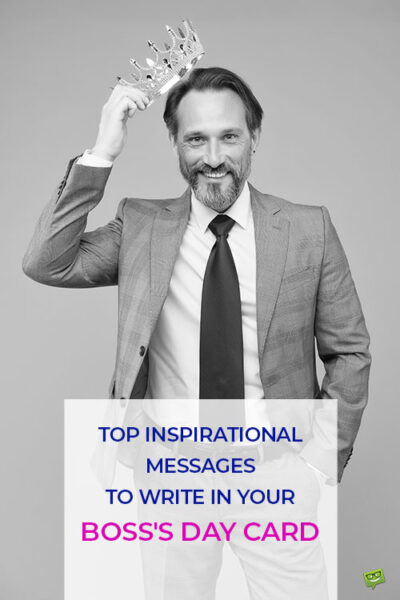 You May Also Like:
80 Positive Good Morning Quotes and Messages to Greet Your Boss
50 Belated Birthday Wishes for Boss to Make Up for Forgetting
60 Farewell Messages to Boss: Best Wishes on an Exciting New Journey