Saying goodbye to a friend who's traveling overseas isn't always an easy thing to do, since you are usually filled with lots of emotions that must be processed before you utter those last words.
Here are some truly beautiful farewell messages to make the task a little easier for you.
Traveling broadens your horizon, diversifies your experience, and makes you multiculturally competent. Safe travels, and may it always be well with you!
Wishing you an absolutely safe and pleasant travel, my friend! Do not forget to keep both a photo and written journal so that I can enjoy the experience vicariously through you! Stay safe!
You are about to embark on a journey that will bring you fond memories and a different view of the world. Make the most of it, and be safe! Cheers.
I could tell, when you were packing, that you are both thrilled and nervous, as you should be. I'm sure you will have the best time of your life. Goodbye, and make sure to tell us how it goes.
May this journey mark the end of sorrow and self-doubt, and the beginning of growth, self-discovery, and sheer bliss for you. Goodbye, my friend!
As much as you want to call home every day, resist the urge and channel that energy into making sense of your new environment and learning from it. Goodbye, and I look forward to chatting soon.
I encourage you to cease this opportunity to reinvent yourself and learn to view the world from multiple perspectives. You are really up for some fun time, bro! Goodbye, and all the best!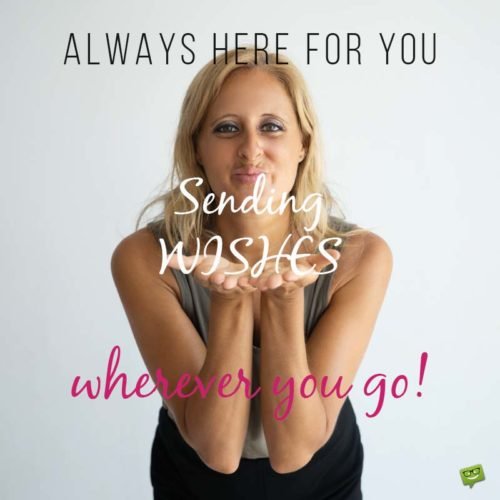 Safe travels, my dear! I'm happy that you've decided to take humanitarian work to the ends of the earth. This is truly a noble cause! Goodbye, and I'm so proud of you.
Seeing as only a tiny fraction of people get the unique opportunity to explore other parts of the world in their lifetime, I exhort you to use this God-given chance to learn and have as much fun as you can. Goodbye, and stay safe!
I can't wait to hear all about the food, clothes, songs, dance, and beautiful people you will meet on this journey. Goodbye, my friend. And please stay in touch.
Farewell, my brother! I know that you will have a blast! And I really look forward to hearing all about the lands over yonder! Please keep me posted.
The entire family and I will miss your funny gait and ridiculous jokes! But we know it won't be too long before you return. All the best, and please know that we love you!
I'll probably have to cross two oceans and a lake to remind you to take a nap in person. But thanks to technology, I can always send a tweet! Goodbye, my love, and don't forget to take good care of yourself.
You will probably be shocked at the natives' way of living, but remember that diversity is what makes life so beautiful! Goodbye, dear friend, and enjoy your stay in the pristine lands over yonder.
I am fully in support of your travel outside the country to find greener pastures. I wish all that you desire and aspire for come to reality. Bon voyage, my sweet friend!
We have shared wonderful moments together from childhood and now we are about to part. I wish you floods of wonderful accomplishments at your new destination. Goodbye, pal!
Here's your best amigo wishing you a serene, cheery and exciting life in your new destination. Hope to be hearing from you soon. Farewell!
You will be right here in my heart though you are going to be far away from my sight. I will always cherish our time here together and keep the flames of our friendship ever burning. Adios, my dear friend!
We are going to be miles apart physically but our friendship will always keep us closer than we can even know. Have a blissful stay at your new destination. Goodbye, friend!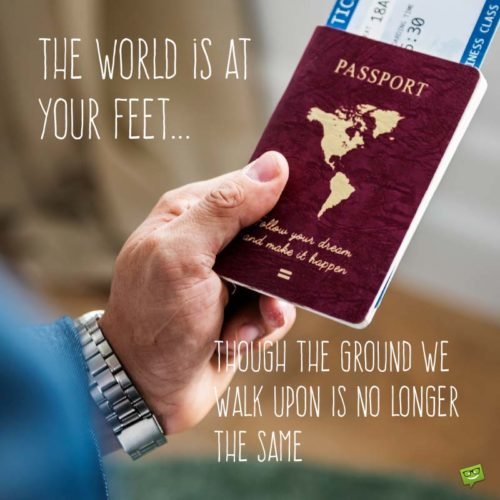 Your sense of humor and unsurpassed love are what make me want to be your friend forever. I know you're going to make more friends but please remember that I will always be there for you. Have a nice trip!
After all the joyous moments and adventures we've had, distance is sadly going to tear us apart. It is my hope that you will ride on the wheels of golden accomplishments for the rest of your life till we meet again. Have a truly beautiful adventure, my dear!
I am happily extending to you a heartfelt Godspeed on your journey and stay in another country. All the best, my dear pal!
I never knew how hard it feels to say goodbye until now that you are leaving me. Remember that my love and care will forever be available for you. I will miss you badly, so kindly keep in touch. Farewell!
I will always have your unique smile in my mind to keep me calm from the discomfort that will be created by the knowledge of us being multitudes of miles apart. Hope to hear from you as soon as possible. Bye!
Words can't convey to you the depth of sorrow I feel because you are about leaving the country. I hope you will accomplish your purposes there soon and come back to me. Have a wonderful journey and stay!
I may lose every memory I have but the ones we made together will stay glued to my mind forever. You are a friend so scarce to come by, and I will miss you a lot. Wish you nothing but the choicest blessings on your journey. Goodbye, sweetie!
The distance that is going to separate us cannot unloose the chord of friendship that binds us together. Make the best out of your journey, and please never stop being that wonderful person I have always known you to be. Goodbye, dearest buddy!
It's your childhood friend bidding you bon voyage with a heavy heart. May every desire of yours come to fruition. Have a wonderful stay at the other side!
May this journey of yours bring you some of the most beautiful and magical experiences of your life. I will certainly miss you like crazy. Farewell, my dear!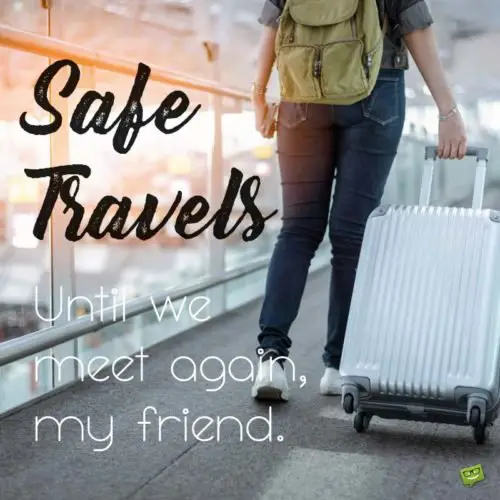 You may also like:
Goodbye Quotes | End of an Era
It's Friends That Count! | Friendship Day Wishes