When someone you know loses a loved one, you may not know what to say to that person. You want to provide condolences to them, but you don't want to say the wrong thing and possibly make it worse. A death is hard for everyone involved, and you don't want to say the wrong thing to a family member, friend, or co-worker. However, it can be hard knowing the exact words that can help a person feel better about their loss. Even a death that was expected is not an easy one for the surviving loved ones. It's a difficult time for everyone involved, no matter what the situation.
What can you say to someone who is currently dealing with a death? What are the right words? Read on for a collection of caring, loving quotes you can use when you are looking for the right words to say.
Public Announcement of the Passing Away of a Loved One 
When a loved one passes away and you need to make an announcement, the following quotes may be perfect for the situation.
It is with great sadness that I'm posting about a great loss in my life. I will never forget your true beauty and spirit.
I am devastated to have to tell my friends and family about a tragic loss. My heart is heavy and my tears are endless on this terrible day.
I'm so very sorry to report the loss of someone who was extremely near and dear to my heart. I wish nothing but love and light for their family and friends.
We have suffered a tragic loss today. We hope everyone will remember the good times that were had in the past years and not the sad ending of today.
Please remember the wonderful person that is no longer with us today- their kind spirit, warm laugh, and generous soul will be remembered fondly for years to come.
Always remember to tell your loved ones that you love them, every day if possible. You never know if it will be the last time you get a chance to.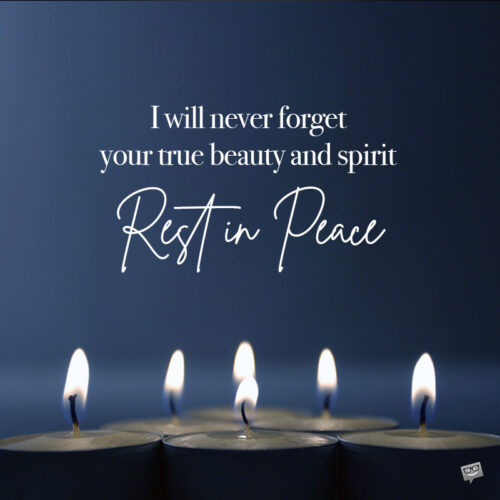 Inspirational Quotes on the Loss of Someone Dear 
It's hard to say what you feel when someone dies, so please check out the following inspirational quotes for examples.
I never thought I could love someone so hard, and I never thought I could miss someone so much. Your absence will leave a huge void in my life.
My heart is broken, and my tears seem endless. The loss I feel on this day is as deep as the night sky and as dark as the bottom of the ocean.
Always tell a person that you love how you feel about them every single day because you never really know when their time on this planet will be up.
While my heart is broken and my tears won't stop, I know that you are somewhere better. I will count the days until I can see you again, my love.
Without you in my life, there will always be a huge, empty spot where your love and laughter used to reside. I will never forget you and your love of life.
I will never forget the moments we had together, good and bad. Without you in my life, things will seem empty and dull. My love is with you always.
Final Goodbye Messages to a Person who Passed Away
When someone passes away you may wish to address them in a more personal manner, so consider the following quotes that could help.
I never knew I could miss someone so deeply and so strongly, but we here are. You will be on my mind forever and always.
My love for you will never fade, no matter how many years pass. You have always been my light, my love, my rock, and my everything.
No one could ever realize just how much I love and miss you. There isn't a thing in the world I wouldn't do to bring you back to me for just an hour.
I'll never forget the times we had together, good and bad. My love for you will always be as strong as possible, and your memory will never fade from my heart.
My heart and soul ache for you every second of every day. I will always have a special place for you in my heart that could never be replaced.
I know I will never love someone as much as I love you, and I will never let that love fade. Memories that have you in them are the best ones in my mind.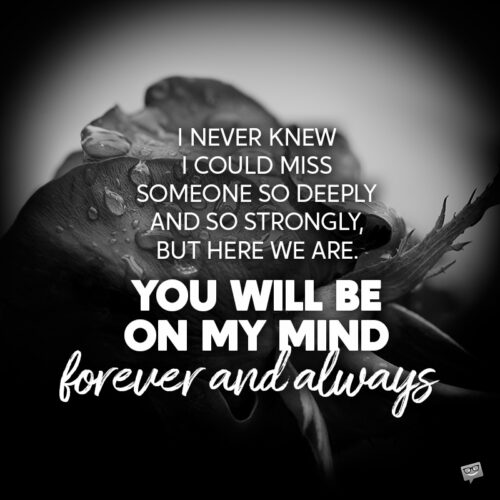 You may also like:
A Loss That's Hard to Handle | 'Miss You' Quotes
Those Sad Departures | Quotes About Losing a Loved One
Happy Birthday in Heaven | 50 Birthday Wishes for Someone Who Has Passed Away