Birthdays are significant. Everyone should have a birthday celebration that stands out and lives in his or her memories. Formal birthday wishes are especially important. By sending them, you are letting people in your life who work hard, live far away, add to your livelihood, and make your work easier know that they have not been forgotten and that you do value them.
For formal birthday wishes, it is preferable to select ones that suit the type of relationships you have with particular people in your life. For your boss, you want to choose a wish that is both celebratory and appropriate, for a faraway relative, a wish reminding him or her, that no matter how much physical distance there is between you, you live in each other's hearts, for a client, a wish expressing gratitude for giving you a job, and for a colleague, a wish hoping their helpfulness is reciprocated.
Formal Birthday Wishes for a Faraway Relative
Although you live far away, I think about you, often! You are my family and nothing will change that! Happy Birthday!
Moving away does not alter our familial bond! On your birthday, know that you are thought of!
Living many miles away from family is often difficult. For your birthday, I want to make it easier by letting you know that you will always be included in what is going on here, and that we all wish you a Happy Birthday!
Being your relative means that I smile, every time your birthday arrives! I get to wish someone who lives far away from me, but is still significant to my life, a Happy Birthday!
Residing in a place far from relatives does not mean that you will be forgotten! My greatest wish for your birthday is knowledge that you are remembered!
The space between us is not as vast as it seems! You are my family, therefore you hold a special place with me! Happy Birthday, you! You are beloved!
Our relation to each other runs deep! It goes beyond whatever amount of miles separates us! Celebrate your birthday knowing that our connection cannot be broken!
The length of time it takes me to reach you and celebrate your birthday with you does not matter! What matters is that you are my relative and you would do the same for me! Happy Birthday!
When you decided to leave for a new job, the family was saddened by the news, but we understood! On your birthday, may you continue to have new occurrences in your life, and grow as a person! We are very proud of you!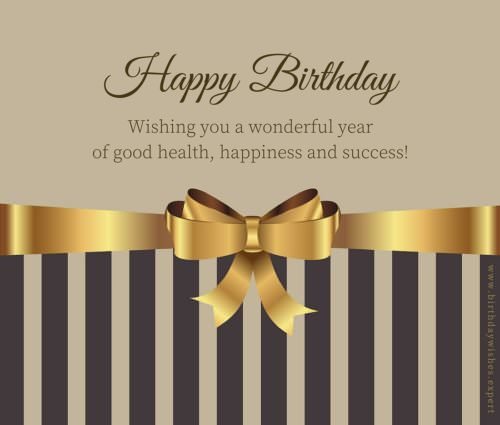 Formal Birthday Greetings for a Senior Relative
It is never too late to start another dream as long as there is life. Congratulations on your new age.
I am grateful for the beautiful memories you have brought into my life. I wish you all the best as you continue your beautiful journey of life.
Don't count your age, count your blessings, for they are the true measure of life. Happy birthday and have a wonderful day.
Thank you for the encouragement and inspiration you have given to me over the years. May God bless your new age. May you always remain healthy, strong, and happy.
Happy birthday to the person whose presence brings light into our lives. Thank you for the many lives you've touched.
You are a shining example to all of us. Your pieces of advice are priceless words to us. I wish you long life and more wisdom.
We look forward to seeing all your dreams come true as we celebrate this special moment with you.
You have been a great blessing to us. A lot has changed but you have never changed the amazing person you are.
Formal / Professional Birthday Wishes for Clients and Business Collaborators

The work you have assigned me to do has been rewarding! On your birthday, may you receive many gifts that are worth cherishing!
Having you as a client means that I get to work in a field that I love! Happy Birthday to someone who presented me with a great opportunity!
Wishing you a birthday that is as straight forward and joyous as you are! You are a wonderful client! Celebrate your day!
Being hired by you has resulted in my completing work that is important! May your birthday hold memories with meaning!
Working for someone can be unpredictable! Not everyone is as forthcoming as you are and clear on instructions! I have been blessed to have a client like you! May your birthday find you in good spirits! May you be able to see everything that is before you!
I always look forward to receiving work from you! As a client, you have an interesting and welcoming way of looking at things! May your birthday contain events that are different and useful!
Providing professional services for you has been educational! I would not have learned so much, if you had not hired me. I hope that your birthday is full of eye opening experiences that only serve to make your day greater!
You are an ideal client! You value the services that I render! I hope the date of your birth is valued among your family and friends! I hope that this day is ideal for you!
Happy Birthday! You are a client who has improved my work with the suggestions you have made! May each moment, on your special day, be better than previous ones! May you see improvement, everywhere!
It is such a great delight to work with nice people, and you my friend are one of the nicest persons we as a business have ever worked. Happy birthday.
I admire you for your hard work and dedication to work. I wish you success in your career. Happy birthday to the best business partner ever.
Wishing a fabulous happy birthday to my hardworking and cooperative partner. Wishing you all the best in both your personal and professional life.
I value the successful partnership I have had with you over the years. You are such an incredible person, and today being your special day, I wish you fabulous birthday.
You have been a blessing to the business and everyone around you. Happy birthday.
Today, I celebrate you. On this day, I want to thank you for playing such an instrumental role in the success of our business. Happy birthday and have a great day.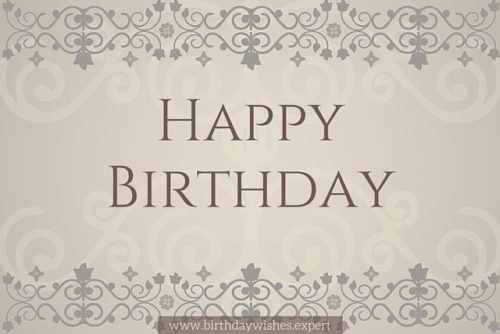 Wishing all the best success and happiness this year to my favorite client. Have a very happy birthday.
It's your big day! Drink up, look up, and save up. The best days are ahead of you.
Wishing my partner a big and celebratory birthday. Thank you for all your time and company we've shared. Have the best birthday and a joyful year.
Happy birthday to the best client I've ever had!
Dear client, I simply want to wish you a wonderful birthday. May all your dreams and brightest wishes come true on this day.
Wishing you all the joys of life on your birthday. Working with you is always such a pleasure.
The best client award goes to you! Thanks for the pleasure of being able to work with you and have a very happy birthday.
Wishing you the best surprises and gifts today and this year for your life and business. Happy birthday, sincerely from your partner.
Dear client, may God bless you this day and always to fill your life with good fortune, great health, and happiness. Wishing you the best birthday yet.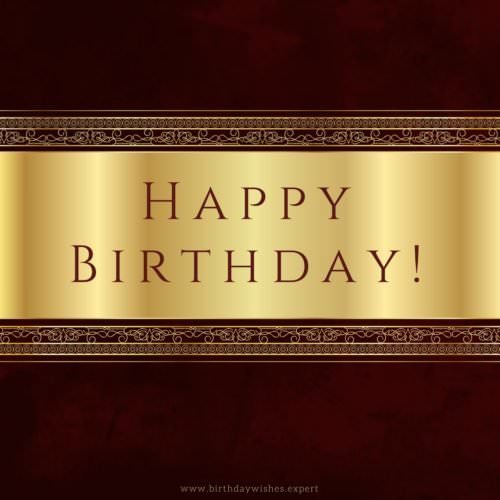 Formal Birthday Greetings for a Neighbor
You offer me a shoulder to lean on, and I will always be grateful for your presence in my life. Happy birthday.
If there is ever an award for best neighbor, I would give you one because you are such an amazing neighbor. Happy birthday.
Today, I celebrate an incredible neighbor. You are indeed a Good Samaritan sent from above. Happy birthday.
Wonderful neighbors like you are very rare to find, which is why I always thank God for blessing me with one. Happy birthday.
I never saw what I was missing in life until you came into my life. You've been of great help since I moved in. Happy birthday to my dear neighbor.
Happy birthday to the best neighbor, you are without any doubt one of the best things that ever happened to me in this life. Thank you for your priceless friendship.
Your company is the best place in the world, full of love and affection. I'm lucky to have an awesome neighbor like you. Happy birthday, my dear.
There is no other person like you in the neighborhood. You are kind, generous and always put others first. Happy birthday to my wonderful neighbor.
You will always be a treasure to my heart. Happy birthday.
No one in the neighborhood knows how much you mean to me. You are a one in a million, my dear. I wish you a wonderful birthday celebration.
You are a great inspiration to my life. I am thankful for your great counsel and guidance. Happy birthday to the best neighbor.
Formal Birthday Wishes for a Colleague
Working with you has been very helpful! Thank you for your input! May you have a Happy Birthday!
You are a vital part of our organization! Being your colleague has been beneficial to our field of work! May you celebrate your birthday knowing that you have added to everyone's livelihood!
As you commemorate your special day, be aware of the fact that you are a valued colleague! You are an essential member of our team! Have an excellent day!
Getting to work with someone who is dedicated to the job ensures that all assignments will get done, in a timely manner! Happy Birthday to a colleague who gets things done!
You are a cooperative co-worker! Completing projects alongside you has been both pleasant and productive! May your birthday be joyful and progressive!
Having an associate like you in our profession is of great importance! You view our work clearly, and make sure that others do too. May your birthday find you around helpful people, who really care about you!
I have enjoyed working in the same office as you! You are always well-informed and carry yourself in a professional manner! I hope that you have a very, Happy Birthday!
A good colleague is one who concentrates on the work ahead and motivates his or her team to do the same! You unfailingly, do this, on every day of work! On your birthday, I hope you can relax and enjoy your party! You are deserving of it!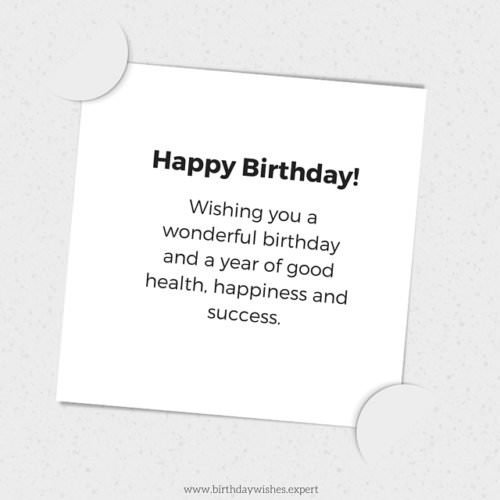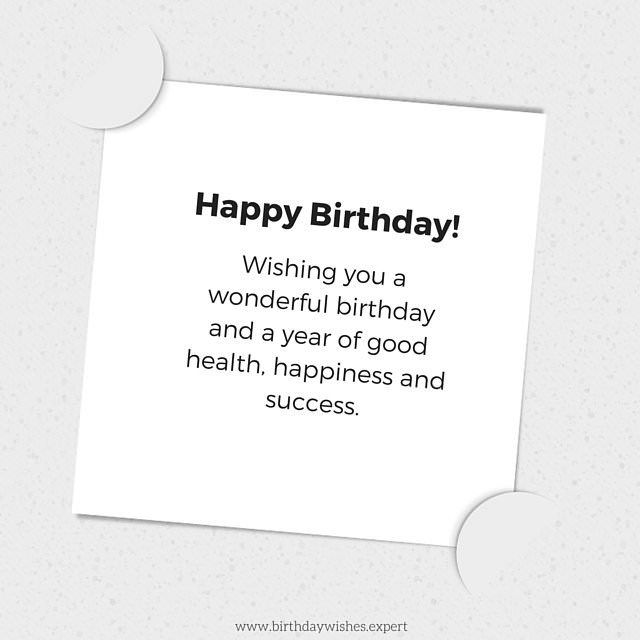 Wishing you all of life's blessings and happiness on your birthday. You deserve it all and more.
Here is a big happy birthday wish from each of your office pals. Happy birthday to a great guy!
It's our turn to make your day a great one. So sit back and relax, enjoy your special day for all the memories and hopes for tomorrow. Happy birthday, from everyone at the office. We hope all your dreams come true.
Wishing a huge happy birthday to a great gal from all of your office pals!
Coming to work each day is easier because I know I will always be greeted by your smile. Congrats on another year of being your awesome self! Happy birthday.
Your colleagues want to wish you a birthday filled with all the love, laughter, and success you have earned. Happy birthday!
Wishing a message of congratulations to one of our best team players. Thanks for all you do and may your birthday be bright and full of happiness.
You've earned the biggest birthday celebration the world has to offer- here's my wish to play my small part: happy birthday from a grateful friend and an admiring colleague. Happy birthday!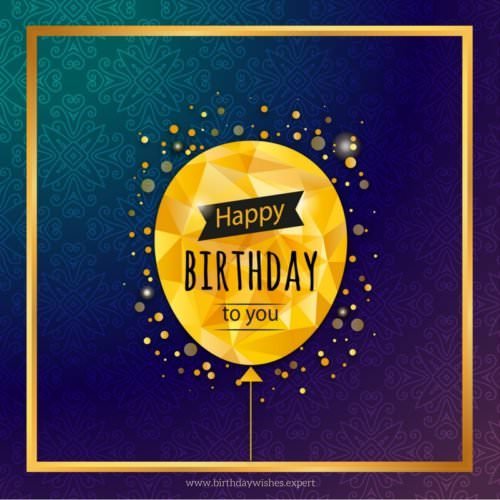 Formal Birthday Wishes For Employees, Secretaries and Office Staff
On behalf of every member in the department, we wish you a very happy birthday. May you your dreams come true and your goals be met.
It is always a blessing to have you around the office. You are a valued member of the team. Wishing you a happy birthday and another successful year. May you have many more to come.
Guess who needs a vacation? You do! Wishing you a big happy birthday and a huge thank you for all the great work you do here. We wish you all the happiness and satisfaction each year can give on your birthday.
I am so grateful for your hard work, dedication, and contribution. Thank you for all that you do for me and the whole team. Wishing you the happiest birthday so far.
You put the welfare of others above your own. That makes you special and I can't say enough how much I appreciate all you do. That's why I hope all your wishes come true on your birthday! Congrats on your big day.
Wishing you the warmest wishes of success, happiness, and joy on your birthday. This company sincerely appreciates all your efforts. Happy birthday!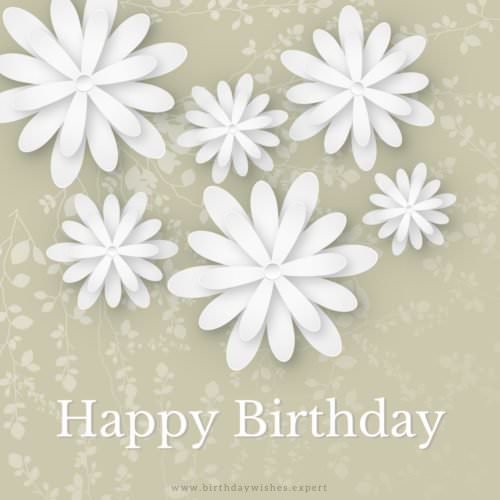 Formal Birthday Wishes For Managers
Wishing a very happy birthday to a great leader and friend. Happy birthday, boss! You're the best.
Dear boss, thank you for having the vision to be a great leader and inspiring us all to be leaders too. You're the best boss ever! Happy birthday.
Wishing you a lasting career, a healthy life, and a happy birthday. May your big day be filled with the blessings you deserve.
If every job I have had had a leader like you, I'd be the boss by now. You're truly a blessing. Happy birthday to a wonderful boss. Congrats on another year being you.
Happy birthday to the best boss ever! I wish you good fortune and much success in your future.
Professionally Yours : Happy Birthday Wishes for my Boss
If there was a "world's best boss" award you would win it because you really are the best. Have a stellar birthday!
The best bosses are those who are leaders like you. Wishing you the same love, support, and encouragement you give to us on your birthday.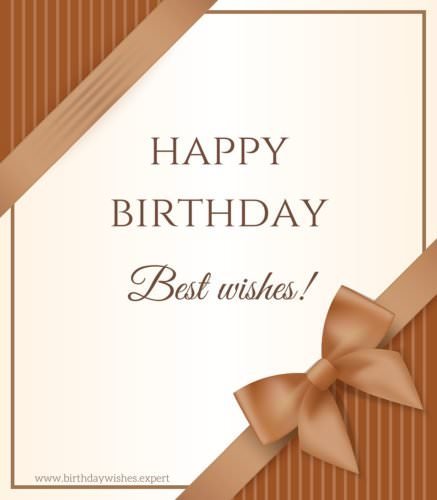 Formal Birthday Greetings for a Government Representative
Happy birthday to a great leader who places the interest of the country above his. Thank you for your service and dedication to the nation.
We are grateful for your astute leadership. I wish your whole administration strength and more wisdom. Happy birthday.
Thank you for the hope you have brought to us. I wish you success in the visions you have for this nation.
A true leader thinks about his people. You are a revelation to the success of this country. Happy birthday to you.
We are proud to have a leader like you. Your selflessness, hard work and service to humanity is admirable.  Happy birthday and have a great day.
Congratulations on the good fortunes you have brought to the community and the nation as a whole with your leadership. Wishing you all the best in the coming years.
You may also like:
145 Wishes to the One Who Shows the Way | Happy Birthday, Boss!
100 Birthday Quotes – Happy Birthday, My Friend!
A Business Celebration | 50 Professional Birthday Wishes
200 of the Best Birthday Messages to Make Someone's Day Special