The birth of a baby is a precious blessing that changes our lives forever. Whether your parenthood journey is well-traveled or a new experience, you look forward to the baby's arrival with a mixture of anticipation, elation, and new-baby jitters.
When the time comes to let the world in on your special secret, you will want just the right words to let everyone know you are expecting. The following messages are fresh and fun and will help you find the perfect sentiment to express your feelings of excitement and joy.
There are many great firsts in life: first steps, first car, first kiss, and now first baby. We are excited to announce ours is due on [date].
We've been busy as a bee, and now there are three.
We want you to know,
We'll be a trio
[date].
Two has been fun, but now we're adding a son.
Will we have a she, or will we have a he?
All we know is that we're parents to be! FINALLY!
We're adding a high chair to our table for two.
As two become three,
Love is the key.
Baby [name] already has the key to our hearts.
For the first time, we understand the depth of unconditional love. Our beautiful baby has already stolen our hearts and we can't wait to meet him/her on [date].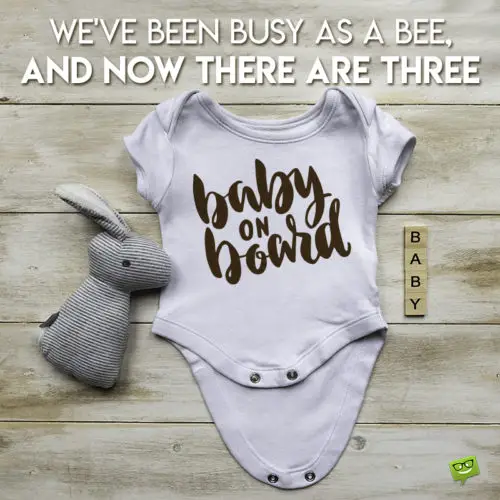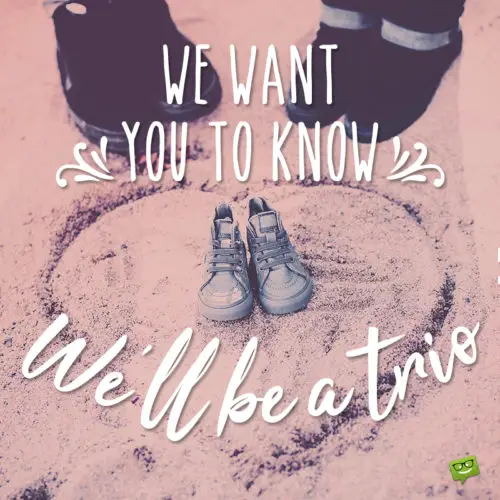 There is no better time to be sentimental than when expecting the birth of your child, and these announcements will touch hearts.
With tears of joy and dreams of the future, we proudly announce that we are expecting.
The happiness in our hearts grows and grows;
We're adding ten little fingers and ten little toes.
As our baby quietly grows beneath his/her mother's heart, our thoughts turn to thanksgiving for this new season of life.
With love in our hearts,
A new chapter starts.
It is with great joy that we announce we are expecting.
If you have noticed a glow on our faces, it's because we are dreaming of life with our baby who is due [date].
The blessings only a baby brings are filling us with the most amazing joy.
My soul has already met you, there beneath my heart. Baby [name] is due [date].
Look what the sonogram reveals! We are in love head over heels.
We already heard our baby's heartbeat,
Next is the patter of little feet.
We're expressing our glee, 'cause we're parents to be.
We can't wait to tell you with joy over the moon,
That our bundle of joy is coming soon.
Get creative! Check out our gender reveal quotes!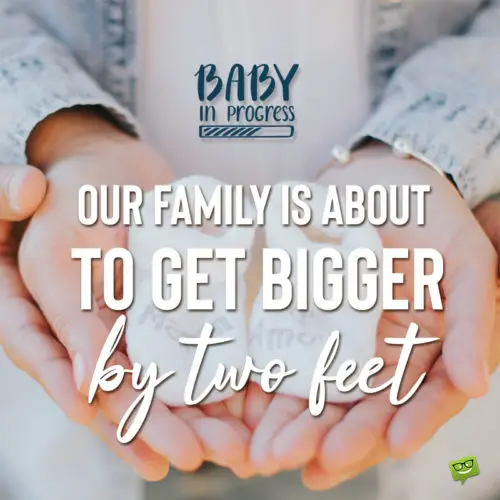 Funny Ways to Announce a Pregnancy
Use these announcements to add a little humor to your pregnancy announcement.
We're going from a pair to three of a kind and it's going to be a full house.
We enjoyed our time on the beach so much that we brought back a little son.
Due to our lovin' there's a bun in the oven.
Our little circus is about to have three rings.
Break out the pickles and ice cream.
We'll soon be finding out how little sleep we can get by on. Our little alarm clock is due [date].
Wanted to keep you in the loop: we'll soon be adding to our troop.
The time has come to buy some Legos,
We just found out the wife is preggo!
Our family is about to get bigger by two feet.
Guess what?
Baby butt!
It will be worth the wait,
[Date] is our due date!
She's having cravings,
And I'm checking our savings.
Looks like a baby's on the way [date].
It's time for the news to drop:
[Mother's name] is going to pop!
There's a new vibe coming to our tribe on [date].
Adding a baby multiplies love. If we did the math right, ours is due [date].
Inspiring Pregnancy Announcement Captions
Babies bring inspiration and hope and so will these announcements.
We both have amazing parents, and so now we have big shoes to fill.
God has chosen us to be parents, and we couldn't be happier.
Gazing into the tiny face of our child will reveal the magnitude of our blessings.
When prayers are answered, and miracles happen, only God can receive the glory. Thanks to His grace, our bundle of joy will be arriving [date].
Our hands can't wait to hold our precious baby due [date].
The simplicity of love is found in a baby's face. We can't wait to see ours due [date].
God has knit together a little one to join our family, and our hearts are overflowing with gratitude.
Our baby is already holding us by the heart. We can't wait to meet him/her around [date].
We didn't know we could love each other any more, but building a family has taught us otherwise. Baby Number [number] coming [date].
Our baby is a tiny bundle of dreams soon to be delivered from our hearts into our arms. [Date]
We've dreamed of being called mommy and daddy for a long time, and finally hope has smiled on us. We begin our new roles on [date].
You may also like:
New Born Baby Status Update | Parents Announcing New Members
Congratulations on a Pregnancy | Messages to Someone Expecting a Baby
It's a Boy | 30+ Wishes and Congratulations for a Newborn Baby Boy