Sending a welcome message is the perfect way to start a good relationship with a new guest at a hotel, a client, an employee or a boss. It's an excellent way to make someone feel accepted and appreciated.
Send out a heartwarming welcome message whenever the opportunity to do so arises because it's a charming gesture. Use the following list to help you make the person you send your message to smile and feel at ease.
Welcome Messages for Guests
If you have a new guest at your hotel or apartment complex, send one of these messages to make him or her feel accepted:
As you settle in, know that warm wishes are being sent to you today.
Hope your stay here is as pleasurable as having you stay here is.
We hope your stay with us is totally enjoyable. Making it so is our mission.
As you move into your new apartment, we look forward to doing what we can to make living here a wonderful experience. Pleased to meet you!
You are warmly welcomed. We honor your presence.
Having you as a guest couldn't be more exciting. Your presence is delightful.
Welcome wishes are sent your way. Hope this message brightens your day.
Warm wishes are sent your way to make you feel comfortable with your stay here.
It's a pleasure and an honor to have you as a guest.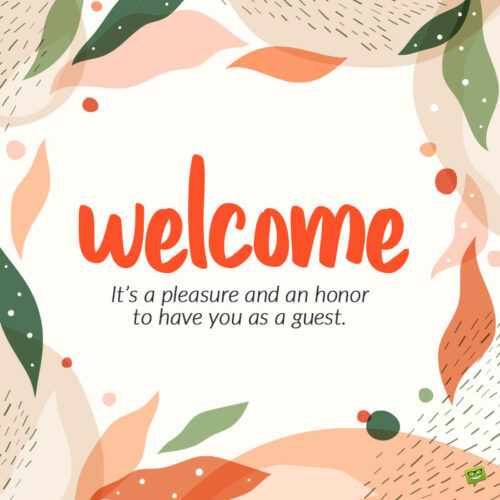 We hope that your stay here is as meaningful to you as it is to us. Warmest wishes and greetings!
I hope that the sincere greetings sent in this message make you feel valued as a guest.
Your arrival is embraced, and we look forward to having you stay here. Greetings!
Welcome Messages for Company Clients
Send these messages to your clients to make them feel valued and appreciated:
Without people like you we are nothing. Greetings to a valuable customer.
It is an honor and a privilege to have you as a customer. Our future business with you is something we look forward to. Sincere greetings!
We appreciate the opportunity to make you happy with our products and service. We will do whatever it takes to make you smile when you do business with us.
Greetings! When customers like you show up at our store, we do whatever we can to make doing business with us a magnificent experience for you.
Thank you for your support. We look forward to serving valuable customers like you.
Greetings! Thank you for becoming one of our customers and for giving us the chance to provide you with superior products and outstanding customer service.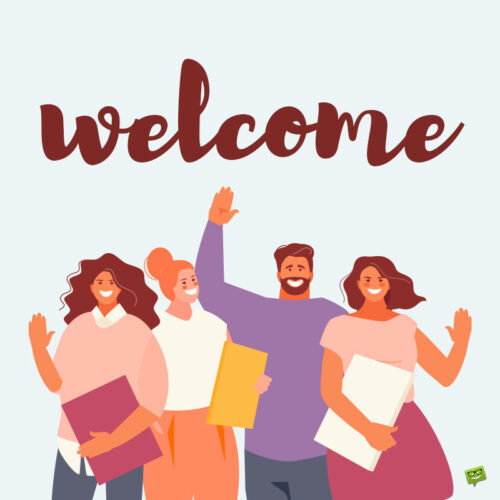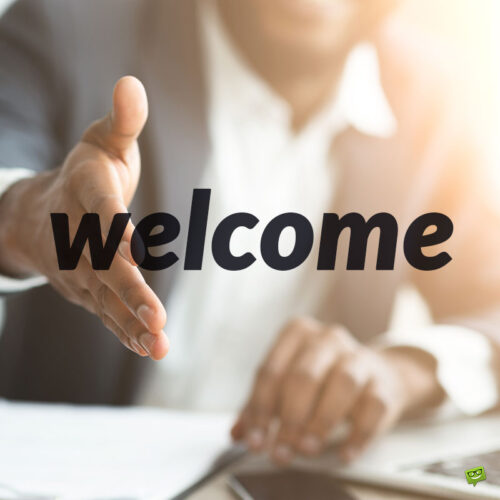 As you take the first step to doing business with us, let us greet you and promise to do our best to satisfy your needs.
Hello, valued customer. We are happy you came to us for your shopping needs. Thank you for trusting our company.
A heartfelt greeting is sent your way to say, thank you for becoming one of our customers. We intend to make you totally happy with doing business with us.
Happy to hear you're our new boss. You're the best person for the position. Welcome aboard!
Congratulations to the new boss. I'm sure your job as a leader will be one you excel at.
Greetings to our new boss. We wish you lots of luck working for this company and hope you find it rewarding in every way.
I and the other workers here want to wish you success as the new boss. We consider ourselves lucky to have someone as qualified as you to guide us.
You May Also Like:
Welcome Back to Work | Wishes for the First Working Day after Holidays
51 Goodbye Messages When You (or a Colleague) Leave the Company