The birth of new-born children of our close ones is always one of the happiest moments in life. There is nothing more touching than expressing love and sharing the happiness of new parents. However, it is understandable that sometimes we just can't find the right words to reflect our joy and happiness for the lucky new parents.
Be it the birth of a friend's child or even the birth of your niece or nephew, here is a list of warm and loving congratulatory messages that you could use when it's hard for you to find the right words to express your delight.
Wishes for the Birth of First Child
Hello, you two. So, you're officially parents now, huh? Congratulations on the birth of your first little one! I can see that the both of you will be the best parents any child could have! Lots of love,
Not only are you two husband and wife, now you are also a mommy and a daddy. Congratulations on the birth of your first child! May your little family be blessed with abundant joy and love, as the two of you venture into parenthood.
I am so happy for the two of you, and for the little one too of course. This baby will have the most amazing parents ever, and I am sure you two will enjoy every second of parenting with every bit of happiness that this little baby will bring you. Congratulations!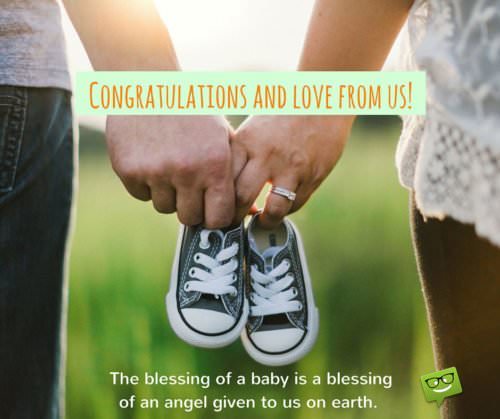 Hi, you two! Finally, you are blessed with your first child and you are on your way to becoming the most charming little family. I am so thrilled that our little ones are close in age. I hope they can be the very best friends and have fun with each other like we did. Congratulations! Lots of love from us.
Dear best friend, I am so excited for you becoming a mother and I am so thrilled with the birth of your little one! I always thought you would become an amazing mother one day, and now here you are with the birth of your first child. I promise I will be the best loving aunt ever. I can't wait to meet your baby! Xoxo
Congratulations on finally being parents! We are sending the warmest hugs for your little one, and may this new experience of parenthood be wonderful and rewarding for the two of you.
Wishes for the Birth of a Baby Girl

It's a girl! Congratulations on the birth of your first daughter. I'm sure she will turn out as pretty as her mother is and as charming as her father is. You two will make the best parents ever, and I'm sure she will turn out very fine. I can't wait to say hello to your baby girl. Loves,
Hi bestie, I can still remember how when we were younger we would imagine a mini-me of ourselves, and here you are with your little baby girl. Congratulations, dear! With a mother like you, I'm sure she'll be the prettiest and smartest girl ever.
Dear baby girl, welcome to world! You are such a cute little baby; your parents are so lucky to have you! But I can assure you, that your parents are the best loving people I know. Be prepared to a mother that will brush your hair and worry about you when you're out and forgot to text her. And a father that will teach you things and be protective towards that one lucky fella who gets to take you to prom. And also me! A loving aunt you can always run to when you're angry at your parents 😉 Welcome to the family! I am so happy to have you as my niece. Love, your aunt.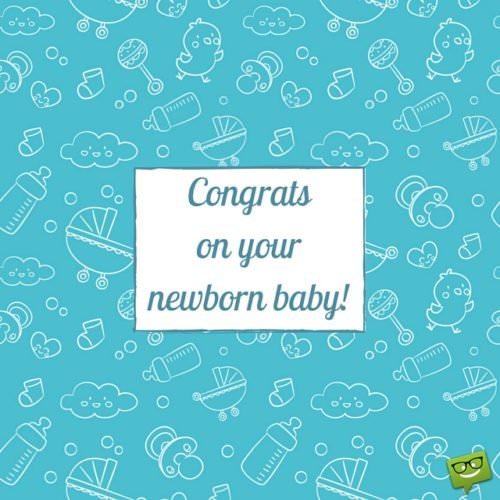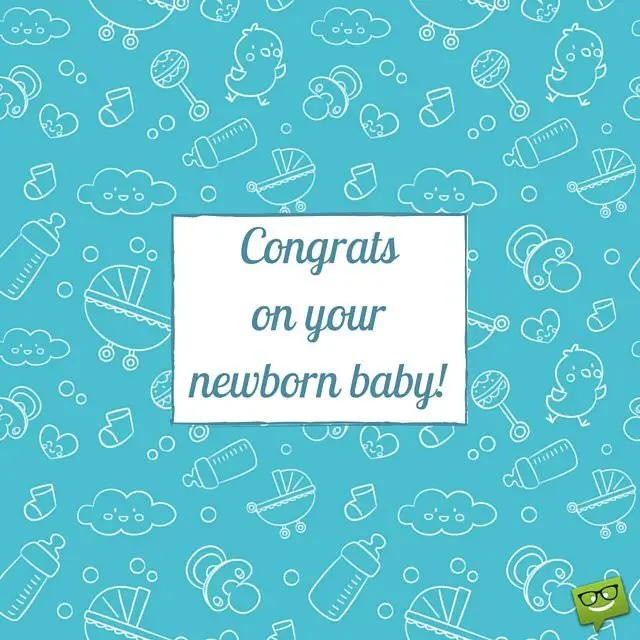 Hello dear, congratulations on the birth of your daughter. May she grow to be a beautiful, smart, and loving young woman – just how her mother is.
Congratulations on the birth of your daughter. Welcome to the sleepless nights the two of you are going to go through. But also, be prepared for the wonder-filled times ahead for you. I am so thrilled for your baby girl!
A little darling, a baby girl, the bundle of joy that is a pearl. Congratulations on the birth of your daughter. We are wishing you days filled with joy and laughter.
Wishes for the Birth of a Son
It's a boy! Congratulations on the birth of your first son. I'm sure he will turn out as handsome as his father is and as kind as his mother is. You two will make the best parents ever, and I'm sure he will turn out very fine. I can't wait to say hello to your baby boy. Loves,
Hello dear, congratulations on the birth of your son. May he grow to be a handsome, smart, and kind young man – just how his father is.
Your baby boy will grow to be heart-throb! Congratulations on being new proud parents!
May your son fill your world with joy, warmth, and love. Sending the warmest hugs and kisses for your little family.
Sending infinite hugs and kisses for your little boy – may he be Brilliant, Obedient, and Youthful. Wishing you the best of times with your new bundle of joy.
A little darling, a little son to fill your days with lots of fun. Congratulations on the birth of your baby boy. We are sending you the warmest hugs and the most loving kisses.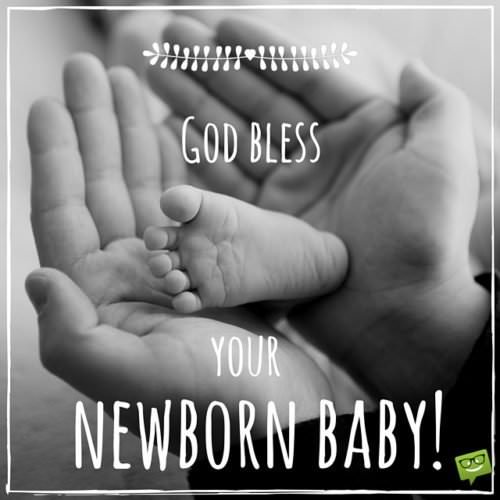 Wishes for the Birth of Twins
It is known that the best things in world come in pairs. Congratulations on the birth of your twins! Sending the warmest love to the two of you and your little babies.
Congratulations on the birth of the twins! Double the joy, double the laughter, and double the warmth. With infinite love from us to your little family.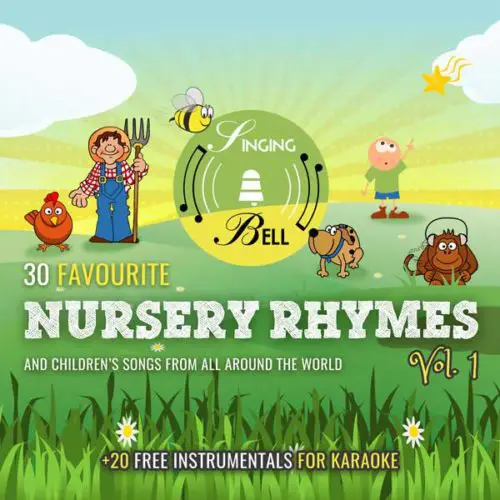 Twice the joy, twice the love, two little blessings from above. Congratulations on the new-born twins! We are as thrilled and as happy as you are for the little ones. Loves, ___
Two little darlings, a little boy and a baby girl. We wish you all the joy and love. Congratulations on the new-born twins!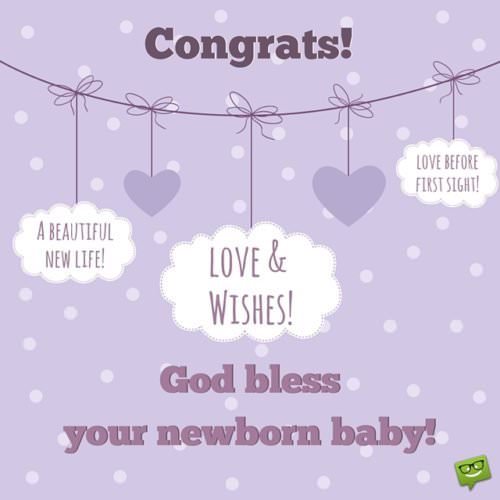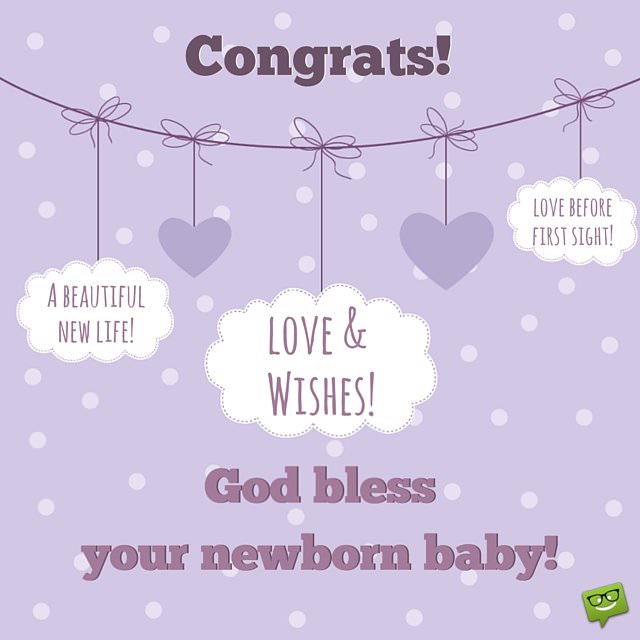 ---
Funny Newborn Baby Greetings
Children change our lives in every possible. From one parent to another, good luck!
What a sight! What a beauty! It's time to clean up this little one's doody!
Congratulations, grandparents! Get out the loud toys and sugar. After all, this time around you get to send these kids home!
You thought pregnancy was difficult? You are in for a huge surprise now that you are taking your baby home. It's like trying to calm a drunk cat. Fun? Yes. Exhausting? Yes. Worth it? Totally. Congratulations!
Congratulations on your new bundle of joy! Sorry she looks nothing like you, Dad!
Once in a while, we think we know exactly where our life is going. Then, God sends us a curveball saying, "fat chance, mister." Congratulations to the most shocked parents around!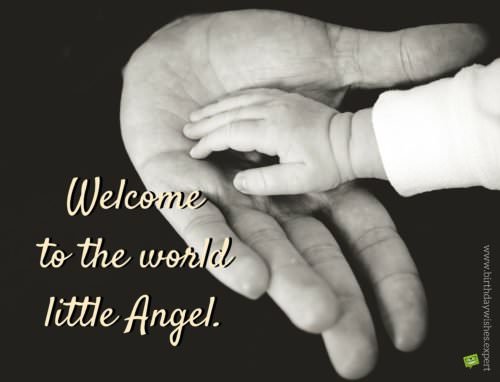 ---
"It's a Boy" | Wishes for a Little Man

Boys are indeed gifts. From the moment they are born, we are incredibly grateful and determined to help them succeed in this ever-changing world. Our prayer for this little one is that others are better having known him.
This boy here is a miracle in our midst. Given his strength and determination to survive during the difficult moments in utero, he is destined for greatness in this world. Welcome, little warrior!
Boys' energy levels may be high and they may get into vast amounts of trouble, but at the end of the day, it's their snuggling that matter. May this little one here be more about snuggles than troubles.
Wishing this sweet boy days with a full belly, a rested soul, and comforted heart from cuddles with those who love him
In this child, may there be a peace-maker, a warrior, and a king so that he may change the world with every step he takes. Wishing this boy a life that is history in the making.
Little one, live your days with intent and purpose. This is how you change the world, one day at a time. May the world be better solely because of you and your good works.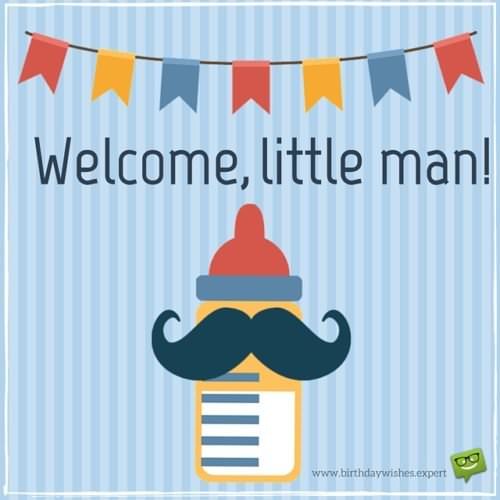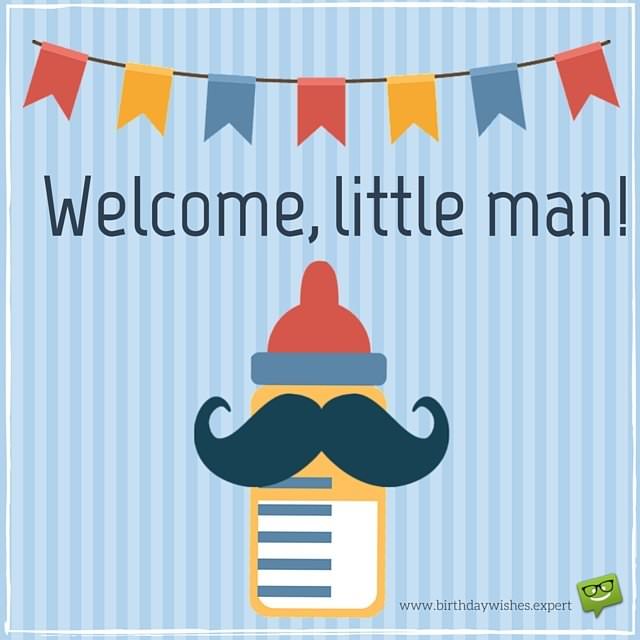 ---
"It's a Girl" | Messages for a Newborn Girl

Little girls are gems from the heavens, continually blessing our lives in ways big and small. The world is indeed brighter because of this one right here!
Bows and dresses, dolls and playing house. Such sweetness is the life of little girls. Lord bless this little one with comfort, protection, and joy all the days of her life.
Today we welcome a new soul, a beautiful child for whom we hold many hopes and dreams. May her future be bright with endless possibilities while holding strong to her faith and values. Blessings to all who know her.
Little girls surprise us daily. They have such intelligence and endless creativity which allows them to imagine themselves as princesses one minute and research scientists the next. May the spirit of this little one stay with her well into adulthood so she can overcome any obstacles crossing her path and become whatever is her heart's desire.
Wishing this little one all of God's never ending blessings. Welcome to the world, sweet girl!
In this little girl, may there be a kind spirit and generous heart. May she change the lives of everyone she meets and make lifelong friends along the way.  May her life reflect the heavens all the days of her life. Here is a special child indeed!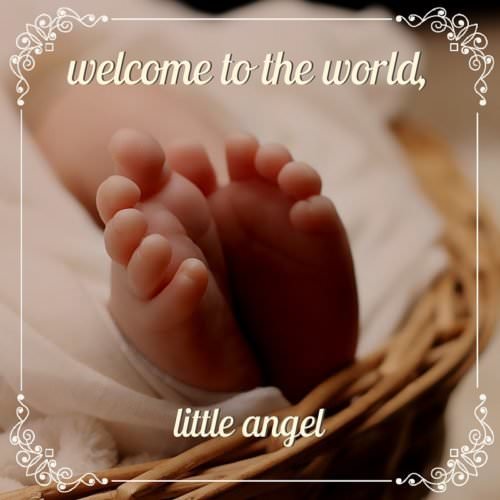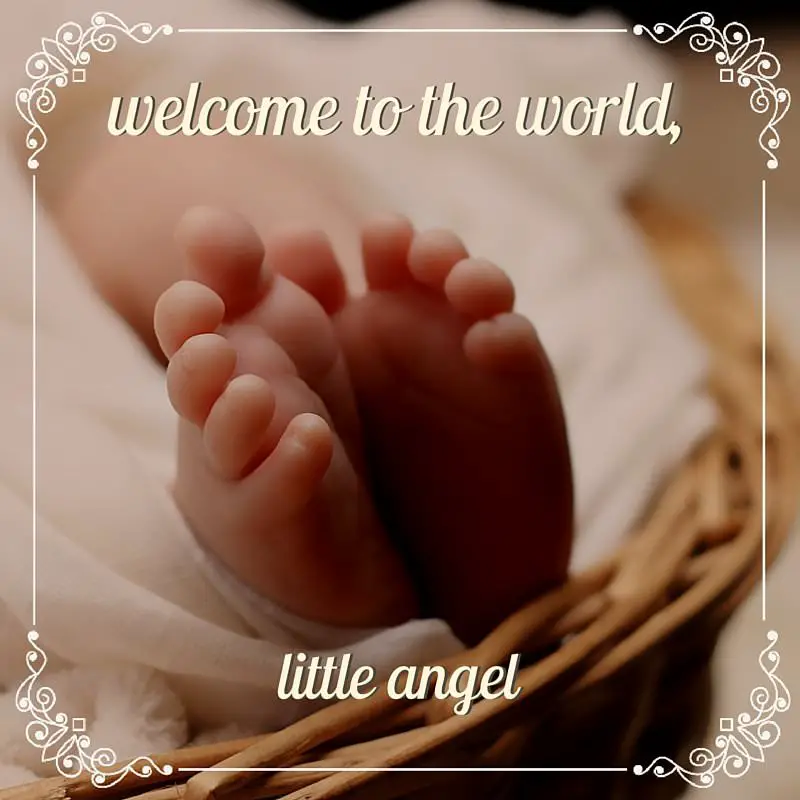 ---
Newborn Baby Wishes for Parents
A boy is indeed a gift to his parents. His generous spirit, strong energy, and desired independence keep mom and dad going from morning until night. You may never know how the day will end when it starts, but there is one guarantee. You will not be bored. Congratulations on your newest addition!
Bringing a little girl into this world is an adventure in beauty. From teaching her the beauty of her soul to helping her discover the beauty of her heart, you have exciting moments ahead. Congratulations on your new bundle of joy!
Congratulations to the new parents! Be prepared to have your heart stolen every minute of the day from this point forward.
What a joy it is to welcome this little child into your family! May you be blessed in ways you cannot even begin to fathom.
Congratulations on your little blessing! You may be excited and even a little overwhelmed but, trust me, we are all here to help. After all, it takes a village!
Many blessings bestowed upon you in this new season of life. Through the feedings, changings, and sleepless night, your baby is lucky to have you as parents. You will surely enjoy parenthood!
Here's to you on this fabulous day! You have been and will continue to be so blessed. We can't wait to watch him grow!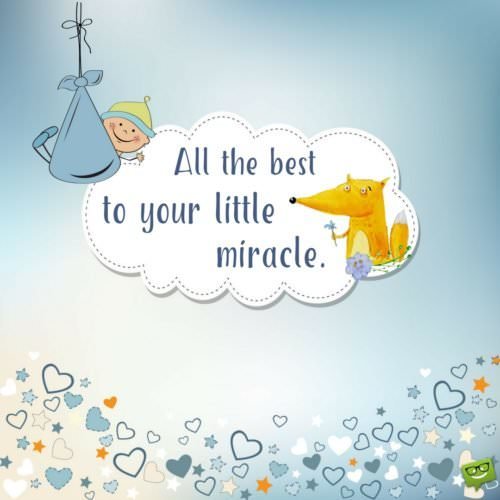 Newborn Baby Wishes for Grandparents
Grandchildren are life's extra blessings. To see your children grow and become parents themselves reflects God's miraculous plan. Congratulations to you as new grandparents! Enjoy this new stage of life.
Congrats, Grandpa and Grandma! Don't be surprised if you find yourself calling your grandchildren by your child's name. Mistakes like this are just examples of how closely you hold the love for all of them. And, love is the life blood of our days.
Grandpa and Grandma, congrats to you! I can't help but wonder how closely this little one will hold your heart and the fun times you already have planned. You are surely in for many blessed years.
From the time we become parents ourselves, we build dreams for our children and their lives. We hope for deep friendships, lasting love, and a family of their own. Today, your child has completed that dream. Congratulations to you, new grandparents! Life is even more exciting now.
Grandma and Grandpa, the time is finally here where you can spoil you grandchild. Congratulations! Get out your baking sheets and Lego's. You're in for a wild ride!
Life sure takes many twists and turns along the way, but eventually we get to our destination. We are so excited for you that you are finally blessed in being grandparents. Congratulations to you!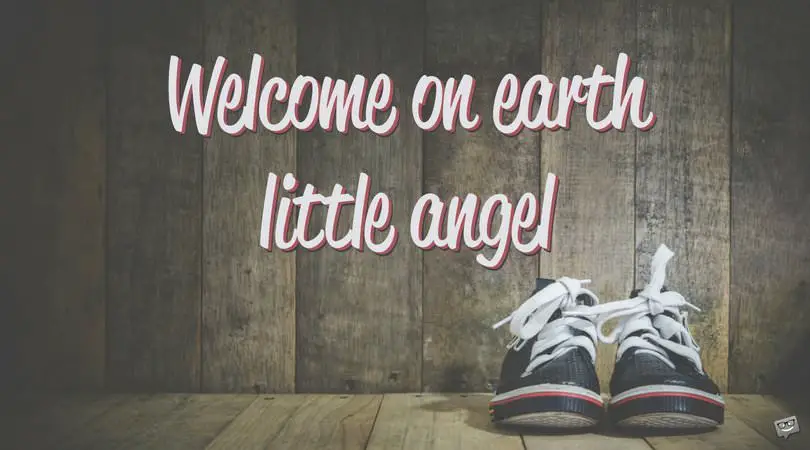 Wishes for the Birth of First Child | Encouraging and Inspirational Messages for Parents
I just got the news of the arrival of an angel in your life. I know that this first child of yours is going to fill your house with lots of laughter, joy and happiness.  Congratulations.
May these tiny little feet bring into your lives happiness beyond your wildest imaginations. I know you are going to be the world's best parents. Congrats.
The love for your baby is what will see you through the ups and downs of life. Congratulations on becoming a dad/mother.
A part of your heart that used to be in your tummy will now be a permanent part of your world. Congratulations on having this beautiful baby.
I wish your baby a happy and healthy journey through this life. He/she is destined to become a great person in future. Congratulations.
Babies are a gift to the world and you have received your first. May this little treasure bring joy, hope and fulfillment to the entire family.
Cheers to the newest mom in the world. May the best things in life happen to you and your beautiful baby. Congratulations.
The moment you have been waiting for is finally here! Congratulations to the first time dad/mother. May you and your baby have a life full of nothing but joy and happiness.
Your new born baby looks perfect from head to toe. I know you will be the best parents in the world.
Congratulations, first time dad! Your journey into the world of indescribable happiness and joy has just begun.
I am looking forward to holding and pampering the newest member of the family. I know this baby will be a shining star and will shine for all the world to see. You are truly blessed, my newbie parents.
Congratulations on becoming first time parents. May your home always know true happiness.
A healthy and adorable baby like yours is nothing less than a great blessing from above. I share in your joy and wish you the best of luck in parenting. I know that you are going to make great parents.
Wishes for My Sister's Newborn Baby
Hey, Sis, congratulations on the arrival of the newest member of the family. Joy, good health and happiness are what I wish for your sweet little one.
Nothing compares to the joy that your baby brings. Wishing your sweet angel a future filled with great adventures, opportunities and an abundance of good health. Congratulations, my dearest sister.
A son will always treat his mom like a queen. I guess you never imagined your heart will be stolen by this handsome little man. Congratulations on your newborn baby, sis. May the life of your little bundle of joy always be surrounded by love and happiness.
I heard the good news! Congratulations on the sweet little angel that has just joined your family. Enjoy the rewarding experience of motherhood, dear sister. My wish for your little angel is that God always watch over him/her and put a smile on his/her face.
May this darling little angel fill your house with echoes of giggles and light up your life with his/her beautiful eyes. You are truly blessed, sister.
This is indeed a special blessing in your life. Life is going to be full of exciting memories with this amazing and adorable new baby. Congratulations.
Dear sister, a sweet baby like this is just what your family needed to be complete. I am so happy for you and have no doubts in my mind that she/he is going to achieve wonderful things in life. Congrats, sister.
Wishes For My Brother's Newborn Baby
Take all the time in the world to enjoy the priceless happiness that your new baby brings to your family. May only good things follow this baby's life. Congratulations, bro, you are now a father.
Congratulations on the birth of your new baby. So sweet and pretty in every possible way. May this day bring joy and prosperity to your family, and may happiness always accompany the life of your little angel.
Congratulations on receiving this precious gift of life. May he/she grow to become an amazing person in life just like his/her dad. I congratulate you once again for bringing such a wonderful gift to the family.
From today forward your life will see very sweet changes. This baby is going to bring so much joy into your heart.  Congratulations on your new miracle, bro.
Congratulations, bro, on your newborn baby. I wish your new bundle of joy a long life full of happiness, fun, laughter and love. May he/she meet with love, success and happiness in each and every step he/she takes in life.
Congratulations, brother, you just penned down your new legacy with this beautiful baby. What a wonderful blessing! I know my nephew/niece is going to grow into one of the greatest personalities this world will ever know!
Dear brother, I welcome you to the club of daddies now that you have been blessed with this new miracle of a baby. May God bless you and your family and always keep you safe. Love you all.
Wishes for the New Born Baby of a Colleague at Work
This is a great moment in your life that you will never forget. I believe that the birth of your baby is the beginning of enormous blessings in your life. Congratulations.
Having a baby is one of the most blissful experiences in the world. I am so happy for you and wish your adorable infant the choicest of God's blessings. Congratulations, friend.
Your new baby boy/girl is without a shred of doubt God's gift to you. It is my prayer that you enjoy your new little gift in every way possible. Congratulations.
Dear friend and colleague, I am so glad your union has been graced with such a wonderful and sweet baby, who I believe is going to grow surrounded by only the good things of life. Congratulations.
Congratulations! May you find parenthood a wonderful and fulfilling experience. May every minute of the time you spend with your baby be priceless. God bless you.
I am so excited to hear that the newest member of your beautiful family has arrived safe and sound. May this baby fill you with lots of wonderful memories. May this baby have a life full of pure happiness and prosperity. Congratulations.
Having a baby changes your life in such a beautiful way. I'm glad to see you go through this remarkably beautiful experience. May your baby grow to always put a smile on your face. Congratulations, and happy parenting!
Wishing your brand new miracle many years of good health, love and happiness. Congratulations.
---
---
Happy Birthday Wishes for Kids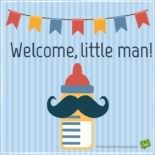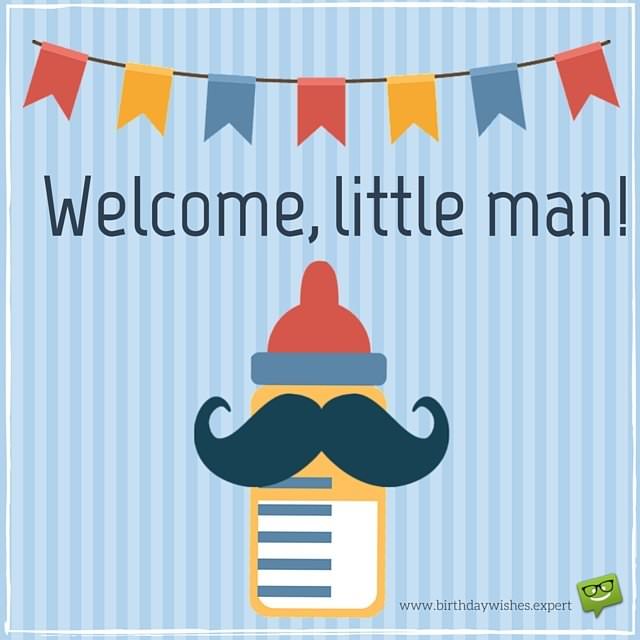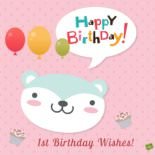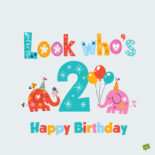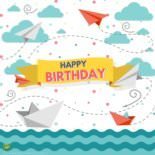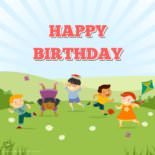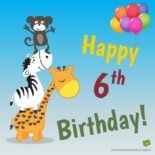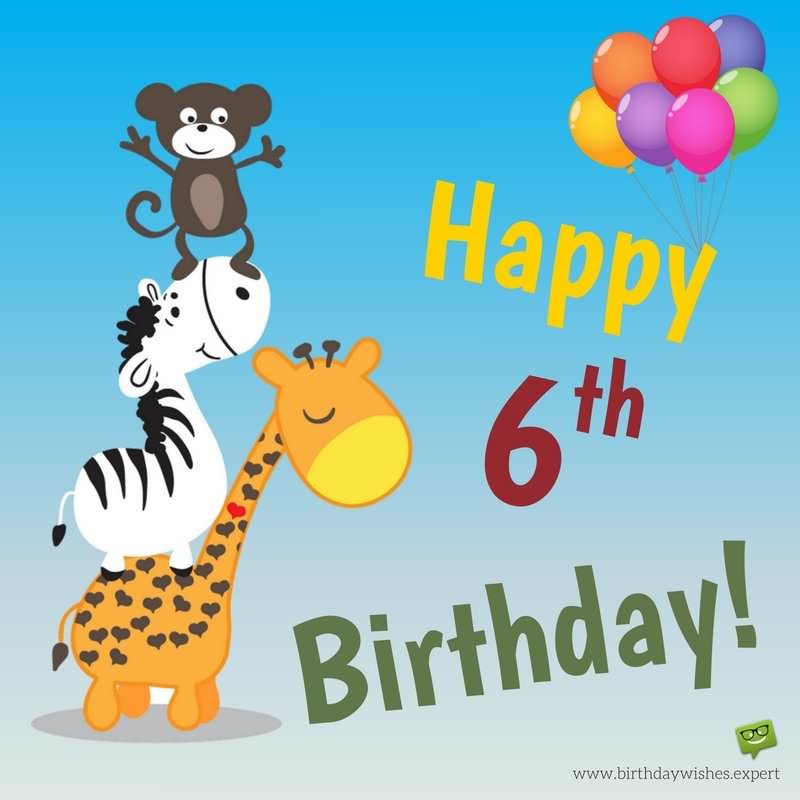 You may also like:
Why these Parents are Proud: Birthday Wishes for your Son
132 Powerful Quotes About Education to Inspire Both Teachers and Students