Navigating the intricate maze of emotions when a friendship encounters turbulence can be challenging. Yet, birthdays present a glimmer of hope—a moment to extend an olive branch, albeit with caution and care. In this post, we've crafted messages that not only balance reflection, optimism, and warmth but also emphasize the importance of respecting boundaries. It's essential to approach a delicate situation with sensitivity, ensuring we don't overstep or intrude.
Our collection aims to provide words that honor the past, respect the present boundaries, and hold hope for a brighter shared future. In the tapestry of strained friendships, let these birthday wishes be a delicate stitch, marking not just a day, but the possibility of a rekindled bond. Dive in, and let these words guide your heart in its journey of mending and understanding.
Table of Contents
Birthday Messages Respecting Boundaries in Fractured Friendships
In a landscape of change and delicate emotions, these card messages are carefully crafted. They radiate warmth while acknowledging the present boundaries, ensuring your sentiments are communicated with grace and respect.
Throwing all the good vibes your way. Hope your day's filled with laughter, great music, and even better company.
On your special day, I hope you're surrounded by love, laughter, and moments of genuine joy.
May your birthday be filled with love and light, just as you've brought into many lives, including mine.
Hoping your day is full of surprises and joy. If you ever want to revisit old times, I'm just a message away.
Sending you a bouquet of good vibes on your special day. Happy Birthday!
Simple words, warm wishes. Happy Birthday and best wishes for the year ahead.
Life's got its ups and downs, but I'm silently cheering you on from afar. Rock this birthday!
While words may be few, there's a sincere wish for happiness nestled within them for you.
Hoping this day brings you moments of peace and happiness.
May the universe bless you with its kindness and beauty. Warm birthday wishes.
Life's a rollercoaster, and through all its twists, I genuinely hope today brings you joy.
Hoping your day's filled with surprises (the good kind!) and cherished moments.
Celebrate today with all the joy in the world. And if ever you wish to share a moment, I'm here to listen.
Happy Birthday! May the day be everything you hope for and more. Stay well.
With beautiful wishes for a wonderful person, may your day be filled with so much fun and cherished moments.
Even though life's paths took us in different directions, old friends always have a special place. Wishing you all the happiness today.
Sending tons of good vibes your way as you celebrate another year. Here's to happiness today and always!
Cheerful Greetings to Spark a Smile in a New Stage
Even in moments of disconnect, a touch of joy can pave the way for brighter days. These birthday messages carry an optimistic vibe, echoing the cheerful moments you once shared.
Another year around the sun and you're still slaying! Celebrate big. Happy B-day!"
From one old soul to another, may this year be filled with all the dreams you chase and the laughs you can't contain.
Hey, it's been a minute! Hope your day's full of rainbows and cupcakes.
Another year, another story. Even if we don't chat like before, hope your day's as awesome as you.
May your playlist be lit, your day be bright, and your heart be light. Cheers to you!
May your day be filled with fresh starts, old tunes, and moments that make you smile.
Sometimes, life's simplest joys are the best. Wishing you plenty of those today.
Cake, candles, music, and laughter. Here's to your special day and all it brings!
Mixing some geek charm with confetti – wishing you a smart and sparkling day!
Binge-watching life's best moments and today's episode is all about you! Happy Birthday!
Short and Sweet Wishes for an Ex-Best Friend
Brevity can be powerful. These succinct birthday wishes offer a simple yet genuine gesture, perfect for those seeking clarity and heartfelt intention.
Been a while, huh? Anyway, hope you have a great day and lotsa happiness.
Regardless of where we stand, today is your day, and I genuinely hope it's a beautiful one.
Life's too short for bad vibes. Here's to you and another year of pure awesomeness.
Just a quick shoutout to one of the coolest people I know. Make this birthday count!
May your day be filled with your favorite tunes, a bit of mischief, and a whole lot of love.
Raise a glass, make a wish, and dive into another year of incredible you. Happy Birthday!
Another year, another chance for all things wonderful. Wishing you the best, always.
Even if life's been playing a crazy soundtrack, hope today's tune is all about joy and new beginnings.
Hey! Just a nod to the universe that it's your day. Have a good one.
Time passes, seasons change, but goodwill remains. Here's to your special day.
Thinking of you on your birthday! If the stars align, maybe our paths will cross again soon.
God bless you on your special day! Sending warm birthday wishes and much love your way.
Hoping your birthday brings tons of joy, surprises, and reasons to smile. Stay blessed!
Here's to more success, laughter, and moments that make life worth it. Enjoy your day!
Check out our collection of The Best Birthday Instagram Captions if you enjoy this article.
Optimistic Visions for Rebuilding Bridges in the Future
The promise of tomorrow is a powerful sentiment. These birthday messages focus on the hope of reconnection and the potential for friendship to bloom once again.
Hey! Hope today's filled with all your favorite things. Always here if you ever want to grab a coffee and chat.
Hoping today's moments bring you warmth. Remember, some things remain unchanged, like the stars that shine every night.
You've always brought that spark and energy wherever you go. Today? Hope it's all about you. Cheers!
Always a fan of your energy and spirit. Today, the world better watch out! Happy Birthday.
Birthdays are reminders of life's beautiful moments and hopes for the future. Wishing you both today.
Here's a nod to the memories and a wish for your future. Happy Birthday.
Today, I'm taking a moment to remember the laughs we shared and to wish you an amazing birthday.
Wishing you all the good vibes, laughs, and a sprinkle of nostalgia. Make today count!
May much brightness light up your path on this very special day. Wishing you the best, dear friend.
You've always been a burst of energy and fun. Today? Hope the universe gives back tenfold.
Happy Birthday! Remember, life's full of second chances and new beginnings. Here's to whatever the future holds!
Happy Birthday! With all the love and fond memories, hoping today is a beautiful chapter in your story.
Hey, a little throwback to our fun days as I wish you a happy birthday! Take all the time you need, and know that good vibes are sent your way.
You may also like our collection with the finest 100 Birthday Quotes to Say "Happy Birthday Friend"
Crafting a Birthday Wish for Estranged Friends: A Gentle Approach
Reaching out to a friend you've drifted away from can feel like stepping into uncharted territory. When it's their birthday, you might feel the urge to bridge that gap, even if it's just with a simple message. Crafting this message demands sensitivity, authenticity, and respect. Here's a brief guide to help you navigate this delicate task:
Reflect First: Before diving into writing, take a moment to think about the reason you want to send a message. It's essential to approach it with the right intentions, be it a hope to reconnect or merely extending a kind gesture.
Keep it Light: Your message shouldn't dwell on the past or be laden with heavy emotions. Focus on the celebratory nature of birthdays and keep the tone uplifting.
Stay Genuine: Avoid overly elaborate or poetic language. Stick to words and sentiments that are truly 'you'. It'll come off as more sincere.
Avoid Direct References to the Past: While you might be tempted to mention specific memories, it's best to avoid direct references, especially if they might reopen old wounds.
Short & Sweet: In most cases, it's best to keep the message concise. A simple well-wish can convey a lot without overstepping boundaries.
Be Prepared for Any Response: Once you've sent the message, understand that their reaction might vary. They might appreciate the gesture, want to reconnect, or might not respond at all. It's essential to respect their feelings and response, or lack thereof.
Crafting a birthday message for an estranged friend is all about balance. While it's a beautiful gesture to show you still care, it's equally important to approach the task with a lot of heart and a touch of caution.
Conclusion
Navigating through the sentiments of birthday wishes for a broken friendship can be intricate. Yet, in the act of reaching out, we often find a gentle and unspoken understanding. While the chapters with an ex-best friend might have closed, the story they left in our lives remains ever significant. It's important to approach with respect, ensuring our good wishes come across without overstepping boundaries. Friendships may ebb and flow, but the sincere act of sending a birthday card remains a beacon of hope and goodwill. Even when friendships end, the act of sending well wishes is a testament to the bond once cherished.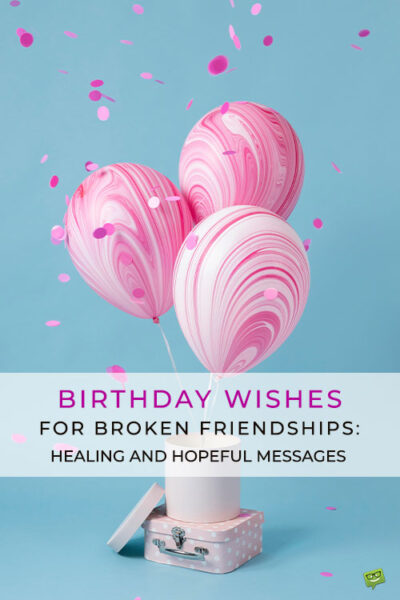 You May Also Like:
80 Classy Professional Birthday Wishes: Stand Out!
Heartfelt Messages, Quotes and Wishes for a Friend Far Away