Today Social media has become the most prominent public space where people can express their love and emotions for their loved ones, after they have passed away. Birthdays may serve as a the best moment to commemorate their life and keep their memory alive. For those who have lost their grandfather, celebrating his birthday on social media can be a way to pay tribute to him and share cherished memories and even discuss his impact with the wider community.
To help in this effort, we have put together this collection of touching birthday wishes for grandpa in heaven to help you craft your birthday messages and birthday posts dedicated to them on their special day.
Sending Love and Birthday Wishes to Our Grandpa in Heaven
Today we send our love and gratitude to Grandpa on his birthday in heaven. His legacy of kindness and unconditional love will never be forgotten – it's etched into each memory he left us during his generous life life here on Earth. We miss him dearly but the joy that radiates from our shared memories remind us how fortunate we are for having known a soul as gentle and kind as his!
Today, on Grandpa's birthday, we reflect and rejoice with love for the impact he left behind. His wisdom and endless support blessed us all – a true angel now, a true angel then! We miss him deeply but cherish every moment shared with him.
Sending happy birthday wishes to an amazing person and great grandfather who touched so many lives and left a lasting impression on everyone he met!
Your spirit still guides us and reminds us that we have an angel watching over us from above. Happy heavenly birthday, grandpa!
Grandpa, happy birthday in heaven! We remember all the fun we had and look forward to celebrating many more birthdays with you in our hearts.
Sending a heartfelt happy birthday wish for an incredible grandpa and dear dad who lives on in our memories forever.
Wishing a happy birthday to our beloved grandpa in heaven. Sending lots of love as we think about how much we miss you today.
A birthday wish for the best grandfather who is forever in our hearts… happy birthday in heaven! We love and miss you always.
Sending birthday greetings to my cherished grandfather, who remains unforgettable. He was consistently present for me, supportive, kind and thoughtful. I truly miss him and hope he has a wonderful birthday in heaven, today.
Happy birthday, grandpa! We are sending you our love on this special day and celebrating all the wonderful memories we have of you. You will always be in our hearts and we miss you dearly.
Express Gratitude for the Guidance and Love of your Grandpa in Heaven with these Birthday Wishes
Your life was full of love, laughter, and happy memories. Today on your birthday in heaven, we take a moment to thank you for all the joy you brought us!
Grandpa, on this special day we remember and miss the warmth of your unconditional love. Even though you are no longer with us in body, your spirit continues to guide us every step of our journey – a gift that will never be forgotten or taken for granted. May heavenly peace bring comfort as you rest surrounded by everlasting love from all who knew you best.
Grandpa, happy birthday! We thank you for all the selfless love and support that you have always given to us, without fail.
Dear grandpa, we send our love from down here as we celebrate today the life of a true angel. Your warmth, wisdom and inspiring advice will forever be cherished; every moment spent with you is an unforgettable treasure in our hearts We miss you! Happy heavenly birthday!
Happy Birthday in heaven, dearest grandfather. Your memory lives on in the love you shared and the happiness you brought into my life. Your spirit is with me always, and your love stays in my heart forever.
On your special day in heaven, we send our love and gratitude to you for all the thoughtfulness, patience and care that you had for us during the times when we needed it the most. Happy heavenly birthday!
Thank you for always being there to provide us with a listening ear, comforting words and… so much fun – happy birthday Grandpa! We miss you!
Today we send our love and birthday wishes to heaven's finest. To the grandpa who showed me nothing but unconditional love and support, I thank you for blessing my lives with your presence. Your selflessness, kindness and thoughtfulness will never be forgotten. All the angels in heaven must be happy to have you – enjoy your special day! I love and miss you so much.
Today marks a special day – my great grandpa's birthday in Heaven. Our happy memories of times spent together still bring joy, and his wisdom and kindness are deeply treasured gifts that fill me with gratitude for having known him.
Related: Happy Birthday in Heaven Wishes To Remember Grandma On Her Special Day
Honoring Grandpa's Memory on His Birthday: Emotional Long Birthday Wishes
Happy birthday in heaven, grandpa! I will forever cherish and honor the unconditional love, support and wise advice that you gave me. You were a light to this world, touching so many hearts with your selflessness and thoughtfulness. On this special day I celebrate your life and remember how much you meant to me and to the whole world and thank you for all that you did. I love and miss you always!
On this bittersweet occasion of his birthday in heaven, we reflect on all the joy and love the late grandpa brought into our lives. With hearts full of gratitude for having had him be part of ours, we look back fondly at each sweet memory making us smile even during trying times. The delicious meals he cooked accompanied by laughter and warmth are some priceless moments that will live forever within us as treasured possessions; one cannot help but feel so blessed to have experienced it with him! Though not here physically today anymore, I am comforted knowing my grandfather is now basking in peace & happiness from above – just like how he would've wanted it too!
Today is my beloved grandfather's birthday in heaven! On this special day, I'm sending all my love and happy thoughts up to you. Although we can't be together to celebrate your birthday, I cherish the happy memories of times spent with you–your wisdom and kindness live on in me forever.
Happy birthday, grandpa! I hope you're having a special day up in heaven. I miss you so much and think about you all the time but I know you're always watching over me and that I'll see you again someday. Until then, I hope you're having a wonderful day and a beautiful heavenly birthday celebration!
If you find this article helpful you might also want to visit our post with a collection of Wishes and Quotes for Someone Special Who Has Passed Away
The Wisdom and Love of Grandfathers: Famous Quotes to Celebrate Their Birthday in Heaven
I've learned that people will forget what you said, people will forget what you did, but people will never forget how you made them feel. Maya Angelou
More and more, when I single out the person out who inspired me most, I go back to my grandfather. James Earl Jones
The song is ended, but the melody lingers on. Irving Berlin
Nobody can do for little children what grandparents do. Grandparents sort of sprinkle stardust over the lives of little children. Alex Haley
It's one of nature's way that we often feel closer to distant generations than to the generation immediately preceding us. Igor Stravinsky
We need to go back to the way it was 30 years ago, when everybody had Grandma and Grandpa, and we were willing to pass moral judgments about right and wrong. Steven Tyler
To a small child, the perfect granddad is unafraid of big dogs and fierce storms but absolutely terrified of the word "boo." Robert Breault
When grandparents enter the door, discipline flies out the window. Ogden Nash
Everyone needs to have access both to grandparents and grandchildren in order to be a full human being. Margaret Mead
In the end, it's not the years in your life that count. It's the life in your years. Abraham Lincoln
Short Birthday Wishes for Grandpa in Heaven To Use as Captions When Posting Old Photos of Them
Many people post old photos of their lovely grandpa on his birthday as a touching way to celebrat his life and memory. These photos serve as a visual reminder of beautiful moments shared and the love that endures. To accompany these photos, our blog post provides birthday wishes that can be used as captions for your photo posts. Read below and choose the one that better expresses the way you feel.
Happy birthday grandpa in heaven! We miss and love you dearly.
May your memory always be remembered and celebrated with joy.
May your spirit always be among us, happy and free. Happy birthday grandpa in heaven!
We thank you for being our rock, our guide, and our friend.
Rest in peace with love and light forever. Amen.
We wish you happy birthday in heaven, dearest grandpa.
Your love and guidance will always be remembered. You were the best grandpa I could with for.
On this day we send our love and happy birthday wishes to you up above!
Forever grateful for the impact you had on our lives, happy birthday grandpa!
Your unconditional love and beautiful soul still shines down on us even now, happy birthday!
We'll never forget your kind smile and warm hugs. Wishing you happy birthday in heaven!
You will always remain alive in our hearts, happy birthday grandpa!
Your legacy of strength and courage will live on forever. Happy heavenly birthday, grandpa!
Sending happy birthday wishes to our loving grandfather from all of us here. We miss and love you so much!
We are blessed to have had the privilege of knowing you. Happy birthday dear grandfather!
May your spirit be surrounded by eternal love and light. Love you always. Happy birthday in heaven, grandpa!
Sending love and birthday wishes to heaven's finest. Happy heavenly birthday!
Happy birthday grandpa in heaven! Our hearts are filled with happy memories and joyous wishes for you today.
You were an inspiration to us all and we will forever cherish the time we had together. Happy heavenly birthday!
Your spirit lives on in our hearts and will never be forgotten. Happy birthday, dear grandpa!
Your gentle spirit continues to guide us through life, Have a wonderful birthday celebration in heaven, grandpa!
We miss your kind words, wisdom and guidance so much. Wishing you a very happy birthday up above.
Sending love and celebrating all the special memories we have of you. Forever in our hearts and fondly remembered. Happy birthday in heaven!
When it comes to social media, hashtags are one of the most useful tools for expressing our thoughts and reaching out to a larger audience. But there's no need to spend time coming up with hashtags from scratch – we have put together a list of appropriate hashtags when posting happy birthday messages for grandpa in heaven. Pick your favorites from the list below.
#HappyBirthdayInHeavenGrandpa #RememberingOurGrandpa #ForeverInOurHearts #MissYouGrandpa #CelebratingYourLife #LoveYouForever #NeverForgotten #BlessedToHaveHadYou #GratefulForYourLove #EternalLove #GrandpaInHeaven #BirthdayWishesForGrandpa #WeMissYouGrandpa #CelebratingYourMemory #ThankYouForEverythingGrandpa #AlwaysOnOurMindsAndInOurHearts #HeavensGiftToUsGrandpa #WeLoveAndAdoreYou #HappyHeavenlyBirthday #SendingLoveFromDownBelow #ForeverInOurMemoriesWithLoveAndLight.
Five Ways to Keep Your Grandpa's Memory Alive on His Birthday.
Grandpas are one of life's greatest gifts; a connection to past generations and the embodiment of unconditional love, joy and wisdom. Keeping their memory alive after they have passed away can help us feel close to them and remember all that was special about them and cherish our shared experiences together with fondness and gratitude. Below we have listed five ways that you can use to keep their memory alive on their birthday or any other day.
Write a letter or eulogy
Writing down the happy memories you shared and expressing your gratitude for all the lessons he has taught you can be a healing and cathartic process. Don't forget that he was a big part of your family life and that remembering all that he was can help to bring comfort and a sense of wholeness, even after he has passed away.
Visit their grave site or favorite spot
On Grandpa's birthday in Heaven you can visit his favorite place and take the time to think about shared memories and cherish the moments you spent together. You may choose to leave a token of remembrance – be it some flowers or a photo that remind you of happy moments with him.
Look at old photographs
Nothing can help us more than photographs when we need to revisit memories with our beloved. Taking the time to look at photographs of your beloved grandfather and reflect on the moments you lived together can be a nostalgic and sentimental way to keep his memory alive. Photographs are visual reminders of the special times you spend together and they can help you recall memories and moments that otherwise would be forgotten.
Telling stories or sharing happy moments that you've shared with your grandpa will help keep his memory and social media may be the right place to do so. It can be a great way to honor his memory on his birthday.
Donate to a charity or organization in his name
Donating to a charity or organization in your grandpa's name is a touching way to keep his memory alive while also doing something positive for the community. You may choose to support a cause that was close to his heart such as helping children or just spread kindness and generosity in his name and ensure his spirit continues to lives on. Friends and family will be proud to see that although he is no longer here in person, his legacy is carried on by his beloved grandchild.
Related: How to Write a Eulogy or Funeral Speech (Steps and Examples)
How to Turn a Facebook Page Into a Memorial
Have you ever been searching for a loved one's social media profile only to find it gone? For friends and family mourning the loss of someone, Meta (Facebook) provides an opportunity to memorialize accounts as a space where memories can be shared. Through this process, they also ensure that these profiles are secure by keeping anyone from logging into them without express permission.
If valid proof is presented to Facebook, verifying death or incapacitation has occurred then Meta's policy states they will memorialize an account in accordance with their terms of use agreement. Memorialization helps keep social media profiles alive when somebody passes on and allows those closest to continue honoring their memory long after they're gone. Click on this Memorialization Request link for more information.
Conclusion
There are a many of ways to celebrate your grandpa's birthday in heaven. From wishing him a happy birthday through social media platforms to turning his Facebook page into a memorial where all his friends and family can post their memories.
Find comfort in the fact that his spirit continues to live on forever in the hearts and minds of all those who had the luck to know and love him. Use this special day to remember all the good times you shared together, the laughter and joy he brought into your life, and how much he truly meant to you.
God bless him.
Pin this post to save it for Later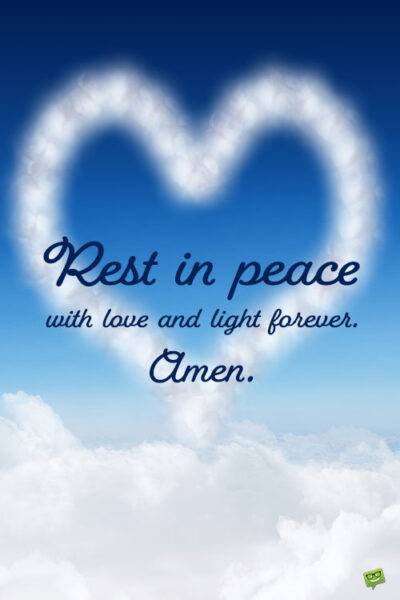 You May Also Like:
45 Happy Birthday Wishes for Mom in Heaven
Happy Birthday, Dad, in Heaven
80 Best Birthday Wishes for Your Grandpa to Make His Day
30 Birthday Wishes for My Sister in Heaven – A Loving Tribute