A birthday party in autumn can easily balance the typical denial for work that we get after summer. Unlike summer parties, birthday events during Fall are often successful and exciting gatherings because almost no one is away for holidays.
In fact, it's also a great season for traveling – provided that you get some days off: high season is over, plane tickets are cheaper than ever, and -depending on the place- the weather might be warm enough to be suitable for trips across a yellow-tinted nature.
This is our collection of Autumn Birthday Wishes & Birthday Wishes for the Zodiac Signs of Autumn [Libra, Scorpio & Sagittarius] to read & share:
---
Our hugs to warm you up and more hugs for your birthday! Happy Birthday!
You're the true fire of autumn, happy birthday, you flaming soul!
You are our colorful present in a season of fading colors. Happy Birthday!
It's your birthday! This anniversary reminds us of all the things we love about this season – or perhaps one of the very few… Happy Birthday!
Throw a party tonight, leave all the windows open and let's see what happens… Perhaps some drinks will warm us up! Wishing you happy birthday, stay cool forever!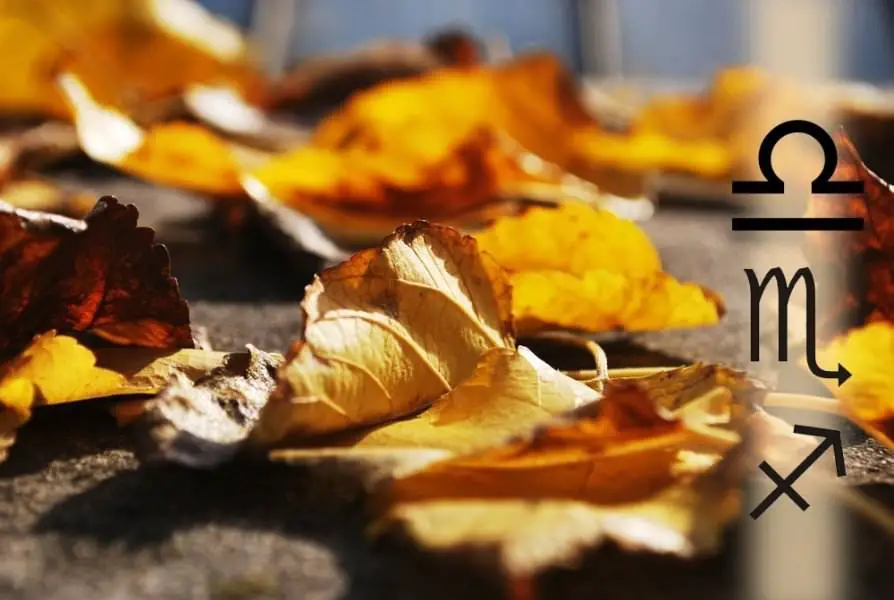 Wishes for the Autumn Signs of the Zodiac
---
Birthday wishes for a Libra
[24 September – 23 October]
Hey, I picked your birthday cake – the last thing I wanted was to wait for you to choose! Happy Birthday, we love you!
Happy Birthday to the soul of the bunch! We will love you forever, if you ask us otherwise! 😉
On this birthday of yours, let's spoil ourselves with an amazing dinner in a luxurious restaurant & prove everyone how classy we really are!
This year, your birthday gathering is going to leave everyone speechless. Happy Birthday to a real master of good taste!
Party like never before tonight & never fear what the next morning will bring (work included!). Wishing you the happiest of birthdays & always remember to party!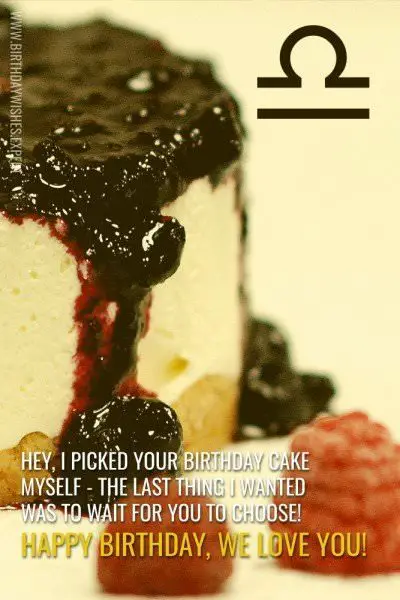 ---
Birthday wishes for a Scorpio
[24 October – 22 November]
Today we are organizing a secret party for your birthday! Everyone knows when but we have kept some mystery about the place
Happy Birthday! For the sake of this great day, let's try to forgive the wrong-doers, forget the mistakes & promote peace and kindness! Do you actually know what I'm talking about? 😉
If this great day bears the fruits of your ambition, let's welcome it with joy. Wishing happy birthday to a determined dreamer!
Happy Birthday to a person that is waiting for you to discover the ocean of love and trust that is hidden in her/his sentimental depths.
Trust me, relax and enjoy: this is going to be your best birthday ever! Happy Birthday & all of the best!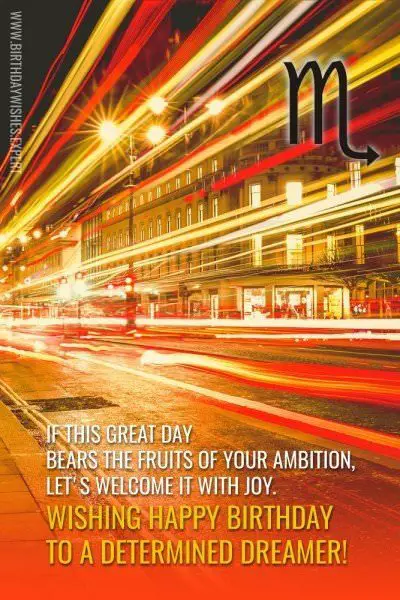 ---
Birthday wishes for a Sagittarius
[23 November – 21 December]
You know that good things will happen tomorrow, but your birthday is today! Happy Birthday!
Wishing you happy birthday & good luck, I am just realizing you attract good fortune by default! 😉
May you always remain free like a bird, no matter how close we feel to your optimistic heart. Happy Birthday!
Being with you is a sure bet for the future: few people I know respect their past without ever dwelling on it. Happy Birthday to a true positivist!
I've got a new great idea: hold on to your great ideas for a bit longer! 😉 Wishing you happy birthday from the bottom of my heart!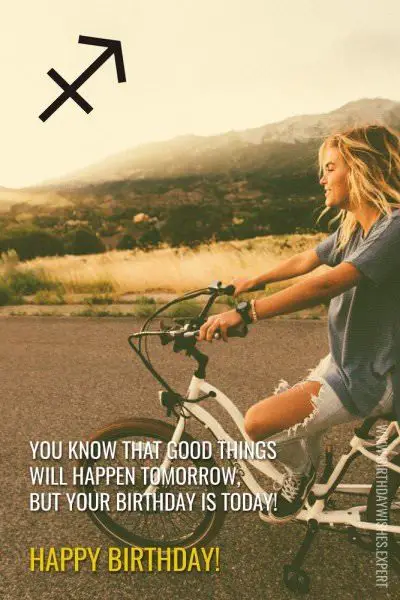 ---
You may also like:
Birthday Wishes for the Summer Signs of the Zodiac