Every birthday is special, but there is something different about turning 22. Those double-digits are definitely a cause for a major celebration! When you are celebrating your special day, whether you are out with family and friends or enjoying a quiet night at home, you'll likely take a bunch of pictures. And what would picture-taking be without sharing them on all your social media platforms?
Of course, you will need the best captions for each picture you upload to your social media pages. Sometimes it can be hard to come up with the right thought and description, which is where we come in! Remember, you have the pictures, and we have the captions. Feel free to browse our selection and use what you want! Enjoy the momentous occasion!
Table of Contents
Best 22nd Birthday Captions for Instagram
You've heard the saying, "Life begins at 22." It's true. Pick a caption below to kick-off your next adventure.
Mood. Living my best life at 22!
It's my big day today. Starting Chapter 22.
There's nothing quite like turning the page on 21.
Congratulations! You've been blessed with my greatness for 22 years now.
Breaking News: It's my birthday!
It's all about me today. I'm not doing anything that doesn't involve me taking center stage.
Today is the best day ever because I was born on this day. Period
21 + 1 = on fleek.
I flex all day, every day, but especially on my birthday.
I was born 22 years ago today. But I'm ageless.
22 years ago today, I came into this world kicking and screaming. I don't know what all the fuss was about. It's been smooth sailing.
22 candles shine beautifully. But I'll still be glowing after I blow out the flames.
It's my B-Day today and I'm curating the vibe.
22 and making my grand debut.
Each year I wake up on my birthday, my confidence soars.
Life seems better when it's your big day.
It's my special day, but first, let me take a selfie.
My 22nd B-Day celebration begins now.
Short 22nd birthday captions
When you're looking for a quick caption for your picture, take a look at what we have below for you to use!
Happy 22 years and counting!
Cake, balloons, and presents. What could be better?
22 years and still going strong- have a great day!
Have the happiest of days on your 22nd!
It's beginning to look a lot like your birthday!
Let us all eat cake today!
Birthday memories are always the best!
Birthdays are the one day you can always count on.
Celebrate good times, c'mon!
Making it to 22 is definitely a success story for you!
Party like today is your birthday, which it is!
Hope today becomes a favorite memory!
22nd birthday captions for yourself
Let your friends, family, and co-workers know that you're ready to celebrate with one or more of the captions we've provided for you below!
Come one, come all, to celebrate my 22 years of greatness!
I'm gonna party like it's my 22nd birthday. Oh wait, it is!
Gather around to bestow me with wishes and kisses for my big day!
You only turn 22 once!
Today I am one whole year better than the last!
Happy 22nd to me, soon it will be 23!
I may turn 22 today, but I will never lose my inner child!
The party starts when I show up.
For a good time, show up to celebrate my 22nd year on this marvelous planet! Good times guaranteed!
Cake, booze, and presents. I've never been happier to have the spotlight on me!
Today, 22 years ago, a queen was born.
Funny 22nd birthday captions
Get all the laughs you can with these humorous captions- perfect for the birthday girl or boy!
You're HOW old? Happy birthday anyway, I suppose!
Count the years and not the beers!
22 years? More like 22 beers!
You've taken 22 laps around the sun, but who's counting?
You may have gained a year, but did you gain any wisdom? Hope it's a great day regardless!
I haven't gotten older, I just made it to the next level!
It's been proven that you live longer when you celebrate a birthday every year!
Do you mean to tell me you have been annoying us for 22 whole years? Hope we at least get cake!
I'm just here for the cake and the booze.
Here's to the worst round of "Happy Birthday" I have ever heard. May your 22nd trip around the sun be one of your best!
Pour the champagne and dance on the tables-you're the big 22!
First and last round is on someone else; after all, it's my big day!
If You Liked It, Pin It!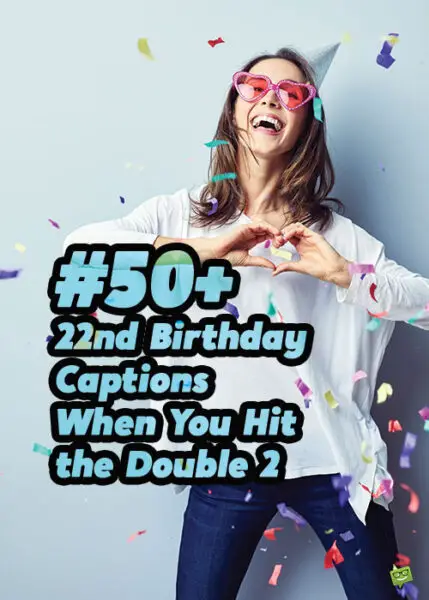 You May Also Like:

250 of the Best Birthday Messages to Make Someone's Day Special
#MySpecialDay | 99 Birthday Instagram Captions