Nurses are important professionals. They take care of patients within and out of hospital settings and help individuals attain optimal health conditions. Nurses also provide patient education and actively promote preventive health measures. You should appreciate individual nurses by celebrating their birthdays through wishes.
However, wishing can be challenging, especially if you have a lot of things to say but no succinct words to articulate them. We offer this collection of messages to help you wish nurses in your life a happy birthday on their special day.
Heart-Warming Birthday Wishes for Nurses
Here are a few heart-warming wishes for nurses celebrating their birthdays:
There is no doubt that physicians can provide diagnoses and prescriptions, but they can never avail the care and empathy offered by nurses. Happy birthday and have fun!
Every person has a purpose in life, and you indeed found yours when you became a nurse. Have a grand birthday celebration and live to blow a thousand and one candles.
There are a handful of good nurses around, and you are one of them. Celebrate your special day and make wonderful memories.
You are a source of hope for many people. Your caring and compassionate nature helps to improve patients' health. I wish you a happy birthday and many more years of impacting other people's lives.
Nurses are angels, and members of society will forever be indebted to you for your service and sacrifice. Have a great birthday and surround yourself with caring people.
Becoming a nurse requires a lot of discipline, sacrifice, hard work, patience and perseverance. For that reason, I celebrate you as you turn a year older and wish you a life full of blessings and breakthroughs.
Nursing is arguably the most daunting career globally, but you make it look easy. Best birthday wishes and have fun today.
It requires intelligence to become a scientist, creativity to become an artist and patience to become an investor, but all these qualities are necessary for becoming a nurse. Happy birthday to the most important person on earth.
Serving humanity is a remarkable calling! That is why you are one of the most special people in the world. Happy Birthday and have a nice day.
Happy Birthday to a Fellow Nurse
The following are thoughtful messages you can send to a fellow nurse on their birthday:
Happy birthday, my colleague. I wish you a wonderful day and all the best in your professional life this year.
Congratulations, my fellow nurse, as we celebrate your birthday. Have a good day surrounded by your loved ones.
No one could do better nursing job than you. It is truly a blessing to work with you. May your birthday be full of fun, joy and pleasure.
You make every shift easy to work, even during challenging times. I celebrate you today and wish you a wonderful birthday.
Thank you for all your helpful guidance at work this past year. Best birthday wishes and have a fantastic year ahead.
I wish you a delighted birthday and a year full of accomplishments on behalf of the entire staff.
A helpful coworker and a good friend like you deserves a memorable birthday. Have fun and receive my best birthday wishes on your special day.
Today, I celebrate the life of my workplace mentor. My professional life could not have been easy without your help. Best wishes on your birthday.
Congratulations on turning a year older! Working with you is a pleasure because you are an intelligent person. Have the best birthday.
As you celebrate your birthday, surround yourself with love and laughter. You are my colleague, friend and confidant. I love and celebrate you every day.
My best birthday wishes to someone I enjoy working with every day! Thank you for always being supportive when dealing with different issues. May your next year be the best ever.
Funny Birthday Wishes for a Nurse
Here are some funny birthday wishes for a nurse:
Get your mind off the past because it is gone, the future because you cannot predict it, and the present because I did not buy you one. My best wishes on your birthday!
The size of your birthday cake will be proportional to the amount of work you complete today. My best birthday wishes from the bottom of my heart.
Happy birthday to the only person I cannot tell how stressful my work is. You make nursing look easy. Take care of yourself today and forever!
My best birthday wishes! I hope you will still have the energy to celebrate your birthday after an 8-hour shift of constant work.
There is a low staff turnout at the hospital today because your fellow nurses are out celebrating your birthday. Enjoy your special day, and have a successful year.
Happy birthday to the nurse who preaches healthy eating but likes eating junk food. Have an eventful day, and do not forget to have fun.
My best birthday wishes to the person who is always locked in a hospital. Set aside some time for a small celebration to commemorate your birthday.
No cake on your birthday because you will not have time to eat it anyway. Have a fabulous day, and make it count.
There is no better way to celebrate your birthday than in a pair of uniform. I wish you a happy birthday and all the happiness in the world.
Happy Birthday Nurse Images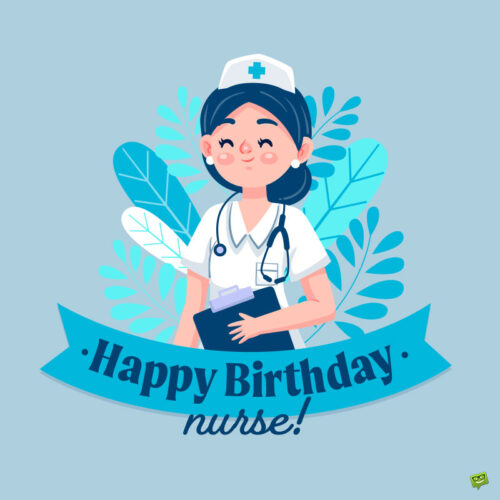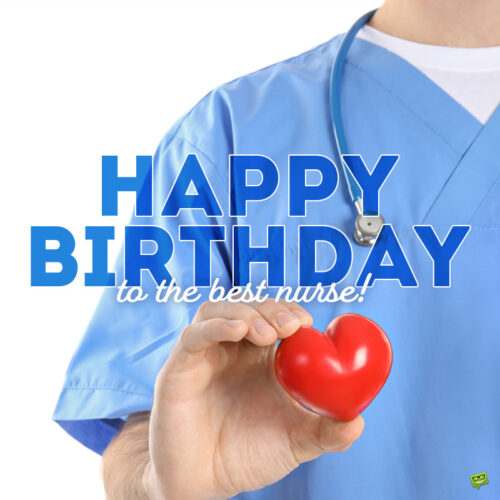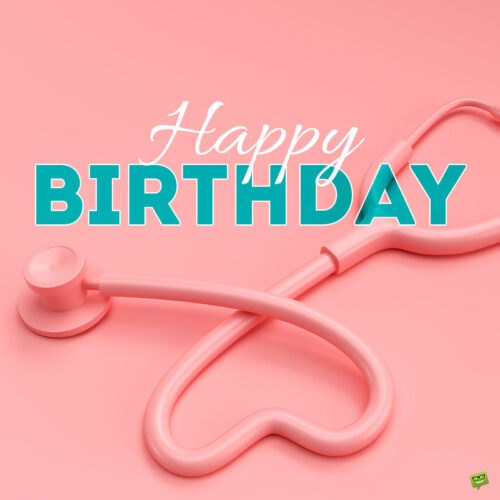 You may also like:
25 Happy Birthday Wishes to Show Your Gratitude to a Doctor
Birthday Wishes According to People's Professions
Friends Forever | Happy Birthday to my Best Friend
200 of the Best Birthday Messages to Make Someone's Day Special