Moms play very important roles in our lives. Losing your mom in one of the most painful experiences. But you can turn your sorrow into joy just by celebrating the life she lived. A great opportunity for you to do so is on her birthday.
Below are some messages you can send to your mom in heaven as you celebrate her big day, as well as some prayers that can make remembering a dearly-departed mother who is now in the arms of God the more-joyous sentiment that it should be.
Happy Birthday Wishes to my Mom in Heaven
I have cried so many times but I know all the tears in the world would not bring you back. As you celebrate your birthday today, I will like to wish you everlasting peace and happiness.
I know you always had an unseen halo above your head because you were such a saint. It is only right that you have one in heaven among the angels. Enjoy your birthday.
Today being one special day in your life, I shall drop flowers by your grave and I will do this every year because I know in a way you will receive the sentiments behind it.
I cannot hold my tears back, for I am very sad that you are gone. At the same time I'm happy because I know you are in a better place and your face is full of smiles as you celebrate this glorious birthday of yours.
Have an astounding birthday, Mom. Though you are not here with me in person, I will celebrate your birthday just as we always did because I know you are here with me in spirit.
I look up in the sky and I know you are up there with the stars, shining so bright. As you mark this day, I wish you keep shinning as bright as you can.
You may have lost your life here, but I know you have gained another life somewhere better. A place where there is neither pain nor sorrow. I wish you all the happiness you deserve. Happy heavenly birthday!
You were the best mom in the world. I wish we could celebrate your birthday together but I guess God knows best and I believe He is taking good care of you wherever you are in paradise.
You loved listening to music a lot so I'm playing all your favorite tunes to celebrate your birthday. I hope you enjoy them.
You loved me unconditionally and that makes you impossible to be replaced. I feel your absence the most today because I have to celebrate your birthday without you. I hope you are happy wherever you are.
Have an amazing birthday, Mom. You were my 'Wonder Woman' and I will always remember you for your courage and inspiration.
Mom, it's your birthday and I should be celebrating you but all I can do is miss you just as I always do. Deep within me, I'm happy because I know you are missing me too and you will always have me in mind. Happy heavenly birthday.
I remember when I was little and you would tell me bedtime stories to put me to sleep. Those were some of my best nights ever. I hope our Father in heaven tells you beautiful stories as you celebrate this great day.
Lord, tell my mom that I will love her forever and that I miss her with every inch of my being. Please give her the best treat possible as she celebrates her birthday today.
I thought the passing of each day would make the pain of losing you more bearable. Too bad, it's been the same and even worse on special days like this. My prayer is for you to enjoy your birthday better than I'm doing.
You always went out of your way to make everyone around you happy. You put smiles on a lot of faces throughout your life. As you feast with the angels in Heaven, I wish you an everlasting smile. Happy heavenly birthday.
We bought your favorite chocolate cake to celebrate your birthday. I know all you want us to do is to remember all the happy times we had with you. That's exactly what we are doing.
You were so beautiful at heart. There was such grace and elegance in everything you did. I hope I can be like you some day. I miss you, mom. Enjoy every bit of the day.
Your love for me knew no bounds when you were here. I know you will continue to love me up there in heaven. I wish you unlimited fun. Cheers to a happy birthday!
My face has been covered with smiles just as my mind is full of memories of those beautiful moments we shared together. I hope you are having a great birthday in heaven.
Life is not fair because I need you more than heaven needs you, especially on an important day like this. Either way, have a good birthday over there and know that you are being celebrated here too.
You were more beautiful than roses, both outwardly and inwardly. I believe your friends, the angels in Heaven will offer you a big red rose as a birthday present on my behalf.
I lost not just a mother, but also my best friend. I could tell you anything because you understood me and wanted the best for me. On this big day, I wish for you nothing but the best wherever you are.
Though I know you would like me to live life to the fullest but I can't wait to meet you up there in heaven. Till we meet again, have an illustrious birthday and never forget how much love I have for you.
If you're looking for Birthday Wishes for Son in Heaven, click here.

Happy Birthday Mom in Heaven from your Daughter
A huge vacuum was created in my life due to your absence. Gradually that vacuum is being filled with thoughts of those wonderful moments we shared growing up as mom and daughter. I hope you remember those moments and smile.
All I wish for you is an abundance of love and happiness from God and His angels as you celebrate your birthday today.
I woke up this morning hoping losing you was all a dream and that I would walk into the kitchen and find you making breakfast so I could give you a big hug as your birthday gift. I miss you so much, Mom.
Not even a billion words can fully describe how much your daughter misses you today, dearest Mom. You were truly my life's greatest treasure.
I'm glad you finally made it to heaven mother, where the prophets of old can counsel you on forgiving me for being such a foolish daughter. I hope and pray that the goodness now surrounding you every second of every minute of every day will erase all bad memories from your mind and all pain from your heart. Happy birthday.
Though you are no longer with me in this world, you are always in my heart. I am thankful for all you were to me. Mommy, I truly love you with every fiber of my being!
Today, we have converged in celebration of your birthday, dear Mom. It is our wish that the joy of heaven will fill your life and heart throughout your stay by the Lord's side. Happy birthday in heaven!
Mom, you may be gone today, but your love and memories are forever saved in my heart. Enjoy your special day in heaven, sweet Mom!
As you make merry with the angels above in commemoration of your Big Day, don't forget that down here on earth, our hearts love you and miss you so much. All the same, have fun in heaven! Happy birthday, mom. Love, your daughter.
You may want to check out our post with Birthday Wishes for Sister in Heaven
Birthday Prayers for Mom in Heaven
I pray that the angels in heaven are catering to you just as exquisitely as you cared for us throughout the years. I am grateful knowing that all of the goodness you showed on Earth has manifested in an eternal reward in heaven. Happy birthday.
Mom, I no longer have your words to depend on, but I pray that memories of you will now serve as inspiration for me to always do my best. Happy birthday and keep smiling up in heaven.
On Earth we need people to set a righteous example for us, and it's been so hard since you've been gone, and now for lack of a proper role model, many of our family members have gone astray. Therefore I pray that your memory serves as a reminder to us all on how to behave and that we all get to meet you one day in sweet heaven! Happy birthday, Mom.
It's hard for me to say a prayer for you since I know all of your needs are finally being met in heaven. So instead I pray that you do something for us – kindly send down the love of your spirit to comfort us every now and then because even though you're gone we still need you, sweet Mother. Happy birthday and remain blessed in the arms of the Lord.
Mom, you were always there for us, and it was easy to take for granted that you always would be. May the angels of heaven advise you to forgive me for all of the times you requested my presence yet I was unable to make it because if there's one thing I could do about the past it would be to appreciate you more. I love you so much, Mom. Happy birthday may your smile grow wider with each passing second as you relax in God's presence in heaven.
I still remember our last day together, Mother, and every time I shed tears in your memory they're of joy, not sorrow. I pray that heaven erects an everlasting rainbow as an eternal reminder of the love I feel for you. Can't wait until we meet again, Mom. Have yourself a truly beautiful and sunny birthday in heaven.
People are always telling me they still feel your presence in this house, but I know that can't be since you're up in heaven! My sincerest prayer for you is that you forget everything going on down here and just focus on your well-deserved blessings! Happy birthday.
I always took the joy of life for granted, until you were no longer there. Then I realized just how cold the world is without you. Thus I pray that every now and then you send your warmth down to comfort me once again, sweet Mother. Happy birthday.
You carried us on dirt roads in filthy cities, but now your feet tread upon the golden streets of New Jerusalem. My prayer for you on your birthday is a simple one, Mother – be happy all your days in heaven.
I pray for understanding as to why heaven called you home so soon. My only reasoning is that they were missing you up there just as much as we now miss you here. You are always in my thoughts, sweet Mother. May your birthday today be as beautiful as the paradise of heaven in which you currently live.
Happy birthday, beloved Mother. I know you're smiling down of us with the carefreeness of eternity as I recite this prayer, but I can't help but to be concerned for you as I always have. I hope the angels are treating you as if I myself were there to care for you. Stay blessed up in heaven, my dearest Mother.
Happy Birthday Mom in Heaven Images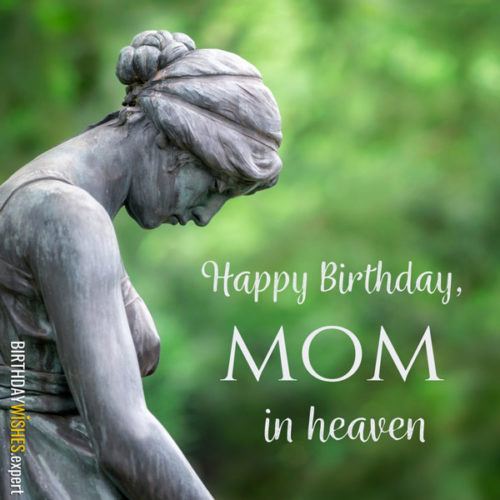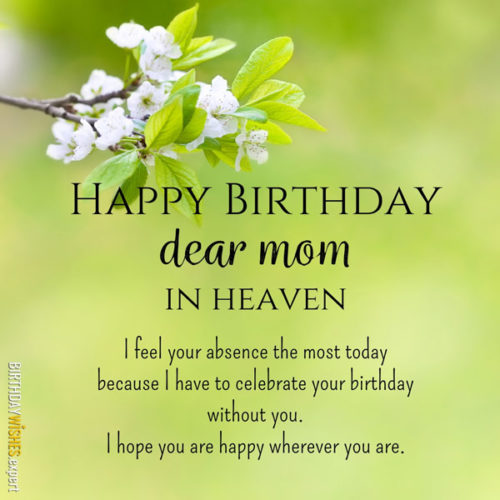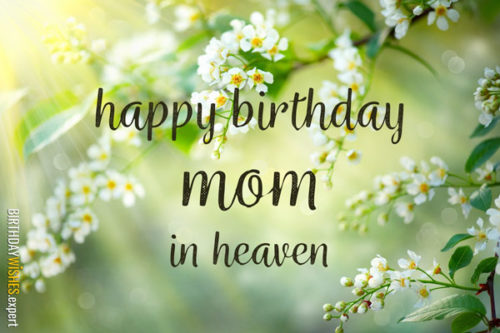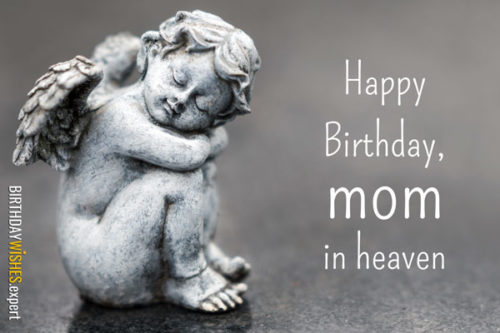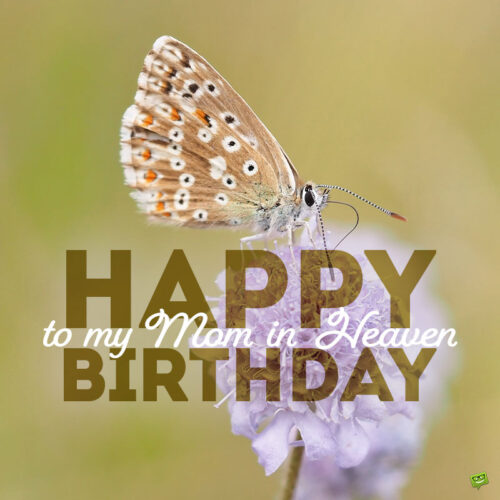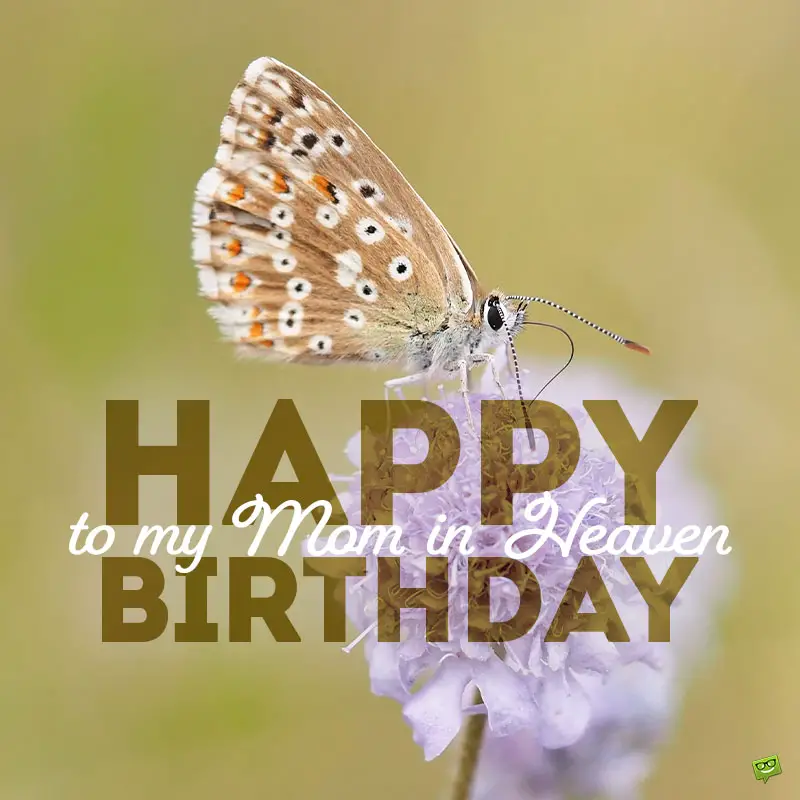 You may also like:
Happy Birthday in Heaven | Birthday Wishes for Someone Who Has Passed Away
101 Exciting and Heartfelt Happy Birthday Mom Quotes
15+ Happy Birthday Quotes and Wishes for my Brother in Heaven
200 of the Best Birthday Messages to Make Someone's Day Special
40 Happy Birthday in Heaven Wishes To Remember Grandma On Her Special Day