Prayer is a powerful tool that has great influence on our lives.  Depending on your own approach, a mother's birthday might not be complete without a little prayer to bless the occasion.
Give your mother a moment with her creator with our lovely birthday prayers for mothers. A sweet prayer on her birthday will go a long way to bless her day and make it a memorable one. Below is a collection of impressive birthday blessings you can send your mother to grace her Big Day.
Birthday Prayers for your Mom
Mom, as you celebrate your Big Day on this beautiful day, dance away all your problems, for God has great plans for you. May everything you lay your hands on be a success. Happy birthday.
On this special day, I pray for good luck, prosperity and good health to combine forces and stand by you all the days of your life. Happy birthday, dear Mother.
Happy birthday to a wonderful mother and friend. May the infinite love of God follow you and bring you countless phenomenally happy moments in life.
Wishing you a happy birthday full of God's grace and mercies upon your life. Have a fantastic day. Love you.
May the good Lord lift you up where others have fallen. May you be increased where others have been decreased. May you succeed where others have failed. Happy birthday, Mother.
As you wake up to see this day that the Lord has made, I pray you have a graceful birthday and happy life. Mother, may all the negative plans of your enemies against you never prosper. Have a beautiful day.
Happy birthday to the sweetest mother on earth. May you enjoy the goodness of the Lord on your special day and on all the days of your beautiful life.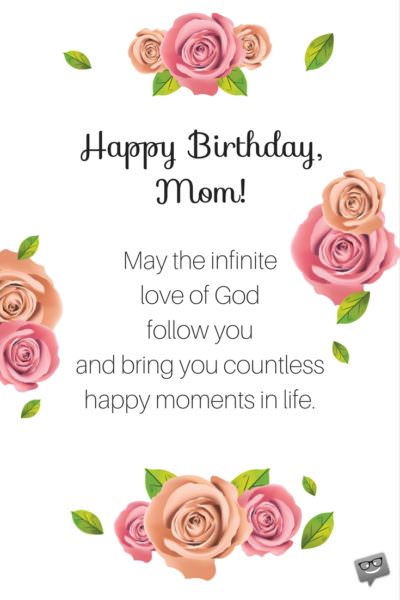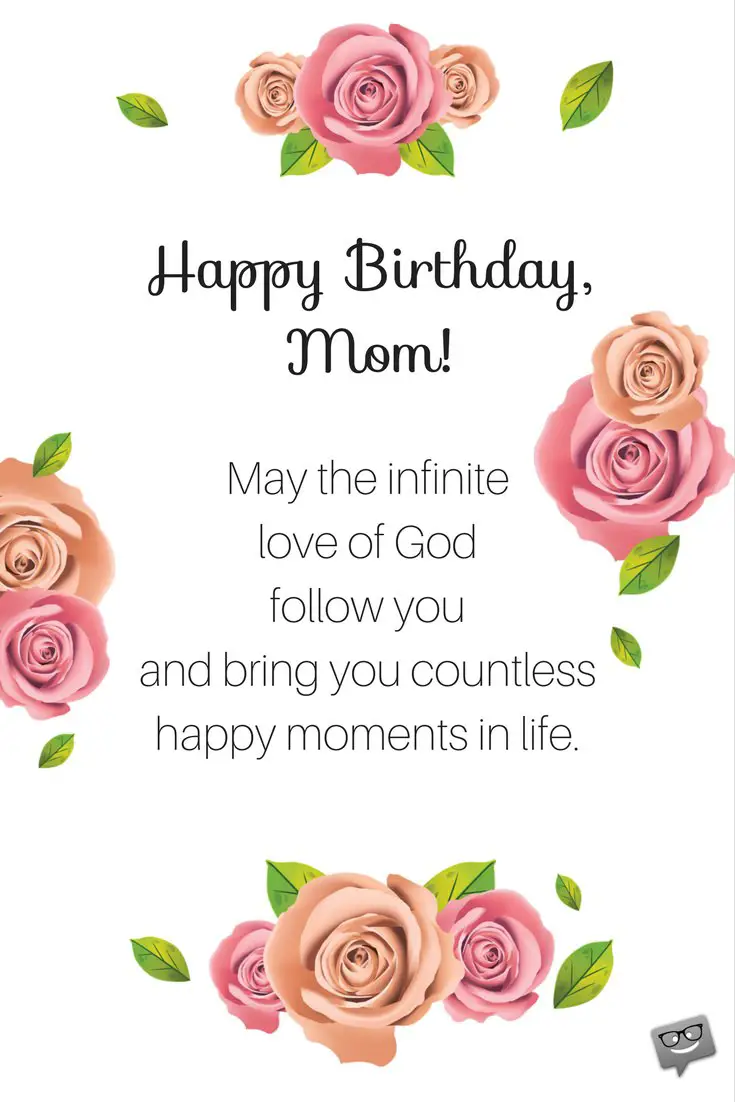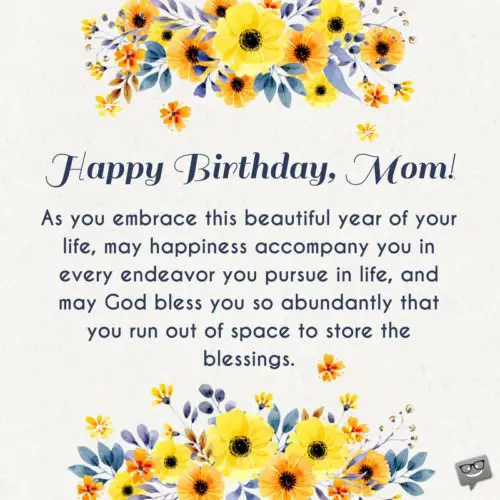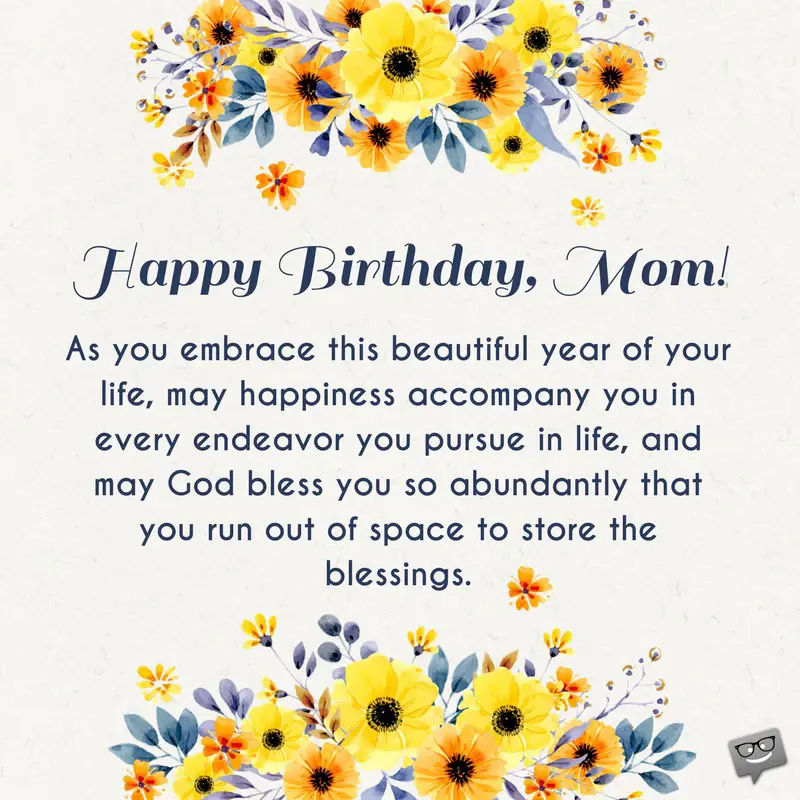 Mom, celebrate your birthday knowing it shall be well with you all the days of your life. I pray that whatever you do prospers and fills you with happiness. Happy birthday.
Wishing you a blessed and joyous birthday, dear Mother. As you celebrate this day, may God continue to pour out His grace and anointing upon you. Happy birthday.
Hello Mom, it is your birthday today, and I want to say this little prayer for you. May you dwell in the amazing shelter of God's protection all the days of your life, and may happiness always be your companion there. Have a blissful birthday celebration.
Happy birthday, dear mother. As you embrace this beautiful year of your life, may happiness accompany you in every endeavor you pursue in life, and may God bless you so abundantly that you run out of space to store the blessings.
Happy birthday, mother. I pray that God grant you good health, strength and riches beyond your wildest imaginations.
Celebrating the world's greatest mother today! I pray that every desire of your golden heart come to pass. I love you so much, but remember that God loves you even more! Happy birthday.
As you have loved me from my childhood to this point, so shall the Lord envelope you in His richest love. Happy birthday to you, sweet Mom.
Today, in addition to celebrating the phenomenal person that you are, I pray for your happiness, health and financial breakthrough in life. Have a blessed birthday, precious Mom.
Saying a special prayer for you on your birthday, mother. Trust in the Lord with all your heart and He shall direct your path. Happy birthday.
May each blessed day of your life accompany the divine love and blessings of God. Happy birthday, Mother, and have a fabulous day.
Life can't be without challenges, but when they do come, I hope the Heavens give you the strength to face them. May the will of God be done in your life. Happy birthday.
Mom, may every prayer said for you on your birthday be answered by God, and may every desire of yours that is yet to materialize be fulfilled. Happy birthday.
Happy birthday to the strongest woman I have ever known. Mom, you are more than a conqueror. May God grant you victory in every battle you face in your life.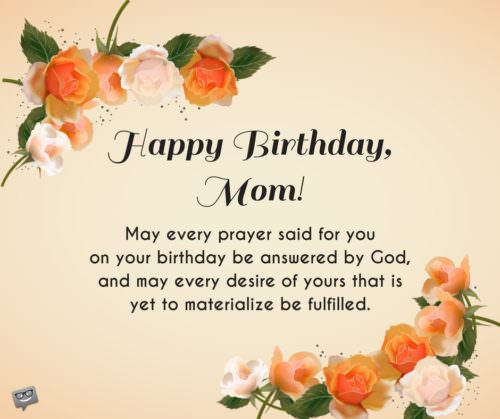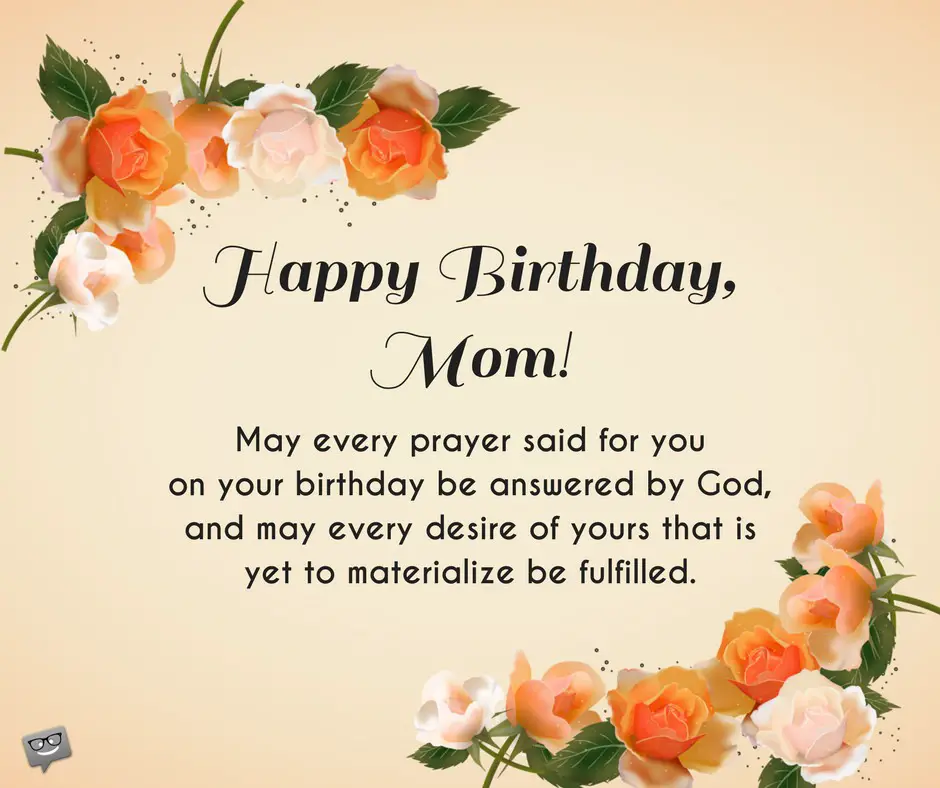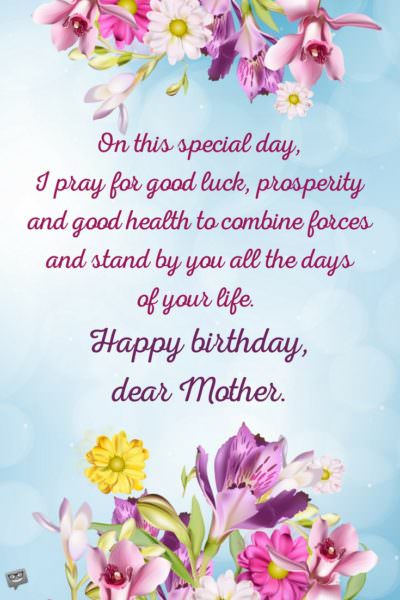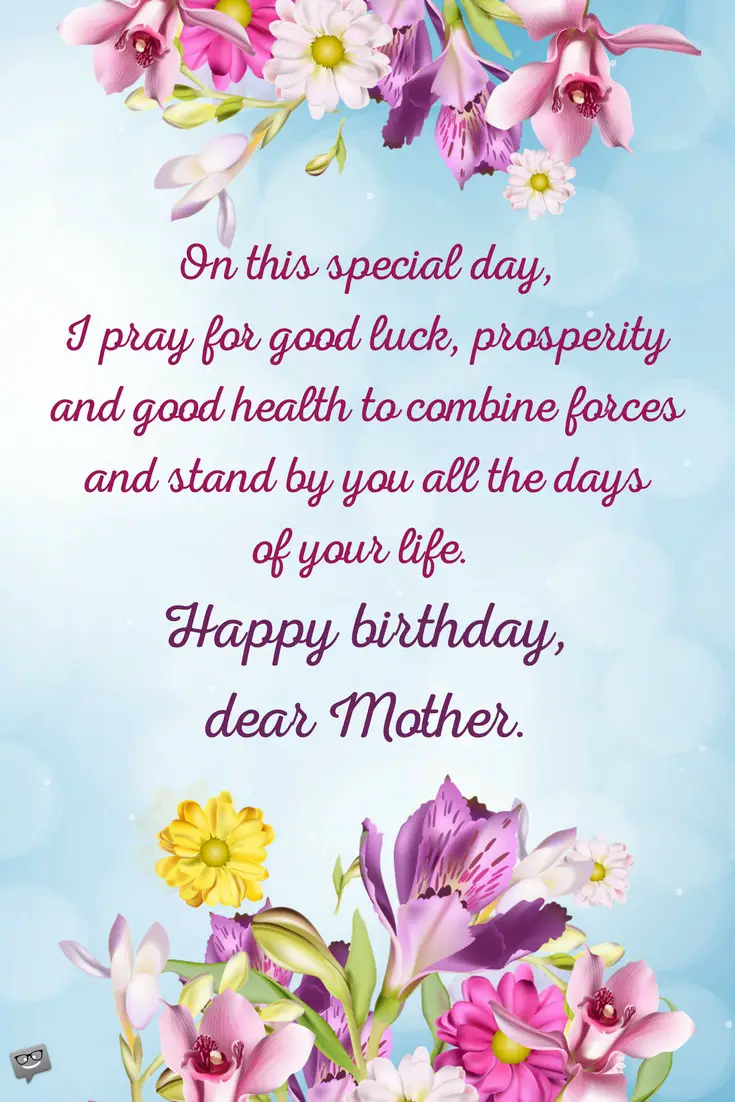 Dear mother, don't be afraid of what tomorrow may bring to you. The Lord will guide and protect you all the days of your life on earth. Happy birthday to the best mom ever.
The Heavens are filled with joy today because it is your birthday, sweet Mother. May God make smooth the path that you walk, and may He keep you hidden from the sight of your enemies. Happy birthday.
May God never stop keeping you safe and happy in the palm of His mighty hand. Happy birthday.
Through Jesus Christ our Lord, I pray for your health and happiness today and on all the days of your inspirational life. Happy birthday, Mom.
I pray that God pour out his favor upon you on this wonderful day of yours. May He bless you with the strength and courage to overcome all obstacles and adversities in your way. Enjoy your day. Happy birthday mom.
---
You May Also Like:
Best Mom in the World! 100+ Birthday Wishes for your Mother
I Love You Messages and Quotes for my Mother and Father
The Perfect Birthday Gift List for Mom | 20 Ideas for Mother's Special Day
---
Dear mom, do not be discouraged by the adversities of life. The joy and love of God will be your hope today and forever. Happy birthday to you.
I want to tell the whole world of how great a mother you are to me. May the light of God shine on you everywhere you find yourself. Happy birthday to my darling mom.
May God always give you your daily bread and keep you protected and smiling. Happy birthday, Mom.
Today I celebrate a special mother who is full of great wisdom and compassion. You have guided me through life with your counsel. Today, I pray that God answer all your prayers and bless you with the most important blessing in life – happiness. Happy birthday, Mom.
If all mothers were like you, planet earth would be filled with such great families. I pray that you find happiness in the Lord every second of your wonderful life. Happy birthday, Mom.
Wishing a super duper happy birthday to a truly inspirational mother. Today, I pray that you never lack anything in life and that you continue to reap the rewards of all the wonderful things you have done in this world.
May every pain in you be healed. May every sadness in your heart be turned to happiness. May everything that has been taken away from you be restored by God. And most importantly may the joy of the Lord dwell in your heart forever. Happy birthday.
You may also like:
Blessings from the Heart | Happy Birthday Prayers
101 Exciting and Heartfelt Happy Birthday Mom Quotes
Birthday Prayers for Myself | Asking God for New (Immaterial) Things
Birthday Prayers for my Sister
Birthday Prayers for Brothers | A Blessed Celebration
Grateful to God for Making You my Dad | Birthday Prayers for Fathers
200 of the Best Birthday Messages to Make Someone's Day Special