Marriage anniversaries are always cause to share and create celebratory messages, but that 50-year mile marker in marriage is one you certainly don't want to forget to acknowledge. What do you say, though? If you have difficulty putting your wishes into words, don't panic.
Try one from our collection of 50th wedding anniversary messages. Use the message as it is, or you can always use it as a blueprint to make your text say more or less.
Happy 50th Anniversary Wishes for a Friendly Couple
The 50th Anniversary, also referred to as the Golden anniversary is surely an impressive milestone to achieve and can be celebrated using the following messages:
I wish you the best in your 50th Anniversary and merrier & happier moments in the next years to come!
 I hope you spend the next couple of years together by each other's side. Receive my warm wishes on your lovely 50th anniversary!
You being my favorite pair, I love to see how you two enjoy life with each other! With lots of love and prayers, I wish you a Happy Golden Anniversary!
You've proved it that day in and day out, love can be so great. May the Lord bless you as you enjoy a happy 50th Anniversary!
Receive warm hugs and love on your 50th Anniversary, and may your love keep on growing. Best wishes, dears.
May you enjoy every ounce of happiness as you celebrate a memorable 50 years of marriage – it would only have been done this well by the two of you.
May the Lord continue blessing the love in your lives and hearts with an ever-deepening faith. Best wishes as you celebrate your golden jubilee!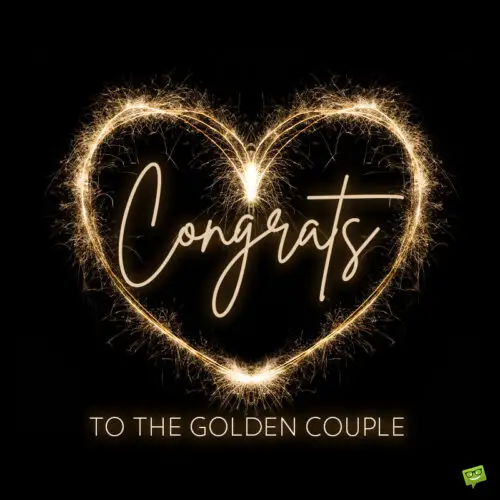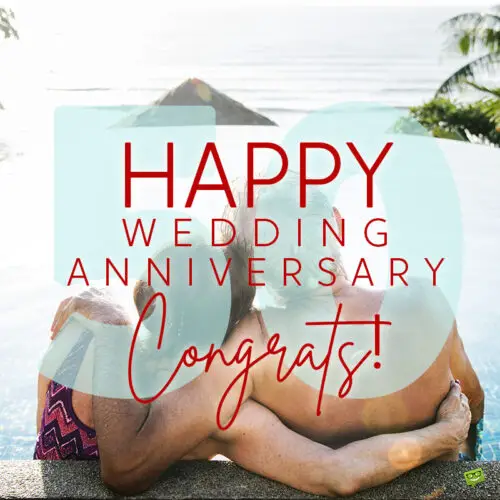 Warm and Heartfelt 50th Wedding Anniversary Wishes
Try one of these sentimental wishes for someone's 50th anniversary.
May each year together be as fruitful and loving as the last 50 years together. Wishing you a beautiful wedding anniversary!
On this 50th year of marriage, may you both remember all of the reasons it all began and has endured the test of time. Much love to the happy couple.
Love is a verb, not a noun, and that's the key to celebrating 50 years together in marriage. Great job, showoffs:)
In a world where you can be anything, try being married for 50 years and still having reason to celebrate. Now, that's gold!
A golden couple celebrating a golden anniversary. Many happy wishes as you celebrate the golden life you've built together.
What a golden and shining example of how to do 50 years of wedded bliss. May your day be filled with happy and joyous memories and the hope of making so many more.
50 years gone by, and it feels like just yesterday that the church bells rang. Happy anniversary!
Congrats to the golden couple making 50 years look easy as wedding cake! Here's to your enjoyment of many more together.
I'd wish you the best of luck on your anniversary, but being married for 50 years takes a lot more than just luck.
Happy 50th Wedding Anniversary for Mom and Dad
Use one of these texts to tell your parents you're wishing them a lovely 50th on their wedding anniversary
Thank you mom and dad for showing me what a happy marriage should look like. Cheers to 50!
When mom won dad's heart/ dad won mom's heart, we all won a great life. Thanks for 600 months of loving one another and arguing over who won who's heart first.
Your marital home has always been just as strong as the physical home you built for us, mom and dad. That's a strength that amazes and inspires me daily.
To my golden parents on their golden anniversary, words can't express how much your love for each other and me mean – more priceless than any amount of gold. Love you both!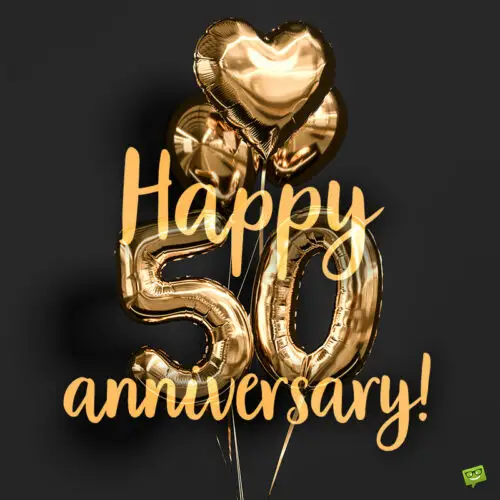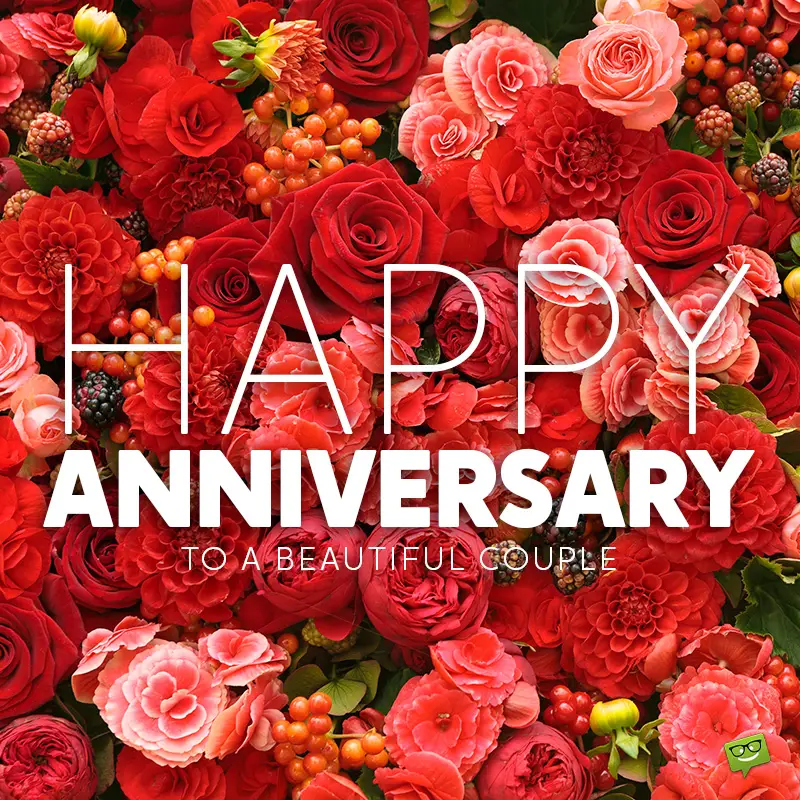 Prayers and best wishes for my dad and mom to have the most amazing 50th celebration of their anniversary. Keep the years coming!
If having two loving parents devoted to each other for five decades of life isn't cause to celebrate… nothing is! Let's party!
Dearest mother and father, my wish is for 50 more years just like the last. A very happy anniversary to the both of you.
You are the parents that all children hope to call their own and the couple that all young lovers hope to become. May number 50 be the best anniversary yet.
I'm so thankful that you two love birds found each other 50 years ago and gave me life. Love you to infinity and beyond.
Inspirational 50th Wedding Anniversary Quotes
 Try out one of these quotes or add one to a personalized 50th anniversary message.
Golden advice for the golden anniversary… Dave Meurer described a perfect marriage, and it had nothing to do with the perfect couple uniting. Instead, he said that it's "when a perfect couple learns to enjoy their differences.
As you celebrate 50 fab years of marriage, remember how Hoosier Farmer described love: "The thing that enables a woman to sing while she mops up the floor after her husband has walked across it in his barn boots."
According to a Greek proverb, "the heart that loves is always young." Guess that's why you two love birds are still as spry as ever on your 50th year together.
It takes both strength and courage to love for 50 long years. As Lao-Tzu said: "Being deeply loved by someone gives you strength, while loving someone deeply gives you courage."
As the music to your Golden 50 plays, remember how Oscar Wilde explained loving someone. "You don't love someone for their looks, their clothes or their fancy car, but because they sing a song only you can hear."
You may also like:
Those Years of Togetherness | Anniversary Wishes for Couple
189 Anniversary Quotes for A Very Special Day
Happy Friendversary! | 30 Touching Messages for your Friend Anniversary