While every birthday is a milestone, we all know that turning 16 is one of the most special days of them all. It's a time to celebrate with laughter, love, and of course, cake and ice cream! During the celebration, we all have our cameras out to take as many photos as possible. Why? To remember the day by sharing the festivities on social media! And when you have a bunch of amazing pictures to show off, you'll need the best captions to go along with them.
That's where we can help out! Check out our selection below to find the perfect fit for your perfect photo. Celebrate the day and celebrate life while engaging your friends and family on social media!
Table of Contents
Funny captions for your 16th Birthday
Celebrate your day with lots of laughs by choosing one of these funny captions for your photos!
No one wants to hear me sing, even on my 16th birthday!
16 candles on the cake. 16 years behind me. I never thought I'd make it this far!
I'm old enough to drive a car now. Watch out, world!
I am another year older, but I certainly don't feel any wiser!
I'm only here for the cake and ice cream.
I keep looking for a car with a big bow on it…
It's my birthday. I'll do what I want today!
I may be celebrating another year older, but at least I can still post a picture without a filter!
I'm NOT keeping calm, I'm partying on!
You've had me as a gift for 16 years! Cheers to many more years, which is my gift to all of you!
I'm the best dang gift of them all!
16th birthday selfie captions
It wouldn't be a party without a selfie to commemorate the day, so grab a caption below and start posting!
I'm blessing you with myself on this very important day!
Outta my way, I have candles to blow out!
Who knew 16 could look so fabulous?
It's always a good day when it happens to be my birthday!
I'm here to stuff my face with cake and party until the clock hits midnight!
I am putting the "sweet" in sweet sixteen!
It's a tough job being this fantastic, but someone has to do it!
I'm gonna have my cake and eat it, too. More than once!
My mouth would look a lot better if there were birthday cake in it, don't you think?
Do you think my cake is as sweet as I am?
I'm so amazing, the state gave me my own certificate proving my birth!
Captions for your best friend's 16th birthday celebration
Capture the joy of your best friend's 16th celebration by picking up one or more of the following captions for your photos!
You only turn 16 once, right? Do everything you always wanted to do!
I can't believe you are old enough to operate heavy machinery!
I can't keep calm when we're celebrating your 16th!
It's beginning to look a lot like driving season for you!
I'm so happy to be here to celebrate this amazing day with my best friend!
Happy sweet 16! You're the sweetest person I have ever had the pleasure to know!
Life is better when you can celebrate the best days with your very best friend. I hope you have an amazing one!
You may only turn 16 once, but you will always be sweet to me!
You may be celebrating your sweet 16, but those who know you best know you're just as spicy as you are sweet!
Short 16th Birthday Captions
Add one of these captions with your pose for the 'Gram.
I spent 15 years being a prince/princess. Leveling up. I'm now the Qween/King of Sixteen.
I wish someone would throw me a surprise party for my B-Day!
Turned 16 today, but I'm not down with the sweet part.
Happy birthday to my sweet self.
Sweet 16. That's me.
This is not a drill. fr fr. I am 16 today.
Bow down. It's my birthday.
Tag a friend. It's my big day.
I'm growing up fast. Since my 16th won't last, I'm going to have a blast. Who's with me?
No matter how old I get, I'll always be awesome!
Starting my big day off with this gorgeous selfie.
Born to shine.
I woke up like this on my 16th.
Cake and ice cream to celebrate my 16th.
15 has come and gone. Now it's time to move on. Happy Sweet 16 to me.
TRENDING: It's my 16th birthday!
Forget the candles, I want fireworks!
Not chasing clout, but it is my 16th birthday! So, hit that like button.
Let's skip the formalities, OK. It's my special day and I want gifts.
Wishing me, myself, and I a merry 16th.
Thanking God for blessing me with another year.
Today is a very special day for me. Celebrating my 16th.
Doing my hair toss and feeling good on my B-DAY!
If you liked it, Pin it!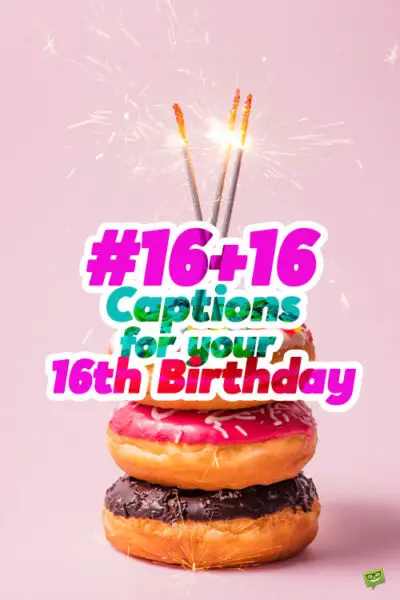 You may also like:

#MySpecialDay | 199 Birthday Instagram Captions
100 Catchy Retirement Captions for Your Posts