Everyone loves it when they receive a good morning message from their loved ones, and your beloved father is definitely no exception! Sending great good morning messages for dad not only lets him know that you are thinking about him, but it also helps give him a mentally and physically awesome day.
Below, we have a huge collection of super sweet messages that can easily fill your dad's heart with happiness and make him feel like the luckiest father in the world. So go ahead and start dad's day right with any of these beautiful texts.
Sweet Good Morning Messages for Dad

Dad, it is because of you that the word "phenomenal" exists in the dictionary!
May God devote His entire time in putting sunshine in your life and happiness in your heart. Good morning, my beloved Father.
Good morning, Dad. I hope your day is full of truly happy and sunny moments. Enjoy your day.
My life has never been ordinary because I have an extraordinary father by my side. Good morning, my magnificent Father!
My sweet Dad might be out of sight, but he is never out of my mind because he is the most fabulous father in the world. Good morning, Dad.
May today be one of the most glorious days of your life. Enjoy every bit of this day.
Dad, I hope today is as beautiful as your smile.
You do not only share my happy moments with me, but also the darkest moments of my life. Thank you for always being my source of strength and happiness. Have a morning filled with the sunshine you bring into my life!
May this beautiful day bring you good news and happiness. Have a blessed day, dear Dad.
I always see inspiration and peace in you, Dad.
Good morning! I hope your day is as fantastic as your life is.
Sending you the warmest hugs to put a smile on your face this morning. Have a beautiful day, dearest Dad.
Begin this day knowing that you are the most awesome father in the world. I hope your day is as awesome as your love.
Knowing that I have a wonderful father like you in my life lights up my world more than the rays of the sun could ever do.
The greatest thing God did for me today is waking you up from sleep to see another beautiful day. Good morning, Dad.
Good morning, my sweet Father. May total freedom and happiness be yours today.
Life is the most precious gift in the universe. Enjoy yours to the max. Good morning, Daddy.
Nothing beats the beauty of being alive. May your day be glorious and successful.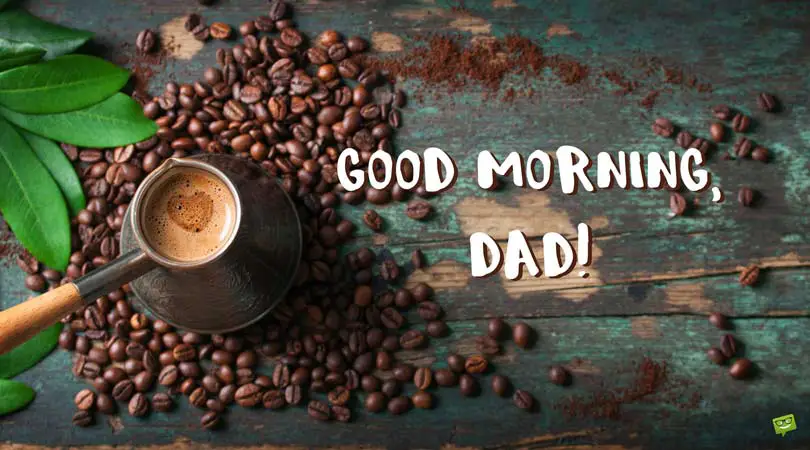 Dearest Dad, I wonder what my day and my world would be like without an incredible father like you. Good morning!
My warm morning greetings to you, dear Father! You are my pillar of hope and confidence, and I thank you dearly for being the springboard for success in my life.
Good morning to the most selfless father on earth! You have always sacrificed your happiness for mine and your inspirational words make my day just as incredible as you are.
My heartfelt wishes for a bright morning to a great and truly magnificent father! May your blessings from the Lord Almighty be uncountable today and always.
Good morning, Father! Your extraordinary love, care, and highly motivational words are sufficient for hope and confidence throughout my day.
Beloved Dad, I wish you a fine morning and a day that is loaded with love, affection, and gladness. You are quite a huge inspiration to us and many others out there.
Good morning, Father! Every new day is God's divine gift for a fresh start and a new blessing in your life.
Every break of day is just another amazing opportunity for a miracle to happen in your world. Good morning, Dad, and I hope for a truly splendid day for you!
Good morning, dearest Dad! May this fresh day bring you hope, happiness, success, and joy as you embark on another great achievement.
Just do all that is required of you today and worry less about yesterday and what tomorrow brings and you shall be okay. Wishing you a very perfect day, Dad!
Inspirational Good Morning Messages for Dad

May this brand new day mark the beginning of the materialization of all your most cherished unfilled desires.
Dreams do come true if we stay positive. Good morning to you.
As you open your eyes this morning, remember that life is just like a mirror. It will always smile back at you when you smile at it.
Good morning, Dad. Please don't forget to start your day by counting your blessings. Love you.
If you welcome this new day with a heart full of gratitude, sunshine shall forever be with you.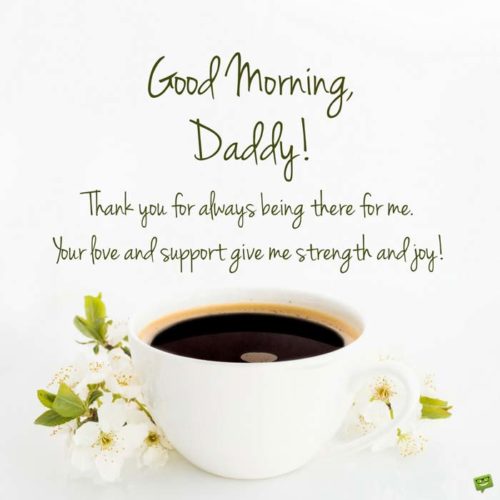 Throw all your worries away, for God is in total control. Good morning, Dad.
Welcome to another beautiful day gifted to us from above. Start this lovely day with a thankful heart, and everything in your life shall be as beautiful as the sun.
When you think positive, no obstacle in your way can ever hinder you from meeting with success.
Dad, you're amazing both on the inside and outside. Don't listen to anyone who says otherwise.
It is impossible to enjoy a beautiful life with a mind rife with negativity.
The key to happiness is to never waste a moment of your life stressing over anything you can never control. Have a beautiful morning.
Be relentless in the pursuit of the things in life that fill your heart with happiness. I love you, Dad.
Always place your hope in God, for He alone has the power to drive away all desolation and emptiness from your life and make you feel brand new.
The best way to make it in life is to never give up. Have a beautiful day.
God put our eyes on the front part of our body to tell us that it is more important to look ahead than to look behind.
Worry never has the power to take away the problems in your life; action does.
Don't let anyone ever ruin your day with any negativity. Have a beautiful day, sweet Father.
We are products of our decisions. Never stop chasing after your goals.
Dad, the perfect life is the one you are living.
Fill your mind with positive thoughts and your life shall become a magnet of happiness.
Anything you decide to do today, ensure that it makes you a happy man.
Funny Messages to Say Good Morning to your Dad

Another morning, another reason to curse the inventor of the alarm clock! Good morning. And by the way, go easy on the cursing!
May every second of your life today be as happy as the first day you and Mom met. Good morning, Dad.
They say the best way to start your day is by having a heart filled to the brim with gratitude, but a cup filled to the brim with hot coffee also helps a lot. Good morning, Dad.
Today, I command sorrow to keep its distance from you! Have a beautiful day.
Dad, did you know that you are as important to me as Google is to the internet?
By the powers vested in me, I command the day to be fair to you.
May this beautiful day bring you oceans of prosperity. And please when the money starts rolling, don't forget that I was the one who prayed for you to get it. My cut is just 20%.
When I stand before God at the end of my earthly journey, I would thank Him for not making you wear a condom on the day of my conception.
Remember to be always happy in the presence of your enemies; it kills them like nobody's business.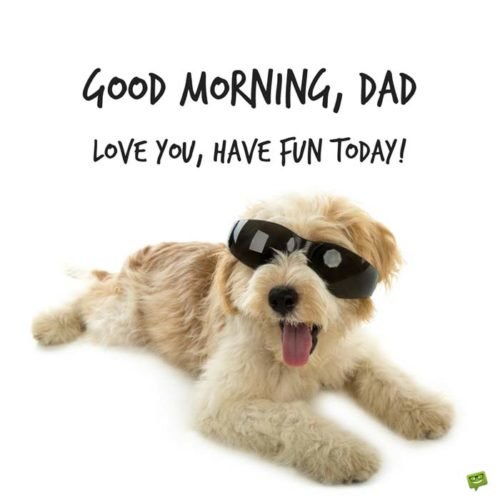 You may also like:
Amazing Good Morning Quotes to Inspire a Perfect Day
Fresh Inspirational Good Morning Quotes for the Day