The day you or someone you love turns 20 is a day that will be in your memory forever. It's a time for love, laughter, and plenty of celebration. Of course, this means that it is also time for plenty of pictures! We all take lots of photos when we're celebrating a birthday, but you may not know what to write with them when you share the snapshots on your social media pages.
We're here to provide you with the captions you need for the many pictures you take, no matter whose birthday it is! Make sure you memorialize the day with the right captions that will make your followers smile, laugh, and even tear up a bit!
Table of Contents
20th Birthday Captions for Friends
Let everyone know you're not a teen anymore with these B-Day captions.
Join me in the big celebration of a major milestone-your 20th!
Another year older, yet you look the same!
Guess the milestone!
Wow, 20 whole trips around the sun – congratulations are in order!
Happy 20th – here is to two decades of happiness!
Have a happy 20th – hope you remember it!
Today you can have your cake and eat it, too!
This day only happens once a year, so go crazy!
My bestie is 20-years-young today-hit her up!
Here's to another year of awesomeness.
20th birthday captions for yourself
Celebrate yourself by using one of the following captions for your many pictures, even selfies!
Do I look like I have been around for 20 years?
Come celebrate my 20th with me, it is going to be a blast!
I'm partying like it is my birthday because today is the day I turn the big 2-0! Happy birthday to me!
It took forever to get those teenage years behind me. Happy 20th to me!
Drop everything and celebrate my special day!
You only turn 20 once- we're going all out for my special day!
Being 20 looks good on me, doesn't it?
It's a magical day…it's the day I turn 20. Finally out of the teenage years!
Kisses and wishes for my 20th celebration of life!
How do I look in my birthday crown?
We're gathered here to enjoy my 20th trip around the sun!
As I celebrate my B-Day, I just want to pause for a moment to thank everyone who made me what I am today. I could not have grown into the person I am over the past 20 years without you.
Most people celebrate the New Year on January 1st. I observe it today because it is the day I was born. New year. New Me.
I was born on this day 20 years ago. You know what that means? Turn up! Turn up! Turn Up!
I feel so blessed. Happy to enjoy another Birthday.
Looking forward to turning a year older.
Birthday vibes. Time to take another victory lap around the sun.
I have 20 reasons to celebrate today.
Surrounded by love on my special day.
Hoping my 20s be as wonderful as my teens.
Today's my 20th birthday, so send me on an ego trip.
They say, the older you get the better you get. I got 20 years of awesomeness under my belt.
This 20th B-Day has me all in my feels.
I'm 20 years old today. That's it. That's the tea.
My birthday snuck up on me this year. Can we just hit the pause button at age 20?
Ready or not year 20, here I come! Open the confetti.
Today is the most special day out of all 365!
Funny 20th birthday captions
Give your dedicated followers a laugh by pairing your pictures with our captions!
Don't worry, 20 candles are nothing I can't handle. I'm ready to go up against whatever life throws at me, although hopefully they won't be on fire like my cake!
If you didn't know, today is my 20th birthday. Now that you do know, where is my present?
I'm another year older and another year wiser. One more year until I can erase that wisdom legally with alcohol!
Wow, you are one-fifth of a way to turning 100. Oh well, I hope you have a happy birthday anyway!
I may be one year older, but the one year wiser part really didn't come true.
Celebrating another year of bad decisions and wrong choices!
I'd like to thank my parents for giving birth to the best person on the planet-me.
Happy 20th birthday to my partner in crime! Here's to many more acts of delinquency in the future!
Happy birthday? More like happy you get to experience my amazing presence for 365 days of the year!
Age is just a number. Next year you will be even older. But happy birthday to you anyway!
If You Like It, Pin It!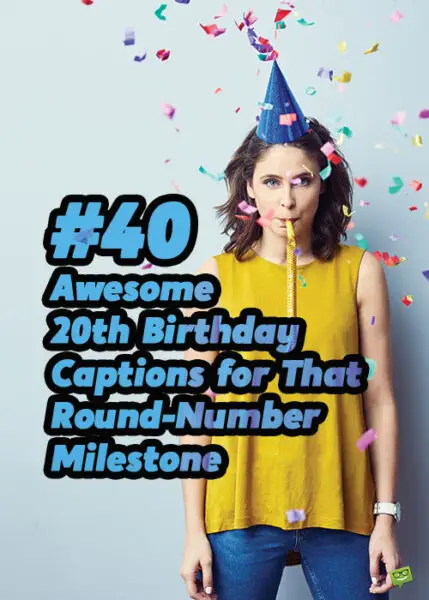 You May Also Like:

250 of the Best Birthday Messages to Make Someone's Day Special
16+16 Captions for your 16th Birthday