Birthdays are important for celebrating the gift of life and the day one came to Earth. They are one of the greatest moments in a person's life as they are usually characterized by birthdays gifts and messages from loved ones. However, wishing can be challenging on their 27th special day, especially if you don't know what to say besides Happy 27th Birthday.
Don't fret if you're unsure what to tell your loved ones during their 27th birthday. We offer these messages to wish your loved ones the best.
Happy 27th Birthday to Your Daughter
The following are birthday messages for a daughter turning 27 years:
Happy 27th birthday my little princess. I am so proud you have grown into a gorgeous and intelligent woman. I hope you have time to celebrate this special day.
I hope that your birthday brings you all the happiness and joy your heart desires. I wish you a great day full of incredible memories as you celebrate 27 years on Earth.
As you turn 27 years today, allow me to celebrate you. You are a wonderful daughter who needs to be celebrated every day.
I can't believe you are turning 27 today. You have been a blessing to my life ever since you were born and you will continue to be so for the rest of your life.
Best birthday wishes, my darling daughter. You are a precious gem who needs constant love and care. Happy 27 years and have a blessed day.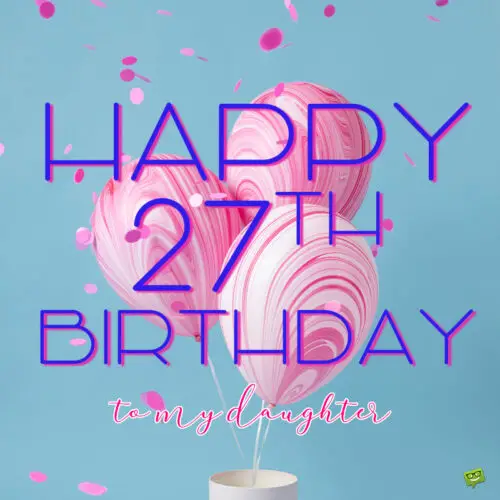 Happy 27th Birthday to My Son
Here are birthday wishes for a son turning 27:
I wish you love, life, laughter, luck and all good things in life on your 27th birthday. May you have a wonderful day and live to blow more candles.
I want you to know that you are still my cute little boy, no matter how old you get. Enjoy your 27th birthday in great company and have fun.
It's time to forget about the past and focus on the future as you turn 27. I wish you a year full of blessings and success on your special day.
You have grown to become one of the greatest men in the world. As you turn 27 years today, I wish you nothing but health and wealth. Enjoy your day son.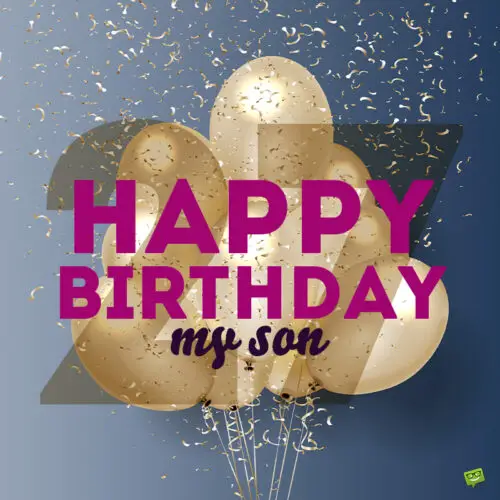 Happy 27th Birthday to My Grandson
Here are simple birthday wishes for a grandson on his 27th birthday:
Happy birthday to my sweet, handsome grandson. I am honored to see you grow from a child to a 27-year-old man. Have fun today!
I don't think there is a grandparent who loves their grandson as much as I love you. Happy birthday as you turn 27, and may your year be full of happiness and success.
You are an intelligent young man. I am so glad to be part of your journey from the day you were born to your 27th birthday. Have a fantastic day, little man.
Grandson, I hope that your 27th birthday is as amazing as you are. Have fun and make this day count.
There is nothing more fulfilling than watching your grandson grow into a man. Best wishes on your 27th birthday, my little one.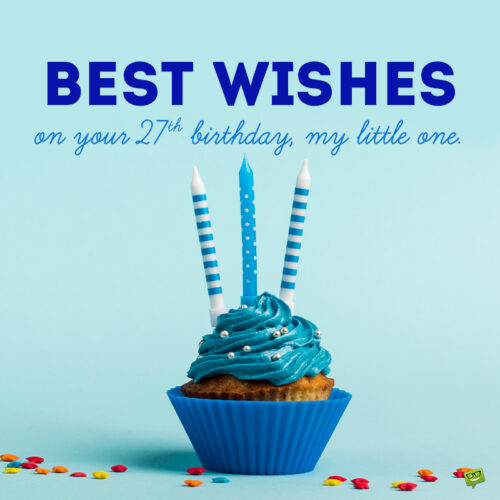 Happy 27th Birthday to My Granddaughter
Wish your 27-year-old granddaughter a happy birthday with one of the following birthday greetings:
Happy 27th birthday to the beautiful woman who made me a grandparent. Have a blessed day full of wonderful memories.
Put on a bright smile and wear your favorite dress to celebrate your 27th birthday, my princess. Enjoy your 20s to the fullest as you will be 30 years before you know it.
You are the most precious gift that we received 27 years ago. Have an incredible birthday and know that your grandparent always loves you.
My best wishes on your birthday. You have been filling my heart with joy for the past 27 years. I love you and wish you all the best in life, my granddaughter.
Happy 27th birthday, my granddaughter. Enjoy your special day to the fullest and continue growing into an intelligent and kind-hearted woman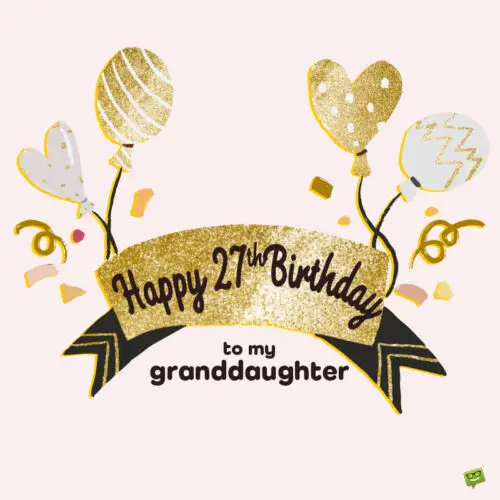 Happy Messages for your Brother's 27th Birthday

The following birthday wishes can brighten your brother's day during their 27th birthday:
Happy 27th birthday. As you grow older and get ready for marriage, I wish you the most beautiful woman to be your future wife.
To one of the sweetest people in my life, I wish you a happy birthday. May your 27th birthday be full of blessings and other great things.
Happy 27, brother! Don't worry about getting older because life begins at 40.
Best birthday wishes to my funny, handsome and smart brother. Welcome to 27, and continue being a blessing to people around you.
Happy 27th birthday to my wonderful brother. I am celebrating you today and sending you cheerful wishes.
I wish you the happiest 27th birthday ever. Thank you for your continued care, love and support.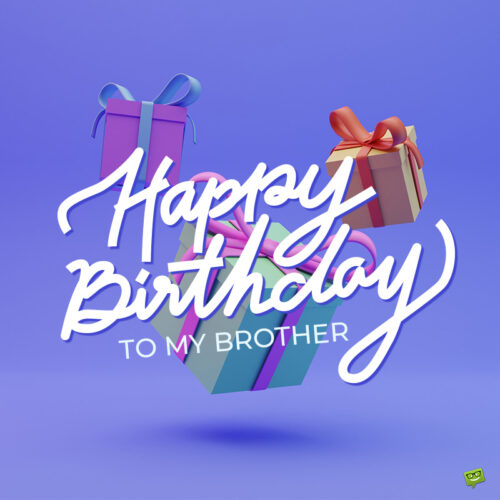 Happy Birthday for your Sister's 27th

Send one of these birthday wishes to your sister on their 27th birthday:
It's been 27 years of being a loving and kind sister. Enjoy your birthday and have fun to the fullest.
A woman I love was born 27 years ago. Best birthday wishes sister. I love you yesterday, today, tomorrow and forever.
I wish you the best birthday from the bottom of my heart as you turn 27 years. Have a fabulous day full of love and laughter.
27 is the year of beautiful brides my sister. I wish you the best suitor on your special day.
I wish you a happy birthday today. As you turn 27, continue working on yourself and never stop believing in your dreams. I love you.
One thing that will always remain the same is the love we share. Best birthday wishes to my best sister.
To my dearest sister, you were my first best friend growing up. I celebrate you on this special day and wish you the best 27th birthday.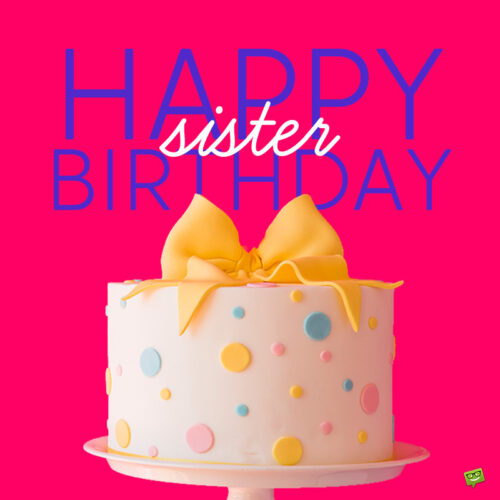 You may also like:

She's Your Best Friend & It's Her Special Day | Happy Birthday, Amiga!
Your LOL Message! | Funny Birthday Wishes for a Friend
Something Punny About This Message | 52 Birthday Puns
50+ Funny Birthday Wishes That Will Make Your Boyfriend Laugh on his Special Day