We all know that birthdays are so important for making memories and celebrating milestones in life, whether it's our own birthday or a loved one's. But when it comes to our nephews, their birthdays can be especially special — they're the ones who bring a unique flavor of joy and fun into our lives! So why not celebrate them with some heartfelt birthday prayers and blessings?
Here at this blog post, we have collected some truly meaningful birthday prayers for your beloved nephew. From expressing love and appreciation to wishing them luck in their endeavors, these wishes will make sure your nephew knows that you are always there for them no matter what. With these heartfelt words, let your nephew know how much you care about them—and how much you look forward to all the wonderful moments and memories that life has in store for them.
May your nephew have a truly special day, filled with joy and love! Let's take a look at these birthday prayers for nephews.
Prayers for your Nephew's Birthday
Sending a prayer on the occasion of your nephew's birthday is a wonderful way to show him how special he is and an amazing way to express love, appreciation, gratitude, and hope. Whether it's a simple heartfelt message or a longer prayer, it will surely bring joy to your nephew's heart. Here are some examples of birthday prayers and blessings you can use on his special day.
Happy birthday to my lovely nephew! May the Lord fill your life with joy and peace as you start another year of life.
On this special day, I pray that God will grant you all the wonderful things that you wish for in life. Have an amazing birthday, my dear nephew!
As you blow out the candles on your cake today, I am praying that God will grant all the desires of your heart during this new year of life. Happy Birthday!
God has blessed us in so many ways by giving us such an amazing nephew like you. On this special day, may He bestow upon you countless favors and everlasting joy. Happy birthday!
May God bless you with health, joy, and peace as you celebrate this special day. Wishing my favorite nephew a night full of sweet dreams and a happy birthday!
Dear Lord, thank you for all the love and joy this little one has brought into our lives. On this special day we ask that you bless him with many more years of health, laughter, and peace in his life. Please continue to guide him as he grows older and give him the strength he needs to succeed in life. Amen.
Blessed Father, today we thank you for the gift of my beloved nephew who has filled us with so much love. On this special day, may your grace surround him with good health and prosperity throughout his life journey. May his dreams come true and may every step be guided by your words and wisdom. Amen
Almighty God, thank you for bringing my precious nephew into this world on this very day many years ago! We are so grateful for all the blessings he brings into our lives – from his infectious laugh to his contagious smile! As he celebrates another year of life today, please grant him the strength to overcome any obstacle that comes his way in life so that he can reach all of his hopes and dreams! Amen
A Prayer for Your Nephew's Health and Happiness
Dear God, bless my beloved nephew on this special day. May You grant him good health, happiness, and peace of mind today and in the coming years. Fill his heart with joy so that he may share it with those around him. I ask that You give him strength and courage when facing challenges in life, as well as wisdom and guidance when making important decisions. Throughout all his days, may he always have faith in You. Amen.
A Prayer for Your Nephew's Future Success
Heavenly Father, I thank You for blessing me with such a wonderful nephew who brings us so much joy every day. On this day of celebration, I ask that You guide him through life's journey ahead. Grant him success in all his endeavors as he pursues his passions and dreams; open doors that will help bring success into fruition while keeping away any obstacles along the way. May he always strive towards excellence while maintaining humility throughout this journey called life. Amen.
A Prayer for Guidance and Wisdom for Nephew on His Special Day
On this special day, we offer prayers of guidance and wisdom for our beloved nephew. May your life be filled with good choices that are made with clarity and insight. May you be blessed with the courage to stand up for what is right and just. May you have the strength to face obstacles along the way. And may each step in life bring you closer to reaching your dreams and aspirations. We wish you a happy birthday, dear nephew!
A Prayer for Strength and Protection for Your Nephew on His Birthday
Heavenly Father, on this special day of my nephew's birthday, I thank you for giving me such a loving, wonderful nephew to cherish. I pray today that Your divine protection will watch over him and keep him safe from all harm. Please give him the strength to face the challenges of life with courage and determination. Grant him wisdom to make wise decisions and discernment to recognize the right path. Let his heart be filled with love, joy, and peace so he can truly enjoy life's blessings. Amen.
I also ask for Your abundant blessings upon my nephew's life as he grows into adulthood – may You provide him with good health, happiness, success in whatever he does, true purpose and direction, and the love of family. In Jesus' name, amen.
Short Birthday Blessings for Beloved Nephew Celebrating a New Year of Life
We all want to give our nephews a special birthday blessing on their big day. Sometimes though, it can be hard to find the right words, so we've compiled this list of short blessings to help you share your love with your special nephew. Whether he's celebrating his first birthday or his eighteenth, these meaningful messages are sure to make him feel special on his big day.
May you always find joy in the little things, and may life treat you with kindness. Happy birthday, dear nephew
Wishing you a birthday full of magical moments that will stay with you forever. Love you!
On your special day, may all your dreams and wishes come true – big and small! Enjoy this day to its fullest!
Here's to a year of success, happiness, love and good health for our beloved nephew. Happy birthday!
May you have the courage to take risks, the faith to believe in yourself and the strength to never give up on your dreams.
As you turn one year older today, may you also gain wisdom and understanding from each experience.
May your life be filled with special moments to cherish forever, and may you have all the wonderful things that make you happy. Wishing you a very happy birthday!
On your special day, we wish that nothing but luck and joy accompany you now and always. Have an amazing birthday!
May this new year of life be better than the one before it – full of love, laughter, growth and abundance for our nephew! Happy birthday!
Sending love on your special day, dear nephew – wishing the best for the coming years in life. Enjoy every moment!
Also read: 50 Funny Birthday Wishes for your Nephew
Birthday Blessings for Your Nephew
Birthdays are a wonderful time to celebrate the life of your loved ones. As your nephew's birthday approaches, you may be looking for meaningful birthday blessings to send his way. Here's a collection that you can use on this special day to let your nephew know how much he means to you.
May each step that you take bring you closer to achieving all your goals in life! Have an absolutely wonderful birthday!
Wishing my incredible nephew a very happy birthday filled with lots of love and laughter! You are an amazing person who deserves only the best things in life.
On this special day, I am sending nothing but good vibes your way – may every moment be filled with happiness and joy as you celebrate another year of life!
As I look at my beloved nephew growing up into such an intelligent young man, I can't help but feel proud. Wishing him nothing but the best on his special day!
May God bless your path with success on every turn – have a fantastic birthday celebration today!
On this special occasion, I wish my nephew a life full of joy and success! May your birthday be filled with laughter, love, and peace. I pray that you will find fulfillment in whatever path you choose in life; may your heart be open to receiving all the blessings that come along with it! Thank you for being such an amazing person; I hope the year ahead is even more beautiful than the last one!
No matter what prayer or blessing you choose, your nephew will appreciate knowing that someone is taking time out of their day to celebrate them on their special day! Praying or offering up birthday blessings is a beautiful way to show how much they mean to you – no matter how near or far away they may be! So take some time today to share one of these prayers or blessings with them on their birthday – they'll cherish it forever! Happy Birthday!
Pin this post to save it for later!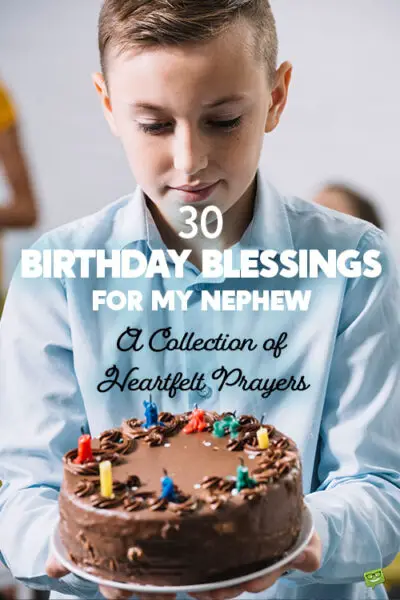 You May Also Like:
Happy Birthday, Nephew! | 50 Exclusive Birthday Wishes for Him
250 of the Best Birthday Messages to Make Someone's Day Special
40 Perfect Captions for Your Birthday Weekend Instagram Posts