Ain't no Cake Big Enough! | Funny Birthday Wishes for Older and Younger Brothers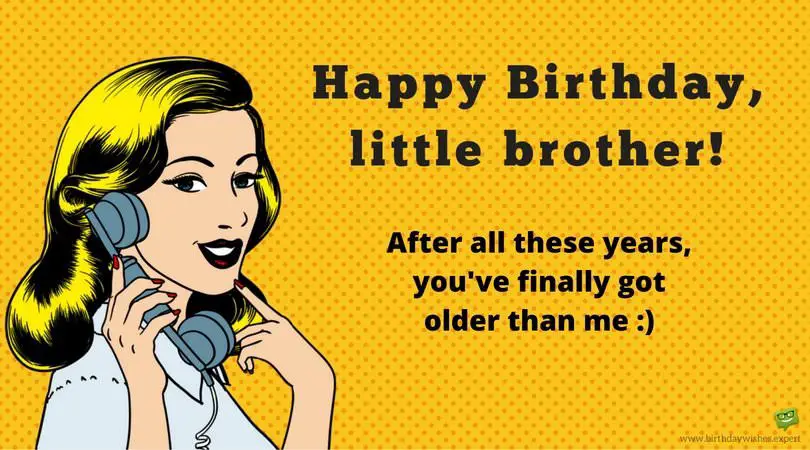 A brother is a great sibling to have. He's always there for his female siblings and the rest of the family. At school, he rescues a sister from bullies, and defends her no matter what it takes. He's in the center of activities at home. Even when the siblings are all grown and have left home, he still extends his brotherly care in different forms and would not hesitate to lend a helping hand in any way possible.
One of the great ways to appreciate a brother and put a smile on his face is to write funny brotherly birthday wishes on his birthday. Integrating a sense of humor to your birthday wishes to a brother will make your wishes even more remarkable and well-appreciated.
---
Funny Birthday Wishes for an Older Brother
Though you bully me at home, you've always come to my rescue when I'm bullied at school and even in the neighborhood. Well, what can I do without you, big bro? Happy birthday!
I'm happy you're getting older, I wish to even expedite your age, so that I will have our room alone to myself when you leave home! Happy birthday to my lovely, big brother.
I can't wait for you to get even older and get married. And that is because I can't wait for you to have kids, so that I can return the annoying spankings that you gave me those days, to your kids. H.B.D big brother.
Brother, age is not just a number, don't be deceived. If it is just a number, how come your wrinkles are increasing? Face it, you're really becoming old. And, that's why I couldn't think of a better birthday gift for you than an anti-wrinkle cream! Happy birthday, dear big brother.
Both your ceaseless, infuriating scolding and your occasional pamper, they all make you a wonderful big brother! Happy birthday.
Happy birthday, big brother. Am I supposed to get you a birthday gift? But, I thought as the big bro, you should treat me instead!
Hi older brother, I hope you're not planning to place 25 candles on your cake, because it may end up becoming a candle-cake. Happy birthday to my one and only big brother.
Big brother, I wish you long life on this special day. Of course, you know that the best way for the wish to come true is for you to age faster! Happy birthday.
A Collection of Sweet and Sentimental Wishes: Happy Birthday, Brother!
Big bro, don't be scared of your increasing years, it's the fastest route to becoming a senior citizen and enjoying the benefits that follow. Happy birthday.
You are a brother to hold and to cherish for life…well, on the condition that you won't stop running to my defense at all times J Happy birthday, big brother.
Big brother, the only gift that crossed my mind for you is a stylish lace wig, so that you can stylishly mask your bald head. Age seems to be obviously telling on it. Happy birthday to my older brother.
I feel like making hurray shouts to let the world hear about my big brother's birthday. But, when I remembered I needed to shout 35 hurrays, I became scared that my voice my cease even before I get to the 35th one! Happy 35th birthday to my loving older brother.
---
Funny Birthday Wishes for a Kid Brother
What is the best gift for my kid brother on his birthday? Well, I think I have an idea – a longer and larger size of whip, to match your growing age and increasing naughtiness. Happy birthday to my loveliest kid brother.
Although you can be annoyingly naughty, you're still my sweet, little brother and I love you. Happy birthday, kid brother.
Dear younger brother, the number of candles on your cake is growing by the year. Soon, you will join the bandwagon of those who need a trailer-load of candles to place on their cake, and of course the fire-fighting company to blow them off. Happy birthday to my loving younger brother.
Brother, I bought your favorite vanilla ice cream to celebrate your birthday, but your favorite puppy had it all licked up before I could return to put it in the refrigerator. There's only one way out; should we kill him and rescue your ice cream? Happy birthday dear brother.
Little brother, I'm happy you're growing older. At least, changing diapers is now off my neck! Happy birthday to my darling kid brother.
10 hearty cheers to my sweet younger brother – he's 10 years old today! Anyway, don't expect 10 candies, I only got 5 for you.
Happy birthday, kid brother. Being a year older today means the spoon-feeding days are over.
---
Funny Birthday Poem for a Brother
#1:
My brother, so dear to my heart
My 'bother', never stopped throwing a dart
My brother, always giving me order
My sweet brother, always there to rescue me from another
#2:
My brother, my ever reliable ally
Keeping me safe by his side daily
Although he makes me cry sometimes
His soothing arm pampers me at all-times
General Funny Birthday Wishes for your Brother
Growing older is a great way to get wiser. So, be proud you're getting older, because it's making you get wiser. Happy birthday, dearest brother.
I have one request on your birthday, big brother; can we trade place, let me become the older brother while you become my kid brother, so that I can also get to give you some smacks. That's the part of being an older brother that I love most! Happy birthday, big brother.
Happy birthday, dear brother. I pray that you become older quicker, so that you can make money and buy me all the things I need.
I can only say thank you very much brother, for always being there for me. But, the thanks do not include when you're not there for me. Happy birthday, brother.
Have a blast on your birthday, dear brother! Oh, I do not mean an explosion (like those you used to like when we were kids), I'm only saying you should have a fun-filled birthday.
---
You may also like:
Happy Bday, Bro! – Birthday Wishes for your Brother
Tease them if you Love them : Funny Happy Birthday Quotes
Funny Birthday Wishes for your Family and Friends
Get more unique birthday wishes!
Click here for our best
birthday wishes
.