There is nothing as beautiful as waking up from sleep in the morning and receiving a very sweet good morning message from your significant other. It may not be the biggest of gifts, but the positive feelings it brings can never be underestimated.
If you are someone reading this and your aim is to spice up your relationship with your girlfriend, then pick up your phone and send her any of our beautifully written good morning quotes below. This simple gesture will not only put a smile on her face every morning, but it will also surely help in starting her day right while at the same time making her know that you truly care about her.
Inspirational Morning Quotes for your Girlfriend

Babe, whenever you wake up in the morning, like you have done right, always remember to smile because you have the greatest gift on earth. I love you, so much.
Sweetheart, as you open your eyes this morning, please forget about all the troubles of yesterday and begin this blessed day with a smile on your face. Your day shall be magical if you do that.
Good morning, my darling. As you start your day, do know that I believe in you. So please do one thing for me: Never stop believing in yourself. I love you.
It doesn't matter the odds that are against us. Our love will always conquer the world. Good morning.
The morning breeze is a reminder of your soothing hugs. The chirrups of the birds make me think about the melodies your beautiful voice when you talk. Good morning, my love.
On this beautiful day, honey, I just want to tell you that being in love with you makes life worth living. You have no idea how much you inspire me to keep going on in life. Don't ever give up because you inspire me.  Good morning, sweetheart.
Good morning, sweet heart. I am your biggest fan and will always support you in all the endeavors of your life. Together, you and I shall make all your dreams come true. I love you so much, sweetheart.
Motivational Morning Quotes for your Girlfriend

You are mine and I am yours, and that is all we need in this life to make it to the top. Good morning, my love!
Good morning to the woman of my dreams. I promise to always be there for you and protect you no matter what. Have a nice day!
Thank you for the light you have brought into my life. I wake up every morning feeling like the luckiest of all God's creations. Good morning, honey.
Wake up, sleeping beauty and feel my love in the air. I wish you a beautiful day ahead at work. Good morning, and may God grant you all the desires of your heart.
Babe, the truth is you really do not need any makeup to look astonishingly beautiful. Always remember how beautiful you are, and don't ever let anyone tell you otherwise. Good morning, sweetheart. You are the love of my life.
I am not afraid of the troubles and failures of tomorrow because I know everything will be alright as long as you love me and I love you. Good morning, sunshine.
Let's forget about the worries of yesterday and the fears of tomorrow. All we need is the love we have for each other. Good morning, baby.
It may be raining outside but we shouldn't care because our love will shelter us through it. Good morning, my sweetheart.
Romantic Good Morning Quotes for Her

Good morning, sweetheart. Every morning when I wake up from sleep, I can't believe I have found the dreams I have been chasing in a beautiful girl like you. Have a wonderful day.
I don't need an alarm clock. The thought about you alone is enough to wake me up every morning. Good morning and have a wonderful day, my sweet love.
Good morning, my beautiful one! I couldn't stop myself from thinking about you all of last night. I really can't wait to have you in my arms and shower you with kisses. Today is surely going to be a beautiful day.
Good morning, my love. I hope your morning is as bright and beautiful as your smile. I love you with every single beat of this heart of mine that resides in my bosom!
It feels great to wake up every morning to see me play Romeo and you play Juliet in real life. I love you always. Good morning, sweetheart.
Nothing feels fulfilling every morning than to wake up and realize that I am dating a damsel like you. Good morning, my love.
Good morning to the woman of my dreams. Your words are my only inspiration in life. Your arms are the safest place in the world. And your love keeps my hopes alive. Thank you for being my everything in this life.
Wishing the Queen of my heart a very beautiful day. I hope happiness and success accompany you throughout the day. I love you so much, babe.
My love, so far as we are in each other's lives, our future is always going to be bright. Good morning, and have a great day!
Good morning love! Looking forward to seeing you with open arms and sweet kisses. I miss you.
Your cozy arms are the only solution to the cold mornings. Good morning, sweetheart.
My love for you knows no good times and bad times. It is always and forever. Good morning to you, my angel.
Your smile is the only thing I need to make my day complete. I love you more than I can ever say in any language you can think of.
Behold! The Queen is up and this is to wish her a beautiful morning with lots of kisses. Love you!
Hello, my love! This is just to say that you are the first thing on my mind today. Good morning, and have a beautiful day.
Every day I talk to God I thank Him from the bottom of my heart for giving me the opportunity to meet an amazing person like you in this lifetime. You are indeed heaven sent.
I shudder to think of how my day would be like without you in it? Your love keeps me running the race of life successfully.
Here is a smile for you to start your day. You are the most beautiful and caring girl I have ever met, and I am always proud to call you my love.
Between you and this morning, I honestly don't know the one that is more beautiful. Good morning, my sweetheart. Nothing will ever change the love I have for you.
My love, as you open your eyes to this beautiful morning, do know that I consider you my biggest blessing in life. Have a wonderful morning.
My days are beautiful because they always begin with you in my thoughts. Good morning, sweetheart. You'll always be the love of my life.
I never knew what I was missing until you came into my life. I have created a special place in my heart for you, which no one can ever fill. Good morning, my love.
I wish I could be there to wake you up with kisses and a cup of coffee. I miss you so much. Good morning!
Each kiss of yours gets sweeter and sweeter with the passage of time. I promise to always help you find happiness in this life. Good morning, my dear.
There's one reason why I walk with a heart full of happiness every day. And that reason is you, my love.
I want to be with you until the day my heart stops beating. I want to be your friend and lover until the end of time.
Sweetheart, my heart, body and soul love you more than I can ever explain in English.
Good morning, my sweet love. Only you can bring me everlasting peace and happiness, and that is why I need your love desperately.
You'll be the Queen of my heart until it stops beating. Have a beautiful day, my sweet love.
Thank you for bringing unparalleled happiness into my soul. I promise to love and cherish you until the day the sun stops burning.
Babe, did you know that you are everything that is beautiful to me? All I want is for every single action of mine to fill your heart with gladness.
Nothing can ever compare to the warmth that you bring me night and day. I love you!
I wonder how a guy like me got so lucky to be blessed with an amazing woman like you. Thank you for blessing my body and soul with your amazing love.
Babe, thank you for blessing me with the only key to your heart.
Pin this post to save it for later!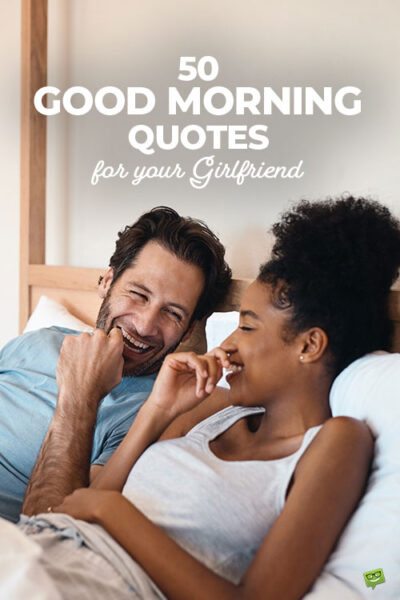 You may also like:
60 Sweet Good Morning Texts for the Woman You Love
Amazing Good Morning Quotes to Inspire a Perfect Day
Love Will Save the Day | Good Morning, my Love!
Get on the Right Track | Fresh Inspirational Good Morning Quotes for the Day