Love Will Save the Day | Good Morning, my Love!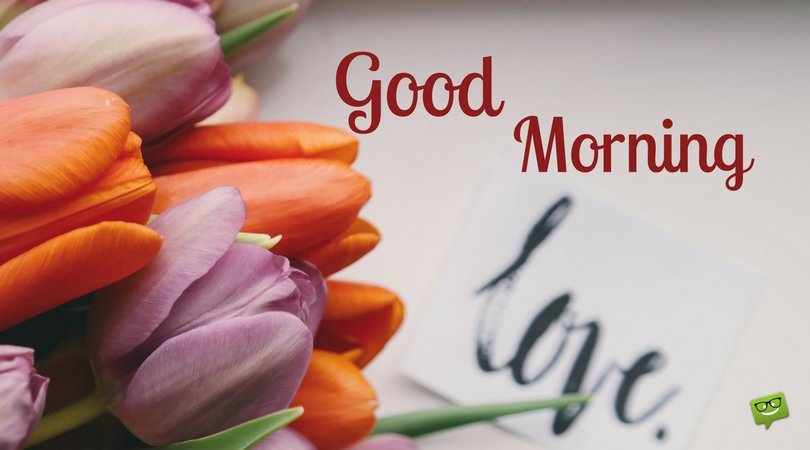 What a blessing it is to wake up each and every day. Why not spread happiness to someone you love to start their day off on the right foot? What words will you use to get your message across? Are you looking for something just for him or just for her? Perhaps something funny or cute? We have all these and many more. We have come up with greetings for everyone. We have the perfect sentiment for you to give to the one you love. They will love starting their day off with a message from you and you can enjoy knowing that they will be thinking warm thoughts of you just as their day is beginning.
The one you adore will be able to have a wonderful, beautiful day because of you! Without further ado here is our collection of good morning wishes:
---
Sweet Good Morning Quotes Just For Her
Nothing is as beautiful as seeing your face without all the war paint on it. You are naturally beautiful inside and out. Have a wonderful day, Sweetheart!
Good Morning Princess, I hope your day goes as beautiful as you are! Love, Your Dashingly Handsome Prince.
I am so lucky and blessed: you are the first thing on my mind every day! Good morning, love!
Your day will go how you decide it will go. It's all up to you! If you want a good day, decide you will have a good day. If you want a bad day, decide to have a bad day.
---
Sweet Good Morning Quotes Just For Him
Please go forth into the world with confidence and spirit! It's a brand new day so make it a great one!
Yesterday is in the past and long forgotten. Today is here and present. Make today a truly wonderful day.
Sweetheart, the sun is waking up and I must get to work. I hope you have the greatest day—taking names and kicking butt! You. Are. Awesome.
You are more wonderful than words can describe. I am so blessed I get to spend each day waking up with you by myside and every night right beside you. I hope your day goes brilliantly.
Have the happiest day full of plenty of laughter and smiles! Your smile is worth more to me than a million bucks!
Go forth taking names and kicking some butt today! You will knock whatever curve balls and challenges that are thrown at you today right out of the park!
Go forth and prosper! Today is a brand new day. It's completely up to you how it will go. As soon as your feet hit the floor, jump up and down and shout: "Hurrah! It's a great day to be alive!"
May your work day be full of all sorts of awesome today and may your evening spent at home with me include an empty inbox and a turned off phone!
Good Morning, Handsome. I hope your day goes great today. You deserve to have the best day ever!
---
Humorous Good Morning Quotes
Good Morning, Hot Stuff! You are really going to have the most amazing day today. Do you know why?! Because you're alive! Every single day you wake up should be the start of an incredible day, don't you think?
May your day be as beautiful and sweet as you are, my princess. You are my true love and I love spending our mornings and evenings together.
Good Morning! I love you more than I love my cat—which as you know is ridiculously unbelievable, right?
Good Morning, Prince Charming! I hope your day goes great! I love you more than I love our dog—I know that sounds crazy doesn't it?!
---
Cute Good Morning Quotes
You are the second best thing I look forward to seeing in the morning. The first thing is coffee. I'm sorry, I don't think you can ever replace coffee.
Sugar is sweet but you are sweeter. I hope you have a sweet day, my sweet!
You are like the wind. You blow my mind with how you can wake up so ungodly beautiful! I wish you a spectacular day.
God gave us mornings to cuddle and prepare us for the day ahead. Thank you God! This is my favorite part of the day.
Once upon a time there was a wonderful, intelligent, caring princess who fell in love with a prince. They lived happily ever after and were able to wake up every morning wrapped in each other's warm embrace.
Beautiful. That is the type of day I want you to have today. I hope your day goes smoothly and without any bumps. I'm looking forward to our evening together.
Mornings are the greatest! There is so much promise and possibility ahead of us each and every morning! We alone have the power to make our day as great or as dreary as we want! How amazing is that?! Let's make it the greatest day we've ever had!
---
Motivational Good Morning Quotes
Good Morning! I hope your exams go better than expected and your day goes absolutely fabulous. You are an incredible human being and I hope you realize that!
There is no time like today to decide how you want to live your life. Do you want to live your life under a giant shadow or do you want to jump out and make your own shadows? It's your decision!
It's such a magnificent day and we haven't even jumped out of bed yet! Let's make today the greatest day in the history of time. Are you on-board? Take a leap of faith!
Good Morning! Where do you think you'll be in 5 years? Definitely NOT in this old bed! It's time to get up and get moving! Let's light a fire under your butt! The world is your oyster!
It's time to wake up, my darling. A brilliant, new day is upon us. Whatever negative happened yesterday is no more. Everything is brand new again. Make it a positive day!
Step one is jump out of bed! Step two is hop up and down! Step three is go forth and conquer this brand spankin' new day!
You are my sunshine, my only sunshine. When a new day begins, I love beginning it in your arms! My soul is so at peace and my mind is full of promise.
Let's start this wonderful new day together. 1-2-3 let's jump out of this bed and start the day off right—with a kiss!
The best part of waking up is Folgers in my cup… and of course you by my side, my dear. Good Morning, I hope you have a great day.
Just remember that life is a like one giant mirror! If you smile and be happy, your life will be happy too! Have a great morning!
Wake up and be happy! Happiness and positivity are choices that anyone and everyone can make! Let's put on a smile and have a wonderful day!
---
You may also like:
A Laugh for Breakfast | Funny Good Morning Messages
Wake up and Seize the Day! | Positive Good Morning Images
60 Good Morning Images With Flowers
Time to Start the Day: 45 Good Morning Images
UNIQUE GIFT IDEAS
If you're looking for great presents for all budgets, we have done the work for you.
Click here for the
best birthday gifts
for friends and loved ones.
If you liked what you read, please share it. It really helps us a lot.