Acknowledging someone's birthday is one of the best ways to show that you care about them. Whether you live close enough to celebrate or want to communicate from the other side of the country, it's important to send your love and wishes on that person's special day.
With that said, finding the right words is never as easy as it seems. Birthdays only happen once a year, and you want your wish to be absolutely perfect.
To help you out, we've created this collection of birthday wishes for the vegan in your life. Feel free to alter the words to make your sentiment as personal as possible. We also recommend adding your favorite animal-themed text symbols and emojis.
Funny and Teasing Birthday Messages for Vegans
The friendly jokes will communicate how much you appreciate your vegan friend while showing that you respect and acknowledge their life's choices.
Happy birthday, friend! I hope you have a berry good time and that your party is totally nuts!
A birthday "hi" to the guy who wouldn't hurt a fly!
Today's your big day, and all the animals want to say, "Hay!"
If you thought we didn't carrot 'bout your birthday – you're wrong! Warm wishes from all of us.
Birthday jokes aren't vegan – they're all too cheesy. Happy birthday!
Today, lettuce celebrate a great friend and a true vegan. I hope your day is amazing!
Birthday cake isn't always vegan, but drinks sure are! Let's meet up later and celebrate.
Congratulations on your birthday! I had a hard time finding a vegan birthday joke that you hadn't herbivore, but I did my beet-st.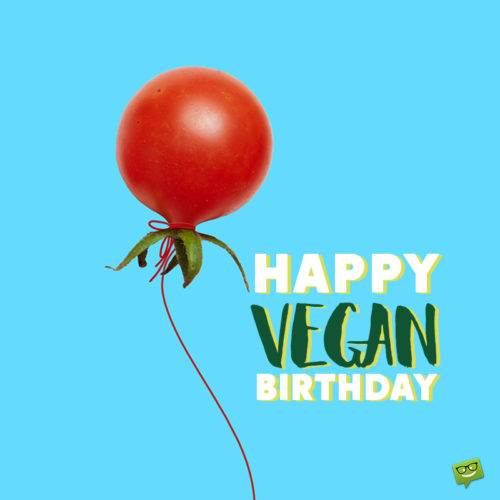 Happy birthday, how've you bean? I just wanted to lentil you know that I think you're a-maize-ing!
I wanted to cashew before the celebration so I could wish you an amazing birthday!
Why do vegans always enjoy their birthday cake? Because it doesn't try to jump off the table! Have an awesome birthday.
Salad-utations! I hope your vegan birthday is going veggie-riffic.
You might be vegan, but you should still milk your birthday for all it's worth! Best wishes to you.
Congratulations on your birthday. I hope this is the year your vegan superpowers come in!
Happy birthday, let's celery-brate until you're beet!
Inspirational and Motivational Birthday Wishes for Vegans
Being a vegan isn't easy; encourage your loved one to keep up the good work with these simple wishes.
When you're birthday comes around, I think the whole world is grateful for the person you've decided to become. Best wishes from the entire family!
You treat every life like it matters. Today, we get to tell you that you matter. I hope your birthday is absolutely wonderful.
You try so hard for the entire world; today, let us try for you. Happy birthday!
You became a vegan for the animals, and they sure seem to appreciate it. Best wishes from all of your furry and feathered friends!
Einstein was just a vegetarian, so that makes you a whole step smarter. Best birthday wishes to the smartest person I know!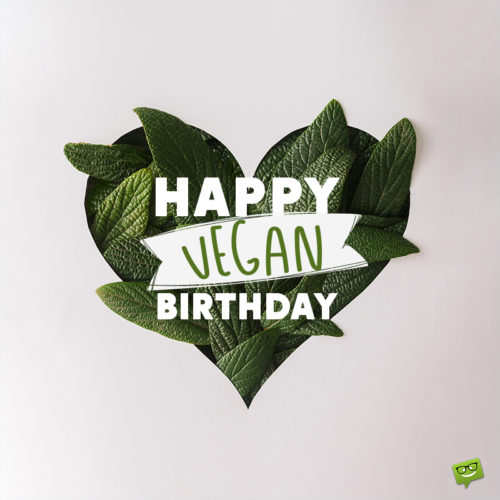 Your veganism is truly an inspiration. Keep up the good work, and have a great birthday!
As a vegan, you've probably saved the lives of 200 animals since your last birthday. That's impressive, keep it up!
No egg in your cake means no egg on your face. Good work, I hope your birthday is spectacular.
Good morning to you and all of the animals you've saved. Have a great birthday today!
I wanted to give you something amazing for your birthday because you've already given the world so much. At the very least, here's a heartfelt hug from someone who admires you.
Congratulations on your birthday! I know you're busy saving the world, but don't forget to save me some cake.
You might be a vegan, but you're also so much more. Birthday greetings to a friend who knows what life is for!
Birthday greetings to my favorite vegan friend. If Gandhi was here, I'm sure he'd be proud of your efforts.
Being a vegan isn't easy, but you sure make it look like a breeze. Have a great birthday!
It's your birthday, and I just wanted to let you know that I believe in you. Keep up the good fight!
Sweet and Cute Birthday Wishes for Vegans

Try one of these wishes when you want to say something sweet and kind to the vegan in your life.
Hoppy birthday to the sweetest bunny I know! I hope your day is a bouncing blast.
I hope your birthday is going great. Save me a slice of that egg-free cake!
Here's wishing you a pile of tasty treats and cruelty-free sweets for your birthday.
You love the animals, and we love you. Have an excellent birthday!
You're the only person I know who wants to invite the animals to their birthday party. Keep it up!
Good morning, birthday girl! The sun is shining, and so are you. I hope your cruelty-free birthday is a ton of fun!
When a vegan has a birthday, all of the animals celebrate, too. Have a wonderful birthday!
I know I joke a lot about your diet, but I'm really glad you're my friend. Happy birthday!
Best birthday wishes to one of my dearest friends. If you need help baking a vegan cake, let me know!
Can you bee-lieve that it's already your birthday? For someone who doesn't eat honey, you sure are sweet!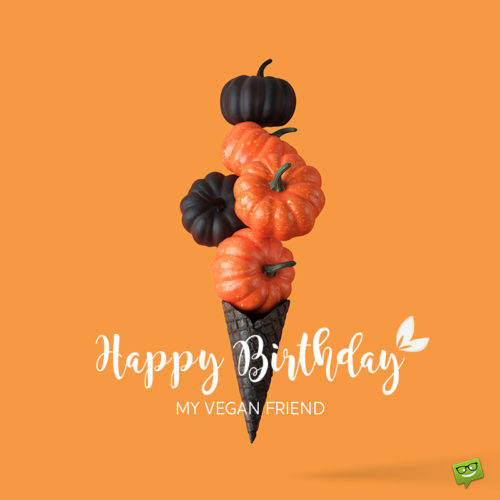 How's your birthday going? If you want to celebrate, I found a great vegan cookie recipe that we can try.
Did you know that Leonardo da Vinci went vegan? I hope your birthday is a work of art!
Here's wishing you a birthday full of soy and joy!
A kind soul like you deserves to have a wonderful birthday. We wish you all the best!
Hey there, vegan friend – I hope your birthday is a big and warm as your heart.
You May Also Like:
200 of the Best Birthday Messages to Make Someone's Day Special
10 Birthday Gifts Any Vegan Would Love!
Candles on Dog Food | Heart-Touching and Cute Wishes for a Dog's Birthday