Art in the form of painting has given us powerful visual accounts of who we are and  how we manage our feelings. When love enters this terrain it is certain that the works produced have a holding on  love-stricken Valentines and cynical souls alike. Who does not enjoy a passionate communication of love after all?
Romance, attraction or the pain of doubt, tender moments and sheering desire, here are some of our favorite works on the subject, covering a vast chronological range and offering images of love under diverse artistic eras.
---
1.
Titian – Venus, Mars and Eros after 1530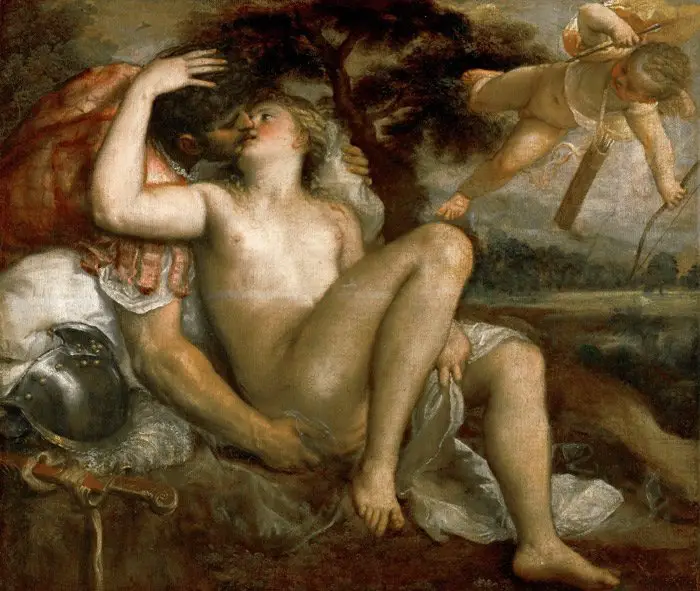 This is an early renaissance painting when mythology themes were the norm. Titian, a great master of all times has depicted an encounter between Venus and Mars, an archetypal pair of  lovers sharing an intimate moment under the approval of Eros.
---
2.
Antoine Watteau – The Surprise, 1719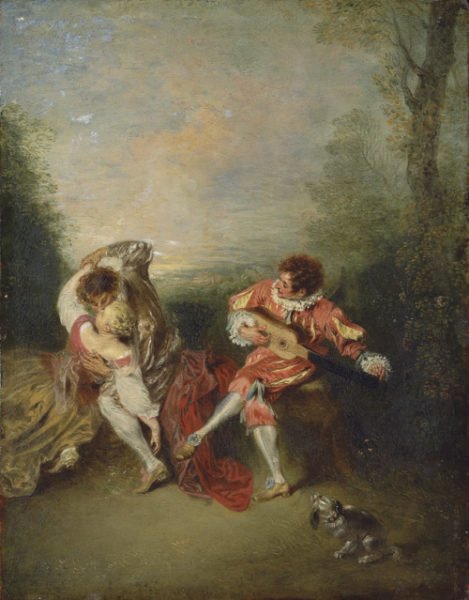 A romantic scene in a bucolic landscape with a couple engaged in each other and their love. Is it a paid musician or a friend that plays some music one step away? It makes no difference as they do not pay any attention to this third party.  The swirling movement of the two makes them look totally engulfed by a whirlwind of passion as if they will twirl around and around embraced forever.
---
3.
Dante Gabriel Rossetti – Roman de la Rose, 1864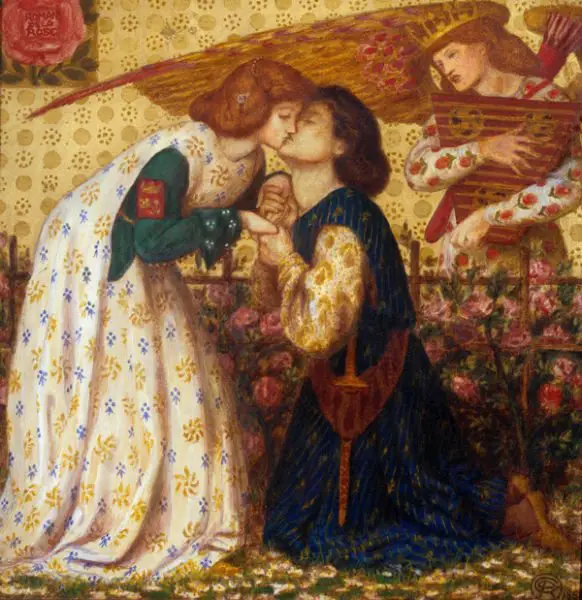 This watercolor was inspired by a thirteen century poem about love and loss. The enchanted couple  lost in their kiss, protected by an angel's wing is the eternal romance. With its rich warm colors and elaborate, glowing patterns this artwork is both delicate and fierce as is love itself.
---
4.
Henri De Toulouse-Lautrec – In Bed The Kiss, 1892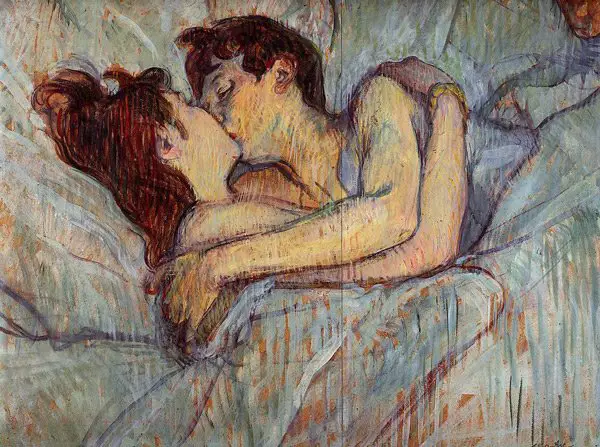 Now who does not wish to live such an intimate moment with one's beloved and cherished Valentine? And who has not wished also for this to last forever?  Rendered in the characteristic bold strokes of impressionism that make it colorful and vibrant, Toulouse-Lautrec has indeed made it eternal!
---
5.
Klimt – The kiss, 1907-8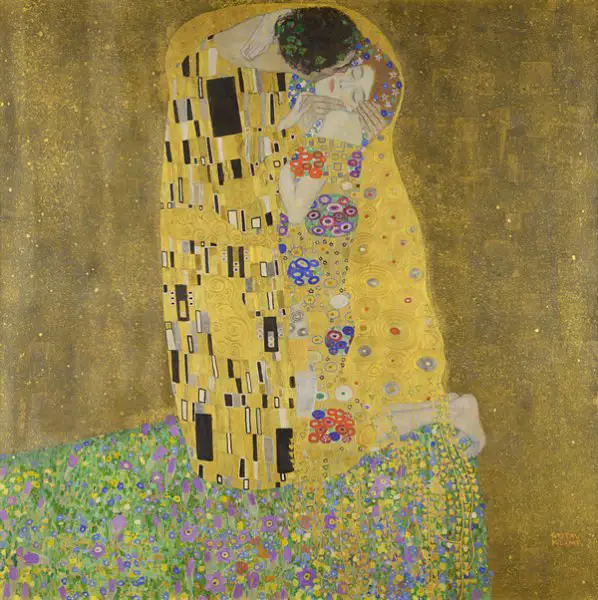 Klimt was madly in love when he made that painting that is said to depict the artist and his wife. A rich, sensuous stream of soft shapes and warm colors surrounds the embracing lovers in gold. The excessive use of gold was an allusion to the religious images and the wish of the artist to create a modern day icon, which I think he has succeeded to do.
---
6.
Egon Schiele – Lovers, 1909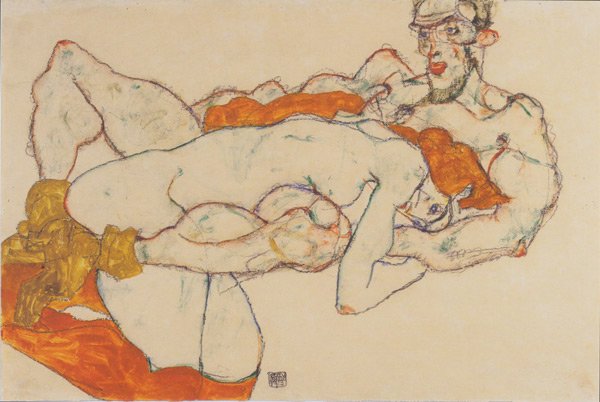 Take a passionate,  promiscuous artist, the Enfant Terrible of the Vienna art scene of the 20s and put him in the state of deep love. The outcome is a sensual, intense, almost bare-boned drawing, tinted with the desperation and the intensity that love brings to many of us.
7.
Marc Chagall – Birthday, 1915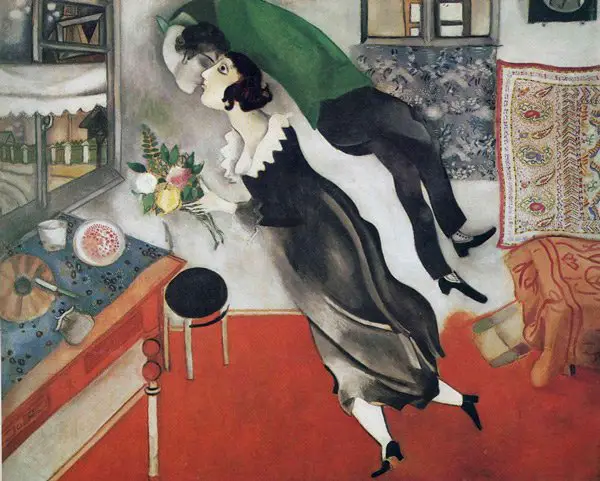 Chagall was a poetic, romantic soul. In his works the warm, intense color palette creates a magical emotional universe full of tenderness and awe! Many of his paintings and drawings show lovers with faces glued together and tilted slightly so as to find shelter in themselves and their love.  The   Birthday, allegedly depicting him and his beloved wife lips locked in a kiss, floating in the air,  might be the most emblematic Valentine painting in his oeuvre and one of the most romantic paintings ever made!
---
8.
Pablo Picasso – Lovers, 1923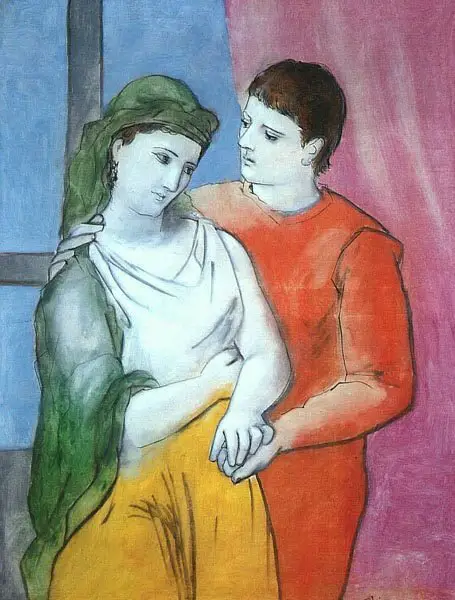 Image from http: www.pablo-ruiz-picasso.net
A notoriously selfish lover, Picasso was always involved in affairs that usually ended bitterly for the other. This painting was made when he was married to the Russian ballerina Olga Kokhlova during his neoclassical period. The loving couple fills the space, wrapped in warm, bright colours. The man looks tenderly at the woman and the image is full of harmony and balance.
---
9.
Rene Magritte – The Lovers, 1928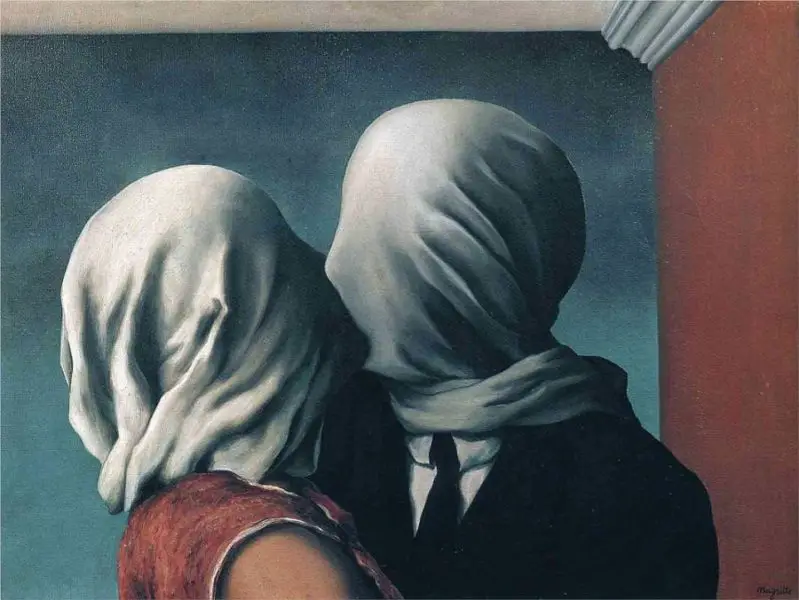 Image from https: www.renemagritte.org
Oh the enigma of this painting! Is it the distress of not being able to have the one you love, the fear of not knowing where exactly are you heading on or is it a hint at the unyielding distance between us? Whatever Magritte he had in mind the subtle charm of this painting can definitely touch upon many Valentines!
---
10.
Frida Kahlo – Diego on my mind (Self-portrait as Tehuana), 1943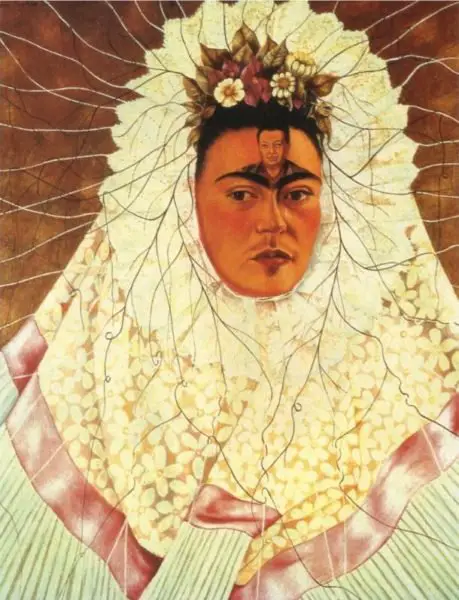 Image from https: www.fridakahlo.org
Frida fell in love with fellow painter Diego Rivera when she was 15 and  their volatile,  fierce relationship continued through their lifetime.  "I have the taste of almonds from your lips in my mouth. Our worlds have never gone outside. Only one mountain can know the core of another mountain." she wrote to him.
---
11.
Robert Indiana – Love, 1965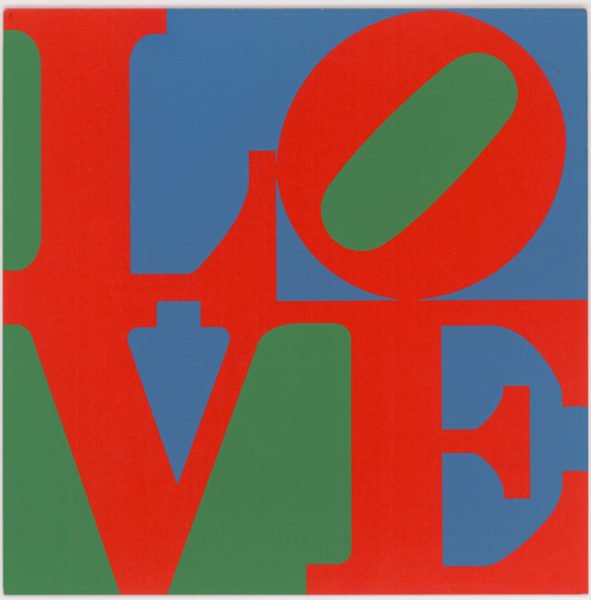 Image from www.moma.org
Originally designed as a Christmas card commissioned by The Museum of Modern Art in 1965 this has become one of the most recognizable images worldwide. Its success sits in the simplicity/complexity in the meaning of the word and its stark yet compelling presentation. This image in the short time after its making has become a sign for love that defines our era.
---
12.
Four hearts, Jim Dine, 1969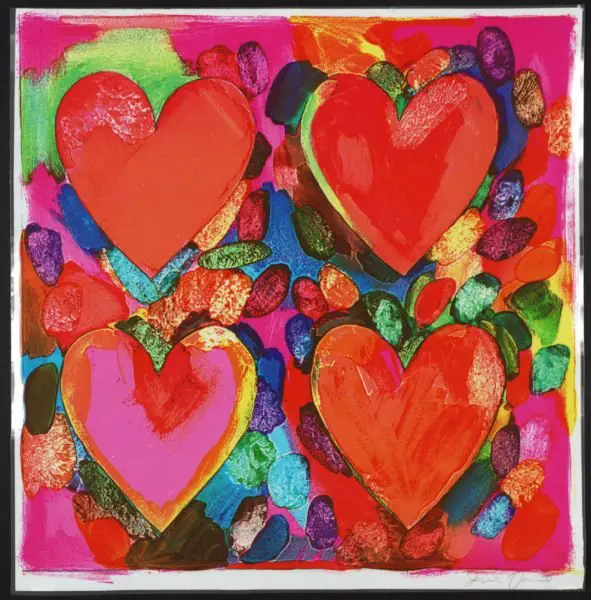 Image from  http://www.tate.org.uk
Although in the cynical premises of Pop Art Dine's body of work is held together by introspection and emotional vigor.  This is an image that has no specific story to tell or to provoke. If there a romance or not this is up to you.  Yet the colorful mood and the joyous directness of this image  cannot but remind me of the hearts we all tried to draw for our puppy loves.
---
13.
Louise Bourgeois, keep me together/do not abandon me/keep my bones together, 1990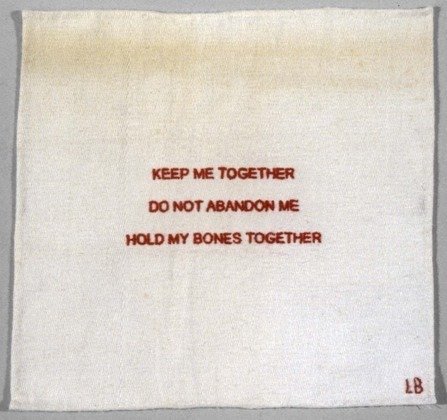 Image from holycrapyarnandstuff.tumblr.com
Louise Bourgoise is mostly known for her large scale works yet she has made a number of prints some of them in garments and household fabrics. In this small scale work she voices with intensity the emotional insecurity that goes on in the mind of a person in love. The message is written clearly in small-sized bold letters. This subtle contradiction works together with the plain red color that glows on the humble white fabric to give the phrasing an intimate, low-key but steady voice.
---
14.
Kerry James Marshall – Slow Dance, 1992-93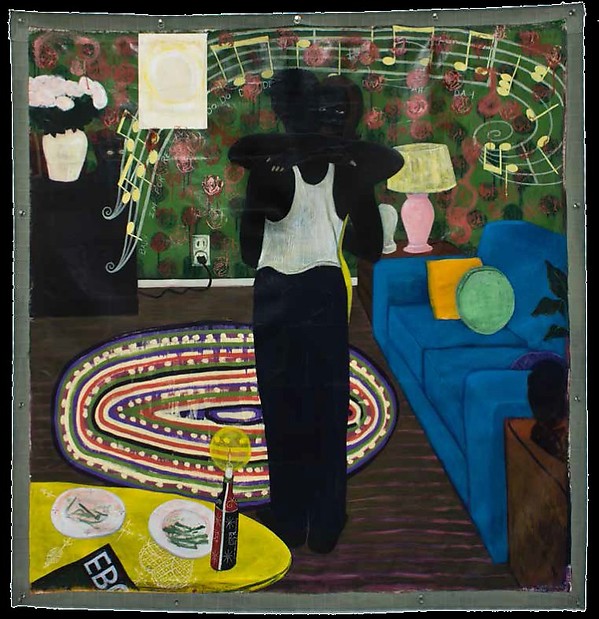 Image from www.metmuseum.org
Marshall's paintings tell a story of working-class African American life. Here he invites us to an intimate scene, a romantic cheek-to-cheek, probably an improvisation of an evening at home, slow dancing to some music with one's cherished Valentine. The low key humble interior, the informal clothing, the candle standing on a bottle, the music score crowning the scene. Yes, this certainly is a romance taken out of the stories of our times.
---
15.
Tracey Emin – Kiss me kiss me cover my body in love, 2014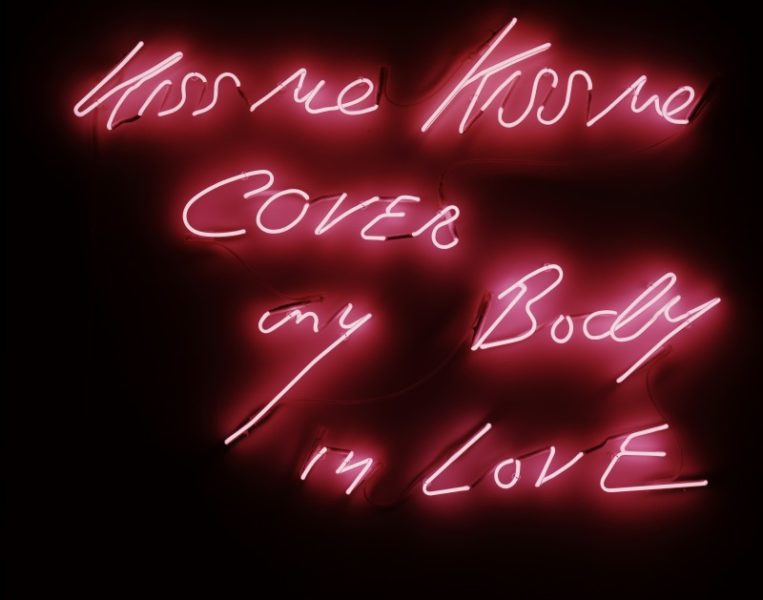 Image from www.contemporaryartdaily.com

I love how the neon lights make this work so extrovert, yet it still keeps a poetic dimension it the intimacy of the fond that is indeed Emin's handwriting. Merging a personal trait with a public sign, both speaking from the heart and in-your-face, it is a declaration of a lover's need that usually cannot be bothered with appearances.
You may also like:
100 Heart-melting Valentine's Day Quotes
You're the Peanut Butter to my Jelly | 50 Funny Valentine's Day Quotes