You were his little baby girl, so no matter how much you feel you've grown since then, you know you will always be just that for your father. From his point of view, to hear a sweet wish like Happy Birthday Dad from daughters he believes are the best in the world is a true blessing.
Go ahead and share one these birthday quotes and wishes for fathers who will surely appreciate them. Whether you feel like a woman or if you've actually become one, you will always be his little baby girl.
Happy Birthday, Dad Wishes from his Daughter
There's a special bond between fathers and their daughters that will never be broken.
It has been a while since I was baby, but I never stopped being Daddy's little girl. I love you and hope you have a fantastic birthday!
On your birthday, let me thank you for all of the hard work and sacrifice that allowed me to grow into the woman I am today. Have a happy birthday, Dad!
As the very first man in my life, you showed me how a woman should be treated by the way you cherished my mother. Thank you for being you and I hope you have the happiest birthday ever.
From the proudest daughter in the world to her adored father, if you have half as much fun on this special day as i have had on the many birthday's you have given me, it will certainly be one to remember! Happy Birthday, Dad!
Happy birthday to the man how taught me to value and respect myself.
I wish so much that I could be with you today to celebrate your birthday. Can you feel this hug over the computer? It's a big one! Have a wonderful birthday, Dad.
Mom could sometimes be a stickler but you tended to let me off the hook. Thank you, Dad. You always had my back. Have a very happy birthday!
I smile because you're my father. I laugh because there's nothing you can do about it.
Dearest Dad — you always made me feel like I could grow up and be anything I wanted to be. On your birthday, I want you to know how much I appreciated you being so encouraging. Happy birthday.
Some superheroes don't wear capes. They are called Dad. Happy Birthday!
Happy Birthday to you, Dad. Thanks for passing on the good looks to me!
I feel like the luckiest daughter in the world because I was blessed with you as my father. Hope you have a wonderful birthday!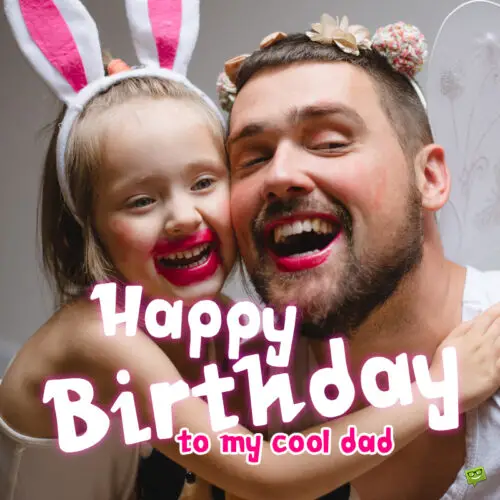 Happy Birthday Quotes for Dad from his Daughter
You can use these beautiful father-daughter quotes on a birthday card to show him how important he is too you.
You're simply the best. Tina Turner
When you're young, you think your dad is Superman. Then you grow up, and you realize he's just a regular guy who wears a cape. Unknown
When people look inside my life,
I want to hear them say
She's got her father's eyes
Her father's eyes
Eyes that find the good in things
When good is not around
Amy Grant, Father's Eyes
Behind every great daughter is a truly amazing dad. Unknown
It is admirable for a man to take his son fishing, but there is a special place in heaven for a father who takes his daughter shopping. John Sinor
Dad is and always will be my living, breathing superhero. Bindi Irwin
To her the name of father was another name for love. Fanny Fern
The bond that links your true family is not one of blood, but of respect and joy in each other's life. Richard Bach
When my father didn't have my hand, he had my back. Linda Poindexter
You may also like:
125 Amazing Happy Birthday Wishes for your Dad
I Love You Messages and Quotes for my Mother and Father
Grateful to God for Making You my Dad | Birthday Prayers for Fathers