We often like circles closing because that often means there's a new period starting ahead of us. This is exactly happens when another month starts, which is probably why so many people had so many interesting things to say about it through these new month quotes.
The beginning of a new month can be a great opportunity for some change in our lives. We might want to re-evaluate our work relationships or feel loved again in our love relationship. A new month can even be a wake-up call or a reminder that a long-postponed decision has to be made after all. If you'd like to set new goals, this is a great time to do so. Ask yourself: what is it that I want to accomplish? Even talking to someone we care about or someone who affects our life can be hard, so baby steps will lead us there.
Is this the month after a misstep or something gone terribly bad? Einstein said that failure is success in progress. Even if something didn't work, let's be grateful we can try again. There might not be a better time to do that than this new month.
New Month New Goals Quotes
Set daily, monthly and long term goals and dreams. Don't ever be afraid to dream too big. Nothing is impossible. If you believe in yourself, you can achieve it. Nastia Liukin
New month, new intentions, new goals, new love, new light, and new beginnings. April Mae Monterrosa
It's hard to beat a person who never gives up. Babe Ruth
This month, expect to be victorious, expect to win, and expect to shine. Unknown
How wonderful it is that nobody need wait a single moment before starting to improve the world. Anne Frank
Setting goals is the first step in turning the invisible into the visible. Tony Robbins
Yesterday ended last night. Every day is a new beginning. Learn the skill of forgetting. And move on. Norman Vincent Peale
When you arise in the morning think of what a privilege it is to be alive, to think, to enjoy, to love … Marcus Aurelius
The best time to plant a tree was 20 years ago. The second-best time is now. Chinese Proverb
It is never too late to be what you might have been. George Eliot
Cheers to a new month and another chance for us to get it right. Oprah Winfrey
If all you can do is crawl, start crawling. Rumi
Unexpected Quotes for a New Month
I wish you a beautiful new month from the first day of this month to the last day. J. K. Rowling
There is a miracle in every new beginning. Hermann Hesse
The beginning is always today. Mary Wollstonecraft Shelley
The beginning is the most important part of the work. Plato
The hardest arithmetic to master is that which enables us to count our blessings. Eric Hoffer
THE BEGINNING OF A NEW MONTH
A perfect time for SHIFTING things around,
Always remembering to keep your feet on the ground.
Charmaine J Forde
The first step towards getting somewhere is to decide you're not going to stay where you are. J.P. Morgan
Tomorrow is near, yet so far away. Choose this day to love unconditionally, and be happy within. Stephanie Lahart
Every day is a chance to begin again. Don't focus on the failures of yesterday, start today with positive thoughts and expectations. Catherine Pulsifer
It's never too late to become who you want to be. I hope you live a life that you're proud of, and if you find that you're not, I hope you have the strength to start over. F. Scott Fitzgerald
Just take it as a beautiful chance for you to rebuild yourself. Samiha Totanji
Be willing to be a beginner every single morning. Meister Eckhart
If you learn something new every day, you can teach something new every day. Martha Stewart
I can live for two months on a good compliment. Mark Twain
Tomorrow is another day. Margaret Mitchell
Don't look to the past with sorrow, look to the now and make it beautiful. Mimi Novic
The object of a new month is not that we should have a new month…we should have a new soul. G. K. Chesterton
Nothing in the universe can stop you from letting go and starting over. Guy Finley
No matter what happens, or how bad it seems today, life does go on, and it will be better tomorrow. Maya Angelou
Drop the last month into the silent limbo of the past and thank God that it can go. Brooks Atkinson
This day is all that is good and fair. It is too dear, with its hopes and invitations, to waste a moment on the yesterdays. Ralph Waldo Emerson
Life is overflowing with the new. But it is necessary to empty out the old to make room for the new to enter. Eileen Caddy
Some of us think holding on makes us strong, but sometimes it is letting go. Hermann Hesse
Short New Month Quotes To Caption Your Photo Posts
I am an optimist. It does not seem too much use being anything else. Winston Churchill
How different every hour is from the one before! Marty Rubin
Every moment is a fresh beginning. T.S. Eliot
The beginning is the half of everything. Greek Proverb
You got to be starting something too high to get over. Michael Jackson
Every new beginning comes from some other beginning's end. Seneca
A new month marks a new beginning and a fresh start. Winifred Kal
Write it on your heart that every day is the best day in the year. Ralph Waldo Emerson
Asking is the beginning of receiving. Make sure you don't go to the ocean with a teaspoon. Jim Rohn
Morning will come, it has no choice. Marty Rubin
No matter how hard the past is, you can always begin again. Buddha
The splendid thing about falling apart silently is that you can start over. Sanober Khan
Each month is gay, Each season nice, When eating Chicken soup With rice. Maurice Sendak
One kind word can warm three winter months. Japanese Proverb
Don't pass on your passions. Endure. Strive. Ensure. Anthony Liccione
If your ship doesn't come in, swim out to it. Jonathan Winters
If you're not getting outside of your comfort zone, then you're not growing. Chad E. Foster
You will never win if you never begin. Robert H. Schuller
Each day the world is born anew for him who takes it rightly. James Russell Lowell
Let this new month bring great miracles, new adventures, incredible breakthroughs, new visions & greater blessings for you & your beloved ones. Rajesh Goyal
Inspirational New Month Quotes To Boost Self Motivation
As we close one chapter, the pen is gradually inking up, preparing itself to write the next. Mie Hansson
Let, from this month onwards, your days become happier, fulfilling, and joyful. Rajesh Goyal
A journey of a thousand miles begins with a single step. Lao Tzu
No matter what happens, or how bad it seems today, life does go on, and it will be better tomorrow. Maya Angelou
Nothing is predestined. The obstacles of your past can become the gateways that lead to new beginnings. Ralph Blum
Learn from yesterday, live for today, hope for tomorrow. The important thing is not to stop questioning. Albert Einstein
The twelve months…
Snowy, Flowy, Blowy,
Showery, Flowery, Bowery,
Hoppy, Croppy, Droppy,
Breeze, Sneezy, Freezy.
George F. R. Ellis
Twenty years from now you will be more disappointed by the things that you didn't do than by the ones you did do. So, throw off the bowlines. Sail away from the safe harbour. Catch the trade winds in your sails. Explore. Dream. Discover. Mark Twain
Celebrate endings—for they precede new beginnings. Jonathan Lockwood Huie
One way to keep momentum going is to have constantly greater goals. Michael Korda
You have to participate relentlessly in the manifestation of your own blessings. Elizabeth Gilbert
Today a new sun rises for me; everything lives, everything is animated, everything seems to speak to me of my passion, everything invites me to cherish it. Ninon de L'Enclos
Good character is not formed in a week or a month. It is created little by little, day by day. Protracted and patient effort is needed to develop good character. Heraclitus
Time has no divisions to mark its passage, there is never a thunder-storm or blare of trumpets to announce the beginning of a new month or year. Even when a new century begins it is only we mortals who ring bells and fire off pistols. Thomas Mann
Every beginning has an ending. Don't let the goodbye scare you from starting the best story of your life. Dawn Lanuza
Each new day is a blank page in the diary of your life. The secret of success is in turning that diary into the best story you possibly can. Douglas Pagels
Lift up your eyes upon
This day breaking for you.
Give birth again
To the dream.
Women, children, men,
Take it into the palms of your hands.
Mold it into the shape of your most
Private need. Sculpt it into
The image of your most public self.
Lift up your hearts
Each new hour holds new chances
For a new beginning.
Maya Angelou
Do you Like it? Pin it!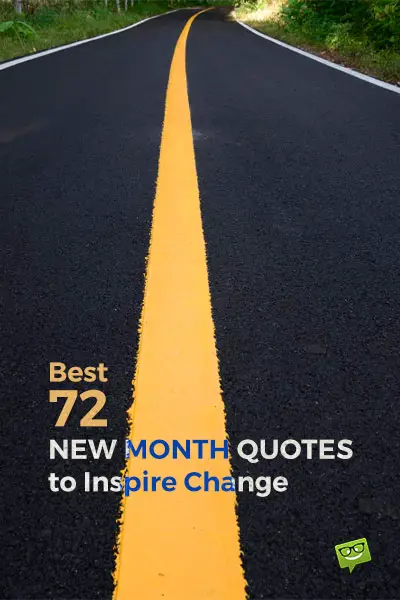 You May Also Like:
70 Empowering Good Morning Quotes for Inspiration And Positivity
84 Motivational Good Morning Quotes to Get Through Your Work Day