Australia Day, also referred to as Foundation Day or Straya Day, is one of the most important annual celebrations in Australia since it is the nation's official national day.
It commemorates the anniversary of two major events in the history of Australia: the arrival of the first British ships (the First Fleet) at Port Jackson (also known as Sydney Harbor), New South Wales in the year 1788 and the raising of the Union Jack (the flag of Great Britain) at the Sydney Cove harbor in Port Jackson by the first Governor of New South Wales, Arthur Phillip. Simply put, Australia Day celebrates the first European settlement in Australia.
When is Australia Day?
It is celebrated on the 26th of January every year. The 26th day of January was chosen because it happens to be the exact date the First Fleet entered Port Jackson in 1788.
Australia Day Quotes
In honor of this very important day in the history of Australia, we have provided you with some truly beautiful Australia Day quotes. We hope you can use these quotes in adding more meaning, excitement and fun to your celebrations this year.
Today, let us drink and make a toast to peace and the betterment of our great country. Wishing a very happy and prosperous Australia Day to you!
Wishing you marvelous and dazzling moments as you peacefully commemorate Australia Day today. Have a blissful holiday!
I hope you relax, have fun and feast with your loved ones as we all come together to celebrate another year of making our nation a better place to be. Wishing you an incredibly joyful Foundation Day!
As you celebrate this holiday, remember that Australia is counting on you to make it the greatest nation on earth. Good luck, and have a happy Foundation Day!
Raise the flag of this great nation as high as possible and let the world know how happy you are to be in Australia. Happy Straya Day!
I hope you feel blessed and privileged as you celebrate this special day in our beloved nation's history. Wishing you a truly exciting Foundation Day!
I salute you for your immense contribution to the pride and betterment of our state. Enjoy your Australia Day with love and happiness in your heart!
As you celebrate this year's Straya Day, it is my hope that you don't forget all the sacrifices made by millions of Australians over the years to make this state a spectacular one. Happy 26th January!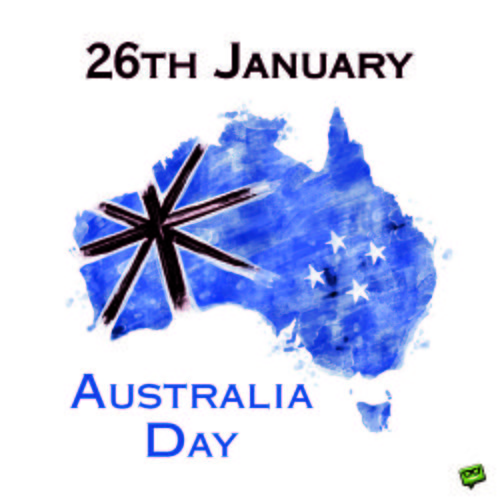 Happy Foundation Day! Thanks to lovely and amazing people like you, this nation is what it is today. I hope that you cherish every single moment of this holiday.
Never forget that your toil and those of other Australians are all that is needed in building a peaceful and robust nation for all. Happy Foundation Day!
I am sending you a bunch of blessings on this special holiday. Enjoy Straya Day in great joy and peace!
It is my solemn prayer that each and everyone will come together to make this nation a happier and more prosperous one. Wishing you a splendid Australia Day!
As we celebrate Australia Day today, let nothing stop you from raising our dear country's flag so high and with so much pride. Wishing you a happy holiday!
From someone who is forever proud to be Australian, I wish everyone a warm and beautiful Straya Day.
Here's to a cheerful Australia Day! I hope this extraordinary day reminds you of how blessed you are to be a citizen of the most wonderful nation on earth.
Wishing you and your family a fun-filled and an unforgettable Straya Day. May your happiness know no boundary!
Happy Anniversary Day to you! May your day be an exciting one filled with feasting and merrymaking.
Today is the day to cherish this great nation and feel so proud to be part of it. Wishing you a glorious Australia Day!
Being part of such an amazing nation like this is a great blessing and something we should all treasure. Happy Foundation Day!
Hopping for a more prosperous Australia as we all come together to celebrate this great day in our history. Wishing you all a fabulous Foundation Day!
Fellow Australians, let us all appreciate the strong and beautiful bond that exists between us and pray that this bond will last forever. Enjoy your holiday!
Wishing all proud Australians a joyful Stray Day! May God forever bestow blessings upon blessings on this great nation of ours.
Happy Australia Day, everyone! Let us all come together and work relentlessly to make our land a very successful and peaceful one.
Happy Straya Day! We should all be proud and happy that we live in the most blessed country in the world.
May peace and happiness be abundant throughout every corner of the nation and may these precious gifts last forever as we commemorate Australia Day today.
As we celebrate this special day, we should all thank the Lord for making this nation great and strive hard to make it greater and stronger. Happy Australia Day!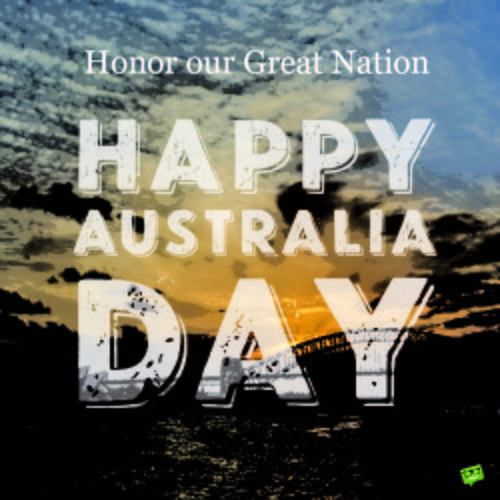 There are no boundaries or limits on what we can achieve as a country if we all come together to work towards one goal, which is making Australia the greatest nation on the planet. Wishing you a peaceful Foundation Day!
Let us pray for a brighter and a glorious future for our lovely nation as we mark Australia Day today. May God abundantly bless Australia.
Happy Australia Day to you! As we mark this special moment in our history, it is my greatest wish that peace, joy, and success will forever surround this great land of ours.
Let us all join hands together to move this state forward and make it the most powerful and successful country on earth. Wishing you an awesome Australia Day!
As citizens of this great land, let us promise to strive to make this land a better, stronger and a more prosperous one. Happy Australia Day!
If you are from the land Down Under, you have no reason not to be proud of who you are! Wishing you a fantastic Straya Day!
On this day of great celebration, let us remember to salute all our heroes and heroines who have fought for the betterment and greatness of this land. Happy Australia Day!
We shall be successful as a country if we unite and work together towards one common goal – putting Australia first. Have a peaceful and lovely Australia Day!
We have a great culture, a beautiful nation, and above all, we all are a bunch of lovely people. What more could we ask for from the universe?! Today, I entreat you to celebrate being Australian to the fullest. Have a fabulous Straya Day!
---
You may also like:
International Women's Day Quotes | Girl Power
It's Friends That Count! | International Friendship Day Wishes
On Empowerment and Vision | 10 Paintings for International Women's Day