The International Women's Day (IWD) recognizes and celebrates the remarkable economic, political, cultural and social achievements women have chalked over the years, we have compiled a list of original and profound Women's Day quotes.
You can send any of these beautiful and highly empowering quotes to any girl or woman in your life to make this great day even more special for her.
Table of Contents
When is International Women's Day?
The International Women's Day is celebrated annually on the 8th of March.
History of International Women's Day
After the Socialist Party of America organized a Women's Day in New York City on February 28, 1909, German revolutionary Clara Zetkin proposed at the 1910 International Socialist Woman's Conference that 8 March be honored as a day annually in memory of working women.
The day has been celebrated as International Women's Day or International Working Women's Day ever since. After women gained suffrage in Soviet Russia in 1917, March 8 became a national holiday there. The day was then predominantly celebrated by the socialist movement and communist countries until it was adopted by the feminist movement in about 1967.
The United Nations began celebrating the day in 1975, but commemoration of International Women's Day is still largely ignored in several parts of the world.
Inspirational Quotes for International Women's Day
We need to reshape our own perception of how we view ourselves. We have to step up as women and take the lead. Beyoncé
I am grateful to be a woman. I must have done something great in another life. Maya Angelou
Well behaved women rarely make history. Eleanor Roosevelt
I would always rather be happy than dignified. 
I have learned over the years that when one's mind is made up, this diminishes fears; knowing what must be done does away with fear. Rosa Parks
A girl should be two things: who and what she wants.
Let us leave pretty women to men with no imagination.
Each time a woman stands up for herself, without knowing it possibly, without claiming it, she stands up for all women.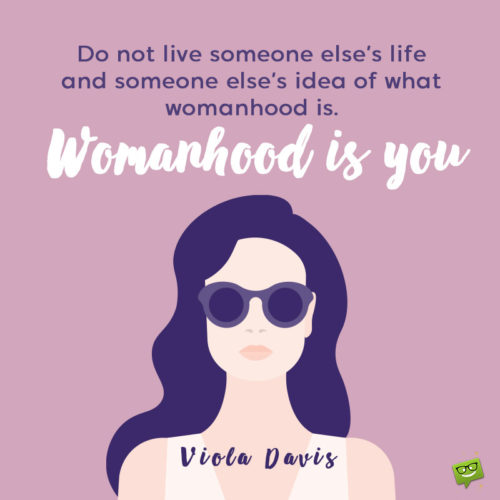 Rock bottom became the solid foundation on which I rebuild my life. J.K. Rowling
Why are women… so much more interesting to men than men are to women?
Love, the poet said, is woman's whole existence.
Better to be strong than pretty and useless.
I am not free while any woman is unfree, even when her shackles are very different from my own. A
No woman should be told she can't make decisions about her own body. When women's rights are under attack, we fight back. Kamala Harris
No woman can call herself free until she can choose consciously whether she will or will not be a mother.
One is not born a woman, one becomes one. Simone De Beauvoir
…her wings are cut and then she is blamed for not knowing how to fly.
Being a woman is a terribly difficult trade since it consists principally of dealings with men.
Women are the real architects of society. Cher
I'm not going to limit myself just because people won't accept the fact that I can do something else.
How wrong is it for a woman to expect the man to build the world she wants, rather than to create it herself?
I hate men who are afraid of women's strength.
Men are from Earth, women are from Earth. Deal with it.
What would men be without women? Scarce, sir…mighty scarce.
Whisky, gambling and Ferraris are better than housework.
There is a special place in hell for women who don't help other women.
The most courageous act is to think for yourself. Aloud. Coco Chanel
It is difficult for a woman to define her feelings in language which is chiefly made by men to express theirs.
I'm neither a man nor a woman but an author.
Woman is the light of God.
I'm tough, I'm ambitious, and I know exactly what I want. If that makes me a bitch, okay.
The most alluring thing a woman can have is confidence. Beyoncé
As soon as I had enough agency in my life to grow up, I became who I am. Janet Mock
No one can make you feel inferior without your consent. Eleanor Roosevelt
We still think of a powerful man as a born leader and a powerful woman as an anomaly.
If women are expected to do the same work as men, we must teach them the same things. Plato, The Republic
In politics, If you want anything said, ask a man. If you want anything done, ask a woman.
Do not live someone else's life and someone else's idea of what womanhood is. Womanhood is you. Viola Davis
Feminism is the radical notion that women are human beings.
A feminist is anyone who recognizes the equality and full humanity of women and men.
Feminism isn't about making women strong. Women are already strong. It's about changing the way the world perceives that strength. G.D. Anderson
When a woman becomes her own best friend life is easier.
Male domination is so rooted in our collective unconscious that we no longer even see it.
I think women are foolish to pretend they are equal to men, they are far superior and always have been.
Where there is a woman, there is magic. Ntozake Shange
To call woman the weaker sex is a libel; it is man's injustice to woman. If by strength is meant brute strength, then, indeed, is woman less brute than man. If by strength is meant moral power, then woman is immeasurably man's superior. Has she not greater intuition, is she not more self-sacrificing, has she not greater powers of endurance, has she not greater courage? Without her, man could not be. If nonviolence is the law of our being, the future is with woman. Who can make a more effective appeal to the heart than woman? 
Happy International Women's Day!
Wishing a glorious Women's Day celebration to one of the most outstanding women I've ever known. Dearest, I'm truly blessed to have encountered you in this lifetime. Enjoy your day.
Women are God's representatives on earth – there's no two ways about it! Happy Women's Day!
For your extraordinary contribution in making the world a wonderful place, women deserve all the happiness in the world. May you experience happiness on this great day and on all your days on earth. Happy International Women's Day!
Today, I join the rest of the world in celebrating your matchless contribution to the betterment of this world. Happy Women's Day to all the beautiful and hardworking women of the world. You are the true definition of greatness.
May the extraordinary beauty you bring into the universe reside in your life forever. Happy International Women's Day.
As you observe this year's International Women's Day, take pride in the knowledge that I am your number 1 fan who will always support and be there for you whenever you need me. May this great day empower you the more to chase after your dreams and aspirations.
Woman, without you, there would be no beauty in this world. And what a beautiful place you have transformed this world into with your presence. Enjoy this special day set aside for you with a heart filled with pride and happiness knowing that this world would be nothing without you.
Today is your day, and I wish you all the happiness in the universe. Thank you for bringing sunshine into this world. Happy Women's Day.
As we mark your day today, know that we are solidly behind you all the way. Have a beautiful day!
Without women, men would be absolutely nothing. Thank you for all your sacrifices and efforts in making this world a better place.
Woman, today, I reaffirm my promise to love and treat you with respect all the days of my life, for you are my backbone and life. Happy International Women's Day.
Personally, I think women are the reason God hasn't destroyed the world yet. Women are the reason God still has faith in mankind. I want to use this special day to thank all women for saving mankind. Happy Women's Day!
Woman, thou art the epitome of wonderful. Happy International Women's Day.
Being the last of God's creations makes women the most special of creations. Happy Women's Day.
Sweet woman, you're the most precious gem in the universe. Never forget that. Have a beautiful Women's Day.
There are no words to describe your importance in this world. Without you, the world would have been an absolutely inhabitable place. Happy Women's Day to you!
Today is your day. Celebrate this day knowing that I appreciate ever single sacrifice that you have made to bring sunshine into my world. Without you, there would be no happiness and peace in life.
You are one of the brightest and most beautiful stars in my life. Happy Women's Day, sweetheart.
Wishing you oceans of happiness as you celebrate this Women's Day. You are truly an extraordinary woman, and as such you deserve the most extraordinary blessings from above.
A woman is God's most precious creation; love her and God will smile on you all the days of your life.
Wishing all the wonderful women of this world a fabulously Happy Women's Day. Without you, this world can never ever be complete. We love you endlessly.
This is your day, my dear! I will swim the deepest sea and climb the highest mountain just to put a smile on your face because you a phenomenal woman. Every day I feel so blessed and proud to have someone as astounding as you in my life. Happy Women's Day, my precious one.
To the Queen of my heart and the most wonderful woman in my life, I wish you a glorious Women's Day. May the heavens bless you with endless joy and make all your days golden.
Dearest woman, you make every moment on earth truly magical. Happy Women's Day.
Wishing a very Happy Women's Day celebration to the most wonderful woman in my life. My world is an amazing place to be in because of you. I hope your day is as beautiful as the beauty you bring into my world.
Never doubt yourself for a second, for you are programmed with the DNA of a conqueror. Happy Women's Day.
Wishing you a super duper Happy Women's Day. May this special day be just like you…really wonderful!
Despite all the adversities in your way, you still illuminate the world with your amazing light. If that is not phenomenal, then I don't know what is. May you forever keep dazzling mankind with you unrivalled strength and love. Have a truly wonderful Women's Day celebration.
My warmest greetings to you on this Women's Day. What better day to celebrate you and tell you how honored I am to have you in my life than today. Enjoy every second of this special day.
A happy Women's Day to a wonderful woman who is perseverant, courageous and totally confident in herself. You are gifted beyond description. I'm totally honored, blessed, privileged, and proud to know you.
Because of you, I still have faith in humanity. I will love you until the sea becomes dry. Happy Women's Day.
Today, I appreciate and honor you for all the wonderful things you have done. May God bless and strengthen you throughout this remarkable journey of yours. Happy Women's Day.
I don't need fortune or fame when I have a wonderful woman like you in my world. You make every single moment of my life fabulously amazing, and I can't thank you enough for that. I hope you have the happiest Women's Day ever!
You are a strong, loving and independent woman. Words can't begin to express how privileged I feel knowing that I have someone as wonderful as you in my life. May this day clothe your life with God's greatest treasure – true happiness. Have an amazing Women's Day.
You may also like:
On Empowerment and Vision | 10 Paintings for International Women's Day