Your birthday is a special time for reflection, appreciation, and celebration. On this day, birthday affirmations can be a powerful tool for you to set positive intentions and help you feel hopeful and optimistic about the year ahead. By making reassuring statements or declarations to yourself, you empower and uplift yourself, reinforce positive beliefs about you and your life, and celebrate the person you are.
Birthday affirmations are an invaluable tool that you can use to redirect your attention away from negative thoughts and towards self-compassion, gratitude and positivity. They can provide strength in times of difficulty, helping you to stay focused on your goals despite any obstacles that may arise and serve as a constant source of motivation and inspiration as you continue your journey towards personal growth and development. Furthermore, they can help to develop a sense of empowerment, potentially leading us on the path towards our best life.
Finally, don't forget that birthday affirmations can be tailored to specifically fit your unique needs and goals. Whether it is promoting self-love and appreciation or setting practical goals for the future, they can help you find your own way towards achieving true fulfillment in life. Use them to find courage and strength to create your best life yet!
So take a moment to honor yourself today by reflecting on your accomplishments and aspirations with the help of the following birthday affirmations. Celebrate your big day with confidence, optimism, and joy!  Happy Birthday! ​​
Powerful Birthday Affirmations about Self-Love and Self-Acceptance
The following strength-giving affirmations can help you with self love and self acceptance by reminding you of your worth and encouraging you to focus on your strengths and positive traits. These affirmations can help shift the focus away from self-criticism and towards self-appreciation, fostering a more positive and accepting mindset.
I am valuable and will fully embrace my individuality. I am enough just as I am and will not compare myself to others.
I choose to let go of negative self-talk and will focus on positive thoughts about who I am and what I can do. Here's to another year of growth, happiness, and abundance.
I forgive myself for past mistakes and will focus on living in the present moment.
I embrace my unique qualities and talents and am proud of who I am.
I am worthy of love and I will start by loving myself and treating myself with kindness, compassion and understanding.
I am worthy of a wonderful and wholesome life filled with joy and will use my strengths and all my abilities to achieve it.
On this special day, I embrace all the highs and lows that come with life and choose to live with a positive outlook and open heart accepting me and whatever life throws my way.
I am confident that I can handle whatever life throws my way and trust that good things are on the horizon.
If you enjoy this post, also check our collection of  100 I'm Proud Of Myself Quotes and Captions To Celebrate Your Success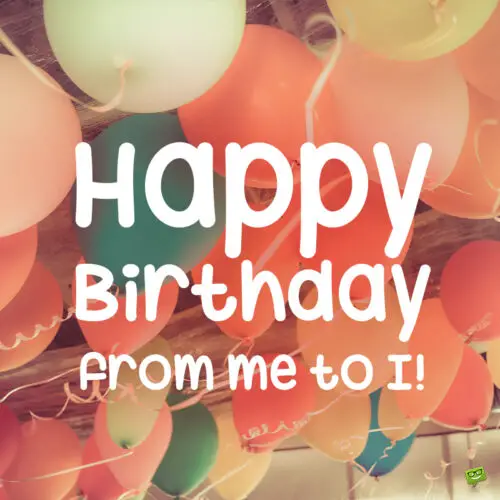 Celebrate With Positive Birthday Affirmations about Personal Growth and Development
On my birthday, I celebrate my achievements and the good I bring to the world. I'm filled with love and positivity, and trust in the return of good karma.
I accept my flaws and imperfections and will work on self-improvement, but not perfection.
As a human being, I have the right and the power to create my own destiny full of great life experiences and will live my life in a way that promotes this right for everyone else.
I am proud of my journey and will continue to grow and evolve as a person.
I have great faith in my abilities and am confident that hard work and dedication will help me reach my full potential.
I am determined to live life to the fullest and will make the most of every opportunity that comes my way.
Every day, I open myself up to new opportunities and remind myself that joy waits within them all!
I am financially free and I will use my resources wisely to achieve my goals.
With a few recent successes under my belt, I'm feeling mighty motivated to tackle whatever comes next. Ready or not world, here I come!
I know there are tons of possibilities out there and I'm ready for whatever comes my way. Bring it on, universe.
On my birthday, I wish for a long and healthy life filled with joy, love, and adventure.
Related: Happy Birthday To Me! | 102 Birthday Wishes for Myself
Affirmations To Help You Enjoy Your Best Birthday Day Ever
Today is my birthday and I am grateful for another year of life. I choose to focus on all the positive things in my life and trust that this year will be filled with endless opportunities for new accomplishments and personal growth.
I will spend time with loved ones on my birthday and cherish the memories we create together. I will avoid negative people who make me feel like I'm not enough.
Self-reflection is a powerful tool and I will use my birthday to reflect on my progress and set new goals.
I deserve comfort and will make self-care a priority on my birthday and beyond.
Personal development is a lifelong journey and I will use my birthday as an opportunity for growth.
Today, I celebrate being blessed with a wonderful year and all the people in my life that have helped me along the way.
On my birthday I am reminded of the few people in my life who have been with me through thick and thin and I'm grateful for their presence in my life and the positive impact they have made on me.
You will love our collection of  Funny Happy Birthday Images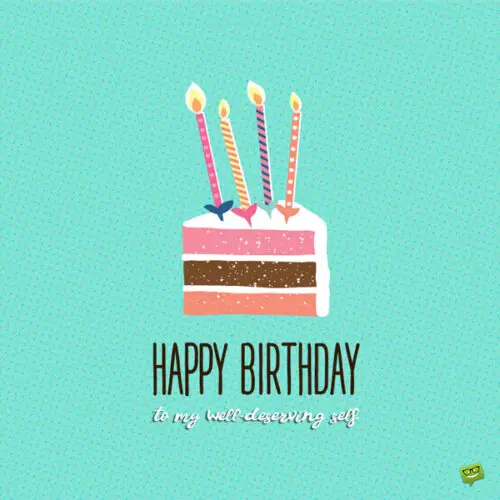 Inspiring Birthday Affirmations About Physical and Mental Health
Positive affirmations can play a crucial role in promoting both a long and healthy life, as well as overall mental and physical health. Regular practice of affirmations like the ones below, can help you to build resilience and improve your mental and emotional well-being, contributing to a more fulfilling and satisfying life experience. In other words, focusing on affirmations related to wellbeing can help you to support a healthier lifestyle and promote a long and happy life.
I am deserving of happiness and will make self-care a priority.
I will prioritize my own well-being and healthy life, without feeling guilty.
I prioritize my mental health and am committed to surrounding myself with positive energy and people who make me feel good about myself and value me for who I am.
I am grateful for my physical health and am determined to take care of it every day.
I commit to taking care of myself and being in great shape on this birthday and beyond.
Inner peace is a priority for me and I am dedicated to finding balance and serenity in my life.
I choose to be surrounded by loving relationships and wonderful family members who accept me for who I am. I am thankful for their love and support and look forward to continuing to grow and make memories together.
On this birthday, I am grateful for my good health and the great shape of my body. I am thankful for all that it allows me to do and I am committed to taking great care of it.
You will also like our collection with It's My Birthday Month Quotes and Memes
Uplifting Birthday Affirmations to Ignite a Spirit of Gratitude
On your birthday, it may be useful to focus on all the good things in life and one way to do it is by reciting affirmations. As you celebrate today, you might want to take a moment to reflect on everything you're grateful for and proud of. Let's do this!
I am blessed to have another year to experience life to the fullest surrounded by people I love and make the most of each and every moment.
I find joy in the simple things in life and am grateful for all the blessings I have received in the past year.
I'm so thankful for all the amazing people and moments in my life. I will stay optimistic despite any obstacles that may come up and keep a positive outlook because I am grateful for all that I have and know that each day brings new opportunities for growth and joy.
I'm thankful for another birthday, another year of life and all the ups and downs that come with it. I'm excited to keep growing, trying new things, and making the most of every moment. Here's to a positive and grateful mindset!"
I am grateful for this special day that marks another incredible year of my life. I open myself up to new adventures and accept that I am blessed enough to have them.
Life is a gift and I am committed to making the most of every moment.
I look forward to each enjoyable day that lies ahead and remind myself to stay humble and thankful for everything life offers me.
I embrace this new year with open arms and trust that it will be a blessed year filled with love and many opportunities to discover new things and meet amazing people.
On this birthday, I am determined to stay focused on my goals and have faith in myself to reach them.
Pin this post to save it for later!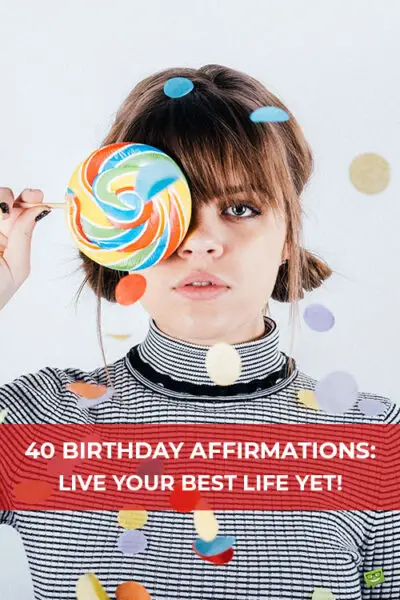 You May Also Like:
Birthday Prayers for Myself | Thank God for Another Birthday!
30 Captions for Blowing Out Birthday Candles To Set Fire To Your Instagram Feed
Blessed with Limitless Happiness | Christian Birthday Wishes and Bible Verses for Birthdays
40 Perfect Captions for Your Birthday Weekend Instagram Posts