Do you ever know you want to say something, but can't quite put your emotions into words? Our hearts tell us so many things, but many times they are almost supernatural. Love is deep and so strong that it has its own language. Below, you will find a list of love quotes to use on your sweetheart when the mood strikes. Some are extremely thoughtful while others bring in a bit of humor. Use a quote individually or in combination for the perfect impact to express your love.
Unique Love Quotes
I love you. Sometimes, I wonder if I say it too much and overwhelm you with my feelings. Other times, I worry I am not saying it enough and you may think my love has faded. I don't know which is right, so I pray to land in the middle and let you know the simple truth. You are loved and free.
Loving you is a mission God has put me on for a lifetime. There have been bumps and changes along our route, but the journey itself is beautiful.
Before you, I didn't know what true love could be. I now know its beauty and its depth. Loving you gives meaning to my days.
L.O.V.E. Leading Onward, Viewing Eternity.
I want you to know you are valued, respected, and free to be yourself. This is how I show you my love.
Love is knowing that no matter what circumstances come our way, we will endure them together.
Without you, I would be single.
Our time together has been, is, and will always be full of unbelievable memories. Good memories = great love!
Just as the sun rises every morning, so does my love for you continue into eternity.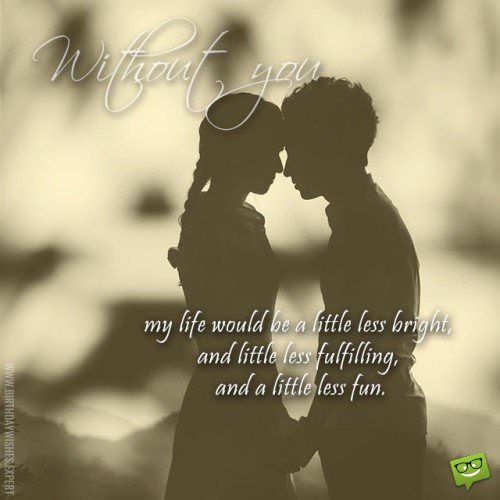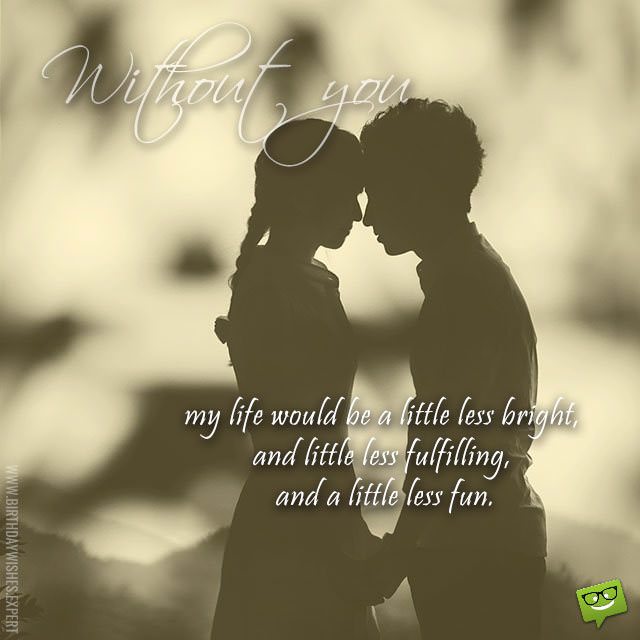 Original Love Quotes for Him
Loving a man like you is like laying on the beach letting the tide wash upon me. Your love covers me in warmth and washes my soul clean.
While life has given us challenges to face, you have shown me the strength of your leadership and depth of your love.
I don't love you for mowing the lawn or painting the house. I don't love you for washing the car or walking the dog. Those things are appreciated, but the real reason for my love is simply because of you. And, for you my love will never fade.
Like a good wine, I can't get enough of you!
Just as everything is better with ketchup, my days are better with you!
Diamonds and perfume, a vacation and spa. Who needs these when loving you leaves me in awe?
You are the man of my dreams. Here's hoping you know what that means!
I prayed for you for many years. I never though those prayers would come true. Yet, here you are, perfect in every way and appreciated in a way I cannot explain.
You make me feel beautiful, inside and out.
Without you, my life will be a little less bright, and little less fulfilling, and a little less fun.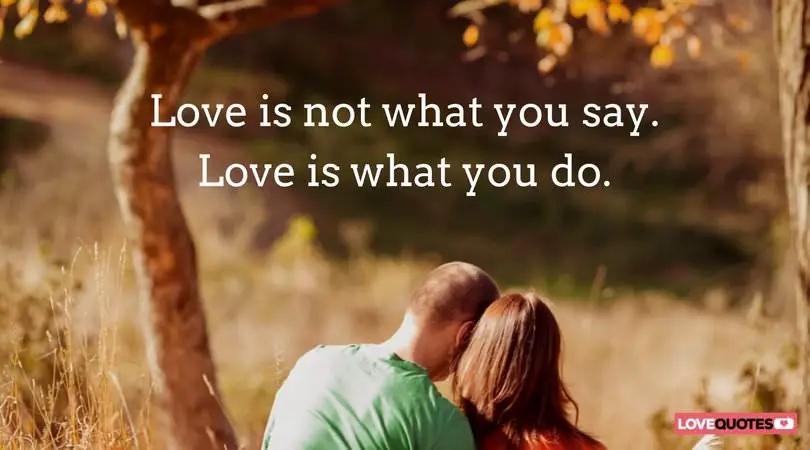 As a grasshopper jumps from patch to patch, so our love jumps from day to day. Let our love endure forever.
The day I met you, I knew my prince had come. The skies opened up and the angels sang.
When our lives met, the heavens rejoiced.
Because of you, I am able to freely shine like the brightest jewel in the world.
A soulmate, confidant, and protector. I couldn't ask for more in you, my love.
I am more than lucky to be with you, I am blessed.
There is no other man I would rather look good for than you!
Your smile gives me shivers, the good kind!
Loving you is better than a day full of shopping and the finest wines.
You are my knight in shining armor, protecting me always while reflecting the sun's rays in my direction.
I love you. No words have truer or deeper meaning than those.
Having you in my life is like having the top pitcher on my team. You know the best strategies to use to meet our life's goal.
Love is knowing that you will always be by my side, even when I am falling down laughing at you!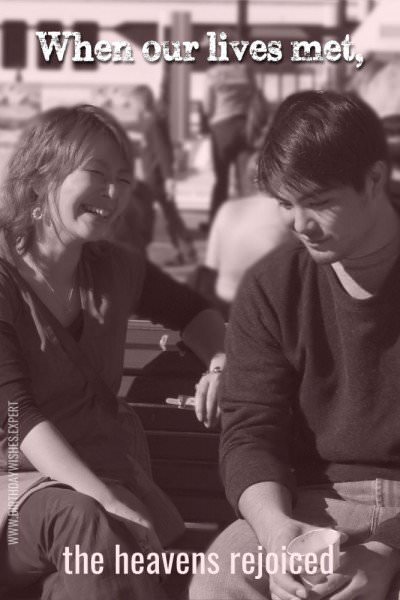 Love Quotes for Her
I am always and forever here, loving you into eternity and beyond.
You lighten my heart, quicken my step, and make worthwhile all of my days. You are my soul.
Let me treat you like a queen, lavishing upon you words of love and affection, buying you the rarest of jewels, and driving you in a shining carriage.
You are my friend, lover, soulmate, and queen. You satisfy every desire of my heart.
Reach out your hand and hold mine. I will lead you to safety, love, and passion.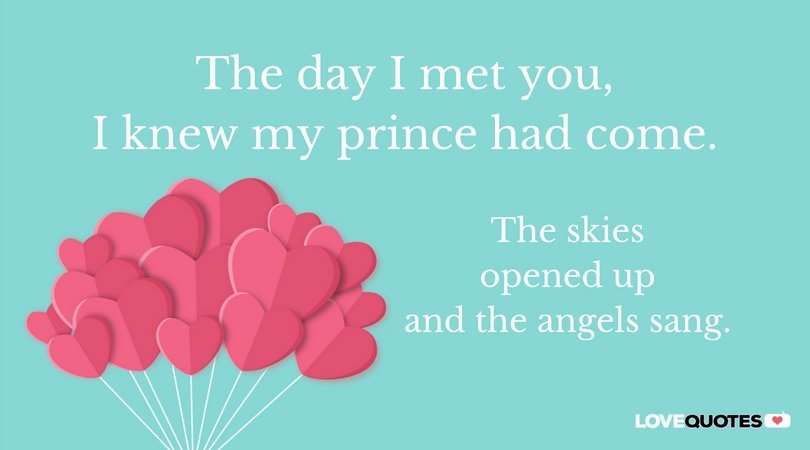 Who needs the fairy tale of Prince Charming when you have Prince Good Looking right here?
I look in your eyes and I see the best of all of me. You hold onto the memories of the past and the hopes of the future. It is in these eyes I want to gaze all day long.
Love is knowing that you are perfect for me in every way, even in your imperfections.
Let me hold your hand, just one more day. Let me caress your cheek and lay my arm around your waist. All the days we have together, let's spend it as close as possible.
Loving a woman like you brings my life to fulfillment. You are everything I have ever dreamed of and prayed for. You are a precious blessing.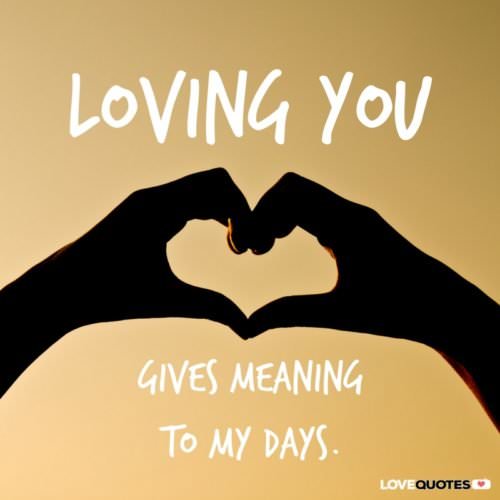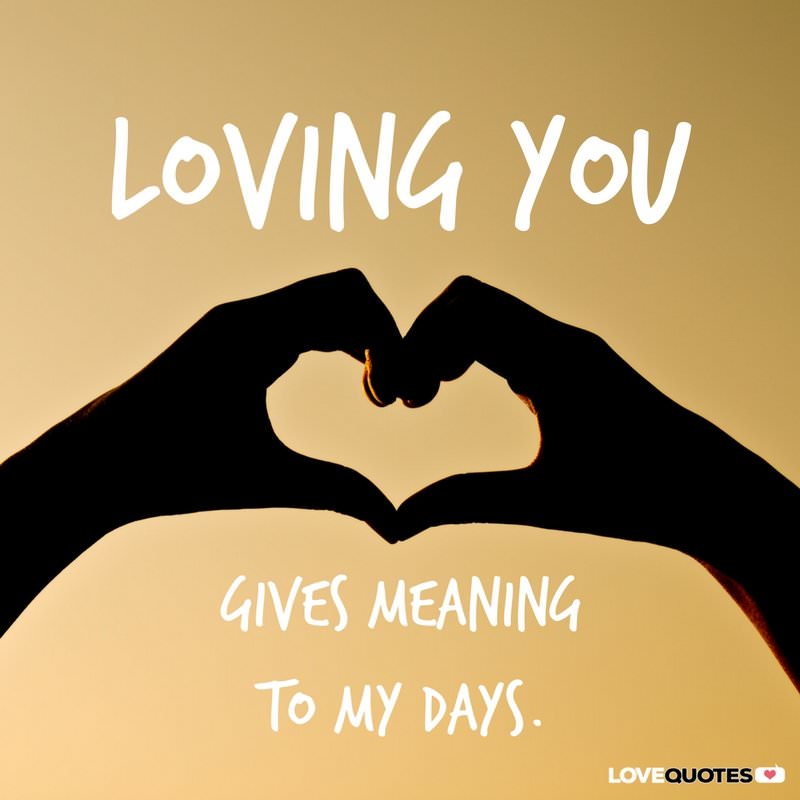 Wrap-up
Once you have decided your picks, now all you have to do is determine the delivery. Will this be said in person? On the phone? Text? E-mail? No matter what method you use, these quotes are sure to be hits with your loved ones. Imagine their surprise when they randomly hear such loving statements. You will make their day and, quite possibly, become closer to them than ever. Here's to you and luck in love!
Also read:
At the Touch of Love | Quotes on Images
Famous Love Quotes Full of Meaning