Rumi on Love! Read his Best Quotes on What Makes Us One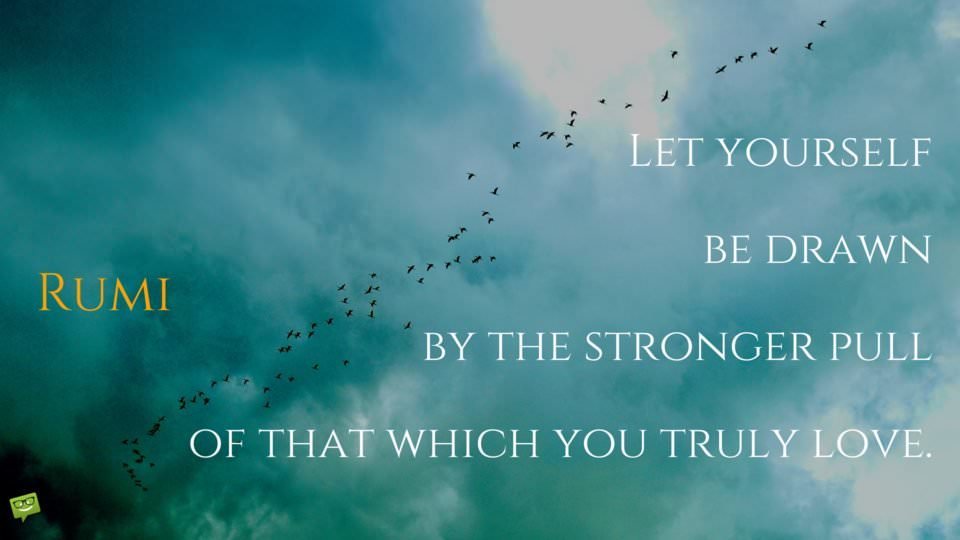 Rumi, one of the most quotable poets that ever walked on Earth, has dedicated a lot of his poems and prose to the subject of Love. His spiritual, yet so human, approach on the mystery of becoming one has gained him a lot of fame during the last 7 centuries (Rumi was born on 1207 and died on December 17th, 1273) and his works are appreciated not only in the Muslim communities but almost in every corner of the educated world.
"Christian, Jew, Muslim, shaman, Zoroastrian, stone, ground, mountain, river, each has a secret way of being with the mystery, unique and not to be judged" he stated, and this quote will probably give you an idea of his thoughts on the nature of human connection with the divine.
Rumi, or Jalāl ad-Dīn Muhammad Rūmī as was his full name, completely changed his life after a meeting he had with the dervish Shams-e Tabrizi on 15 November 1244 in which Shams was mysteriously disappeared never to seen again (probably killed with the help of Rumi's son). After the meeting Rumi started his well known teachings of tolerance and peace that has appealed to members of almost every religion, sect and creed.
Here, we have collected our favorite quotes that speak of love. Enjoy and Share. Don't forget to leave a comment, we'd love to know what you think of this collection!
---
Your task is not to seek for love, but merely to seek and find all the barriers within yourself that you have built against it. Rumi
---
The minute I heard my first love story,
I started looking for you, not knowing
how blind that was.
Lovers don't finally meet somewhere.
They're in each other all along.
Rumi
---
---
When I am with you, we stay up all night.
When you're not here, I can't go to sleep.
Praise God for those two insomnias!
And the difference between them.
Rumi
---
In your light I learn how to love. In your beauty, how to make poems. You dance inside my chest where no-one sees you, but sometimes I do, and that sight becomes this art. Rumi
---
Lovers don't finally meet somewhere. They're in each other all along. Rumi
---
---
A thousand half-loves must be forsaken to take one whole heart home. Rumi
---
That which God said to the rose, and caused it to laugh in full-blown beauty, He said to my heart, and made it a hundred times more beautiful. Rumi
---
I closed my mouth and spoke to you in a hundred silent ways. Rumi
---
The breezes at dawn have secrets to tell you
Don't go back to sleep!
You must ask for what you really want.
Don't go back to sleep!
People are going back and forth
across the doorsill where the two worlds touch,
The door is round and open
Don't go back to sleep!
Rumi
---
---
An eye is meant to see things.
The soul is here for its own joy.
A head has one use: For loving a true love.
Feet: To chase after.
Love is for vanishing into the sky. The mind,
for learning what men have done and tried to do.
Mysteries are not to be solved: The eye goes blind
when it only wants to see why.
A lover is always accused of something.
But when he finds his love, whatever was lost
in the looking comes back completely changed.
Rumi
---
---
I was dead, then alive.
Weeping, then laughing.
The power of love came into me,
and I became fierce like a lion,
then tender like the evening star.
Rumi
---
---
At night, I open the window
and ask the moon to come
and press its face against mine.
Breathe into me.
Close the language-door
and open the love-window.
The moon won't use the door,
only the window.
Rumi
---
You are a lover of your own experience … not of me … you turn to me to feel your own emotion. Rumi
---
---
Love calls – everywhere and always.
We're sky bound.
Are you coming?
Rumi
---
Love is the cure,
for your pain will keep giving birth to more pain
until your eyes constantly exhale love as effortlessly as your body yields its scent.
Rumi
---
Here is a relationship booster
that is guaranteed to
work:
Every time your spouse or lover says something stupid
make your eyes light up as if you
just heard something
brilliant.
Rumi
---
Remember. The way you make love is the way God will be with you. Rumi
---
---
I am yours.
Don't give myself back to me.
Rumi
---
Gamble everything for love, if you're a true human being. Rumi
---
---
Let the lover be disgraceful, crazy, absentminded. Someone sober will worry about things going badly. Let the lover be. Rumi
---
They say there is a doorway from heart to heart, but what is the use of a door when there are no walls? Rumi
---
I am your moon and your moonlight too
I am your flower garden and your water too
I have come all this way, eager for you
Without shoes or shawl
I want you to laugh
To kill all your worries
To love you
To nourish you.
Rumi
---
---
---
---
Let the beauty of what you love be what you do. Rumi
---
There are lovers content with longing. I'm not one of them. Rumi
---
Lovers find secret places
inside this violent world
where they make transactions
with beauty.
Rumi
---
Love comes with a knife, not some shy question, and not with fears for its reputation! Rumi
---
You may also like:
Rumi Quotes to Help You Enjoy Life
21 Rumi Quotes To Help You Open Your Mind
Click here for our best
birthday wishes
.
If you liked what you read, please share it. It really helps us a lot.