Famous Love Quotes Full of Meaning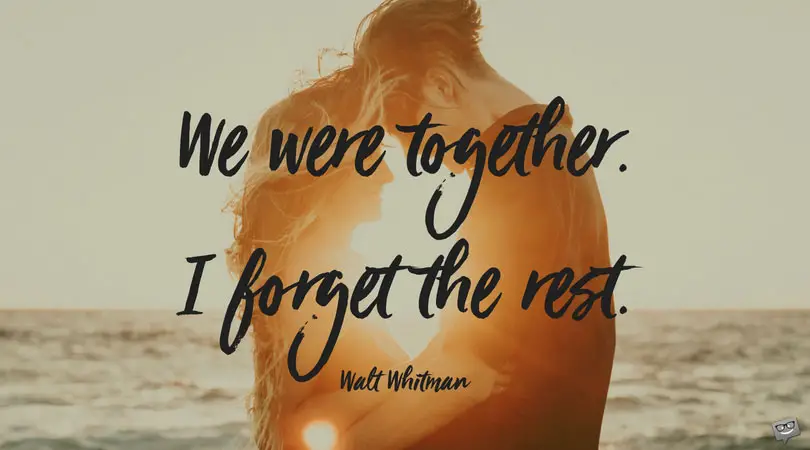 There is nothing more essential to our lives than love. We can not feel complete if we have no love in our lives. Love can be romantic or platonic. It can be love for one person or for the whole humankind, for animals, anything living or for the arts. Love is a kind of glue that connects us with the rest of the world. More often than not, it's love for another person that channels our irresistible urge to connect and find meaning. It is when being loved that we feel happy and safe. But in order to receive love, first we have to love ourselves and believe that we deserve the love of others. The only way to love ourselves is the same way we love others- by giving, and accepting, and letting go of the things we cannot change, by listening to our needs as we listen to the needs of our beloved persons and the same way we try to fulfill their dreams we should try to fulfill our dreams too.
We have gathered here the most inspiring love quotes and paired some of them with beautiful images that help transmit the meanings of each quote. We have collected these quotes from the books of the most important artists like William Shakespeare and Leo Tolstoy, the inspiring poems of Rumi and Pablo Neruda, modern era writers like Thomas Mann and even from lyrics of bands we love, like The Beatles. You will also find Nobel prize winner's quotes, like Toni Morrison's, and some from great American minds of the sorts of Walt Whitman and Edgar Allan Poe.
We truly hope you will "love" these love quotes and that they will inspire you and guide you through your life to keep you on the track of the most important feeling which is essential to all people: love. If you like this post, don't hesitate to share, repin and comment. At the end of this page you will find the social media buttons that will make it easier for you to share it.
---
We loved with a love that was more than love. Edgar Allan Poe
We accept the love we think we deserve.
A kiss is a lovely trick designed by nature to stop speech when words become superfluous. Ingrid Bergman.
There are two basic motivating forces: fear and love. When we are afraid, we pull back from life. When we are in love, we open to all that life has to offer with passion, excitement, and acceptance. We need to learn to love ourselves first, in all our glory and our imperfections. If we cannot love ourselves, we cannot fully open to our ability to love others or our potential to create. Evolution and all hopes for a better world rest in the fearlessness and open-hearted vision of people who embrace life. John Lennon.
Never love anyone who treats you like you're ordinary. Oscar Wilde.
When you love you wish to do things for. You wish to sacrifice for. You wish to serve. Ernest Hemingway.
Love Quotes by Famous Authors, Poets and Intellectuals
Love looks not with the eyes, but with the mind,
And therefore is winged Cupid painted blind.
William Shakespeare.
Trust your heart if the seas catch fire, live by love though the stars walk backward. E.E. Cummings.
It is a curious thought, but it is only when you see people looking ridiculous that you realize just how much you love them. Agatha Christie.
Every heart sings a song, incomplete, until another heart whispers back. Those who wish to sing always find a song. At the touch of a lover, everyone becomes a poet. Plato.
If I had a flower for every time I thought of you…I could walk through my garden forever. Alfred Tennyson.
What Is Love? I have met in the streets a very poor young man who was in love. His hat was old, his coat worn, the water passed through his shoes and the stars through his soul. Victor Hugo.
I love you without knowing how, or when, or from where. I love you simply, without problems or pride: I love you in this way because I do not know any other way of loving but this, in which there is no I or you, so intimate that your hand upon my chest is my hand, so intimate
that when I fall asleep your eyes close. Pablo Neruda, 100 Love Sonnets.
I think… if it is true that there are as many minds as there are heads, then there are as many kinds of love as there are hearts. Leo Tolstoy, Anna Karenina.
Let there be spaces in your togetherness, And let the winds of the heavens dance between you. Love one another but make not a bond of love: Let it rather be a moving sea between the shores of your souls. Fill each other's cup but drink not from one cup. Give one another of your bread but eat not from the same loaf. Sing and dance together and be joyous, but let each one of you be alone, Even as the strings of a lute are alone though they quiver with the same music. Give your hearts, but not into each other's keeping. For only the hand of Life can contain your hearts. And stand together, yet not too near together: For the pillars of the temple stand apart, And the oak tree and the cypress grow not in each other's shadow. Kahlil Gibran, The Prophet.
I don't trust people who don't love themselves and tell me, 'I love you.' … There is an African saying which is: Be careful when a naked person offers you a shirt. Maya Angelou.
When we love, we always strive to become better than we are. When we strive to become better than we are, everything around us becomes better too. Paulo Coelho, The Alchemist.
Love is that condition in which the happiness of another person is essential to your own. Robert A. Heinlein.
Love is a fire. But whether it is going to warm your hearth or burn down your house, you can never tell. Joan Crawford.
It is not a lack of love, but a lack of friendship that makes unhappy marriages. Friedrich Nietzsche.
Love does not consist of gazing at each other, but in looking outward together in the same direction. Antoine de Saint-Exupéry.
You may not be her first, her last, or her only. She loved before she may love again. But if she loves you now, what else matters? She's not perfect—you aren't either, and the two of you may never be perfect together but if she can make you laugh, cause you to think twice, and admit to being human and making mistakes, hold onto her and give her the most you can. She may not be thinking about you every second of the day, but she will give you a part of her that she knows you can break—her heart. So don't hurt her, don't change her, don't analyze and don't expect more than she can give. Smile when she makes you happy, let her know when she makes you mad, and miss her when she's not there. Bob Marley.
---
To love at all is to be vulnerable. Love anything and your heart will be wrung and possibly broken. If you want to make sure of keeping it intact you must give it to no one, not even an animal. Wrap it carefully round with hobbies and little luxuries; avoid all entanglements. Lock it up safe in the casket or coffin of your selfishness. But in that casket, safe, dark, motionless, airless, it will change. It will not be broken; it will become unbreakable, impenetrable, irredeemable. To love is to be vulnerable. C.S. Lewis, The Four Loves.
Tis better to have loved and lost than never to have loved at all. Alfred Tennyson.
When I saw you I fell in love, and you smiled because you knew. Arrigo Boito.
The sunlight claps the earth, and the moonbeams kiss the sea: what are all these kissings worth, if thou kiss not me? Percy Bysshe Shelley.
If a thing loves, it is infinite. William Blake.
Perhaps all the dragons in our lives are princesses who are only waiting to see us act, just once, with beauty and courage. Perhaps everything that frightens us is, in its deepest essence, something helpless that wants our love. Rainer Maria Rilke, Letters to a Young Poet.
---
I carry your heart with me (I carry it in my heart)I am never without it (anywhere
I go you go,my dear; and whatever is done by only me is your doing,my darling)
I fear no fate (for you are my fate,my sweet)I want no world (for beautiful you are my world,my true)
and it's you are whatever a moon has always meant and whatever a sun will always sing is you
here is the deepest secret nobody knows
(here is the root of the root and the bud of the bud and the sky of the sky of a tree called life; which grows
higher than the soul can hope or mind can hide)
and this is the wonder that's keeping the stars apart
I carry your heart (I carry it in my heart)
E.E. Cummings
---
Love is simply the name for the desire and pursuit of the whole. Plato, The Symposium.
Love does not begin and end the way we seem to think it does. Love is a battle, love is a war; love is a growing up. James Baldwin.
Two people in love, alone, isolated from the world, that's beautiful. Milan Kundera.
Love is so short, forgetting is so long. Pablo Neruda.
The very essence of romance is uncertainty. Oscar Wilde.
Come sleep with me: We won't make Love,Love will make us. Julio Cortázar.
When love is not madness it is not love. Pedro Calderón de la Barca.
Love is a better master than duty. Albert Einstein.
We waste time looking for the perfect lover, instead of creating the perfect love. Tom Robbins.
There is always some madness in love. But there is also always some reason in madness. Friedrich Nietzsche.
If you love somebody, let them go, for if they return, they were always yours. If they don't, they never were. Kahlil Gibran.
When the power of love overcomes the love of power, the world will know peace. Jimi Hendrix.
I fell in love with her courage, her sincerity, and her flaming self respect. And it's these things I'd believe in, even if the whole world indulged in wild suspicions that she wasn't all she should be. I love her and it is the beginning of everything. F. Scott Fitzgerald.
What is hell? I maintain that it is the suffering of being unable to love. Fyodor Dostoyevsky, The Brothers Karamazov.
I loved her against reason, against promise, against peace, against hope, against happiness, against all discouragement that could be. Charles Dickens, Great Expectations.
I want to do with you what spring does with the cherry trees. Pablo Neruda.
You yourself, as much as anybody in the entire universe, deserve your love and affection. Gautama Buddha.
---
One word frees us of all the weight and pain of life: That word is love. Sophocles.
It takes courage to love, but pain through love is the purifying fire which those who love generously know. We all know people who are so much afraid of pain that they shut themselves up like clams in a shell and, giving out nothing, receive nothing and therefore shrink until life is a mere living death. Eleanor Roosevelt.
In your light I learn how to love. In your beauty, how to make poems. You dance inside my chest where no-one sees you, but sometimes I do, and that sight becomes this art. Rumi.
A woman unsatisfied must have luxuries. But a woman who loves a man would sleep on a board. D.H. Lawrence.
He dug so deeply into her sentiments that in search of interest he found love, because by trying to make her love him he ended up falling in love with her. Petra Cotes, for her part, loved him more and more as she felt his love increasing, and that was how in the ripeness of autumn she began to believe once more in the youthful superstition that poverty was the servitude of love. Both looked back then on the wild revelry, the gaudy wealth, and the unbridled fornication as an annoyance and they lamented that it had cost them so much of their lives to find the paradise of shared solitude. Madly in love after so many years of sterile complicity, they enjoyed the miracle of living each other as much at the table as in bed, and they grew to be so happy that even when they were two worn-out people they kept on blooming like little children and playing together like dogs. Gabriel Garcí­a Márquez, One Hundred Years of Solitude.
---
since feeling is first
who pays any attention
to the syntax of things
will never wholly kiss you;
E.E. Cummings
However far away
I will always love you
However long I stay
I will always love you
Whatever words I say
I will always love you
I will always love you
The Cure.
Being with you and not being with you is the only way I have to measure time. Jorge Luis Borges.
If I know what love is, it is because of you. Hermann Hesse.
Woman is sacred; the woman one loves is holy. Alexandre Dumas.
There is no intensity of love or feeling that does not involve the risk of crippling hurt. It is a duty to take this risk, to love and feel without defense or reserve. William S. Burroughs.
---
Who knows how to make love stay?1. Tell love you are going to Junior's Deli on Flatbush Avenue in Brooklyn to pick up a cheesecake, and if loves stays, it can have half. It will stay.2. Tell love you want a momento of it and obtain a lock of its hair. Burn the hair in a dime-store incense burner with yin/yang symbols on three sides. Face southwest. Talk fast over the burning hair in a convincingly exotic language. Remove the ashes of the burnt hair and use them to paint a moustache on your face. Find love. Tell it you are someone new. It will stay.3. Wake love up in the middle of the night. Tell it the world is on fire. Dash to the bedroom window and pee out of it. Casually return to bed and assure love that everything is going to be all right. Fall asleep. Love will be there in the morning.
Tom Robbins,

Still Life with Woodpecker
---
Love recognizes no barriers. It jumps hurdles, leaps fences, penetrates walls to arrive at its destination full of hope. Maya Angelou.
To fear love is to fear life, and those who fear life are already 3-parts dead. Bertrand Russell.
His heart danced upon her movements like a cork upon a tide. He heard what her eyes said to him from beneath their cowl and knew that in some dim past, whether in life or revery, he had heard their tale before. James Joyce, A Portrait of the Artist as a Young Man.
The future for me is already a thing of the past
You were my first love and you will be my last. Bob Dylan.
Love is or it ain't. Thin love ain't love at all. Toni Morrison, Beloved.
Love, the poet said, is woman's whole existence. Virginia Woolf, Orlando.
Her heart was a secret garden and the walls were very high. William Goldman, The Princess Bride.
If I love you, what business is it of yours? Johann Wolfgang von Goethe.
---
Though lovers be lost, love shall not; And death shall have no dominion. Dylan Thomas.
Of all our games, love's play is the only one which threatens to unsettle the soul… Marguerite Yourcenar, Memoirs of Hadrian.
Love is the voice under all silences, the hope which has no opposite in fear; the strength so strong mere force is feebleness: the truth more first than sun, more last than star… E.E. Cummings.
I find the best way to love someone is not to change them, but instead, help them reveal the greatest version of themselves. Steve Maraboli.
The saddest thing about love, Joe, is that not only the love cannot last forever, but even the heartbreak is soon forgotten. William Faulkner.
She was beautiful, but not like those girls in the magazines. She was beautiful, for the way she thought. She was beautiful, for the sparkle in her eyes when she talked about something she loved. She was beautiful, for her ability to make other people smile, even if she was sad. No, she wasn't beautiful for something as temporary as her looks. She was beautiful, deep down to her soul. She is beautiful. F. Scott Fitzgerald.
To be brave is to love someone unconditionally, without expecting anything in return. To just give. That takes courage, because we don't want to fall on our faces or leave ourselves open to hurt. Madonna.
Love Jo all your days, if you choose, but don't let it spoil you, for it's wicked to throw away so many good gifts because you can't have the one you want. Louisa May Alcott, Little Women.
Keep love in your heart. A life without it is like a sunless garden when the flowers are dead. The consciousness of loving and being loved brings a warmth and a richness to life that nothing else can bring. Oscar Wilde.
That which God said to the rose, and caused it to laugh in full-blown beauty, He said to my heart, and made it a hundred times more beautiful. Rumi.
Through my love for you, I want to express my love for the whole cosmos, the whole of humanity, and all beings. By living with you, I want to learn to love everyone and all species. If I succeed in loving you, I will be able to love everyone and all species on Earth… This is the real message of love. Thich Nhat Hanh, Teachings on Love.
---
---
---
---
---
---
You may also want to check our:
---
---
---
---
---
You may also like:
At the Touch Love | Love Quotes on Images
Love Quotes to Express your Heart's Feelings
Love Quotes | Finding the Pathway to Their Heart
Click here for our best birthday wishes.