The birth of a person who inspires you should be honored. Teachers, professors and instructors are the people who demonstrate how important things in life should be done, guide others, and take extra time out of their own lives to make sure that their students not only know the material they have been taught, but grasps the importance of it. These are tasks that aren't easy, but display how generous, patient, and dedicated those people are.
These special people teach us a variety of valuable lessons. Birthday wishes that show appreciation for various kinds of teachers can be found here.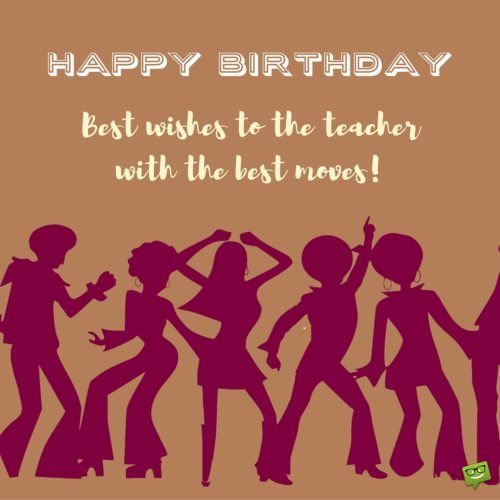 Birthday Wishes for Dance Teachers
Happy Birthday to a teacher who has taught me that, although it takes a lot of hard work and discipline to be a great dancer, it is worth it! Enjoy your special day!
Best wishes to the teacher with the best moves! Have a very, Happy Birthday!
You have taught me how to express my emotions through dance. I never thought that I would have an incredible outlet, like this! Happy Birthday, from a grateful student!
Dance the night away, Teach! You deserve it! Happy Birthday!
Happy Birthday to a teacher who performs the foxtrot better than any ballroom dancer!
All of your dance students agree that you have brought happiness to our lives! We hope your birthday fills your heart with joy!
You taught me some of the most important things in life which have proven invaluable in setting me up for success in my professional and private life. My heart will always be grateful to you for that. Happy birthday.
You are the best dance teacher in the world, and there is absolutely no doubt about that! I hope you have the happiest birthday celebration ever!
You not only taught me dance technique, but also awakened new perceptions in me, which have helped me in diverse ways. I can never thank you enough for that. Happy birthday.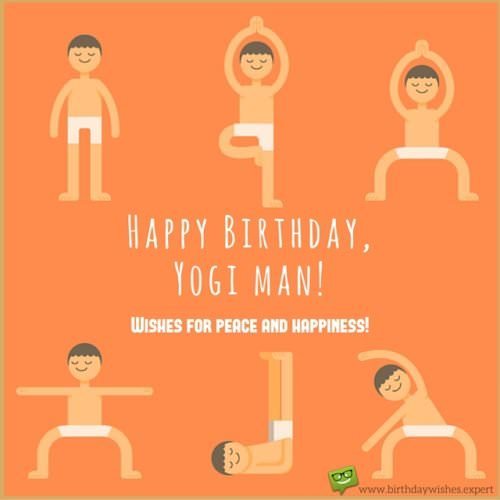 Birthday Wishes for Meditation Therapists
The meditation therapy that you provide has been beneficial to my spiritual growth! You have contributed to my being a better person! May your birthday be as grand as you are!
Your meditation therapy promotes awareness of self! Because of you, I am more in tune with what I want out of life and who I am! Happy Birthday to the person who changed my life!
Your lessons have alleviated my stress. My greatest wish for your birthday is that there are no troubles; only sublime occurrences!
Because of you, I have been able to reduce stress drastically and reap all the wonderful benefits that come with that. Thank you for making my life a happier and healthier one. Happy birthday.
I never believed I would find mental serenity and emotional stability until I started attending your therapy sessions. Your positive influence in my life can never be disputed nor erased. Happy birthday.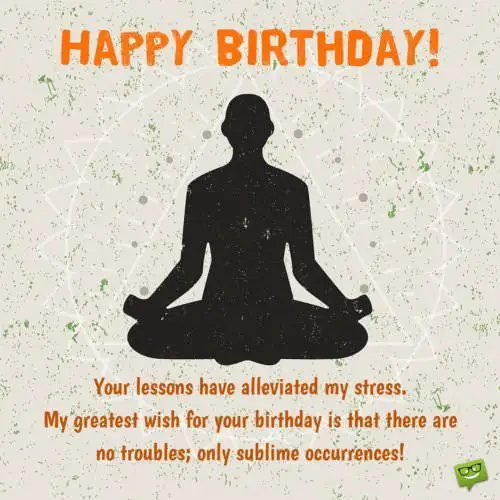 Birthday Wishes for Professors
Taking your course has helped prepare me for the real world! Happy Birthday to an important professor!
Best wishes to a professor who infuses all of the material that she teaches to her students with vitality! May your birthday be jubilant!
Having the academic rank of a professor is an honor that not everyone can have. Being your student is also an honor! Happy Birthday to a person who has integrity and dignity!
You are not just a professor – you are the very epitome of knowledge! On your special anniversary, I want to express my deepest gratitude and appreciation to you for empowering me with the immense knowledge you have imparted to me. Happy birthday.
You are and shall forever be my favorite professor. As I celebrate you on this very important day of your life, I pray that you will be blessed with a long life filled with the best of health and the purest of happiness. Happy birthday.
Birthday Wishes for Driving Instructors
Thank you for instructing me on how to drive and reminding me that staying focused goes beyond the road. Happy Birthday to a wonderful instructor!
You made learning how to drive both instructive and easy. On your birthday, may the celebration of your life be carefree.
Before you began teaching my how to drive, I was nervous and afraid that I would not do well. You calmed my nerves and gave me the confidence I needed, in order to be a good driver. As you note your date of birth, acknowledge that you have made a difference in this student's existence!
You have taught me how to be aware of my surroundings and safe on the road. May your birthday be illuminating and provide you with all that you need!
On your birthday, I just want to say a big thank you to you for not only being a brilliant driving instructor to me, but also a good friend. May you keep excelling in all spheres of your life. Have a great one!
You taught me the theory and techniques of driving like none other, thereby making learning how to drive an exceptionally easy task. I am an excellent driver today thanks to you! Happy birthday!
Birthday Wishes for Art Teachers
Wishing a teacher who encourages openness and creativity a very, Happy Birthday! May it burst with joy and color!
Happy Birthday to an art teacher who has taught me so much! You have given me a new form of self-expression!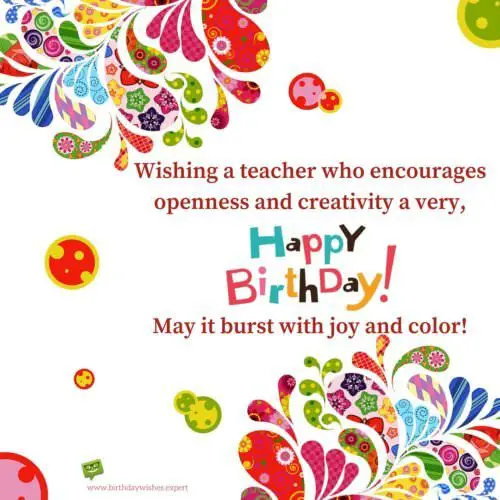 Heartfelt wishes to a marvelous art teacher, on your birthday! I hope that all of the joy you have spread to your students comes back to you!
Great teachers not only teach, but they also encourage and inspire their students to reach for the skies. Thank you for being a great teacher. On your birthday, I congratulate you and wish you all the best in life.
Happy birthday to the art teacher whose engaging personality, effective teaching style and friendliness make learning art a very fun experience. May your life be as colorful as your beautiful paintings.
Birthday Wishes for Music Teachers
Rejoicing on your birthday! You taught me how to play from my soul and to share my gift with others!
Being taught how to play an instrument by a teacher like you is remarkable! Happy Birthday to a teacher who is talented and unique!
The education I have received from you, regarding music, has stirred me to look deeper into my life. Happy Birthday to a teacher who has had a profound effect on me!
I never appreciated the arts until I became a student of yours. I'm so privileged our paths crossed. Happy birthday.
Wishing a fabulous anniversary to a fabulous music teacher.  Your teaching style is incredibly outstanding and priceless. May your birthday be as outstanding as your teaching is.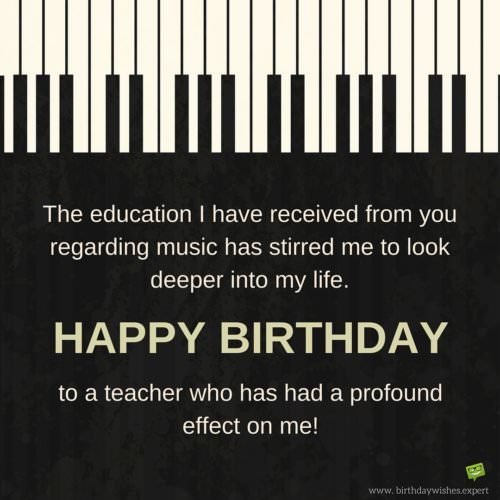 Birthday Wishes for English Teachers
Your command of the English language is very instructive! My writing has vastly improved! I wish you a birthday that is incredible and only continues to get better and better!
Writing well takes an excellent teacher and lots of practice! Wishing my amazing English teacher a Happy Birthday!
You have impressed upon me the value of the English language. I hope that your birthday is marked by the magnitude of something that you hold dear!
Sending the warmest birthday greetings to the most wonderful English teacher I've ever had. I wish you all the luck in the world in all your endeavors.
Wishing an outstanding birthday celebration to an outstanding English teacher. Sir/Madam, may your blessings in life be as uncountable as all the uncountable nouns of the world put together!
Even though you taught me a whole lot about the various parts of speech, I can't seem to find the right adjective to qualify or describe you on your birthday. All I can do is thank you from the bottom of my heart and pray that the most cherished dreams of your life come true. Happy birthday.
Birthday Wishes for French Teachers
After taking your class, I know that I can finally travel to Paris and converse with the locals! Wishing you a birthday filled with realized dreams!
You have made learning French enjoyable! I hope that you commemorate this day in a manner that you like, and that thoughts of it brings a smile to your face!
Happy Birthday to an admirable, French teacher! You encourage your students to learn more!
Bon anniversaire, my dearest teacher! You make learning French a walk in the park. From the bottom of my heart, I say "Thank you".
To me, you are the best French teacher in the world because you make learning French fast, fun and super duper easy. For being an awesome teacher, you deserve nothing but the best things in life as you mark your anniversary!  I wish you a joyeux anniversaire!
Birthday Wishes for Spanish Teachers
Hola, to a bueno teacher on his special dia! May this occasion overflow with good times!
Wishing a terrific Spanish teacher a birthday that is as memorable as your instruction!
You made fluency in Spanish obtainable! You are a great teacher! Happy Birthday, to you!
You make learning the Spanish language easy! Thank you for never giving up on me and making me believe in myself. Happy birthday.
Wishing a very happy birthday to a wonderful Spanish teacher! Today I am a proud speaker of fluent Spanish because life blessed me with the best Spanish teacher in the world. Once again, feliz cumpleaños!
Birthday Wishes for Economics Teachers
Before I attended your classes, I made poor economical decisions. After becoming your student, I learned how to make better choices in an area that is vital to my life! On your birthday, I want you to know that your instruction matters to me!
Learning economics from you has been both educational and fun! I hope that your birthday is lively and that you are surrounded by people who appreciate you!
You have a wealth of knowledge about economics that you graciously share with your students. I am lucky to be one of them! Have a Happy Birthday!
Your friendliness and congeniality are just a handful of the reasons why I would always refer to you as my favorite Economics teacher of all time. Happy birthday.
Never will your classes be my Opportunity Cost on my Scale of Preference because they are very precious to me. Happy birthday, Sir/Madam.
Birthday Wishes for Physics Teachers
The manner in which you teach physics has been involving! I understand the study of matter and its motion through space and time, thoroughly! On your birthday, may everything you hope for the future be clear and bring enthusiasm!
From you I have gained a knowledge of nature! May you obtain all that you wish for, on your special day!
As your student, you have made studying physics extremely rewarding! I hope you receive all that matters to you, on your birthday!
Dearest teacher, this day gives me the perfect opportunity to thank you for being a wonderful teacher to me and for making me fall head over heels in love with Physics. Have a great one.
Prior to becoming your student, Physics wasn't the easiest subject on earth for me, but you make learning it so fun it is now one of my favorite subjects. It's amazing how you accomplished that! Happy birthday.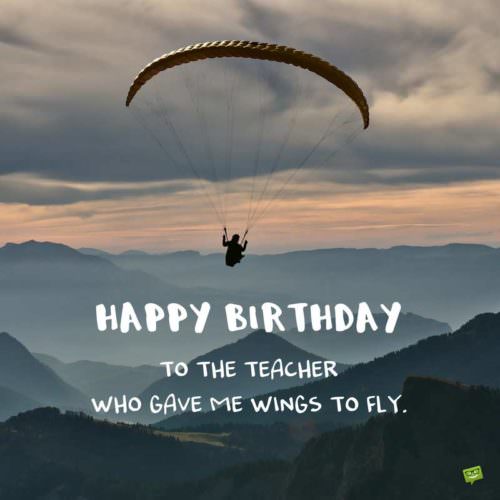 Birthday Wishes for Mathematicians
Happy Birthday to someone who also views the significance of numbers in our lives! As one of your students, I am in awe of you!
Wishing a mathematician who is an exceptional teacher a Happy Birthday! You are the best!
Happy Birthday to the smartest mathematician that I know! You work in a field that plays an important role in everyone's lives, yet you remain humble! May your day be as likable as you are and as worthy of praise!
It is a fact that 1 + 1 will always equal 2 – just like is a fact that your skills in mathematics are exceptional. I'm so privileged to be a student of a phenomenal mathematician like you. Happy birthday.
You are not just a mathematician, you are the King/Queen of Mathematics. I salute you on your anniversary for your immense role in positively changing the world with numbers.
Happy birthday to the greatest mathematician I have ever known. Sir/Madam, may there be a SOLUTION to every problem in your life.
Brilliant mathematicians like you make the world go round. I shall forever be a proud student of yours. Happy birthday.
Birthday Wishes for Chemistry Teachers
Every lesson you give about the composition, structure, properties, and change of matter is fantastic! Happy Birthday to a teacher who displays how interesting physical science is!
Acquiring knowledge about chemistry from your class has helped me grasp its role in every day life! Happy Birthday to a brilliant teacher!
Learning chemistry in your class has made me want to be a teacher! Because of you, I know what my profession is going to be! I hope that your birthday is special and I wish you many more years of teaching!
Happy birthday to a remarkably wonderful Chemistry teacher who I would never swap for any other Chemistry teacher anywhere in the world! I will always have fond memories of school because of you.
You're a textbook example of the Chemistry teacher every Chemistry student dreams of having. Your dedication, patience, friendliness, congeniality, knowledge and communication skills are outstanding! Happy birthday!
Birthday Wishes for Primary School Teachers
Happy Birthday to a primary school teacher who has skillfully provided valuable lessons, to students in the formative years of their lives!
Every school day, you teach children who look to you to set an example of how they should be, well! On your birthday, celebrate the magnificent person that you are!
The lessons you give your primary school students look fun, but have depth! You have wisely shaped young minds that will go on to do great things! May you have a birthday that is fun and holds endless possibilities!
Whenever I count my blessings, I include you, my dearest teacher. You gave me an excellent foundation in life and helped in forming me into the person I am today. I wholeheartedly thank you for everything you've done for me. Happy birthday.
How can I ever forget the birthday of a truly great teacher who inspires me so much?! Happy birthday, my dearest teacher! May life be wonderful to you as your lessons are wonderful to me.
You are not only a wonderful teacher, but also a wonderful human being. You will always reside in the deepest and most special part of my heart. Happy birthday, my dearest teacher.
---
You may also like:
Birthday Wishes According to People's Professions
A Wish for What You're Crazy About | Birthday Wishes for People with Hobbies & Passions