Christmas take up the entire month between Thanksgiving and the 25th of December, so there is plenty of time to think about shopping, Christmas dinners, postcards and silly sweaters.
However, during all that month, everyday life may keep you busier than expected. To get you into the holiday spirit, we have made this collection of things famous people (from celebrities to philanthropists) said about this important holiday. Read, print and share these Christmas quotes to wish everyone the best.
Short Christmas Quotes to Use as Photo Captions
Christmas is joy, religious joy, an inner joy of light and peace. Pope Francis
Christmas isn't a season. It's a feeling. Edna Ferber
Let's be naughty and save Santa the trip. Gary Allan
At Christmas, all roads lead home. Marjorie Holmes
Christmas is the day that holds all time together. Alexander Smith
Christmas is the keeping-place for memories of our innocence. Joan Mills
You know you're getting old when Santa starts looking younger. Robert Paul
Just remember, the true spirit of Christmas lies in your heart. The Polar Express
A very Merry Christmas and a happy new year. Let's hope it's a good one, without any fear. John Lennon
Christmas is not as much about opening our presents as opening our hearts. Janice Maeditere
How many observe Christ's birthday! How few, His precepts! Benjamin Franklin
Peace on earth will come to stay, when we live Christmas every day. Helen Steiner Rice
Christmas is doing a little something extra for someone.
He who has not Christmas in his heart will never find it under a tree.
A good conscience is a continual Christmas. Benjamin Franklin
Christmas isn't just a day, it's a frame of mind. Valentine Davies
Get your fat pants ready, it's Christmas! Unknown
Christmas is forever, not for just one day. For loving, sharing, giving, are not to put away. Norman Wesley Brooks
The best things in life aren't things. Art Buchwald
Christmas is a season not only of rejoicing but of reflection. Winston Churchill
The smells of Christmas are the smells of childhood. Richard Paul Evans
This is Christmas. The season of perpetual hope. Home Alone
May you never be too grown up to search the skies on Christmas Eve. Unknown
The best way to spread Christmas cheer is singing loud for all to hear. Will Ferrell
The joy at Christmas is celestial bliss.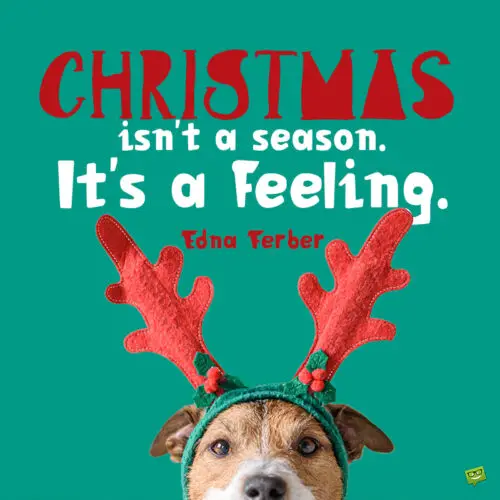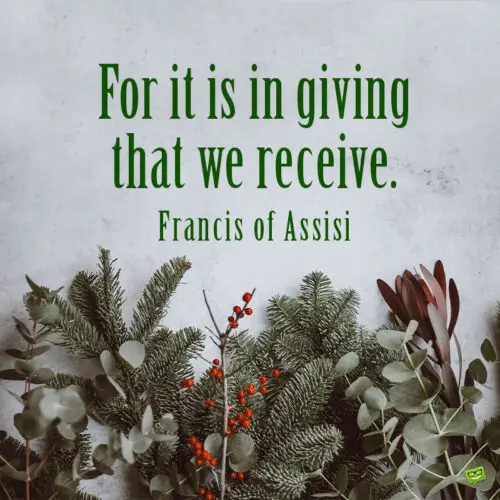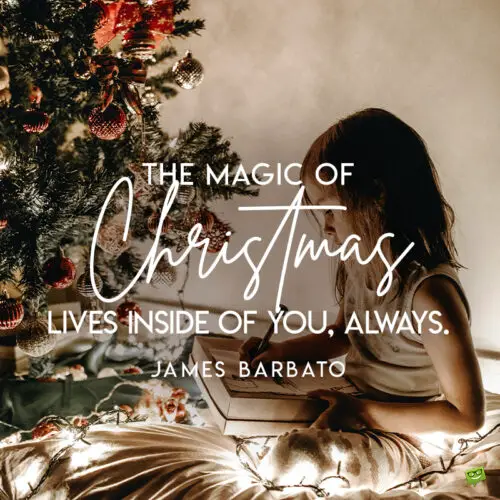 Christmas gives us the opportunity to pause and reflect on the important things around us. David Cameron
May all your Christmases be white.

Irving Berlin

Christmas works like glue, it keeps us all sticking together. Rosie Thomas
Christmas is a time for families.
Cinnamon is not a controlled substance.
Christmas waves a magic wand over this world, and behold, everything is softer and more beautiful. Norman Vincent Peale
A Christmas without a book for a present is a disappointment. Margareta Magnusson
For it is in giving that we receive. Francis of Assisi
God bless us, every one.

Charles Dickens

The magic of Christmas lives inside of you, always. James Barbato
I'm making a list. And checking it twice.
It's easy to forget that life is the greatest gift of all. Karli Perrin
Christmas teaches us to be loving, kind, giving, forgiving, and appreciating.
It's not how much we give but how much love we put into giving. Mother Teresa
The Christmas spirit is a spirit of giving and forgiving. James Cash Penney
Inspirational Christmas Quotes
Unless we make Christmas an occasion to share our blessings, all the snow in Alaska won't make it 'white.' Bing Crosby
Christmas is most truly Christmas when we celebrate it by giving the light of love to those who need it most. Ruth Carter Stapleton
Christmas is not a time nor a season, but a state of mind. To cherish peace and goodwill, to be plenteous in mercy, is to have the real spirit of Christmas.
The holiest of holidays are those kept by ourselves in silence and apart; The secret anniversaries of the heart. Henry Wadsworth Longfellow
Christmas gift suggestions: to your enemy, forgiveness. To an opponent, tolerance. To a friend, your heart. To a customer, service. To all, charity. To every child, a good example. To yourself, respect. Oren Arnold
Want to keep Christ in Christmas? Feed the hungry, clothe the naked, forgive the guilty, welcome the unwanted, care for the ill, love your enemies, and do unto others as you would have done unto you.
The best of all gifts around any Christmas tree: the presence of a happy family all wrapped up in each other. Burton Hills
As we give presents at Christmas, we need to recognize that sharing our time and ourselves is such an important part of giving. Gordon B. Hinckley
Christmas is the spirit of giving without a thought of getting. It is happiness because we see joy in people. It is forgetting self and finding time for others. It is discarding the meaningless and stressing the true values. Thomas S. Monson
What is Christmas? It is tenderness for the past, courage for the present, hope for the future. Agnes M. Pahro
As long as we know in our hearts what Christmas ought to be, Christmas is.

Eric Sevareid

Every gift which is given, even though it be small, is in reality great, if it is given with affection. Pindar
Christmas is a season of outdoor lights, but it is also the season of enlightening the heart and mind.
Gifts of time and love are surely the basic ingredients of a truly merry Christmas. Peg Bracken
Faith is believing in things when common sense tells you not to. Miracle on 34th Street
Let it snow, let it snow, let it snow. Let it Snow
Christmas Bible Quotes
And there were shepherds out in the field, keeping watch by night. And an angel of the Lord appeared to them, and the glory of the Lord shone around them. Luke 2:8-9
Thanks be unto God for his unspeakable Gift. 2 Corinthians 9:15
When they saw the star, they were overjoyed. Matthew 2:10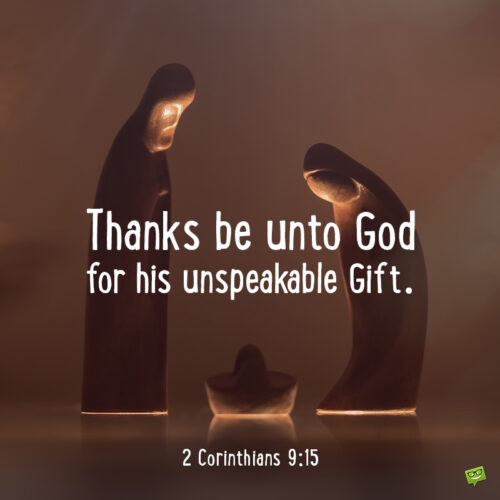 Now the God of hope fill you with all joy and peace in believing that ye may abound in hope, through the power of the Holy Ghost. Romans 15:13
And this is the testimony: God has given us eternal life, and this life is in his Son. John 5:11
Every good gift and every perfect gift is from above, and cometh down from the Father of lights, with whom is no variableness, neither shadow of turning. James 1:17
A generous person will prosper; whoever refreshes others will be refreshed. Proverbs 11:25
The Word became flesh and made his dwelling among us. We have seen his glory, the glory of the one and only Son, who came from the Father, full of grace and truth. John 1:14
You may also like:
Holiday Thoughts | Top 80+ Merry Christmas Quotes
Words for (S)Elfies! | 140 Christmas Captions for Instagram
Merry Christmas, my Love! | 30 Romantic Christmas Wishes