The anniversary of the Birth of Jesus Christ in December is always a time to celebrate with the ones you care about. Searching for truly religious Christmas wishes to share with your friends and family? We've got good news for you!
Here we have a plethora of beautifully devout wishes to make anyone's Xmas a more joyful and spiritual one. Explore the following religious-themed Christmas messages and have your pick.
Table of Contents
Religious Christmas Wishes
In the spirit of the season, explore our collection of heartfelt religious Christmas wishes that convey the joy and blessings of this sacred time.
May the love of Christ fill your home and life and cause each day of yours to release countless blessings for you. Merry Christmas!
May the divine presence of Jesus Christ be with you throughout this holy season and make your days as beautiful as the sunshine!
May the God of love shower His best blessings onto your life as you go through this Christmas season. Have a bliss-filled Christmas!
I wish that Christ will work the best of His miracles in your life and make you more prosperous in the year ahead. Have a sweet Christmas!
May the Lord Jesus Christ provide you with both divine and physical strength and prosperity to last you through the rest of your time on earth!
I wish that the sweet love of Christ will surround you and your whole family and cause you to have the most joyous of Christmas fests.
My wish for you this Yuletide season is that the light of Jesus Christ will shine brightly before you and lead you to the best of opportunities in life. Have the holiest and happiest of Christmases!
May the spirit of God descend into your home and make your Christmas season as awesome as one held in heaven. I wish you a Christmas fest fit for angels!
I wish that the commemoration of the birth of our dear Lord and Savior will bring divine peace and favor to your life. Merry Christmas!
May you find favor, serenity and true love as you commemorate the birth of our Lord Jesus! All the very best for your Christmas days!
May the joy that filled the world at the birth of Jesus Christ be found in your home. Have the sweetest of Christmas seasons!
I wish that your holy season's celebration will be full of angelic rejoices. May God look down upon you with much love and fortune!
May God fill your Yuletide season and all your days with immeasurable prosperity and joy! Happy Christmas!
May yours be a Christmas that brims with only the most treasured blessings of the Almighty God. Merry Christmas
I wish that the birth of baby Jesus will bless your life with outstanding joy. Have a glorious holiday fest!
May the good Lord answer all your prayers and bless your life abundantly. Enjoy your Christmas, my dear!
I wish that you and your family will be kept safe under the protective wings of God throughout your Christmas holidays. All the very best for your Yuletide season!
May the love of Christ and the warmth that comes with this holy season remain with you and make your holidays the best ever!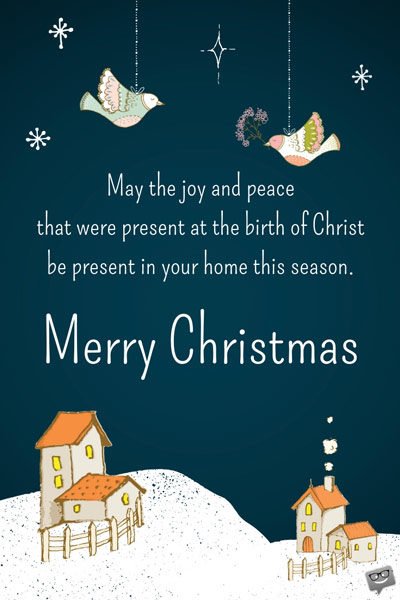 May the Creator fill your heart with all the happiness that comes with Christmas! Have a jolly Christmas!
I wish that the Lord Jesus Christ will heal your heart from every pain and fill your life with divine serenity. Have a blessed holiday season!
Sending prayers and hearty Christmas greetings to you. May you receive the most special of God's blessings during this amazing Christmas season.
May the celebration of Christ's birth, enrich your life abundantly and work tremendous miracles of prosperity and successes for you. Merry Christmas.
I pray that every single moment of your Christmas will shine with pure love, sweet joy and divine favor from God. Have the best of the season, my dear!
Merry Christmas! May the omnipotent God send all the good things in this beautiful world to your home this Christmas.
It is my greatest wish that Christ will bless you and your loved ones this Christmas with so many wonderful moments to talk about for the rest of your lives. I wish you the warmest of Christmas holidays!
May the Holy Spirit cause you to dwell in the love of God as you enjoy all the beautiful activities of this Christmas holidays! Wishing you a truly joyful Christmas.
May the unfailing grace of Christ accompany you throughout this Christmas season! Wishing you a very merry Christmas and a blessed New Year.
I wish you the joy of a million angels as you happily celebrate this holy moment called Christmas. Have a very jolly holiday!
It is my wish that the love of God and Jesus Christ will be your closest companions during and after this Christmas.
May the holy light of Christ brighten your life and cause your holidays to overflow with joy and splendor. I wish you lots of happiness and blessings for your Christmas season!
I wish that every blessed day of this Yuletide will bring to you countless reasons to be happy. Merry Christmas.
I wish that you will be blessed with unexpected miracles from God in all endeavors of your life as you celebrate this holy season.
Wishing you an incredibly joyful Yuletide celebration. May God provide you with all that you need to achieve all the aspirations of your life.
I pray that Jesus Christ will cause you to ride on the wings of His divine love and blessings this Christmas and all your days on this planet. Have a joyous Christmas season!
Have a Christmas fest brimming with God's love and a New Year overflowing with true blessings from His son, Jesus Christ
May the unparalleled joy and peace that were present at the birth of Christ be present in your home this Christmas. Have a blessed Christmas and life.
Happy Christmas! May Jehovah pour down mighty blessings upon you and your entire family.
May the good Lord continue to watch over you during this Christmas season as He has always. May He bless you with all you need to be happy and prosperous throughout your earthly journey. Happy Christmas!
This Christmas, may the Lord Jesus Christ grant you peace and renew your strength for the years ahead! Have the merriest of Christmas fests!
As we commemorate the birth of Jesus today, I wish that God will bless you mightily and grant all your heart desires. Have a glorious holiday season!
Religious Christmas Quotes
Delve into a treasury of inspiring religious Christmas quotes that capture the essence of faith, hope, and the miraculous birth of Jesus Christ.
And know that I am with you always; yes, to the end of time. Jesus Christ
God goes to those who have time to hear him—and so on this cloudless night he went to simple shepherds. Max Lucado
Christmas is built upon a beautiful and intentional paradox; that the birth of the homeless should be celebrated in every home. G.K. Chesterton
There would be no Christmas if there was no Easter. Gordon B. Hinckley
Let us keep Christmas beautiful without a thought of greed. Ann Garnett Schultz
May the hope, the peace, the joy, and the love represented by the birth in Bethlehem this night fill our lives and become part of all that we say and do. Rev. Richard J. Fairchild
Mankind is a great, an immense family… This is proved by what we feel in our hearts at Christmas. Pope John XXIII
At this Christmas when Christ comes, will He find a warm heart? Mark the season of Advent by loving and serving the others with God's own love and concern.
God never gives someone a gift they are not capable of receiving. If He gives us the gift of Christmas, it is because we all have the ability to understand and receive it. Pope Francis
You can never truly enjoy Christmas until you can look up into the Father's face and tell Him you have received His Christmas gift. John R. Rice
Good news from heaven the angels bring,
Glad tidings to the earth they sing:
To us this day a child is given,
To crown us with the joy of heaven.
Martin Luther
All the Christmas presents in the world are worth nothing without the presence of Christ. David Jeremiah
What will you and I give for Christmas this year? Let us in our lives give to our Lord and Savior the gift of gratitude by living His teachings and following in His footsteps. Thomas S. Monson
There is no better time than now, this very Christmas season, for all of us to rededicate ourselves to the principles taught by Jesus the Christ. It is the time to love the Lord, our God, with all our heart – and our neighbors as ourselves. Thomas S. Monson
Religious Christmas Images
Enhance your holiday celebrations with our selection of beautiful religious Christmas images that visually encapsulate the profound significance of Christ's birth in this special season of grace and love.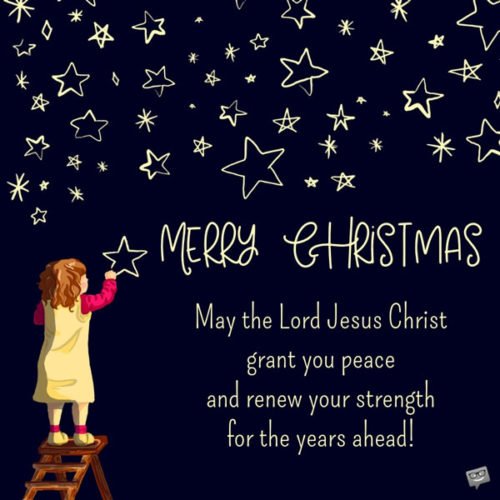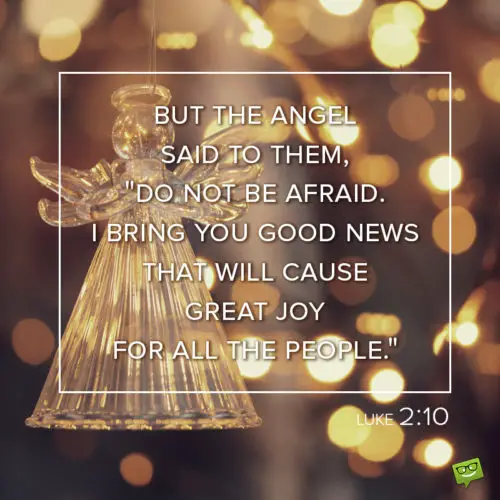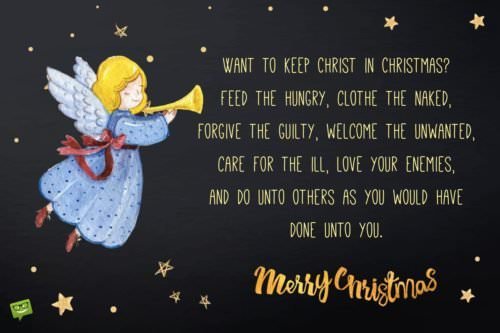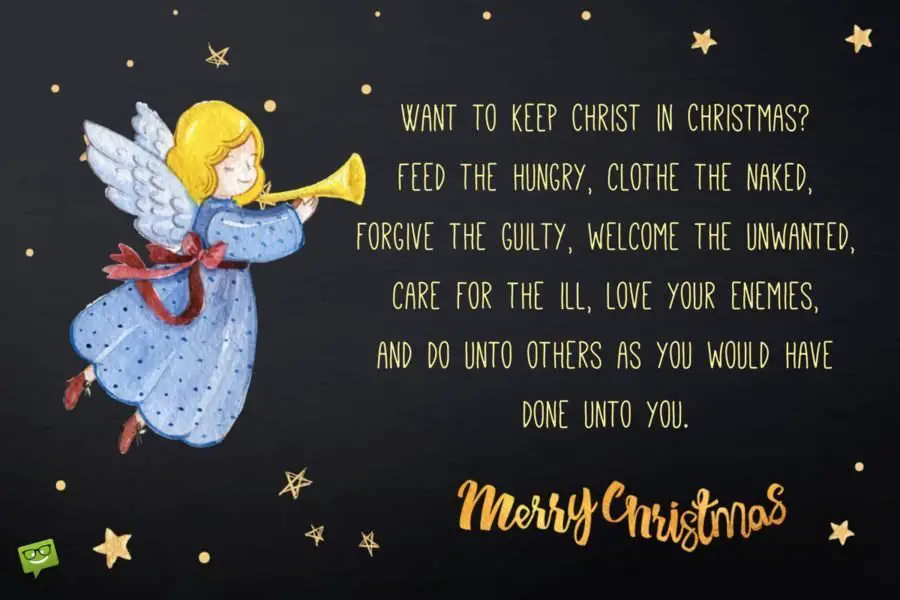 You may also like:
Inspirational Scripture Quotes for Cards: 45 Christmas Bible Verses
80+ Merry Christmas Wishes to Send to Your Friends