Christmas is a time for celebration and spending time with loved ones, and what better way to show your holiday spirit than by posting a festive photo of your Christmas tree on Instagram? If you're looking for some clever captions to accompany your tree pics, look no further – we've got you covered. Check out our best 25 Christmas tree quotes and captions for Instagram, perfect for any occasion!
Christmas Tree Quotes for Top Decoration
Something so decorated has never gone unnoticed in the course of history…
The perfect Christmas tree? All Christmas trees are perfect! Charles N. Barnard
There's no experience quite like cutting your own live Christmas tree out of your neighbor's yard. Dan Florence
Some Christmas tree ornaments do more than glitter and glow, they represent a gift of love given a long time ago. Tom Baker
The Christmas tree is a symbol of love, not money. There's a kind of glory to them when they're all lit up that exceeds anything all the money in the world could buy. Andy Rooney
The smell of pine needles, spruce and the smell of a Christmas tree – those to me, are the scents of the holidays. Blake Lively
Never worry about the size of your Christmas tree. In the eyes of children, they are all 30 feet tall. Larry Wilde
There's nothing cozier than a Christmas tree all lit up.
Christmas Tree Captions for Instagram

Show off that decorative Christmas tree with the perfect caption.
Rock around the Christmas tree with me.
It's beginning to look a lot like #Christmas! ??
The Grinch's got nothing on me!
'Tis the season to sparkle and shine.
I love a holiday when you can eat a lot and tear up paper in front of a dead tree.
Rockin' around the Christmas tree with my honey.
Dear Santa: Just put the gifts right here, please. Thanks!
Create some sparkle wherever you are.
The warmest spot in the house. Wishing you a Merry Christmas!
Feeling merry and bright this holiday season.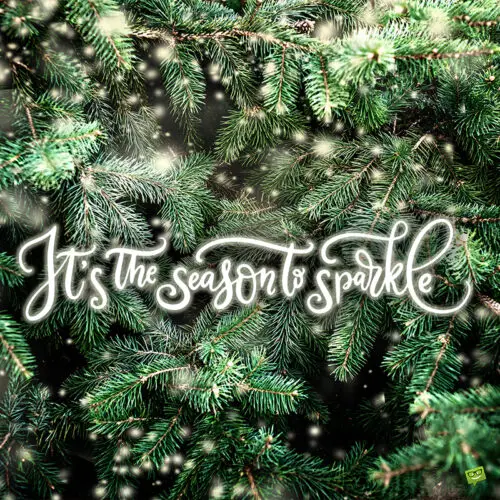 Who wants CANDY CANES?!!!
First one to make it to the presents wins!
The coziest place on earth.
Cue the lights!
Stay cozy, my friends.
The calm before the storm
All spruced up, and no place to go
Take a look at my favorite colors
I wish it could be Christmas every year.
Taking a pic now because it won't look like this 15 minutes from now.
If you like it, pin it!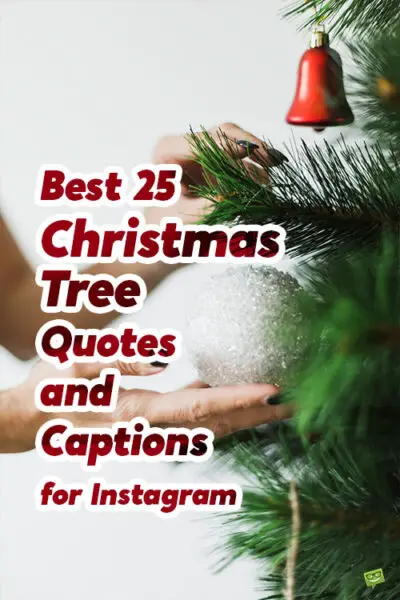 You May Also Like:
25 Christmas Baking Quotes and Captions for December 25
40 Christmas Quotes For Kids About that Holiday Magic
Words for (S)Elfies! | 100+ Christmas Captions for Instagram