Thanksgiving is such a fabulous opportunity to let the people around you know how much you appreciate their presence in your life while wishing them well.
Here on this page, you will find a bunch of sweet Thanksgiving messages for teachers that can help make that last Thursday in November a beautiful and memorable one for them.
Thanksgiving Messages for Teachers
Thankful for a tremendous Teacher.
Finding an amazing friend and teacher like you is a true gift. On this Thanksgiving Day, I pray that life will bless you with more happiness than your soul can accommodate. Happy Thanksgiving.
Wishing you an absolutely joyful, peaceful and safe Thanksgiving. Thank you for everything you do for us, teacher.
It's not often that a student gets a wonderful teacher like you. So I feel very, very privileged to have you as my teacher. Happy Thanksgiving.
Having you as a teacher has been an immense pleasure. On this great festival of abundance, I thank you for your never ending determination to brighten our future. May God reward you abundantly for all the amazing things you do for us. Happy Thanksgiving.
Sir, please celebrate this last Thursday of the month, knowing that in my eyes, you are one of the greatest teachers I have ever had. Have a glorious Thanksgiving celebration.
Since I was born, no teacher has believed in me and inspired me the way you do. Today, being Thanksgiving, I say to you, "Thank You". Have a memorable day.
Happy Thanksgiving celebration to one of the most remarkable teachers I've ever known. Sir/Ma'am, may the happiness you receive today be boundless.
Wishing a joyful Thanksgiving Day to a truly inspirational teacher. Thank you so much for believing in me and devoting a great deal of your time to making sure I do well in life.
Here's hoping your Thanksgiving blesses you with all the wonderful things in life that you deserve. Thank you for being a good teacher to my mates and me. We appreciate you so much.
The support, knowledge and inspiration you have given me over the years are priceless. I will never stop being in your debt, Sir/Ma'am. Thank you so much, and have a blissful Thanksgiving Day.
Dear teacher, may your heart taste true happiness this Thanksgiving.
Academic success seemed like an unattainable dream until God brought a wonderful mentor like you into my world. Sir/Ma'am, I can't thank you enough for guiding me to academic excellence. I really appreciate everything you've done for me. Happy Thanksgiving.
Best wishes to you, my favorite teacher, this Thanksgiving. Thank you for making my experience in this school wonderful.
Wishing you unlimited happiness this Thanksgiving.
Thank you for being there for me whenever I needed someone to talk to. You are a good teacher and friend. May God bless you and make this Thanksgiving Day the happiest you've ever had.
Sir/Ma'am, if all teachers were like you, our educational system would have been the best in the world. Happy Thanksgiving to you and your family.
Here's wishing you a happy and blessed Thanksgiving. I'm so proud and honored to call you my teacher.
It is hard to overstate what an extraordinarily amazing teacher you are. We are so lucky to have such a gem like you in this school. Happy Thanksgiving.
On this ceremony of giving thanks, I want to thank you from the depths of my heart for being a wonderful teacher with a heart of gold. May your Thanksgiving be radiantly bright with happiness.
Sir/Ma'am, I've had the great privilege of being your student for the past few years. I wouldn't exchanged that for anything in the world. Thank you for making me fall in love with school and my studies. Happy Thanksgiving, Sir/Ma'am.
Your presence and guidance always inspire me to be a better student. A teacher like you can never ever be replaced. Happy Thanksgiving to you, and thanks for being so loving and supportive!
Happy Thanksgiving to an absolutely outstanding teacher. Sir, we hope your holiday is as wonderful as you are to us.
May your Thanksgiving be colorful, joyful and blessed. You deserve these gifts and more for being a magnificent teacher and mentor.
Sir/Ma'am, today, my heart just wants to say, "Thanks for everything". Only the heavens can repay you for all the sacrifices you've made to ensure your students attain their full potentials. Happy Thanksgiving.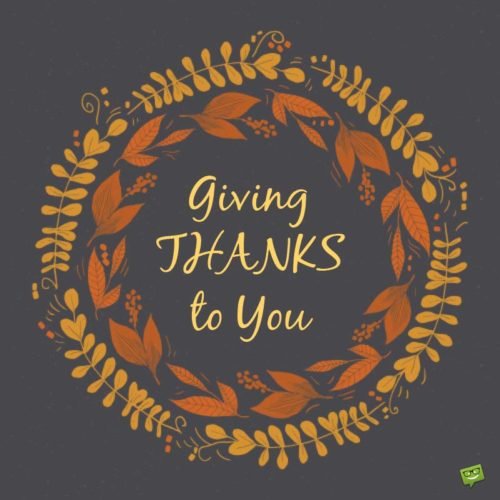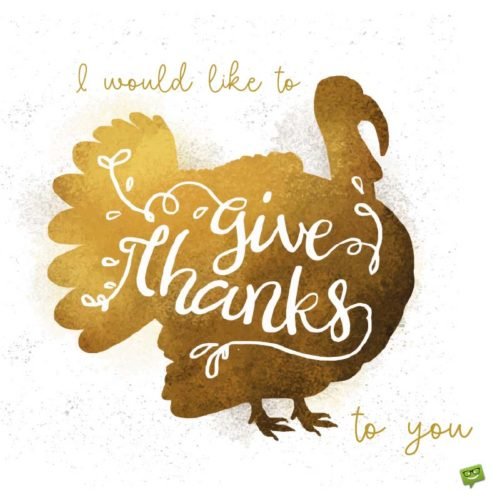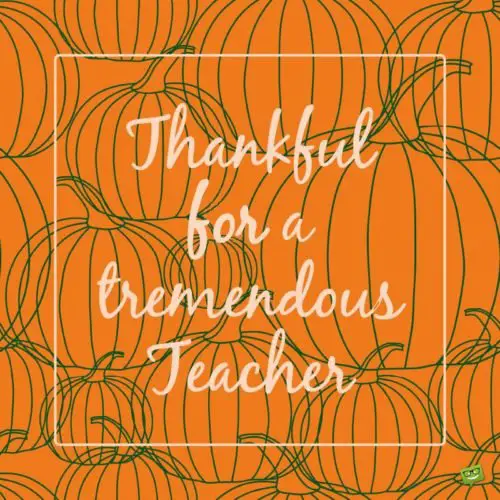 Ma'am/Sir, I hope you enjoy this Thanksgiving Day to the fullest with your family and friends. Thank you for being an angel to your students. We appreciate you more than you'd ever know.
God blessed me the day He put me in your class. Happy Thanksgiving!
Sir/Ma'am, you might not know this, but you are a blessing to every student you encounter. Thank you a million times for touching our lives the amazing way you do. May God bless you and keep lifting you higher. Happy Thanksgiving.
We wish you a joyous and blessed Thanksgiving, Sir/Ma'am. In our eyes, you are not a teacher but an angel.
Wishing a joyful Thanksgiving Day to the recipient of the award for the "Best Teacher of the Century"! Sir/Ma'am, you are the absolute best!
There aren't enough words in the English dictionary to tell you how thankful I am to have you as my teacher. Happy Thanksgiving!
No matter how long I live, I will never forget you, for you are a remarkably outstanding teacher who cares for the well-being and success of his students. May your holiday be as amazing as you are to everyone on campus.
You mean a lot to us, Sir/Ma'am. We hope you have yourself a happy and splendid Thanksgiving Day.
I consider myself blessed because I have a phenomenal teacher and inspiration like you in my life. Ma'am, may your Thanksgiving be packed with marvelous and thrilling moments worth remembering for many years to come.
Happy Thanksgiving to a remarkable teacher whose personality and presence always drip with love and pure inspiration.
You are one of the few teachers I admire greatly. I want to use this festival of plenty to express my gratitude and appreciation to you for your remarkable guidance and inspiration. Happy Thanksgiving.
Thanksgiving Quotes for Teachers
Use these amazing famous quotes to thank your teacher on Thanksgiving Day!
I can no other answer make but thanks, and thanks, and ever thanks… William Shakespeare
A teacher affects eternity; he can never tell where his influence stops. Henry Brooks Adams
The thankful receiver bears a plentiful harvest. William Blake
If you have to put someone on a pedestal, put teachers. They are society's heroes. Guy Kawasaki
The great teacher is not the man who supplies the most facts, but the one in whose presence we become different people. Ralph Waldo Emerson
I am indebted to my father for living, but to my teacher for living well. Alexander the Great
Better than a thousand days of diligent study is one day with a great teacher. Japanese Proverb
I think the teaching profession contributes more to the future of our society than any other single profession. John Wooden
If you look behind every exceptional person there is an exceptional teacher. When each of us thinks about what we can do in life, chances are we can do it because of a teacher. Stephen Hawking
The students who challenge their teachers the most, need their teachers the most. Heidi McDonald
Students never appreciate their teachers while they are learning. It is only later, when they know more of the world, that they understand how indebted they are to those who instructed them. Good teachers expect no praise or love from the young. They wait for it, and in time, it comes. Darren Shan
We often take for granted the very things that most deserve our gratitude. Cynthia Ozick
You may also like:
25 Thanksgiving Memes for Grateful Laughs
Words of Gratitude | Thanksgiving Wishes for Friends
Good Morning and Happy Thanksgiving!