Thanksgiving Day is a great moment to express joy and satisfaction for all the wonderful and amazing things we have been blessed with.
Here is a vast assembly of truly nice wishes you can share with your dear ones this Thanksgiving.
It is indeed gladsome to mark this incredibly fantastic moment, knowing that I can share my life with someone who is as spectacular and lovely as you. Wishing you an extraordinary Thanksgiving Day, dear!
May every single moment of your existence be exceedingly filled with joy, happiness, and fun as you honor this remarkable holiday. Wishing my dear sister a joyful Thanksgiving Day!
Happy Thanksgiving! May your day be blessed and memorable.
Don't forget to be thankful for all the gifts the heavens have blessed with you as you celebrate this great day of the year day. Have a truly gladsome Thanksgiving Day!
Hearty Thanksgiving Day! I hope that you observe this day with sincere gratitude, humility, love, and care as these are the essence of this wonderful holiday.
Today is such a special day to be in the company of family, friends and loved ones. Happy Thanksgiving Day to all everyone out there!
Happy Thanksgiving, darling. I hope that this beautiful day brings you great joy, fun and true blessings.
Happy Thanksgiving! I pray that you have the most bountiful of harvests for your Thanksgiving and I hope that you always remember to express your sincere appreciation to the Lord for all that you have been blessed with.
Wishing you an absolutely fabulous Thanksgiving Day. May God's blessings continue to rain down on your entire household.
Happy Thanksgiving Day! This is an extraordinary day which is designated for the remembrance of all the exciting blessing that we have. I am hopeful that you will have the most joyous Thanksgiving celebration ever!
Have a fun packed Thanksgiving Day, darling! I love you.
My best wishes to you and your entire family for a blessed and happy Thanksgiving.
This is a very great time to get together with loved ones, feast and have fun while being sincerely appreciative of all the wonderful people and blessings in your life. Wishing you extreme joy for your Thanksgiving!
I hope that this wonderful celebration reminds you to be very thankful to your Creator for all the magnificent blessings He has poured into your life. Happy Thanksgiving.
This Thanksgiving, may your home overflow with immense peace, love, joy, and laughter. God bless you.
As you observe this Thanksgiving, I wish you nothing but true joy. I hope you enjoy this fantastic holiday to the fullest!
I have no doubt in my mind that you are sincerely thankful for all the wonderful things in your life and for the many more that lie ahead for you. Wishing you pure happiness and fun on this beautiful Thanksgiving Day!
My sincere prayer for you is that your heart sings with joy this Thanksgiving. Have yourself a glorious Thanksgiving celebration.
May oceans of joyful moments surround you today and forever. Happy Thanksgiving.
Wishing you and every single member of your lovely family an absolutely blessed and cheerful Thanksgiving.
On this Thanksgiving Day, I want to let you know that I am more than thankful to the Almighty God for giving you to me because you are so crucial to the happiness in my world. May the happiness you gift me never depart your golden heart.
Wishing a fantastic Thanksgiving Day to one of the most wonderful angels in my life. May God always bathe you with the waters of happiness.
This Thanksgiving Day is a truly phenomenal moment for me, and I am sincerely thankful to the Lord for giving me such a lovely family and for the great friends that I have around me. It's my prayer that He will abundantly bless my family, friends and me forever.
Wishing you true happiness, love, and joy on this Thanksgiving Day! Words can't express how grateful my soul feels for your presence in my life.
Dearest Father/Mother, you have always been there for me and you have taught me some of the most valuable things in this life. For these reasons and countless more, I shall never cease being grateful to you. Wishing you a joyous Thanksgiving Day!
I believe that I don't really need to look very far to be thankful for the blessings I have received in this life. This is because just looking at you I can see all the exceptionally beautiful things that the good Lord has bestowed upon me. Happy Thanksgiving Day!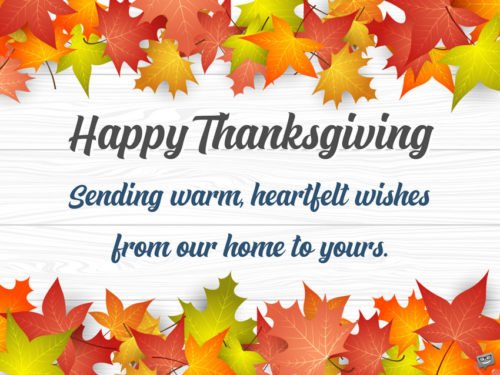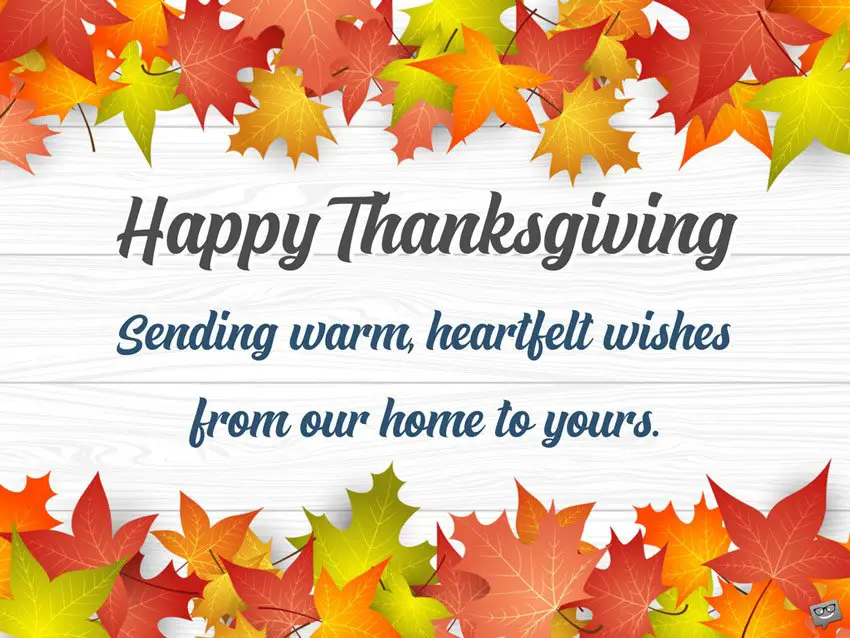 Related: 75 Happy Thanksgiving Wishes for Friends as Words of Gratitude
Sweetheart, your presence in my life is one of the most important reasons why I love this wonderful day so very much. Thank you for enriching my world with a lot of happiness, hope, and fun. Have a truly fabulous Thanksgiving Day.
Happy Thanksgiving Day! I am wishing you a bountiful harvest of hearty blessings, true joy and good health on this beautiful day.
Sending oceans of blessings to you on this Thanksgiving Day! I hope your heart is filled with an awful lot of joy.
On this Thanksgiving Day, I want to thank you so very much for being my role model and for making this world an incredibly joyful place for me. Wishing you an absolute cheerful holiday!
I want to use this awesome Thanksgiving Day to wish you everlasting joy, happiness, good health, success, and love. May your day be an absolutely memorable one!
Here's wishing you a world of never-ending happiness, love, fun, prosperity and many accomplishments as you commemorate this Thanksgiving Day!
Wishing you a fabulous Thanksgiving Day, sweetheart! May this special day bless your heart and soul with love and absolute bliss.
You may also like:
Good Morning and Happy Thanksgiving!
100+ Famous & Original Thanksgiving Quotes for a Day of Gratitude