The engagement of a couple marks the commencement of a potentially stimulating, fulfilling, and awesome journey, which deserves to be celebrated and held in high regard.
For this reason, we've included some sample wishes that you may use to show your support for a friend who's getting or has recently been engaged. Happy wishing!
---
Engagement Wishes for a Friend
May your union be inundated with love, joy, peace, vigor, and everlasting bliss. You deserve all of these and much more. Congratulations!
Congratulations to a beautiful, power couple. May your love for each other remain inextricably intertwined till the very end. Stay blessed beyond measure.
Congratulations on your engagement! May God sprinkle His choicest blessings on your engagement and union, granting you an abundance of heavenly bliss and peace.
I couldn't be happier to hear of your engagement! The two of you are meant to be, and so shall it be until the day the waters of the rivers overfill the sea. Congratulations, and long may your union live.
May you never know sorrow and pain but happiness and blessings that bring peace and unity. Your union is such a beauty to behold. Congratulations to you.
You two are the perfect embodiment of love in its truest form. Never stop caring and being there for each other, for I love what these two eyes of mine are witnessing. Congratulations on your engagement!
The one thing an awesome union like yours needs to thrive is patience and mutual respect, which I pray that you will receive in abundance. Long live the amazing love you both have for each other. Congratulations.
Always remember that your fortitude as a couple lies in your being there for each other. Hearty congratulations for a stellar engagement, and long live the two of you. I'm so happy for you!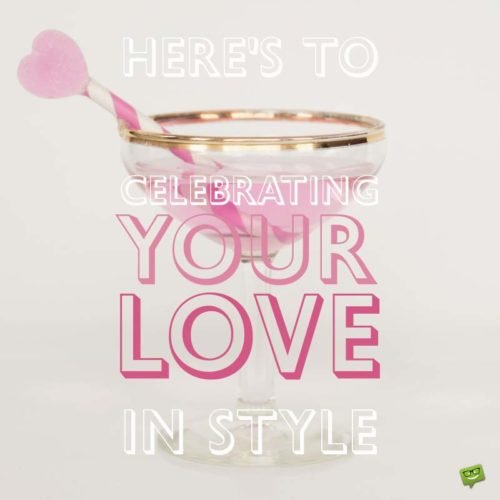 This engagement is only the beginning of a much bigger and better journey together. I'm very hopeful that it will be as adventurous and fun as it is challenging. Congratulations.
Seriously, can you take a break from adoring each other and being comely? You two remain the finest couple I have ever known. Congratulations on your engagement, my dearest friend.
This is certainly a new chapter in both of your lives that you are going to enjoy! All the years of courting and friendship are finally culminating into a grand project. I wish you all the best. Congratulations.
What will you tell your grandchildren when they ask you how it feels to be engaged? I'm sure you will say ecstatic because it's what I see in your eyes. Congratulations, and may God bless your union abundantly!
Now that you've made it official, keep nurturing and feeding your union with love and patience. If you do this, you will go very far together. Engagement congratulations to you, my beloved friend.
I see a beautiful life that's replete with comely children, love, and peace ahead of you. Go make it a reality for the whole world to see. Engagement congratulations to you, buddy.
When times get tough, for they will, remember your unfailing love for each other and work things out together. You are a truly beautiful couple. May God lay His hands on your engagement and bless it.
Hearty congratulations to you, my dear friend, on your engagement. May the bright light of your love for each other always illuminate your world and light your paths to happiness and prosperity.
A stellar engagement of this sort can only be a prelude to a thrilling and fun-filled life together. Congratulations on your engagement, and best wishes for the beautiful years ahead.
I am more than elated to hear of your engagement! Congratulations to you, my dear. I look forward to supporting you in any way I can. May happiness always accompany you on this new exciting journey you have just embarked on.
It's a real blessing when one finds a wonderful fellow to settle down with. Congratulations, my dear friend, and may the odds of success and longevity be in your favor.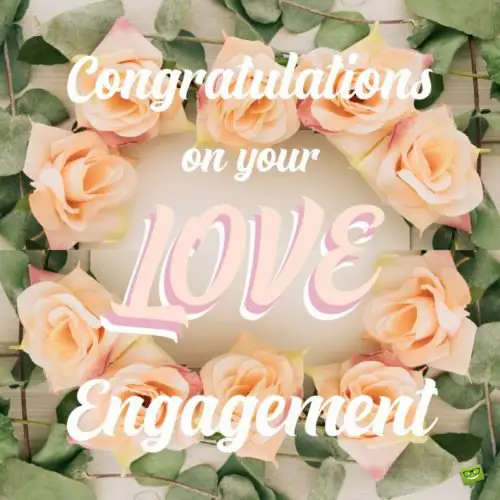 It's been a real pleasure watching your relationship grow into the remarkably beautiful and enviable union it has become today. It clearly shows you two were destined to be together. May God pour His blessings on your engagement so that your union may forever grow and blossom. Congratulations!
Dear friend, if there's one thing I can't wait to do, it's to celebrate your engagement. Your man/woman is really lucky to have a humble, caring, and intelligent individual like you by his/her side. Congratulations!
It's astonishing how many years have elapsed between the last time we were tucked into bed and your impending engagement. May the happiness your engagement brings you be with you forever. Congratulations, my friend.
It takes a great deal of courage to make this official, and I'm glad you did. Please know that I'm 100% behind you and will always be there if you need anything. Happy engagement!
Your engagement is nothing short of wonderful news. Congratulations on finding the man/woman of your life. I wish your union a lifetime of good luck and happiness.
Congratulations on your engagement! I see a future bride and groom who will grow into a mature, beautiful couple. God bless you.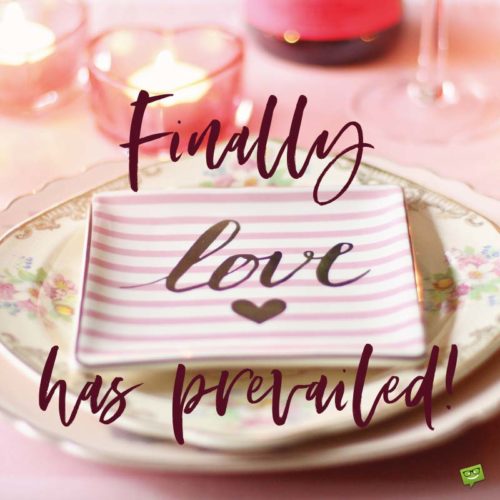 Congratulations on taking your love to a whole new, exciting level. The future is bright and full of learning and growth for you. Good luck!
Your relationship is destined to break new ground, reach new heights, and shine for the world to see. Congratulations for making it official.
This is a lifelong journey of growth, discovery, and love. Congratulations on getting it started. Sending you all my love and best wishes.
I'm happy that you've found love in each other. May this engagement be the symbol of an everlasting bond between the two of you. Sending you love, peace, and prosperity.
This is not just the culmination of a true love story, but also the beginning of a genuine journey together. Congratulations on your engagement.
By and large, this engagement is the best event that I have attended in a very long time. Engagement congratulations to you, my friend. You and him/her look truly good together. May you forever find heaven in her/his arms.
While I'm sad that I'll not get to tease you about finding a fiancé/fiancée, I'm very thrilled that you've found an amazing one. Enjoy this well-deserved union, my friend. Hearty congratulations to you!
God has been gracious to you by giving you a truly wonderful man/woman as a companion. May your union never be deficient in peace, love and happiness. Engagement congratulations to you, my friend.
Sending heartfelt engagement congratulations to you! I wish you the very best as you begin this incredibly exciting phase of your life. Cheers to you and your amazing fiancé/fiancée!
Funny Engagement Wishes for a Friend
On this marvelous occasion of your engagement, I wish you and your king/queen a long life together, prosperity and enough children to warrant a reality TV show.
I pray that the two of you never break up, because then I know your initial reaction would be to come and stay with me. Happy engagement.
My sincerest wish for your upcoming marriage is that the two of you never get into a fight, because I'm confident she'll beat the hell out of you.
Going out to party won't be the same without you, but that doesn't mean I won't enjoy it!
Life is like a sport, and now you get to engage in the most enjoyable one of all – baby making. Happy engagement, buddy!
The night you told me you were getting married I thought you were joking since we were all a little tipsy, but now I see that you are really and truly serious. Right?
I'm so devastated by the loss of my best friend to a woman that I've decided even after you get married to still throw a bachelor's party every night, without you, in your honor.
I know that you must truly like it and love it, because you put a ring on it!
When the two of you get married I'm expecting the most beautiful wedding ceremony in the history of matrimony – if you're wearing the veil instead of her.
The theme of your upcoming wedding should be "Beauty and the Beast". Happy engagement.
The Funniest Engagement Memes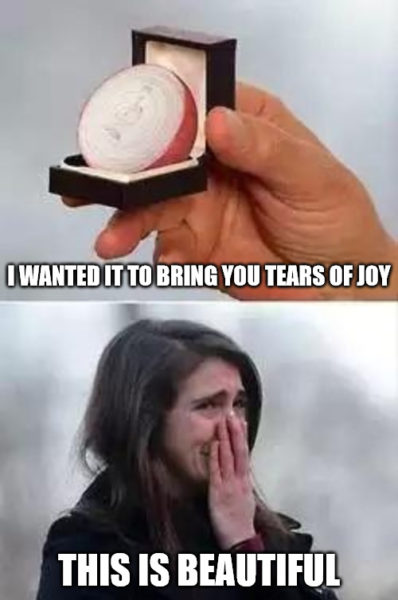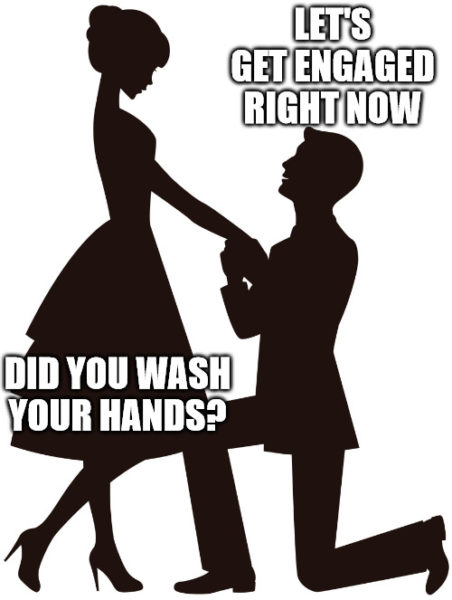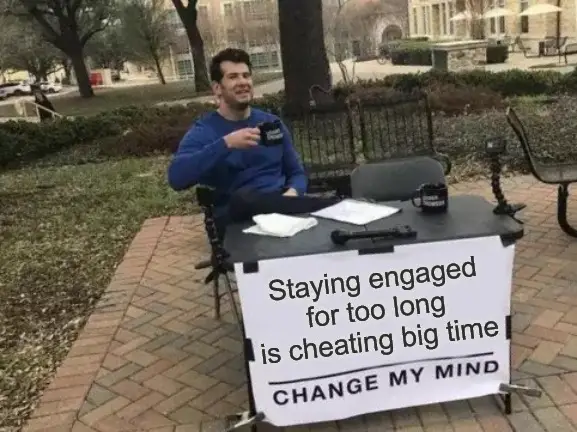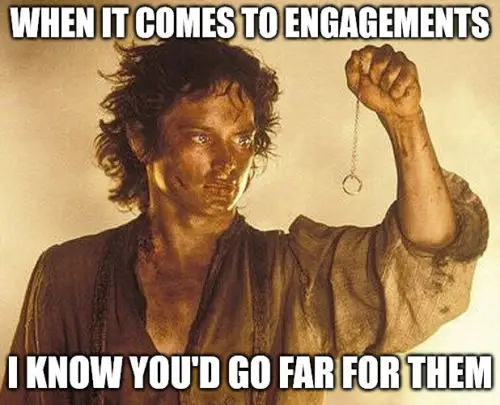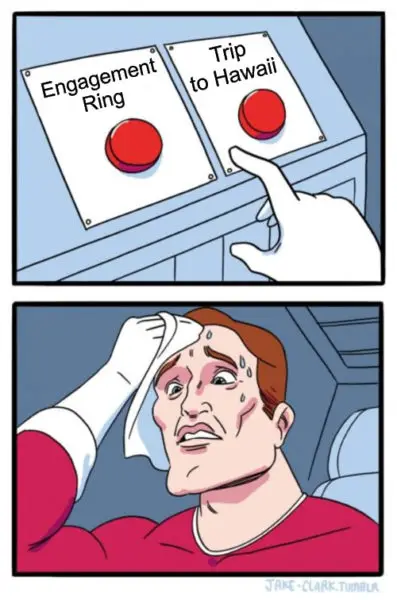 ---
You may also like:
Words of Love for a Couple's Special Day | Wedding Wishes
Marriage Greetings & Special Wedding Wishes
Birthday Wishes for Fiancé and Fiancée | An Engagement Status